The Training Room: Week 11 Injury Updates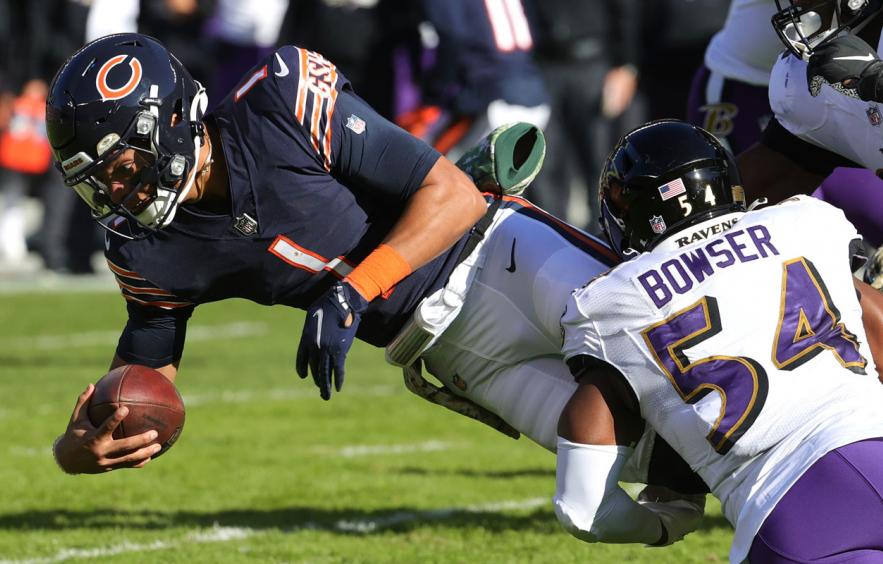 Jonathan Daniel/Getty Images
This is truly one of the best times of the year. Thanksgiving is this week, a holiday focused on consuming food and watching football. This Thursday there are three games, ensuring that we will be entertained throughout the day. With that in mind there will be short weeks for 6 NFL teams, meaning that if any of their players sustained injuries today, their chances of playing are diminished. There were a lot of injuries to marquee players this week, so without further ado let's get down to business.
Marquise (Hollywood) Brown, WR Baltimore
Ravens
Injury: thigh injury (possible quadriceps)
Timetable for recovery: unclear
Potential Replacement(s):
Devin Duvernay
Initial Thoughts:
Prior to the Week 11 game, Baltimore ruled out Marquise Brown with a thigh injury. Typically a thigh injury would mean a quadriceps injury although as I write this, those specifics are not public. If Brown is dealing with a quadriceps strain it's possible that it could be a multi-week absence. Wide receivers typically miss on average 2.4 weeks with quadriceps strains. It was a good sign that Brown was able to get in a limited practice (LP) on Friday before not practicing on Wednesday and Thursday. If Brown showcases more LPs early next week his chances of playing in Week 12 are better.
Chris Carson

, RB Seattle

Seahawks
Injury: neck injury
Timetable for recovery: end of season
Potential Replacement(s):
Alex Collins

,

Rashaad Penny
Initial Thoughts:
Chris Carson had season-ending neck surgery this week and will miss the rest of the season. The lack of information around Carson's neck injury is confusing and slightly concerning for his long-term outlook. If Carson has a procedure like a discectomy (removal of disc in between cervical vertebrae) then he should be fine. However, without any official word, this is mostly speculation.
Elijah Mitchell

, RB San Francisco

49ers
Injury: finger fracture
Timetable for recovery: 1-2 weeks
Potential Replacement(s):
Jeff Wilson

Jr.
Initial Thoughts:
After some spotty playing time in Week 10, the public learned that Elijah Mitchell sustained a finger fracture and had surgery this week. Initially reports surfaced that Kyle Shanahan was positive Mitchell would play in Week 11, but on Sunday Mitchell was ruled out. Typically this is a two-week injury for running backs but with the optimism coming out about Mitchell's availability in Week 10 it is possible he can go next week.
Allen Robinson

, WR Chicago

Bears
Injury: hamstring strain
Timetable for recovery: 2-4 weeks
Potential Replacement(s):
Marquise Goodwin

,

Damiere Byrd
Initial Thoughts:
In the midst of a disappointing season, Allen Robinson is now dealing with a hamstring injury. Hamstring strains usually result in multi-week absences. The Bears play early on Thanksgiving (Thursday), meaning it's unlikely Robinson plays in Week 12.
A.J. Brown

, WR Tennessee

Titans
Injury: finger/hand injury + chest injury
Timetable for recovery: 0-4 weeks
Potential Replacement(s):
Nick Westbrook-Ikhine

, Chester Rodgers
Initial Thoughts:
The injury bug continues to follow A.J. Brown in 2021. Brown exited briefly Sunday with a finger injury before returning - good news considering that means he does not have a fracture. However, Brown did leave the game again in the third quarter with a chest injury and did not return. Based on the mechanism of injury the hope is that he avoided a rib fracture which could result in 2-3 weeks missed if not more. A rib contusion/ribs would be a much shorter timeline, and AJB could return as soon as Week 12. Chester Rogers and Nick Westbrook-Ikhine are the last men standing with Julio Jones on IR and Marcus Johnson leaving Sunday's game as well with a hamstring injury.
Justin Fields

, QB Chicago

Bears
Injury: rib injury
Timetable for recovery:0-4 weeks
Potential Replacement(s):
Andy Dalton
Initial Thoughts:
Justin Fields missed most of Sunday's game after sustaining a rib injury. It sounds like Fields avoided a major injury such as a fracture, but that does not necessarily mean he is in the clear. There is still a possibility of a fracture as we have seen many of these injuries misdiagnosed early. Rib injuries are painful especially for an athlete who is throwing nearly every play. If it is just a contusion, Fields could certainly play on Thursday, but a fracture would mean he likely is headed for the IR.
Jamal Agnew

, WR Jacksonville

Jaguars
Injury: hip injury (unspecific)
Timetable for recovery: unknown
Potential Replacement(s):
Laviska Shenault
Initial Thoughts:
In the fourth quarter, Jamal Agnew looked to have a serious knee injury (hyperextension), although afterward, the Jaguars are reporting that Agnew injured his right hip. There is concern that this could be a serious injury for the Jags' WR who was having a breakout season. If the injury is serious it's possible that Agnew could have a hip subluxation/dislocation which is the injury that ended James White's season this year. Hopefully, Agnew's injury is not that bad, but we will have to wait for further word.
Michael Carter

, RB New York

Jets
Injury: left ankle injury (likely high ankle sprain)
Timetable for recovery: 3 weeks
Potential Replacement(s):
Ty Johnson

,

Tevin Coleman
Initial Thoughts:
On the second play of the second half, Michael Carter had his left ankle rolled up on. He struggled to put weight on his left ankle while jogging off the field and was soon ruled out. Based on the video, my main concern is a high ankle sprain, which would mean Carter is out for the next three weeks.
Aaron Rodgers

, QB Green Bay

Packers
Injury: toe injury
Timetable for recovery: 0 weeks
Potential Replacement(s): N/A
Initial Thoughts:
Per Aaron Rodgers he had his toe stepped on in the second quarter of Sunday's game against the Vikings. Although Rodgers reported that the injury was painful, he was able to finish the game and he will play next week. Assuming no structural damage to his toe, Rodgers should be good to go next week. Fantasy managers should not be concerned if Rodgers does not practice this week as he nurses his toe injury.
Ezekiel Elliott

, RB Dallas

Cowboys
Injury: inversion ankle sprain
Timetable for recovery: 1-2 weeks
Potential Replacement(s):
Tony Pollard
Initial Thoughts:
Ezekiel Elliott rolled his ankle in the first half of Sunday's game against Kansas City. Zeke briefly missed some time but was able to get treatment and return to action. With the Cowboys playing on Thursday in their annual Thanksgiving showcase there is a chance that Elliot actually sits as swelling and soreness in his ankle progress. The good news is that Elliot was actually able to play through the injury a bit unlike Miles Sanders and Saquon Barkley when they had inversion ankle sprains, which could mean this injury is minor and result in a minimal absence.
CeeDee Lamb

, WR Dallas

Cowboys
Injury: concussion
Timetable for recovery:
Potential Replacement(s):
Cedrick Wilson
Initial Thoughts:
In the first half, CeeDee Lamb sustained a concussion after jumping up for a pass and hitting his head on the grass in the endzone. He was ruled out at halftime and did not return to action. Lamb will have to clear the concussion protocol. This week before he returns to action. It does not help that Dallas plays on a short week this Thanksgiving. There's a decent chance the Cowboys are without their star wideout.
Past Injuries Discussed: