5 Takeaways From a #WayTooEarly 2021 Fantasy Football Mock Draft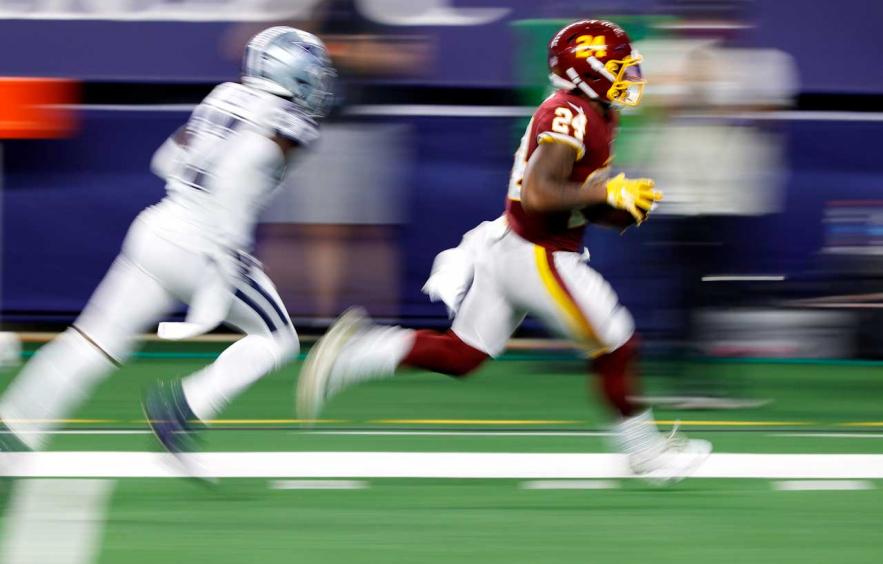 Tom Pennington/Getty Images
I had the pleasure of taking part in a #WayTooEarly industry redraft mock draft hosted by the fine folks over at QB List. It was a pretty straightforward draft: 13 rounds, 12 teams, Full PPR, 1QB, 2RB, 3WR, 1TE, 1Flex (WR/RB/TE), No Defense/No Kicker (sorry, Jen!). I picked out of the seven-hole (full draft board pictured below, link to draft board), and wanted to share some takeaways.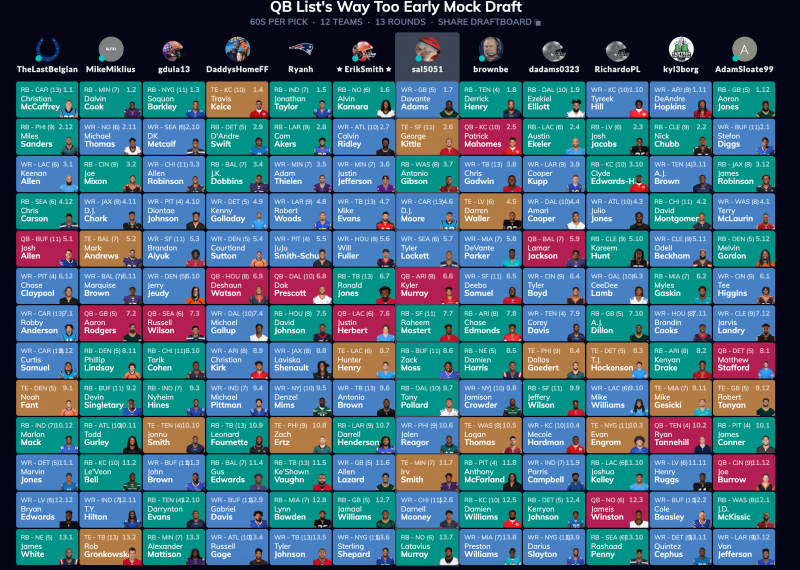 Industry mocks this early in the offseason always intrigue me, whether I'm a participant or observer, because it provides an early glance into possible drafting trends we will see later in the offseason. They also provide an opportunity to get the kinks out to see what you may be doing wrong (or possibly right). However, keep in mind we are about half-a-year away from actual redraft season and anything can (and will) change between now and then, so take whatever you are about to read with a grain of salt…
---
Editor's Note: If you're antsy to prep for your 2021 redraft league take a look at John Paulsen's Way-Too-Early 2021 Fantasy Football Rankings.
---
The Past is the Future
One year after eight running backs had a first-round ADP, it was like nothing changed as running backs once again dominated the first round of this mock with eight of them coming off the board. So much for me predicting first-round RB dominance wouldn't be a thing again in 2021.
A whopping 14 of the first 24 picks were running backs, with almost every team leaving the first two rounds with a back, and three teams going RB-RB like it was 2007. I was the lone early-round running back holdout, waiting an excruciatingly long time until drafting my first running back in round three (Antonio Gibson). It may be my allegiance to Zero RB, but in a league in which points are awarded for receptions, I'd rather focus on building my pass-catching core than spending early capital on the running back position (unless that back is a pass-catching specialist ala Alvin Kamara, who has averaged 81.5 receptions/season in his career). Clearly, I was in the minority in this draft when it came to waiting on running back, and I'm taking this as a sign of things to come that running backs will once again populate the first round of fantasy drafts.
While there was no true Zero RB team in this draft, round three is still early for a back in a Zero RB approach, it was interesting to see the builds of a couple of Modified-Zero RB squads. Two teams drafted a back early (Saquon Barkley at 1.03 and Derrick Henry at 1.08) and then didn't address the position again until rounds eight and seven, respectively. In the meantime, in a PPR league where you can start up to five pass-catchers (3 WRs, 1 TE, 1 Flex), they loaded up on receivers—the Barkley team drafted five straight receivers and a quarterback before his next running back, while the Henry team swerved a bit, going QB/WR/TE/WR/WR.
The one thing you want to do if you eschew early-round RB, whether or not you go full Zero RB, is to avoid the "Running Back Dead Zone: The RB2 Group", labeled as such by JJ Zachariason in episode 476 of The Late-Round Podcast. In a study he conducted on league-winning running backs (top 10) from 2011-2019, JJ found that 4.4% of league-winning backs came from round four and 4.4% came from round five. His biggest takeaway was that the first two-and-a-half rounds are "where league-winning running backs come from if you're drafting them early." Teams who load up on pass-catchers early see all the work-horse backs are gone by rounds four and five, so they then panic and reach for backs who don't provide a return on investment. If you look at the backs drafted in those rounds last year, you will notice most were misses (Le'Veon Bell, Mark Ingram, Leonard Fournette, Raheem Mostert, Devin Singletary), with the lone true hit being Jonathan Taylor. It was interesting to see that only four running backs went in rounds 4-5 in this draft.
The Anointing of
Jonathan Taylor
Jonathan Taylor has arrived, coming off the board as the RB4—one pick ahead of Alvin Kamara. The sentiment is understandable, even if I don't have him ranked that high—neither does John Paulsen, as Taylor is his sixth-ranked running back. No matter where you have him on your board, Taylor is on his way to a first-round ADP in 2021 fantasy leagues. His late-season emergence provided a glimpse into his fantasy future. From Weeks 13-17, Taylor was the PPR RB1, averaging 26.1 points/game during that span. His 107 touches (21.4/game) ranked fourth amongst running backs in that timeframe and he recorded a 63% snap rate, which ranked seventh at his position (minimum 300 snaps). Be prepared to pay up if you want Taylor on your fantasy roster this upcoming season.
Mid-Round QB is the New Late-Round QB
If you spend a lot of time hanging around Fantasy Twitter you've probably heard the term late-round quarterback thrown around quite a bit. Waiting until the later rounds of your fantasy draft to select a signal-caller has become so common we don't even give it a second thought anymore. However, with the strategy becoming more popular each season, it might be time to break the mold and pay up for a fantasy quarterback. Particularly, quarterbacks who provide fantasy points via the ground.
From rounds 5-7, a total of eight quarterbacks were drafted: Josh Allen, Lamar Jackson, Kyler Murray, Dak Prescott, Deshaun Watson, Aaron Rodgers, Russell Wilson and Justin Herbert. Five passers were selected in that time frame in 2020: Kyler Murray, Josh Allen, Matt Ryan, Tom Brady and Drew Brees. A majority of the mid-round signal-callers selected in this mock had one thing in common: rushing production.
Outside of Rodgers, every single one of these quarterbacks has rushing upside that can catapult them into the fantasy QB1 overall stratosphere. TJ Hernandez made the case for Allen potentially having a historic 2021 season, coming off an already amazing 2020 campaign, so it's not surprising he's at the top of the mid-round tier. I excluded Dak Prescott from the chart as he only played in four full games, but he averaged 6.7 fantasy points/game on the ground in those four contests (87 yards and three touchdowns). With Rodgers, you're getting someone coming off a 48-passing touchdown season (and 51 total touchdowns). Just take your pick of a quarterback from this tier—or wait it out and select the last man standing one.
Early-Round TE1 or Zero TE
Your tight end strategy should be pretty simple in 2021: Travis Kelce, George Kittle or Darren Waller and log out, or wait a really long time and take whoever is left last on your tight end draft board, while avoiding the mid-rounds. Rounds 1-5 of this draft saw a total of four tight ends selected: Travis Kelce in round one, George Kittle in round two, Darren Waller in round four and Mark Andrews in round five. Then there wasn't a tight end drafted until round eight, which started a mini-run on the position for the next four rounds, with a total of 10 tight ends taken. 4for4 Senior Writer/Editor Jennifer Eakins, who wrote a weekly tight end streaming article in 2020, came to the conclusion you need to pay up for consistent fantasy production from the position…
I think the lesson we all hate to learn and hear is to pay up for TE. Every year we think it's going to change, but we end up here.

— Jennifer Eakins (@themondaymommy) January 28, 2021
Travis Kelce, who averaged 20.9 PPR points/game and finished the regular season with eight games of 8+ receptions and 10 games of 90+ receiving yards, is clearly the TE1. To put his numbers into perspective, a tight end caught 90+ yards in a game 28 times in 2020, with 10 of those performances coming from Kelce. There were only 22 games of 8+ receptions from a tight end—Kelce was responsible for eight of them.
Using a first-round pick on Travis Kelce doesn't sound like too bad of an idea when you compare his production to potential late-rounders/streamers.
Second-Hand Discount
Is DK Metcalf better than Tyler Lockett? Probably. Is Metcalf so much better than Lockett that he deserves to go three rounds earlier? Not likely. Lockett finished the season as the WR13, averaging 15.5 PPR points/game. He was the 28th WR selected in this draft. Metcalf was the WR6 in both PPR points and of this draft—you're buying him at his ceiling at this cost.
I don't mean to single out Metcalf here, as he's clearly a top-end receiver, it's just that I so happened to draft Lockett and wanted to point out the three-round discount. There are other situations in which offenses support multiple pass-catchers where it might be prudent to select the receiver with the lower price tag. A few examples of note:
Bottom Line
Don't worry about drafting a quarterback earlier than usual. The middle portion of fantasy drafts (5-8) is where you should target your fantasy QB1. Prioritize drafting one with rushing upside.

If you want to build around a top-tier running back be prepared to pay the price with your first-round pick. It seems we are running it back this year with last year's trend of early-round running back prioritization.

Make a commitment prior to your draft to become either a card-carrying member of Early-Round TE or Team Zero TE. And stick to your conviction. Don't be left in the middle-rounds dead zone because you didn't pounce early or were too afraid to wait it out a few more rounds.
---
Related Articles