Waiver Wire Watch: Week 2 Targets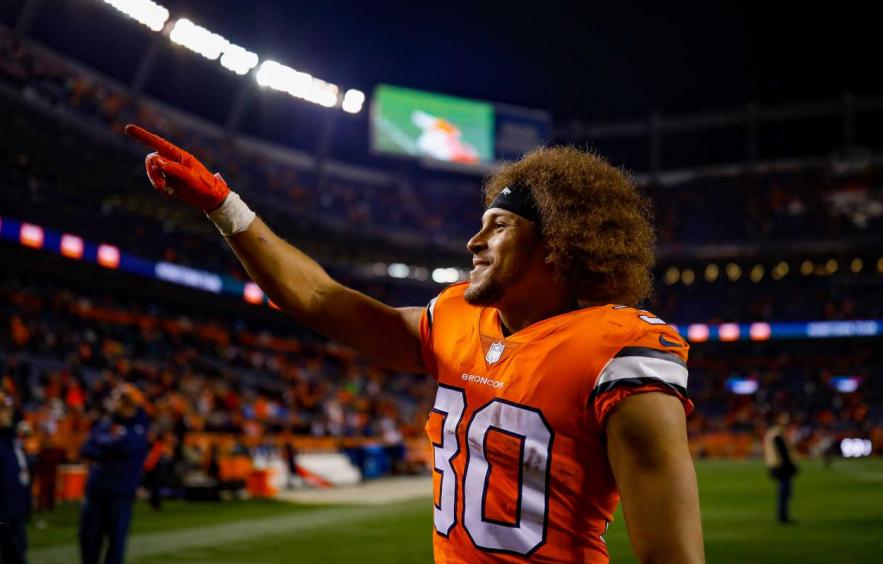 As much fun as August is, with all the camp news, fantasy drafts and anticipation, it feels fantastic to finally have the regular season under way. What feels less-good is seeing Delanie Walker go down for the year, Leonard Fournette holding his hamstring and Doug Baldwin injure his good knee. Or maybe you streamed the Saints defense, benched DeSean Jackson or started Marquise Goodwin. Sure, enduring hardships caused by injury or underperformance is a good way to wreck a Sunday, but the level-headed among us also see it as an opportunity. For every LeVeon Bell, there is a James Conner. For every Baldwin, there is a Brandon Marshall. I'm here to help you find your Conner, so turn that frown upside down and let's go spelunking on the waiver wire.
Throughout this series we will be using PPR scoring, a $100 FAAB budget and a 50% threshold for player ownership. If you didn't catch Week 1's edition of Waiver Wire Watch (WWW), I'd strongly suggest checking it out for a more detailed description of the above.
I've added two sections to this week's article. The first, called Still Worth a Look, quickly revisits players I spoke about in previous editions of WWW. The second, Drop/Ignore, is exactly what it sounds like: I'll highlight players you can feel free to drop/ignore in 10 and 12-team leagues.
As always, John Paulsen will edit this piece and reorder/adjust the prices as necessary.
Quarterbacks
Tyrod Taylor, Cleveland Browns, 12% owned ($3)
With wind, pounding rain and a poor effort from the offensive line conspiring against him, Taylor's Week 1 film is shaky at best. In those same conditions, Ben Roethlisberger turned it over five times (!!!), which is four more than Taylor. It was an ugly game in ugly conditions.
Despite the sloppiness, Taylor put up 23.6 points. His legs continue give him a high weekly floor, with his weapons granting a high ceiling. For Week 2, the Browns go to New Orleans to face a team that was decimated by Ryan Fitzpatrick. In Week 3 they get the Jets at home, before heading west to Oakland to wrap up the first month of the season. That's a three-week run of attractive matchups. Expect Taylor to finish September as a QB1.
Case Keenum, Denver Broncos, 25% owned ($2)
Coming off a productive, if uneven first outing, Keenum is a premier streaming option at home against Oakland. Commanding an offense with playmakers outside and at running back, his weekly upside is exactly what you look for in a streamer, especially when he has one of the best matchups on the slate. I wouldn't be surprised if Keenum finds himself a mid-range QB2 in our weekly rankings.
Andy Dalton, Cincinnati Bengals, 35% owned ($1)
Dalton had a solid, efficient Week 1 against the Colts, posting 16.5 points. The Bengals get Baltimore at home next week and go to Carolina the week after, so he doesn't have the immediate streaming appeal I'd like, but a string of mostly plus matchups from Weeks 4 to 10 make him an attractive longer-term option if you are looking for help at quarterback.
Ryan Tannehill, Miami Dolphins, 7% owned ($1)
Not unlike Blake Bortles, Tyrod Taylor and Andy Dalton, Tannehill has long been an underrated fantasy quarterback. Coming off a 19-game layoff, the Dolphins signal caller was solid, tossing a couple scores in a game that was stopped twice due to lightning in the area. It was a mature performance that showed the guy who averaged a 23 of 35, 250 yard, 1.6 touchdown, 0.8 interception stat line over his last three seasons (45 games) is still in there. If he can score at that same clip, we have a very good QB2 on our hands. At the very least, he is worth a look the next two weeks at the Jets and back home against the Raiders.
Missed the Cut
I bet you were wondering where Ryan Fitzpatrick (3% owned) would fall in this list after his logic-defying 42.3 point explosion. If you thought you'd see him in the above section, please know his omission is as much about his matchup next week against the Eagles as it is my inability to trust him. And if you are expecting the bearded Harvard man to push Jameis Winston to the side, you'll likely end up disappointed. Blake Bortles (32% owned) was a recommendation last week, but with uncertainty around Fournette and a difficult matchup against New England, I can't get on board with The Blake for Week 2. Eli Manning (26% owned) wasn't awful against Jacksonville's suffocating defense, but Dallas isn't a good enough of a matchup to recommend a guy who hasn't played well since 2015. Joe Flacco (7% owned) continued his hot summer with only his second 20+ point outing since Week 13 of 2016. Armed with a solid receiving corps and a renewed enthusiasm for keeping his job, he is a guy I like to have a solid year, but there are much better options than trusting Flacco against the Bengals this coming week. Sam Darnold (10% owned) had a fantastic debut, but the Jets did everything they could to make life easy for him. That offensive style limits his upside enough that he isn't worth the gamble.
Ignore/Drop
Sam Bradford looked bad and plays for a bad team. The Cards are likely to turn to rookie Josh Rosen soon if the season, or Bradford's play, continues to spiral. If Marcus Mariota misses time, Blaine Gabbert is not a recommended replacement. He's not good at football. Nick Foles has been horrendous in every post-Superbowl opportunity. Maybe something weird happens and he lights up Tampa Bay next week, but he should be doing it from your waiver wire. Josh Allen is simply unownable as an unpolished rookie on one of the worst rosters in recent years.
Running Backs
James White, New England Patriots, 49% owned ($19)
If White is on the wire in your PPR or half-PPR league, he should be your top RB priority this week. Typically his usage is up-and-down, but the New England backfield is shaping up to be a two-man committee featuring Rex Burkhead and White. His role looks to be safe as long as Julian Edelman is sidelined and he should continue to produce even after Edelman's return.
Marlon Mack, Indianapolis Colts, 51% owned ($17)
Mack was reportedly nearly cleared for Week 1 before the Colts pulled the plug during warmups. While we don't know his status for Week 2, it seems likely that Mack will play if he was as close on Sunday as we've been led to believe. When he does return, there doesn't appear to be much competition from rookie Jordan Wilkins, who fell flat in his pro debut, gaining only 40 yards on 14 attempts. This is going to be Mack's job to lose, and with his explosiveness, could end up being a steal off your wire.
Phillip Lindsay, Denver Broncos, 3% owned ($15)
The surprise of the week was no doubt Lindsay's 17-touch, 102-yard, 18.2-point performance. He seems locked in as the passing game/change of pace back to Royce Freeman's early-down hammer. I'm skeptical he sees 15 carries again, but 10 touches for around 10-12 PPG would be a remarkable result for a young, undrafted player. Even if that's all he does, Lindsay is a must-add in all but the shallowest of leagues.
T.J. Yeldon, Jacksonville Jaguars, 14% owned ($10)
If the hamstring injury Leonard Fournette suffered against the Giants lingers in any way, Yeldon needs to be owned everywhere. The former Alabama back didn't display great efficiency after Fournette went down, but ended up dominating touches, totaling 17 on the day. Against the Patriots this week, Yeldon would see plenty of work, especially in the pass game, as Jacksonville will have to score to beat Tom Brady. If Fournette is good to go, I'm backing off Yeldon entirely. Paulsen's Notes: In 15 career games with 15+ touches, Yeldon averaged 14.5 fantasy points (PPR), so expect RB2 numbers as long as Fournette is sidelined.
Javorius Allen, Baltimore Ravens, 3% owned ($3)
One of the players featured in Missed the Cut last week, Allen proved himself a big part of the Ravens' pass offense with five receptions on six targets. His yardage numbers were awful (17 rushing, 15 receiving), but Allen clearly has a secure role, especially since it looks like Kenneth Dixon is going to miss some time. I wouldn't expect miracles, but there is steady 10 PPG upside for the pass-catching back.
Jalen Richard, Oakland Raiders, 0% owned ($2)
Monday Night Football confirmed something we already knew: the Raiders aren't good. Their early-game run-based attack will likely keep Richard off the field in the first half, but coach Jon Gruden's old-school ways are sure to lead to a heapin' helpin' of second-half catchup mode. This came to pass Monday, leading to 11 targets for Richard. With Marshawn Lynch and Doug Martin strictly early-down backs, I expect this trend to continue, giving Richard a legitimate shot at leading the backfield in PPR scoring this season.
Nyheim Hines, Indianapolis Colts, 5% owned ($2)
I went back and forth on whether Hines should be here or in Missed the Cut. Eventually, I decided I couldn't ignore his seven receptions on nine targets. The Colts have shifted to a quick-hitting pass game this season, which fits Hines to a t. Marlon Mack's return may cloud his outlook, but I suspect he'll continue to operate in this role until he gives them a reason to go elsewhere. An eight-touch, 50-yard weekly line for around 8-10 PPG is well within reach.
Still Worth a Look
Nick Chubb (47% owned, $1) played well behind Carlos Hyde, who did little on his 22 carries. If that continues, the rookie could start to earn more work.
Missed the Cut
Austin Ekeler (16% owned) had a huge 23.6 point game in admittedly ideal circumstances. If the Chargers continue to use him like they did Week 1, he might have standalone value. I don't see that happening, so I'm only adding him in deep leagues. If you want to be proactive, I wouldn't blame you. Just know it may take a $4-$6 bid to snag him. Jordan Wilkins (36% owned) failed in his attempt to establish himself atop the backfield pecking order in Indianapolis. Marlon Mack is almost back and Nyheim Hines played well, potentially leaving Wilkins nothing but scraps. Even though Frank Gore (9% owned) had 61 yards on nine carries, he has no receiving upside and is splitting time as the 1b to Kenyan Drake's 1a. Keep an eye on the Dolphins, but as of now, Gore isn't worth adding in most leagues. Speaking of old guys, Darren Sproles (4% owned) dominated backfield snaps in the first half last Thursday, ending the night with nine touches for 32 yards. It wasn't a brilliant showing, but if the usage continues, Sproles may be worth a pickup.
Drop/Ignore
Mike Gillislee had three touches (and a fumble) behind Alvin Kamara. There is nothing to see here. Latavius Murray had 11 carries, but as I said last week, he needs an injury to Dalvin Cook or a goal-line role to matter in fantasy. C.J. Anderson is a good player without touches. Cam Newton is the guy inside the 10 and Christian McCaffrey takes all the pass game work, leaving Anderson to a life of 8-10 carry games with next-to-no touchdown upside. I'll pass. Following a truly horrid preseason, Ronald Jones wasn't even active Week 1. There is little reason to waste bench space on the struggling rookie. Phillip Lindsay's breakout all but relegates the disappointing Devontae Booker to also-ran status. He's going to need a lot to happen to matter in fantasy in 2018.
Wide Receivers
Kenny Golladay, Detroit Lions, 54% owned ($22)
I know, I know, we are breaking the 50% rule. The thing is, it is rare to see a player with this much talent and opportunity owned in so few leagues, that I thought he was worth fudging the rules for. With a breakout 7-catch, 114-yard performance on primetime, the youngster clearly has Matt Stafford's eye, plus his size and skill set make him a natural replacement for Eric Ebron over the middle, up the seam and in the red zone. As of this writing, I'm not sure where John Paulsen will slot him into his rest-of-season ranks, but he is an upside WR3 for me and should be the clear number one pickup in leagues this week.
DeSean Jackson, Tampa Bay Buccaneers, 25% owned ($16)
Following a massive 146-yard, two touchdown masterpiece, we learned all we need to know about whether Jackson still has it. Chris Godwin will be a bit of a bother, Tampa won't score 48 every week and sometimes Jackson will disappear, but when he hits, you win. Even if the concussion he suffered Sunday ends up keeping him out of Week 2, he is still one of the premier adds this week.
Quincy Enunwa, New York Jets, 7% owned ($15)
Enunwa's Monday Night Football performance wasn't a huge surprise to people who've followed his career. Big, fast and very physical, the third-year pro plays like a tight end in a receiver's body. Anquan Boldin is an unfair comparison for anybody, but it's hard not to see some of Boldin in Enunwa's game. Once he reached the NFL, he worked his way on the field quickly for a former sixth-rounder, posting a 58/857/4 sophomore season. 2017 was lost to a neck injury, but it seems as though he hasn't missed a beat. I don't expect Enunwa to see 10 targets, versus 11 for the rest of the roster, again, especially with Robby Anderson around. I also don't expect every game to go this well for the Jets. We saw enough, though, to slot Enunwa just above Marshall and Allison. I expect him to push for WR3 status this season.
Brandon Marshall, Seattle Seahawks, 7% owned ($13)
Based on his big name, folks are going to go nutty for Marshall this week. If Doug Baldwin misses time with his knee injuries, there will be some reason for the fervor, but let's be realistic when talking about a 34-year-old who missed last season with an ankle injury, was awful in 2016 and caught only three balls despite Baldwin missing most of the game. My outward pessimism aside, there is potential for a high-volume role on a roster utterly devoid of talent at receiver and tight end. Weirder things have happened than Marshall taking one last ride.
Geronimo Allison, Green Bay Packers, 11% owned ($7)
The third receiver for Green Bay, Allison has been a bit of an afterthought for most owners. After his 5/69/1 night against the Bears, that is likely to change. Jimmy Graham, who did little in his Packers debut, still looms, but he seems destined for more of a red zone role than that of a target vacuum. If that comes to pass, Allison has legitimate WR3 potential.
Ryan Grant, Indianapolis Colts, 3% owned ($5)
Grant is somebody I snagged in a number of best ball drafts this off-season. My thinking was that he could be in for a high-volume role in the Colts' new quick-hitting offense. It's still early days, but the returns thus far are promising. The recipient of nine targets, eight of which were caught for 59 yards, Grant showed he can be a reliable option underneath. There are many mouths to feed in Indy, so don't overdo it, but Grant may have real value in PPR leagues.
Phillip Dorsett, New England Patriots, 4% owned ($5)
I never thought I'd have to write another word about the former first-round failure, yet here I am, once again in awe of Tom Brady and what he can do for even the most mediocre of players. At least until Julian Edelman returns, we have to give consideration to Dorsett as an ownable asset. He was a primary target for Brady Week 1, tallying seven receptions for 66 yards and a score. Chris Hogan isn't likely to pull a vanishing act every week, but Dorsett looked good enough that Hogan's target share may not matter. Short-term WR2 status isn't a total pipe dream, but I'd consider him more of a WR4/5 with opportunity for growth.
Ted Ginn Jr., New Orleans Saints, 17% owned ($3)
Ginn is essentially a discount DeSean Jackson. There will be weeks he explodes and weeks he disappears, but as long as the Saints lack a clear third wide receiver behind Ginn and Michael Thomas, the duds should be less common. Until such a time, Ginn is a fine option as a WR4 with major upside, especially at home.
Cole Beasley, Dallas Cowboys, 8% owned ($2)
You'll see that I pooh-pooh the Dallas pass game in Missed the Cut below, so take Beasley's listing here as a tepid recommendation at best. With no Dez Bryant or Jason Witten, somebody has to catch passes, and Beasley may be that person. His seven reception Week 1 certainly suggests Dak Prescott trusts him, something that may not be true for his other, newer, teammates. Approach this offense with caution and don't get married to anybody, but don't be afraid to add Beasley just in case he keeps soaking up targets.
Willie Snead, Baltimore Ravens, 2% owned ($1)
After getting burned by Snead last year, owners would be forgiven for writing him off in Baltimore. A 4/49/1 Week 1 where he tied for the team-lead in targets later, we need to get past 2017. Don't go crazy for the former-Saint, but the Ravens' pass offense is much improved, giving Snead a shot at being a WR4 with a bit of weekly upside.
Still Worth a Look
Dede Westbrook (16% owned, $2) led Jacksonville wide receivers with six targets. Last week, I pitched him as a cheaper alternative to Keelan Cole, who I'm not completely sold on. If Week 2 resembles Week 1, I'll feel better still about that statement. John Brown (20% owned, $8) delivered with a score on four receptions. The Ravens didn't need to throw it down the stretch due to a gargantuan lead, but Brown looks locked in as their number two option and primary deep threat. Chris Godwin (30% owned, $7) didn't see a ton of volume, but was sensational with the throws that came his way. With DeSean Jackson suffering a concussion, the door may be wide open for the talented sophomore. Still coming back from injury, Rishard Matthews (45% owned, $2) was a zero against Miami. Now that Delanie Walker is out for the year, there will be targets available and Matthews figures to be a beneficiary.
Missed the Cut
I talked about Allen Hurns (36% owned) and Michael Gallup (33% owned) as pickups last week, but the overall state of the Dallas offense has me cooling my Jets a bit. While I can see an argument for owning both, I'm not enthusiastic about either for now. Bruce Ellington (2% owned) had 4/37/1 line against the Patriots. Unfortunately for him, the second Will Fuller is back, his role will disappear. Dante Pettis (1% owned) may be worth a shot if Marquise Goodwin misses time with his quad. There are better options all over this list, but deep leaguers should take note of his 2/61/1 effort in relief of Goodwin. I have to mention Mike Williams (60% owned, $20), who doesn't meet the 50% threshold. He should be snapped up in all leagues. Tyrell Williams and Travis Benjamin both had awful drops and the Chargers lack a clear second option behind Keenan Allen. Williams stepped up big Week 1, putting himself in position for a potential breakout season.
Drop/Ignore
I'm not totally bailing on Week 1 recommended pickup Cameron Meredith, but it's hard to spin his surprise healthy scratch as a good thing. Feel free to drop him for now, but don't be close-minded if he mixes back in at some point. In the meantime, Austin Carr is not a recommended add. He saw two targets in a game the Saints threw the ball 45 times. I said this last week, but it Bears repeating: D.J. Moore is not worth a roster spot. He played only 17 of 67 snaps and saw no targets against the Cowboys. Calvin Ridley was a total non-factor Thursday. I may give him one more week, but he's an easy drop if you need the roster space. Every receiver in Miami not-named Kenny Stills or DeVante Parker should be left on the wire until we get some clarity on the pecking order. Dez Bryant isn't worth holding. Nobody seems interested and he hasn't been productive in years. I have a hard time seeing Anthony Miller breaking out in Chicago. He is fourth or fifth in line at the moment.
Tight Ends
Jared Cook, Oakland Raiders, 51% owned ($12)
Last week in this space I said I expect Cook to flirt with low-end TE1 numbers this season. Guess I may have undershot a bit. One game does not a season make, but anybody who watched the Raiders get trounced by the Rams could tell you quarterback Derek Carr has eyes for Cook. 12 of his 40 attempts went the tight end's way, with him reeling in nine passes for 180 yards. It wasn't just the volume that got my juices flowing, either. Cook was a man possessed with the ball in his hands, running by, around, over and through defenders in a way we haven't seen from him. Long one of the most physically talented players in the league, it seems Cook may have finally brought his approach to the game to an even level with his athletic eliteness. If so, he could be a monster all year long.
Eric Ebron, Indianapolis Colts, 32% owned ($6)
I can't say I am entirely surprised Ebron had the week he did. The Colts talked him up all camp, and aside from T.Y. Hilton, they have a serious lack of playmakers. Ebron will frustrate owners from time-to-time, as his football IQ isn't exactly on par with Peyton Manning's, but he clearly has a place in this offense and should continue to offer weekly top-five upside at the position.
Jonnu Smith, Tennessee Titans, 1% owned ($3)
The Delanie Walker injury is devastating on so many levels. It hurts the Titans, crushes his owners and, most importantly, steals a season from a great player still in his prime. The silver lining is we finally get to take a look at Smith. An elite athlete, the former FIU Panther was a willing, if undersized blocker with high-end run-after-the-catch skills in college. Interestingly, Lance Zierlein of NFL.com used Walker as the best comp for Smith when he came out. The outside possibility the kid is ready to go, combined with his physical skills and potential role is enough to get me on board.
Antonio Gates, Los Angeles Chargers, 9% owned ($1)
I'm not convinced Gates is anything more than a streaming option who will have to score a touchdown to help you. Luckily, the Chargers play the pitiful Bills this week, so there is every chance in the world that touchdown happens.
Still Worth a Look
Ben Watson (39% owned, $1) didn't do much Week 1, but he is still an excellent weekly streaming target. Playing the Browns in Week 2, he can be fired up as one of the week's best streaming options.
Missed the Cut
Charles Clay (30% owned) was a total no-show in the Bills' undressing at the hands of the Ravens. Who knows what the Josh Allen era will bring? I'm likely avoiding Clay until we find out. Mike Gesicki (12% owned) was quiet in his debut, but I'm not giving up hope. His athletic upside and the unsettled nature of the Dolphins' offense will offer opportunity sooner or later. As with Gesicki, Austin Hooper (19% owned) makes a repeat appearance in this section. There are signs for the third-year pro, but we aren't there yet. It doesn't much matter that Jesse James (4% owned) had a solid game filling in for the injured Vance McDonald. When McDonald is back, he should retake his role as the starter. The rumblings around Greg Olsen's foot injury aren't good, meaning Ian Thomas (0% owned) could be the new starter in Carolina. A big, strong, athletic prospect with the potential to be fantasy-relevant, Thomas is also incredibly raw. His coaches and teammates love him and his work ethic, giving reason for hope, but despite those plaudits, I'd suggest staying away until we see some evidence he can contribute.
Drop/Ignore
Until Jameis Winston returns, Cameron Brate is an afterthought in the Bucs offense. There is no reason to consider him in most any league. I don't know which the bigger surprise was: Will Dissly piling up 105 yards and a score, or him somehow being owned in 2% of leagues. It's too bad this was likely to the highlight of his career.
Photo by Justin Edmonds/Getty Images.