4for4 Round Table: Running Back Draft Strategy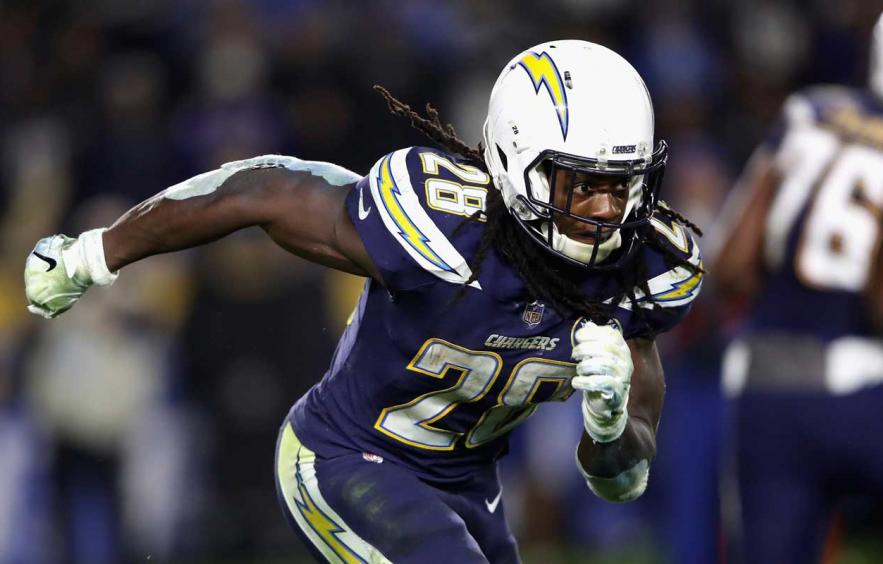 According to our Multi-Site ADP tool, the first four picks in fantasy drafts belong to the running back position, with a total of nine ball-carriers being selected on average within the first 12 picks. Is an RB-heavy draft strategy the way to go this year? Is a contrarian early-round WR draft strategy a way to find an edge? I rounded up the 4for4 staff to answer some running back draft strategy questions to help us better understand how to handle the position in fantasy drafts this season…
---
More RB content to help you dominate your draft: RB Sleepers, Values and Targets | Breakout RBs | Overvalued RBs | RB Draft Strategy | RB projections (Standard & PPR)
More Round Tables: QB | TE | WR
---
Running backs seem to be flying off the board in the first round of fantasy drafts in 2018. Is Zero-RB dead or just in hibernation this season?
Brandon Niles: I was never a fan of the Zero-RB strategy, but that's probably due to my old school ways when the only question was who to take fourth—after Emmitt Smith, Barry Sanders, and Thurman Thomas were already off the board. I took advantage of the era and doubled up on the position in the first two rounds the last few years, and usually ended up better off because of it.
Chris Allen: It's evolving. Instead of being able to draft the same number of quality RB1s in 2018 as in 2017, you have to grab a couple of extra RB2s or dart throws to supplement production at the position. The strategy requires more understanding of the running back situations on each team and their relative value. It also necessitates an understanding of value within the context of your entire roster. Would you want Lamar Miller as your RB1? Possibly, but what about Lamar Miller as your RB1 and Antonio Brown, Davante Adams, and Zach Ertz as your starting receivers and tight end? Sounds a lot better now, right?
TJ Hernandez: Fantasy footballers, as a whole, are and forever will be reactionary rather than forward-thinking. Fear drives draft trends and owners are terrified of missing out on a top back. This opens up ridiculous value at the wide receiver position, especially in PPR leagues. The fact remains that running backs are the most vulnerable to injuries while top receivers remain the most reliable investment. When you can fade the public in any arena of investing, you're usually on the profitable side and wide receivers are the stock to buy right now.
Mike Woellert: It might be in hibernation. I've always been a drafter who wants to secure an RB who will get at least 20 carries with my first-round pick. They are like a security blanket—you can set them in your RB slot every week, worry-free. In a PPR setting, I'm trying to target a back who'll secure at least 20 touches a game. If I can secure at least two reliable running backs in the first four rounds, I'm more than happy with that core.
Kevin Zatloukal: Almost everyone seems to be giving up on it. If anything, though, that makes it more likely to work this season. I recently did a draft with a bunch of guys who normally draft Zero-RB and, somehow, I was the one who ended up with a Zero-RB approach as they abandoned it for early RBs.
I think there's no question that Zero-RB is a riskier strategy. You will need to hit on your late-round choices, and the lineup will feel very unsafe, I imagine, if you don't load up on two or more of the top-12 RBs. However, if you're in a league where the payouts lean heavily towards the top finisher, then a higher-variance strategy may be the best choice.
Greg Smith: With running backs in such high demand, 2018 is probably the perfect time to implement Zero-RB in PPR leagues because the strategy was built on being contrarian. While the masses zag against each other in an early-round melee for running backs, savvy drafters can load up on elite wide receivers at a discount, then backfill the running back position later on. Between satellite backs like Duke Johnson who exploit PPR scoring and handcuffs like Latavius Murray with fragility-based breakout upside, a shotgun-spread approach on running backs in the middle and late rounds can keep you afloat at running back while you leverage advantages at wide receiver and tight end. I don't recommend a hardline adherence to Zero-RB if you draw a top-four pick, but you can easily adapt the strategy starting in the second round after you grab a bell cow running back in the first round.
Michael Beller: I'm going to say neither. I think the big four backs deserve to be the first four picks this season, and I'd be happy with Saquon Barkley, Alvin Kamara, or Melvin Gordon in the first round. Having said that, wide receiver remains a safer position at later tiers, and starting your draft off with, say, Julio Jones, Michael Thomas, T.Y. Hilton, and Stefon Diggs can absolutely be a winning strategy. In drafts, slot determines a lot of the options available, and Zero-RB can still be plenty effective there.
---
FREE DOWNLOADABLE BONUS: Get a sneak peak at 16 of our data-driven, actionable articles: 20 Sleepers, Busts and Breakouts!
---
Which of the rookie running backs do you feel has the best shot of finishing the season as a top-12 (RB1) scoring back?
Brandon Niles: I'm buying all the Saquon Barkley stock I can get my hands on. I'm also snatching up Sony Michel in the later rounds as a sneaky option. Thre is risk drafting anyone in New England, but Michel is a rare talent, and Dion Lewis was quietly a stellar option down the stretch last year.
TJ Hernandez: Saquon Barkley is the chalk pick here but volume is king in fantasy and the draft capital spent on the rookie from Penn State usually equates to around 300 touches. His prowess in the passing game alleviates any game script concerns on a team that figures to be one of the worst in the league.
Mike Woellert: It's difficult not to like Saquon Barkley's chances of finishing as an RB1. The Giants haven't had a running back of his ability for a long time. A healthy Odell Beckham, Jr. will keep opposing defenses from stacking the box. Sterling Shepard and Evan Engram will also help the passing game and allow Barkley to get some clean looks. Let's hope the Giants' offensive line improves from a run-blocking standpoint in 2018.
Kevin Zatloukal: Saquon Barkley—he is the most talented and has the best opportunity.
Greg Smith: Answering "Saquon Barkley" feels like low-hanging fruit, but I'm not going to overthink this question. He's a generational talent, and the Giants didn't draft him so highly to waste away in a committee.
Michael Beller: Saquon Barkley already feels like a lock to do this. Put simply, backs with as much obvious ability as he has don't get taken as high as the No. 2 pick in the draft, and then flop or fail to get the requisite volume to be an RB1. Not only will he be a top-12 back, he has No. 1 overall upside.
Do you handcuff running backs? If so, why and which backfields are you targeting this year?
Brandon Niles: Less and less every year now that most teams are going with a committee approach. I'm grabbing McCoy-Ivory, Collins-Dixon, Chubb-Hyde in some drafts, depending on if I have a large enough bench to warrant it. I'm also more likely to handcuff in a standard league, where it's harder to find late-round value at the position.
Chris Allen: Typically, no. Unless the value presents itself, the use of a roster spot on a player I may never use might make me miss out on a free agent I could use.
TJ Hernandez: No, but that doesn't mean I won't draft two running backs on the same team. When the second in line has stand-alone value, this can't be considered a handcuff—Jerick McKinnon and Matt Breida come to mind this season. My goal is to finish tops in every league and spending a pick on a handcuff severely limits upside—you're essentially spending two roster spots on one team position. I'd much rather take the handcuff for a back I don't own in hopes of having the luxury of multiple stars at the position.
Mike Woellert: I don't go out of my way to handcuff, however, if it's the nearing the end of the draft and my top running back's handcuff is available, I'll draft him. I'm not targeting a specific backfield, however, but here are the handcuffs I'm targeting if I select the starter ahead of him:
Kevin Zatloukal: I will not reach for a handcuff. However, there's nothing wrong with the approach in the right setting. Handcuffing is a variance/risk-reducing strategy (versus, say, Zero RB, which increases variance). In leagues with more even payouts and you make the playoffs based on win-loss record, reducing variance is a good approach, so I would be fine handcuffing there. In an MFL10, on the other hand, handcuffing would reduce your odds of winning, I think.
Greg Smith: I don't intentionally handcuff my own running backs. I'd rather try to "steal" handcuffs from my opponents because I want each of my roster spots to have potential for workhorse roles at the same time. The backup running backs I'm most interested in this season are Latavius Murray, Nick Chubb, Matt Breida, Nyheim Hines, Peyton Barber, and Chase Edmonds.
Michael Beller: Absolutely not. All handcuffing backs does early in the season is limit your roster's upside. I'll consider it later in the year when it's clear who I need to lean on to win a championship, but I want as many different avenues to success as possible early in the season when I can address any holes on the waiver wire or in the trade market. Handcuffing limits a team's flexibility, and that's never good in September.
Name a late-round sleeper at running back you are targeting every draft and briefly explain the appeal.
Brandon Niles: Running back is the rare position where rookies can do really well, and we have up to nine rookies who could potentially see a big workload this year. I'm loading up on them. I'm also watching Doug Martin on waivers since he seems to do well every few years, and I think Duke Johnson remains a nice value pick in PPR formats because his role seems secure with two bruisers on the roster.
Chris Allen: Corey Clement of the Philadelphia Eagles. Jay Ajayi's 2017 workload and project touches for 2018 make me think there's upside for Clement. There have already been reports of Clement being used in goal-line situations that would boost his fantasy value even more. Based on his price, he's worth a flier while the situation develops.
TJ Hernandez: I mentioned Matt Breida already. As a rookie, he saw 126 touches and Kyle Shanahan is just two years removed from leading Devonta Freeman and Tevin Coleman to simultaneous top-24 PPR seasons, a feat that has been accomplished just 15 times since 2011. This backfield should approach 500 total touches. With little competition behind McKinnon and Breida, both could pay off their asking price.
Mike Woellert: I'm looking at Bilal Powell. I know the Jets offense isn't exactly a juggernaut, however, with Elijah McGuire missing time with a broken foot, it could give Powell a chance to get some looks.
Kevin Zatloukal: I like Tarik Cohen quite a bit, though he is something of a boom/bust choice. We'll have to wait for the preseason to see how much work he's going to get, but there are rumblings that his role will be increased, and there is no question he is an explosive player, so if he gets more touches, I think he could break into the top 24.
Greg Smith: In PPR formats, I've had a hard time resisting the siren song of Nyheim Hines after he torched the combine with a 4.38 40-yard dash. The Colts lack proven pass-catchers beyond T.Y. Hilton, and Hines was a prolific receiver in college. Connect the dots and it's easy to picture Hines becoming a favorite target of a healthy-again Andrew Luck and drastically out-producing his ADP.
Michael Beller: Nyheim Hines. Marlon Mack is the only back ahead of him on the depth chart in Indianapolis, and while he showed some flashes as a rookie, he isn't guaranteed anything in the offense. Hines was a versatile playmaker during his three years at N.C. State, catching 89 passes for 933 yards. He didn't commit to being a full-time running back until last year—running for 1,113 yards and 12 scores on 197 carries. Hines may already be the best back on the Colts roster, and that could be a lucrative spot if Andrew Luck is healthy again.
Which early-round running back do you believe is being drafted too high and might not live up to his ADP?
Brandon Niles: I'm just going to be wrong on Jerick McKinnon. I know he's in a Kyle Shanahan system. I know he got paid. I know he's versatile. I know all the reasons he should have a great season. I'm just out on him. He'll have 1,200 combined yards by Week 10 and I'll still be saying, "I don't see it." I'm letting other people draft him.
Chris Allen: I don't see how LeSean McCoy makes it through the season. Legal troubles aside, the offensive line and quarterback play has gotten drastically worse. Their first three games are against the Ravens, Chargers, and Vikings. I don't see how any owner could feel confident about starting him unless they're in a PPR league and banking on receptions. The receptions would create a nice floor, but how many touchdowns will the Bills score? The entire offense limits McCoy in a way I can see him paying off his cost.
TJ Hernandez: Alvin Kamara exceeded all expectations as a rookie—scoring on 5.5 percent of touches—but there's arguably no player in the league due for a bigger drop off in efficiency. Over the last 10 seasons, 22 running backs have posted a touchdown rate of at least five percent on 150 or more touches and saw at least 150 touches the following season—only two of those players met or exceeded their touchdown rate the following season and the average drop off in scoring rate was just over two percent.
Mike Woellert: I'm not really enamored with Jerick McKinnon in the third round. If I need a second RB, I might just wait a round or two and draft Lamar Miller.
Kevin Zatloukal: Given the likely workload, there's probably no way that Melvin Gordon can fail to deliver value. That said, I'm worried he may not actually be good at football. There's an outside chance some work gets moved to Austin Ekeler.
Greg Smith: Even before off-field news cast a shadow on Shady, I was skeptical of LeSean McCoy's prospects in 2018. The Bills are going to be bad—especially along the offensive line after losing Eric Wood, Richie Incognito, and Cordy Glenn—and anemic offenses rarely produce top-end fantasy rushers.
Michael Beller: I'm pretty much all alone on this one, but I'm out on Leonard Fournette. He was inefficient last year, running for 3.9 yards per carry while making only modest additions in the passing game. Yes, an ankle injury that's in the rear-view mirror was partly to blame, but that can't fully explain Fournette's volume-dependent ways. There's also major environmental risk in the Jacksonville offense tied to Blake Bortles' unpredictability. I can't stomach Fournette when taking him means passing on Melvin Gordon, DeAndre Hopkins, Dalvin Cook, Odell Beckham, Julio Jones and so many others.
Photo by Sean M. Haffey/Getty Images.
---
Related Articles