4for4 Round Table: Tight End Draft Strategy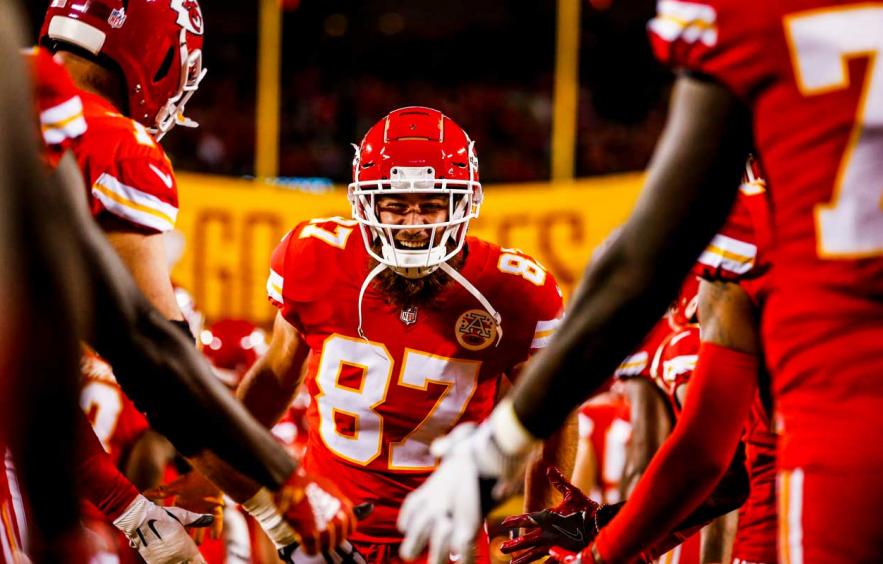 If you play in a fantasy league without any special league or scoring settings tailored towards the tight end position you seem to have two choices this year when it comes to tight end draft strategy: Draft one of top-three at the position (Rob Gronkowski, Travis Kelce, Zach Ertz) or wait until the later rounds and select two tight ends to stream throughout the season. To help you gain clarity on the tight end position we have asked the 4for4 team to answer a few questions related to tight ends…
---
More TE content to help you dominate your draft: TE Sleepers, Values and Targets | Breakout TEs | Overvalued TEs | TE Draft Strategy | TE projections (Standard & PPR)
More Round Tables: QB | RB | WR
---
In a non-TE-premium league, when is the earliest you would consider drafting a tight end?
Brandon Niles: I'm never willing to invest a high enough pick to get an elite tight end, but I tend to feel like if one of the elite guys is there in the fifth round, I'll take him. Last year, that was Greg Olsen, which didn't end too well. This year, I'm hoping for better luck in the one league where Zach Ertz fell to me at the top of the fifth.
Chris Allen: The sixth or seventh round seems to be a great spot if you open with a balanced draft. Options like Greg Olsen or Delanie Walker with solid floors are typically available there.
TJ Hernandez: There's a bit of a no man's land after the round 2/3 turn this season, so if a Travis Kelce or Zach Ertz is sitting there around pick 30, I'm fine with one of those players since they do offer a notable edge over the field at their position. After that, it's probably best to wait for a cheap option in an offense where the tight end has a chance to be the primary red zone target.
Kevin Zatloukal: I'd take Rob Gronkowski in the third.
Greg Smith: It all depends on where certain tight ends fall to. For example, Rob Gronkowski and Travis Kelce start to tempt me in the late third round or early fourth. Typically, though, I wait until at least the sixth or seventh rounds before considering the position.
Michael Beller: I'm basically never in on tight ends early. It would have to be a perfect storm, something where the tiers at running back and receiver just dipped to the next one, and Travis Kelce was sitting there for the taking. Otherwise, I'm gunning for a top-10 floor with plausible upside in every single league.
---
FREE DOWNLOADABLE BONUS: Get a sneak peak at 16 of our data-driven, actionable articles: 20 Sleepers, Busts and Breakouts!
---
How does your tight end strategy change when drafting in a TE-premium league?
Brandon Niles: Not much really, other than taking more than one. In most leagues, I'll only take one, and then stream the position if the guy I gamble on doesn't pan out.
Chris Allen: I essentially lump the elite tight ends (i.e. Gronkowski, Kelce, and Ertz) in with receivers and try and draft them at cost.
TJ Hernandez: My thought process is similar to that of regular PPR leagues in that I want a top-three guy or I'll wait, but I'm willing to spend early second-round capital on the position. The extra .5 points per reception gives the Kelces of the world a bump that essentially makes them a top-tier wide receiver.
Kevin Zatloukal: I boost up Gronk, Kelce, and Ertz quite a bit. I'd take Gronk and Kelce in the late first round and Ertz in the second. Beyond that, my strategy is the same as a non-TE-premium league: Either get one of the top three guys or stream the position. The difference between the guys you can get late and the guys you can get for free is small. The only exceptions I would make would be for Walker, Olsen, and Jack Doyle if they drop a couple of rounds from their usual ADP.
Greg Smith: To be honest, it doesn't change much. Upping the value of tight end receptions is a tide that lifts all boats. It only really matters for the small handful of guys who are targeted like wide receivers. And based on the onesie nature of tight end, I'm not typically paying up for those players in early rounds (because I have multiple, more pressing needs at running back and wide receiver). In most formats, I regard my tight end roster spot as touchdown-or-bust, so I'm comfortable using budget options from the position's lower tiers. I'm still trying to find players in those ranges who could sneakily come into higher reception volumes, but I don't want to pay market price for that opportunity if I can help it.
Michael Beller: It changes a little in that I think you need to be more proactive at the position. You can't go into a TE-premium league thinking you'll piece things together if your favorite fringe-TE1 doesn't work out. I'm still unlikely to pay up for one of the big boys, but I don't want to be left relying on Kyle Rudolph or O.J. Howard to do the job for me more often than not.
Rob Gronkowski, Travis Kelce, and Zach Ertz seem to be the consensus top-three fantasy tights. Who is your TE4 and when would you feel comfortable drafting him?
Brandon Niles: I got burned by Olsen last year, so I would probably draft Evan Engram next. He may lose some targets with Odell Beckham Jr. back, but I think talent will ultimately win out, and Eli Manning has been able to make good use of talented tight ends in the past.
Chris Allen: Greg Olsen of the Carolina Panthers. Despite his age, he still has a solid role on the team without any legitimate threat to take away targets in 2018.
TJ Hernandez: With the potential that the Titans offense has combined with his likely positive touchdown reversion, Delanie Walker is in a tier by himself after the Big Three. That being said, I want Walker to fall a bit from his current ADP of 63rd overall before he finds his way onto my team.
Kevin Zatloukal: Delanie Walker would be my next option. The fact that he just signed an extension tells me the Titans plan to continue to keep him in a significant role. I'd be willing to take him in the sixth.
Greg Smith: Greg Olsen is my TE4, and depending on how my draft is going, I'll start to consider him in the sixth and seventh rounds.
Michael Beller: My TE4 is Jimmy Graham, though I think George Kittle has the highest ceiling of anyone outside the top three. Still, Graham could be a touchdown machine in Green Bay if he secures a good portion of the red zone targets that were typically reserved for Jordy Nelson. I could see him putting up a classic Julius-Thomas-with-Peyton-Manning season, something along the lines of 55 catches for 600 yards and 10 touchdowns.
There is a glut of viable mid-to-late round tight ends. Name two you feel would make for a great streaming pair at the position if you were to bypass drafting a tight end early.
Brandon Niles: I like George Kittle's opportunity with the 49ers, but I'm drafting Austin Seferian-Jenkins in the last couple rounds of a lot of leagues. I like his upside as a red zone threat, and he should be given every opportunity to take that job and run with it.
Chris Allen: George Kittle of the San Francisco 49ers and Jared Cook of the Oakland Raiders. Kittle had a greater connection with C.J. Beathard, but he ranked in the top 20 for routes run at the position. Despite the additions at receiver, Kittle's work in the middle of the field remains largely intact.
Jared Cook is a perennial guy to draft in the late rounds. But here, his situation is slightly better. His path to touches is a bit clearer even with Martavis Bryant playing the full season. Amari Cooper and Bryant play on the outside with only an aged Jordy Nelson in the slot. Cook's athleticism and size make him a better target especially in the red zone assuming he gets on the same page as Derek Carr.
TJ Hernandez: If we're drafting a pair of tight ends, that probably means it's a deep league where there's little fruit on the limbs of the waiver wire. Tight ends rely heavily on positive game script and Jared Cook and Jack Doyle have schedules that alternate quite well in terms of strength of opponent. The Raiders lost their best red zone target in Michael Crabtree this offseason and Cook is due for some positive touchdown regression. With a healthy Andrew Luck, the Colts have been one of the most tight-end friendly offenses in the league and Doyle ranked third at his position in target share last season.
Kevin Zatloukal: I like Jack Doyle a lot. Ebron does worry me, but even with Ebron there, I think Doyle has a high floor. The other guy I find myself taking a lot is Jared Cook. I'd be happy with that pair.
Greg Smith: The mid-round tight ends I like the most are Delanie Walker and George Kittle. I often punt the position outright and spend multiple late-round picks on the tight end lottery with players like Vance McDonald, Austin Seferian-Jenkins, Jared Cook, Austin Hooper, and Ricky Seals-Jones.
Michael Beller: Again, I'm predicting a breakout season for George Kittle, so I won't say him here. If I'm really going to draft two tight ends in a league where I only need to take one, then one of them is almost certainly going to be Jordan Reed. Might as well take a shot on a high-risk, high-reward player if I'm assuming I'm going to stream the position. From there, I'd opt for a safe option along the lines of Ben Watson or Jack Doyle. I like Watson back in New Orleans, and Doyle is an easy low-end TE1 or high-end TE2 with a healthy Andrew Luck.
Photo by David Eulitt/Getty Images.
---
Related Articles