4for4 Round Table: Quarterback Draft Strategy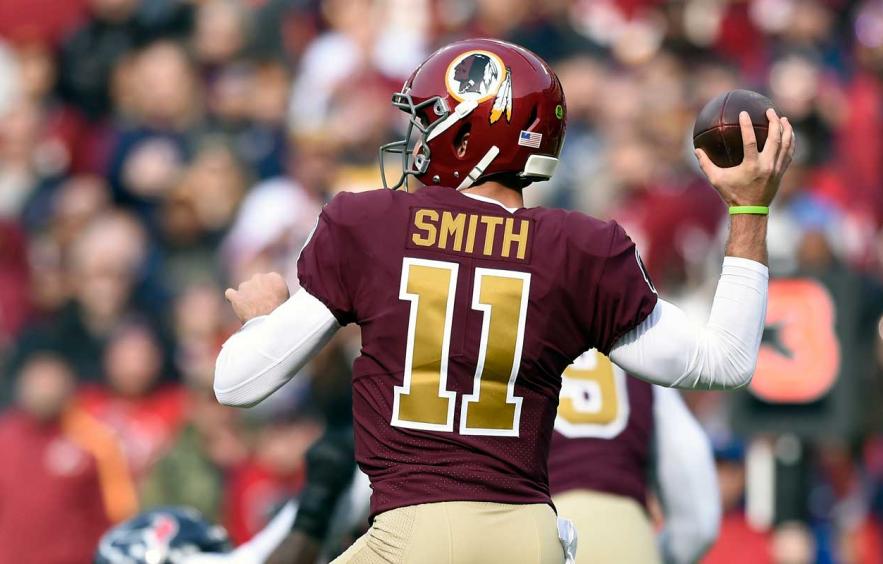 Draft Alex Smith in round 14 and log out. Is that really all there is to drafting quarterbacks in fantasy leagues? In a fantasy landscape dominated by the late-round quarterback draft strategy it sure seems like it. But which quarterback(s) should you target late? Are there any signal-callers worth taking in the early rounds? Who is primed for a breakout season in 2018? What about 2QB or Superflex leagues? To ensure you are as prepared as possible when drafting a quarterback in your fantasy league I invited the 4for4 staff to answer some quarterback draft strategy questions…
---
More QB content to help you dominate your draft: QB Sleepers, Values and Targets | Breakout QBs | Overvalued QBs | QB Draft Strategy | QB projections
More Round Tables: RB | TE | WR
---
In recent years, the late-round quarterback draft strategy has become popular within the fantasy community. Is this a strategy you adhere to? What's your general strategy when it comes to drafting QBs?
Brandon Niles: I definitely adhere to this strategy, and have for nearly 20 years. On the other hand, as a value-drafter in general, I tend to try to draft away from the crowd, which means I've been taking quarterbacks a round or two higher than I used to because everyone else is waiting on quarterbacks. I recently took Deshaun Watson in the eighth round—two rounds higher than I used to look at the position. This year, I expect I'll continue to do a lot of streaming at the position.
Chris Allen: Typically, yes. Unless the value presents itself, I tend to draft quarterbacks in the eighth round at the earliest. I prefer to accept the probability of injury or changing situations (e.g. poor player performance, poor team performance, etc.) and draft with this in mind. A quarterback in the round four to round seven range does offer upside, but at the same time adds risk to my roster when I could be building depth at running back or wide receiver.
My general strategy is to tier my QBs and look at either the second or third tier. That's where I'll generally find the intersection of weekly upside, season-long production, and value with respect to ADP. Players in this range include Drew Brees, Matthew Stafford, and Kirk Cousins.
TJ Hernandez: Especially in one-quarterback leagues with a standard roster (16 players), I'm usually the last player to take a signal-caller. Scoring at the position is so flat that it's rarely optimal to pass on a potential league-winner at a skill position in the single-digit rounds when you can find starting-caliber QBs on the waiver wire each week.
Mike Woellert: It really depends on the league, however, in redraft/best-ball, I'm waiting on the QB position. In a recent 4for4 MFL10, I was able to grab Drew Brees in the eighth round. Our rankings guru, John Paulsen, has Brees as his QB5, and with a current ADP hovering in the sixth round, I'll gladly take that value. So, I'm drafting RBs, WRs and, possibly, a TE before considering QB.
Kevin Zatloukal: Definitely. There are so many QBs I like who are available late (Stafford, Garoppolo, Luck, etc.) that I feel no pressure to grab one early. Even in a superflex league, I've waited at QB and been fine. In the Scott Fish Bowl, for example, I grabbed Alex Smith and Mitch Trubisky at the round 6/7 turn and felt great about it.
Greg Smith: In typical one-quarterback formats, waiting is optimal. In the early rounds, I focus on running backs and wide receivers because there are more than enough usable passers available in later rounds. I won't draft my quarterback until most other drafters have one. If through the course of the draft, a certain passer seems to be grossly undervalued by the room, I'll sometimes pounce earlier than normal. Andrew Luck, for example, has battled a low ADP despite his top-five upside. When he falls behind small sample-size wonders like Deshaun Watson, Carson Wentz, Jared Goff, and Jimmy Garoppolo (plus other high-demand QBs), I'm willing to make a play for Luck. Even then, I'm just as liable to keep waiting if I really like an available non-quarterback.
Michael Beller: If we're talking a one-quarterback league, then I'll always try to get one as late as possible. On the off-chance I can get Aaron Rodgers in the fourth or fifth round I'll do it, but otherwise, I'm targeting the Matthew Stafford/Kirk Cousins/Philip Rivers group, which typically starts coming off the board in the eighth round. If I can get one of them there or any later, I'm happy.
---
FREE DOWNLOADABLE BONUS: Get a sneak peak at 16 of our data-driven, actionable articles: 20 Sleepers, Busts and Breakouts!
---
Who is one breakout quarterback you target in every draft?
Brandon Niles: For breakout candidates, the usual suspects include Mitch Trubisky and Patrick Mahomes. I'm letting others get them though, and I'm targeting Marcus Mariota with a new coach and improvements on offense. He was so disappointing last year I've been able to get him toward the end of most drafts. I also think Ryan Tannehill will be a popular waiver wire add by midseason if the knee checks out. He has some underrated weapons there and he'll have streaming value.
Chris Allen: Kirk Cousins. His strength of schedule gives him a top-five rank in terms of aFPA at the quarterback position. He also has one of, if not the best, wide receiver duo in the league. Assuming Dalvin Cook is healthy, Cousins couldn't ask for a better supporting cast with a defense to keep him in games. Also, the underrated story to the Vikings offense is John DeFilippo as OC. If that guy can smooth out Carson Wentz and make Nick Foles a Super Bowl MVP, then imagine what he can do with Cousins.
TJ Hernandez: Mitch Trubisky. Chicago has made a concerted effort to improve Trubisky's situation in Chicago, bolstering his receiving corps—most notably with Allen Robinson—and replacing head coach John Fox with former Chiefs offensive coordinator Matt Nagy. Look for a more pass-heavy and creative offense in Chicago than we've seen in recent history.
Mike Woellert: It's hard to ignore Patrick Mahomes. The Chiefs have a solid offensive line, book-ended by two tackles who were responsible for just seven sacks in 2017. Kareem Hunt is entering his second season after a stunning rookie campaign. Tyreek Hill continues to develop and Travis Kelce is a red zone monster. Kansas City added WR Sammy Watkins this offseason, so he should open things up for Hill.
Kevin Zatloukal: I like Trubisky as a super-late option. Ideally, he's not my starting QB, but if the Bears offense really clicks this season, he has a chance to be a QB1.
Greg Smith: Marcus Mariota. Moving to a more modern offensive system should work wonders for the fourth-year quarterback. With increased passing volume and more open running lanes, plus the foregone conclusion of positive regression from 2017's touchdown rate of 2.9 percent, Mariota is poised for a major bounce back.
Michael Beller: Patrick Mahomes is the easy answer here, but I'll throw some love to Mitchell Trubisky. His athleticism and ability to make things happen on the run were evident last year, even in the antiquated offense the Bears ran. He seems an ideal fit for the new look Matt Nagy and Mark Helfrich are installing, and the Bears built around him by acquiring Allen Robinson, Anthony Miller, Taylor Gabriel, Trey Burton, and James Daniels. Trubisky can take a major step this season.
Is there one quarterback being taken in the early to mid rounds of drafts you believe has bust written all over him?
Brandon Niles: Are we sure Aaron Rodgers is going to be healthy? He's 34, lost Jordy Nelson, and still has some protection issues and no running game to help him. I love Rodgers, but not when there are legit backs and receivers still on the board. Also, I love Watson and Russell Wilson, but a fifth-round price tag is way too rich for me when there's so much value in rounds eight and later.
Chris Allen: First, let's clarify bust. It means unable to pay off their draft cost. Deshaun Watson is being projected as the QB3 after limited starts in 2017. The easy schedule and below-average defense makes up for a lot of points, but I can see the coaches limiting his 'off-script' plays where he puts his body at risk. A top-10 season is definitely within range, but QB3 is a lot to put on someone who's essentially still a rookie.
TJ Hernandez: Deshaun Watson performed at a level that is simply unsustainable, posting the second-highest touchdown rate since the merger. With the highest deep-ball rate in the league, Watson is susceptible to wild variance and we've likely seen the most productive fantasy stretch of his career already.
Mike Woellert: I think it's going to be Jimmy Garoppolo. Defenses have now had an entire offseason to study his tape. Right off the bat, he'll get the Minnesota Vikings in Week 1. He'll also face the Rams twice, has a tilt with the Chargers, that's in addition to the Broncos and Cardinals. The sledding isn't going to be easy for Garoppolo entering his first season as a starter.
Kevin Zatloukal: I haven't taken Drew Brees anywhere, but I'm a little worried that he'll underperform ADP. We saw last season how much the Saints want to run the ball. With an improving defense and an aging QB, I'm worried that will be the plan again this season.
Greg Smith: It's Jared Goff. Despite presumptions of Goff's continued development, regression is coming He will struggle to sustain his 2017 touchdown rate, in part because he'll face a tougher schedule this season. Goff currently sits at QB13 in ADP, but he probably belongs in the range of QB16 to QB24.
Michael Beller: I'm very scared of Carson Wentz right now. He tore his ACL in December, meaning Week 1 will be fewer than nine months from since his injury. The Eagles are obviously a better team with him under center, but clearly, they feel comfortable that they can win with Nick Foles. I wouldn't be surprised to see them give Wentz more than enough time to ensure he's 100 percent, and that could cost him too many games to make him worth his expected draft-day price tag.
How do you handle the quarterback position in 2QB or Superflex leagues?
Editor's Note: For more info on 2QB and Superflex leagues, check out TwoQBs' 2018 2QB/Superflex Draft Guide.
Brandon Niles: I still try to draft away from the crowd if I can, and then I usually double-up on the position. I'm often the last to take my first quarterback and one of the firsts to take my second one. I also always take three quarterbacks in a league like that, and I try to get one with a strong history of being durable. I usually end up with three players ranked in the QB12 to QB22 range. If you look at the rankings, that's a pretty good group of players. I'll take my chances with a trio of Goff, Mariota, and Bortles with an extra stud running back on my roster.
Chris Allen: I try to approach QB the same in 2QB/Superflex leagues as in traditional leagues. Running backs and wide receivers are still my priority and I draft quarterbacks as the value presents itself. If I can get a draft position slightly biased to the middle to see positional runs, I can gauge value as the draft unfolds. I would ultimately like to draft three QBs with the first two coming in the early rounds. The third would be out of a later tier (e.g. Manning, Bortles, or Dalton) with some upside.
TJ Hernandez: Unless an Aaron Rodgers or Russell Wilson falls at least a full round, I'm looking to get two quarterbacks in the QB10–QB18 range who have little likelihood of losing their starting job at any point in the season. If that plan falls into place, a riskier quarterback with upside toward the end of the draft will round out my QB spot.
Mike Woellert: I throw conventional wisdom out the window. Granted, I don't have much experience in these types of leagues, outside of the Scott Fish Bowl. This season, I went with two quarterbacks pretty early; Aaron Rodgers at 2.01 and Jared Goff at 5.12. Signal-callers score a ton, and I want to start two reliable QBs every week.
Kevin Zatloukal: I also like to wait on QB in superflex leagues, but it depends on how the draft goes. Tom Brady is someone I might grab early if he falls to, say, the third round.
Greg Smith: I want to end up with three passers from the top 25 of the position, but I don't want to draft them particularly early to do it. This means "reading the room" to gauge the pace of quarterback picks. Typically, I get my first signal-caller in the range of QB7 to QB12. Depending on how much I like my roster at other positions, I might come back quickly for my second quarterback, but I usually wait a little longer before getting my second and third passers back-to-back in the QB18 to QB25 range.
Michael Beller: You can still go late at the position in superflex leagues, but it's a much riskier strategy. I typically like to get one I know I can trust every single week, and then two more with whom I'm comfortable playing matchups. I'll take the plunge on Rodgers if it works out for me in the first or second round, but my ideal quarterback triumvirate in superflex leagues would start with someone like Drew Brees, who's QB6 by average draft position. From there, I'd look to add someone in my No. 12 to No. 16 range, and then another of my top-24 quarterbacks, and, ideally, one of those two will have at least some breakout potential. I'd also try to get four quarterbacks, wherever possible. You can never have too many in superflex leagues.
Photo by Patrick McDermott/Getty Images.
---
Related Articles