4for4 Round Table: Wide Receiver Draft Strategy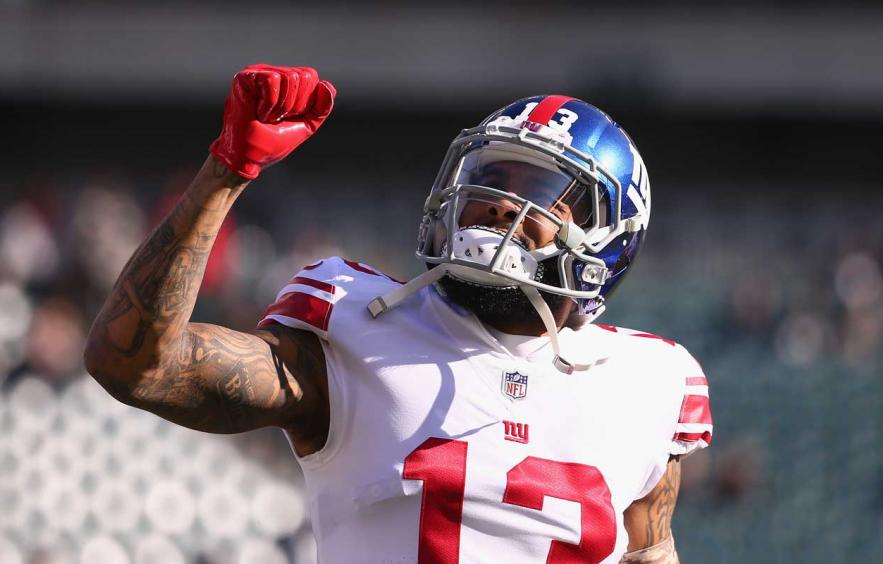 Seems like only yesterday when you would look at average draft position (ADP) data and see up to six or seven wide receivers go in the first round of fantasy drafts. There has been a dramatic shift in strategy this year that leans more towards the running back position, where it's not out of the question to see the first four picks be running backs. But does that mean the wide receiver position has become devalued or is there too much recency bias and overcorrection when it comes to draft strategy this year? To help answer those questions and more I asked the 4for4 staff a few wide receiver draft strategy questions…
---
More WR content to help you dominate your draft: WR Sleepers, Values and Targets | Breakout WRs | Overvalued WRs | WR Draft Strategy | WR projections (Standard & PPR)
More Round Tables: QB | RB | TE
---
Which receivers are worthy of being drafted in the first round in PPR leagues?
Brandon Niles: Antonio Brown and DeAndre Hopkins. That's it. I love the running backs in this draft too much to take any of the other receivers in the first round, and with Julio Jones' contract situation and Odell Beckham Jr. coming off an injury, I'm waiting until round two and getting someone like A.J. Green.
Chris Allen: The usual suspects: Brown, Hopkins, or Beckham. There's a case for Jones or Michael Thomas at the 1.12, but that's not always the norm.
TJ Hernandez: I think running backs are being over-drafted. After the Big Four, I'd rather have a receiver than any running back with a first-round ADP, save maybe Saquon Barkley. This means Antonio Brown, DeAndre Hopkins, Odell Beckham, Julio Jones, Michael Thomas, Keenan Allen, and Davante Adams are all worthy of being taken at the turn at the latest.
Mike Woellert: Antonio Brown, DeAndre Hopkins, Julio Jones, and Michael Thomas.
Kevin Zatloukal: Antonio Brown and DeAndre Hopkins. That's it. In the late second, I love Keenan Allen and Michael Thomas. Allen's workload is likely to be huge. Thomas is being underrated, I think.
Greg Smith: I will happily draft Antonio Brown, Odell Beckham Jr., Julio Jones, and DeAndre Hopkins in the top-12 of a PPR draft. All four should command target shares big enough to justify first-round investments.
Michael Beller: Antonio Brown, Odell Beckham, Julio Jones, DeAndre Hopkins, and Michael Thomas. I'd take all of them ahead of Leonard Fournette, Kareem Hunt, Dalvin Cook, and possibly Melvin Gordon. I'd also consider Keenan Allen late in the first round.
---
FREE DOWNLOADABLE BONUS: Get a sneak peak at 16 of our data-driven, actionable articles: 20 Sleepers, Busts and Breakouts!
---
What is your WR strategy in standard leagues compared to PPR leagues?
Brandon Niles: My strategy for when to take a WR isn't so different as my ranking of the receivers themselves. Some guys I won't even take in a standard league (Danny Amendola, Julian Edelman, Jarvis Landry for example), whereas I view all those guys as value propositions in PPR formats.
Chris Allen: I look at the team's situation as a tiebreaker. The receptions don't matter, but yardage and touchdowns do. So if a team doesn't project to win as many games or score as many points, that should filter down to the player.
TJ Hernandez: Because touchdowns carry so much weight, I'm much more concerned with red zone trends. Wide receivers who see consistent red zone volume on teams that trend toward the pass near the goal line are great targets. Air yards is a great proxy of yardage totals, which is why yardage is relatively easy to project for receivers. Using this information we can use average scoring rates to determine receivers who are in line for big touchdown numbers.
Mike Woellert: In standard leagues, I might take a Zero-WR approach and target RB before drafting my first WR. If you're receiving zero points for a reception, or even a half-point, it certainly devalues some of the big play receivers who typically won't haul in 90–100 passes and are reliant on their high yard-per-catch averages.
Kevin Zatloukal: My default strategy in both types of leagues is to pound the RB position early (assuming this is not a best-ball league). That's the only way to get a stable of safe RBs that will give me confidence that I can rack up wins and make the playoffs. There's also a lot of good WRs available late that can deliver WR3/WR4 production.
Greg Smith: In standard leagues, I assign more value to boom/bust types and wideouts who project as touchdown hogs in the red zone. In PPR leagues, a lack of splash plays and/or touchdowns can be made up for with high target volume. Regardless of format, though, I always want a diverse mix of big-play upside and volume-based consistency. The wide receiver position is extremely deep, and I want the flexibility to mold my receivers' scoring profiles around the demands of my weekly matchups.
Michael Beller: It really doesn't change that much. Take a look at previous leaderboards in standard leagues, and put them up against that year's results in PPR leagues. Players don't move up or down significantly, with few exceptions. The position as a whole should take on slightly greater importance, but here, too, the gains it makes are overstated.
Name one late-round WR currently being undervalued and briefly explain why you are targeting him.
Brandon Niles: I'm probably going to target Allen Hurns in a lot of leagues. The rookie Michael Gallup is getting all the attention, but Hurns has looked like he has No.1 WR potential in the past and the Cowboys will need to throw to someone. I also think we might be overlooking the potential of Kenny Stills as a bye-week filler and depth guy. Also, this isn't a late-round guy, but I'm perennially high on T.Y. Hilton. He did better than anyone thought he would without Luck last year, and now could have Luck back.
Chris Allen: Donte Moncrief of the Jacksonville Jaguars. Regardless of what you think about Blake Bortles, look at players Moncrief has to beat out. His only issue has been his health and if he's at full strength he should move into a tandem role with Marqise Lee.
TJ Hernandez: Rishard Matthews ranked second on the Titans in target share and led Tennessee wide receivers in targets last season on a team that has 130 targets vacated from last year. Out with Mike Mularkey and in with Matt LaFleur means a more pass-heavy and efficient offense. Being drafted outside the top 45 at his position, Matthews could easily finish in the top 24 in targets at his position.
Kevin Zatloukal: I love Emmanuel Sanders in the ninth round. With Case Keenum—who targeted Thielen in the slot heavily last season—now as his QB, I expect his target volume to increase.
I like Robby Anderson in the 11th round—he was the overall WR18 last season in PPR and he's being drafted at WR40 right now. In what world does that make sense? I get that he might be suspended for a game or two, but that doesn't explain dropping down so far.
I like D.J. Moore in the 14th round. My impression is that Devin Funchess struggled as the No. 1 WR on his team last season. Moore has the draft capital to take that No. 1 spot and get the commensurate volume. I think there's a good chance he outscores Funchess.
Greg Smith: Considering Rishard Matthews' proven rapport with Marcus Mariota, it's silly he's being drafted an average of five rounds after Corey Davis. Per AirYards.com, Matthews ranked 26th in PPR points, 23rd in air yards, and 24th in target share among wideouts before getting hurt in Week 11 of last season. Davis ascending and potential shifts in target distribution under new coordinator Matt LaFleur could reduce Matthews' fantasy value a bit, but not enough to justify a slide all the way down to WR52 in ADP.
Michael Beller: Kenny Stills is somehow being undervalued again, even though he has outperformed DeVante Parker in two straight seasons. Stills caught 42 passes for 726 yards and 9 touchdowns in 2016, got no love in 2017 drafts, pulled down 58 balls for 847 yards and 6 scores last year, and is getting no love in 2018 drafts. What gives? Jarvis Landry left behind a whole of targets when he decamped for Cleveland. I've got much more confidence in Stills doing something with them than Parker.
Name one early-round WR being overdrafted and briefly explain why you are avoiding him.
Brandon Niles: I'm always worried about injury history, so I'm not willing to invest a second-round pick in Keenan Allen, even though he's got a ton of talent. I also think we're expecting a lot from Allen Robinson in the fourth round for a guy coming off a massively disappointing season, followed by a year on IR, on a new team, with a second-year quarterback.
Chris Allen: Tyreek Hill's production via deep passes has inflated his draft cost for 2018. We can discuss his route running ability all day long, but there's no evidence to suggest Hill and Mahomes have that rapport to generate 628 yards in another way. In addition, drafts that start running back heavy often wind up staring at Hill in the third round with no other viable options. Are we really ready to call Hill a No. 1 WR and draft him as such? I don't think so.
TJ Hernandez: Last season, Tyreek Hill became just the fourth player in 10 years to finish as a top-12 PPR wide receiver with 105 targets. Fantasy owners are drafting Hill as if he isn't getting a change at quarterback and a possible drop in target share with Sammy Watkins now in town. Popular opinion suggests Patrick Mahomes is an upgrade over Alex Smith for Hill because of Mahomes' arm, but Smith was among the most efficient deep-ball passers in the league last season.
Kevin Zatloukal: Adam Thielen's ADP looks like recency bias to me. Given his age, I think Stefon Diggs is probably the better player, and with a change at QB, there's a good chance Diggs has the better season this year. I'd take him in the fourth round all day over Thielen in the third.
(Also, don't think I'm a Thielen hater. He was my most-owned WR last year across all of my leagues. But I think his value is peaking now, and I sold off all my shares in dynasty leagues, grabbing Diggs instead where I could.)
Greg Smith: Tyreek Hill is a tough pill to swallow at his third-round cost. With Patrick Mahomes in his first season as a starter, I expect Kansas City's passing volume to decrease from last season. And with Sammy Watkins now on the Chiefs, Hill's slice from that pie of pass attempts will be even smaller. The big weeks will still be there for Hill, but if he fails to consistently produce the rest of the time, he'll be an expensive version of the boom/bust types available much later in drafts like DeSean Jackson, Kenny Stills, and Ted Ginn Jr.
Michael Beller: Everyone understands just how good Alex Smith was with the deep ball last year, right? He led the NFL with a 131.4 quarterback rating on balls thrown at least 20 yards in the air, connecting on 33-of-62 attempts for 1,344 yards, 12 touchdowns, and 1 interception. Patrick Mahomes may have a bigger arm, but that doesn't automatically mean he's a better deep passer. Tyreek Hill, meanwhile, scored all of his receiving touchdowns from at least 30 yards out, with five of them measuring 56 yards or more. Mahomes could be a major downgrade for Hill.
Is drafting multiple WRs from the same team to your fantasy roster a viable strategy? Why or why not?
Brandon Niles: I won't do it with very few exceptions. I don't think it isn't viable, but I'd usually rather go with high-upside players on another team late in the draft instead of a guy pre-set as the No. 2 WR on the team.
Chris Allen: It all comes down to value and the cost required obtaining both receivers. Best example would be the Texans. A Hopkins-Fuller combo would roughly cost a first and seventh round pick. They could both have weekly upside, but unless Watson is performing the same as he did in 2017 every week their cost exceeds their value. However, a Hopkins-Keke Coutee combo would be essentially free. If Coutee's usage in 3-WR sets or in the slot pans out, he could have FLEX appeal as your final pick. He could also be easily dropped to the waiver wire for more depth.
TJ Hernandez: It all comes down to price. Unlike running back, there's never a true handcuff situation for wide receivers as their weekly volume is so volatile. Drafting two receivers on the same team in single-digit rounds is often going to limit upside but teammates on a potential breakout offense (Titans and Bears come to mind) could offer multiple assets without much draft capital.
Mike Woellert: It's not something I've typically done, just because you're capping your floor, in my opinion. If an offense struggles, you're going to come out on the short end of the matchup. Let's say you have Antonio Brown/JuJu Smith-Schuster. On a given week, Brown is probably going to have a top-five game; however, if the Steelers go run heavy, or a tight end gets in the mix, Smith-Schuster could end up being left out. It's a fine GPP strategy in DFS, but not something I'm testing out in seasonal leagues.
Kevin Zatloukal: I avoid doing this, in pretty much any type of league. In theory, there's probably nothing wrong with it (weekly scores of WRs on the same team aren't strongly correlated), but I prefer to pick my guy on each team.
Greg Smith: It can be viable, but there are a couple caveats. You either need to be good at playing cornerback-vs-receiver matchups and pick the correct players to start each week, or you need receiver stacks tied to prolific quarterbacks/offenses so you can use them simultaneously. Even then, many high-end passing attacks are successful because they spread the ball around (the Patriots and Saints come to mind), so you can still get burned if one part of your stack isn't heavily involved in that week's game plan.
Michael Beller: It can be, but it has to be special situations with generational talent at quarterback and legitimate weapons at receiver. If either one of those elements is missing, it's not going to work out. Aaron Rodgers probably isn't carrying someone like Terrelle Pryor to a top-20 season, and Odell Beckham and Antonio Brown could team up tomorrow, but if, say, A.J. McCarron were their quarterback, it probably wouldn't matter.
Photo by Mitchell Leff/Getty Images.
---
Related Articles