Scott Smith's 2023 NFL Mock Draft Version 3.0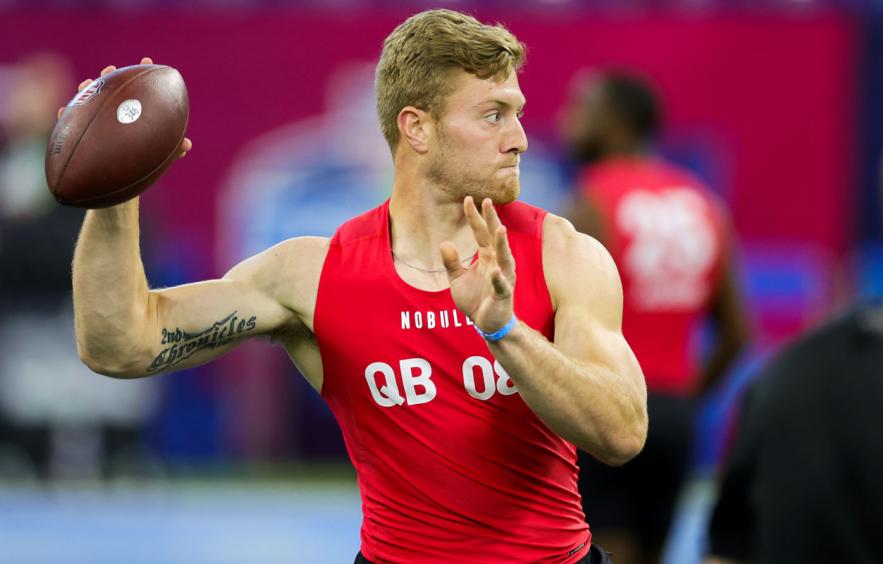 Stacy Revere/Getty Images
The NFL Draft is less than a week away and less is known about this draft than in previous years. Reports out of Houston have left a cloud of confusion in figuring out what path they will take with the second pick that will heavily dictate the direction of the draft. Every mock draft is a thought experiment in trying to figure out a number of scenarios in an effort to predict what will happen on Thursday night. This mock draft will give readers an idea of the players I am considering at each pick and hopefully allow more insight into my process and the different options at each selection.
2023 Mock Draft
1. Carolina
Panthers

-

Bryce Young

, QB, Alabama

Earlier in the process, C.J. Stroud was the leader in the clubhouse to be the first overall selection. At one point the best odds you could get on Stroud sat around -300. Something changed throughout the meeting process that firmly shifted in favor of Bryce Young being the pick for the Panthers. Mainstream draft pundits seem to be in unison when it comes to this selection and it would be a huge surprise if it was anyone other than Young.

In Consideration: Stroud….but it's an unrealistic long shot at this point.
2. Houston
Texans

-

Will Levis

, QB, Kentucky

Rumors have been swirling surrounding Houston passing on a QB with this pick. Will Anderson is said to have a near-perfect draft grade, while Tyree Wilson is thought to be the best pass rusher in the draft. Newly minted HC Demeco Ryans is sure to have some say in the pick as he attempts to add talent that will fit his defensive scheme.

Houston insiders seem split on which direction the Texans will go when they're on the clock. Conventional wisdom says that Texans ownership may get involved. Teams often lack direction when missing a QB, which in turn makes it difficult to sell tickets, thus affecting the owner's bottom line. C.J. Stroud was once thought to have a high evaluation across league circles but the emergence of the S2 test seems to have tarnished his draft grade. Will Levis is thought to be the number two QB on team's boards and is the pick here for the Texans. It's unlikely that Houston will have another shot at him should they pass here for a defender.

In Consideration: Will Anderson, Tyree Wilson, C.J. Stroud.
3. Arizona
Cardinals

- Tyree Wilson, Edge, Texas Tech

It has been thought that the Cardinals would trade down out of this position for weeks. The switch at the top of the draft could have teams waiting on the Houston selection to make offers. At this point it seems as though Arizona will be forced to take a discounted return should they move down. With multiple needs on the roster, that could still be a win for Arizona. If the Cardinals fail to trade down, Tyree Wilson seems to be favored over Will Anderson should they go the BPA route.

A point of interest for Arizona throughout the pre-draft process has been prioritizing Top-30 visits with first-round OT prospects not named Peter Skoronski. If a team trades up with the Cardinals to draft a QB, I would expect the Cardinals' focus to be on one of the top OTs in the draft. Another fallback option could be to strengthen a poor secondary with Christian Gonzalez or Devon Witherspoon.

In Consideration: Trade Down, Top-Rated OT, Will Anderson, Christian Gonzalez, or Devon Witherspoon.
4. Indianapolis
Colts

-

C.J. Stroud

, QB, Ohio St.

Early on in the draft process, Will Levis was the first player I found to be linked to any team. That team was the Indianapolis Colts. Unfortunately in this exercise, Levis is off the board leaving pundits to speculate between the other two QBs. Anthony Richardson is the more often mocked QB to the Colts over C.J. Stroud. It is thought that Richardson will need a redshirt year or two before he is ready to lead an NFL offense. His lack of experience is offset by his tantalizing athletic upside. C.J. Stroud on the other hand has better film and has only recently been sliding down draft boards due to his S2 performance and some questionable rumors.

Jim Irsay has hinted that this pick is going to be a QB. The way the QB position has been handled in past years should have Chris Ballard on the hot seat. New coach Shane Steichen is credited for the development of Jalen Hurts and that could point to Richardson being the pick. Ultimately, I don't believe that Ballard has time on his side, and that makes Stroud the pick here.

In Consideration: Will Levis or Anthony Richardson,
5. Seattle
Seahawks

- Will Anderson Jr., Edge, Alabama

Seattle's needs along the defensive line align with the talent that is available in this range. My feeling throughout the process has been that Seattle sits in the best position in the first round to address their needs without having to reach. Will Anderson sits as the top prospect on many draft boards and would be a solid fit for what Pete Carroll does defensively. Tyree Wilson could be the pick here should another team have Anderson rated higher on their board.

Jalen Carter has been mentioned and mocked to Seattle here but I have yet to find a reliable source to link Carter as a possibility for Seattle. Past selections with off-field concerns have not worked out and may have soured management on taking a chance on Carter here. Anthony Richardson is in play as the Seahawks have a bridge QB in Geno Smith to cushion the learning curve but the Seattle roster is more talented than given credit, leading me to believe they are more focused on adding talent that can start right away and allow them to compete in a weak NFC.

In Consideration: Tyree Wilson, Jalen Carter, or Anthony Richardson
6. Detroit
Lions

- Jalen Carter, DT, Georgia

Jalen Carter has had some setbacks throughout the pre-draft process. His legal issues may not be as concerning to teams as his work effort and pro-day performance. Detroit staff were said to be disgusted with what they saw at Carter's pro day where he was unable to complete his positional drills and gained nine pounds. A subsequent Top-30 visit is said to have gotten Brad Holmes more comfortable after spending time with Carter. Culturally, Carter does not seem like a fit for what Dan Campbell is building. However, it could be that culture that gets the most out of Carter. As a talent, Carter could be the best player in the draft and there comes a point in the draft where the talent is worth the risks.

Tyree Wilson is another player Detroit is said to value highly on their boards. In this exercise, he isn't available. Devon Witherspoon and Christian Gonzalez are vying to be the first CB off the board and both would be a welcomed addition for a secondary that has had significant turnover in the offseason.

In Consideration: Tyree Wilson, Will Anderso, Devon Witherspoon, or Christian Gonzalez
7. Las Vegas
Raiders

- Paris Johnson, OT, Ohio State

It's difficult to narrow down the direction the Raiders will go in on draft day. They have had official visits with all of the top QBs and many analysts feel as though they are on the shortlist to move up in the draft. Should they move up it would seemingly be for a QB but I have a feeling that Josh McDaniels' coaching career may be on too thin of ice to draft a QB with Jimmy Garoppolo already on the team. Tony Pauline reported that teams in talks with Arizona have reportedly been interested in moving up for an OT. The Raiders could fall into that category and the selection of Johnson here reflects that thought process.

Defensively, the Raiders have a bunch of needs but none may be bigger than CB. Devon Witherspoon or Christian Gonzalez would immediately move into the starting lineup and be the best CB on the roster.

In Consideration: Trade Up, QB, Tyree Wilson, Devon Witherspoon, or Christian Gonzalez.
8. Atlanta
Falcons

- Christian Gonzalez, CB, Oregon

The Falcons are another team that has a bunch of needs. In 2022, they were at or near the bottom of almost every pass-rushing metric. DC Ryan Nielsen has brought in Calais Campbell, David Onyemata, and Bud Dupree to help with that. Jeff Okudah was recently brought over via trade but has yet to live up to expectations. Selecting Christian Gonzalez would give the Falcons help on the boundary opposite A.J. Terrell.

Atlanta has also been linked to Bijan Robinson, Peter Skoronski, Lukas Van Ness, and Nolan Smith. The multitude of positions shows how many different needs Atlanta has. Any of the four are viable options here for the Falcons.

In Consideration: Bijan Robinson, Peter Skoronski, Lukas Van Ness, Nolan Smith, or Myles Murphy.
9. Chicago
Bears

- Peter Skoronski, OT, Northwestern

The Bears have had a solid off season. I think the icing on the cake would be trading down and still adding a player the caliber of Jalen Carter that would have been considered had they remained at the top of the draft. With Carter off the board, building around Justin Fields may make the most sense. The Bears have done their research on multiple linemen including Top-30 visits with Paris Johnson and Darnell Wright. Peter Skoronski hasn't had a visit with Chicago that I have been able to track but he may not need one being a local product. Skoronski has experience playing all five positions along the offensive line and that versatility will be valued.

CB will be another position of focus for the Bears. Devon Witherspoon and Christian Gonzalez would be much-needed additions within the Chicago secondary should they go that route.

In Consideration: Jalen Carter, Darnell Wright, Paris Johnson, Devon Witherspoon, or Christian Gonzalez.
10. Philadelphia
Eagles

-

Bijan Robinson

, RB, Texas

The Eagles are a step away from winning a Super Bowl. Having a pick this early could be the missing piece that gets them there. Robinson would seemingly be a luxury pick for the Eagles. He is however one of the safer prospects in this draft regardless of positional value. Multiple reports have Robinson going inside of the top 10 and should the board fall this way, Philadelphia would be in play.

Jalen Carter may not have a better landing spot than Philadelphia if he slips this far or should the Eagles trade up. The aforementioned Peter Skoronski has gotten attention and has been linked to the Eagles. Lukas Van Ness and Nolan Smith would also make sense for the Philadelphia pass rush

In Consideration: Jalen Carter, Peter Skoronski, Nolan Smith, Lukas Van Ness
11. Tennessee
Titans

-

Anthony Richardson

, QB, Florida

Tennessee has been a team rumored to be interested in moving up. With Ryan Tannehill in his final year and Malik Willis yet to show promise, the Titans future at QB is a bit muddied. This may be the floor for the top-4 QBs in this draft and Tennessee would be ecstatic should one of the four fall. Tannehill could act as a bridge for this year and give Richardson the time he needs to adjust.

WR, OT, and CB are three other positions that Tennessee has focused on during the pre-draft process.

In Consideration: Trade Up, Top QBs, Paris Johnson, Broderick Jones, Darnell Wright, or Jaxon Smith-Njigba
12. Houston
Texans

- Nolan Smith, Edge, Georgia

Positional value and ownership may have dictated QB with the number two pick in this exercise but Demeco Ryans gets to add a foundational piece to his defense here. Smith has been one of the prospects that has gotten glowing reviews in interview rooms. Smith has the speed and athleticism to cause problems on the edge for opposing offenses. Lukas Van Ness is a different type of player than Smith but could be in play for the same reasons.

WR is also in play here for Houston although I think it is unlikely that management takes two offensive players with their first two picks.

In Consideration: Lukas Van Ness or Jaxon Smith-Njigba
13. New York
Jets

- Broderick Jones, OT, Georgia

The Jets' offseason has hinged on the acquisition of Aaron Rodgers. Many of the offseason moves have been linked to Rodgers' appeasement. Protecting Rodgers becomes paramount and the mocks across the industry reflect that. Jones is the most mocked player to New York and would make a ton of sense as would any of the top linemen.

Another player linked to the Jets has been Nolan Smith and he fits the scheme and defensive philosophy of Robert Saleh perfectly.

In Consideration: Best available Offensive Lineman or Nolan Smith
14. New England
Patriots

- Devon Witherspoon, DB, Illinois

Trading down always seems to be the primary play for New England. WR seems like the primary need for the Patriots who need to give Mac Jones more weapons to succeed. Smith-Njigba has the short-area quickness that New England has valued in the past. Zay Jones has been heavily rumored as the Patriots' primary target in this draft as well and would make more sense should the Patriots trade down. The problem is that historically the Patriots have not drafted WR well in the first round.

In this scenario, Witherspoon would be a no-brainer for Bill Belichick and the New England secondary. Witherspoon has the type of tenacity that would fit in well with Patriots fans.

In Consideration: Trade Down, Jaxon Smith-Njigba, Zay Flowers, or the best available Offensive Lineman
15. Green Bay
Packers

-

Jaxon Smith-Njigba

, WR, Ohio State

The Green Bay Packers are a traits and threshold-based drafting team. For years, the Packers' front office has stuck to this philosophy and it would be surprising for them to shy away from it now. Smith-Njigba meets the necessary numbers the Packers look for and would be a welcomed weapon to help Jordan Love succeed. Michael Mayer and Dalton Kincaid would also be in consideration as pass catchers.

Defensively, three players stick out. Lukas Van Ness, Myles Murphy, and Brian Branch all meet the criteria normally used to select players in Green Bay.

In Consideration: Top TEs, Lukas Van Ness, Myles Murphy, or Brian Branch.

16. Washington
Commanders

- Deonte Banks, CB, Maryland

Washington has two major needs outside of QB as the CB and offensive line positions have been problematic over the last few years. A lack of upper-level talent and consistency has eluded the Commanders in those areas. It feels as though Washington would love for one of the top CBs to fall into this area but that seems unlikely. The second tier of CBs will all be in play here. Most evaluators have Joey Porter Jr. as the third CB on consensus boards but there are reports that Banks may be higher on Washington's board. Brian Branch has the Alabama connection that Ron Rivera has often used to draft defensive players from although he projects more as a safety/nickel hybrid.

Offensively, Washington added some pieces along the line via free agency but the final alignment is far from set. A player like Darnell Wright would be heavily considered here.

In Consideration: Darnell Wright, Joey Porter Jr., or Brian Branch
17. Pittsburgh
Steelers

- Darnell Wright, OT, Tennessee

Unlike most years, the Steelers have been able to keep their intentions under wraps thus far. One of the whispers surrounding Pittsburgh is that they do have a target and likely have intentions of moving up to select him. Protecting Kenny Pickett should be a priority and the selection of Wright aligns with that philosophy.

CB has been among the other positions where Joey Porter Jr has a nostalgic feel due to his father's history with Pittsburgh. Deonte Banks and Emmanuel Forbes are other players that Pittsburgh has shown interest in.

In Consideration: Broderick Jones, Joey Porter Jr, Denote Banks, or Emmanuel Forbes
18. Detroit
Lions

- Joey Porter Jr., DB, Penn State

My bet is that the Lions come out of the first round on Thursday with a defensive lineman and a CB. Should they pick a corner early then DL will be the focus with this pick. In this mock, the Lions went with Carter at six, and CB shifts to be the focus here. Detroit made some moves in free agency adding Emmanuel Mosley and Cam Sutton while recently trading Jeff Okudah. Porter Jr, Banks, and Emmanuel Forbes would all be in consideration here at CB.

In Consideration: Deonte Banks, Emmanuel Forbes, Darnell Wright, Myles Murphy
19. Tampa Bay
Buccaneers

- Anton Harrison, OT, Oklahoma

Tampa Bay has a ton of needs in this draft. Throughout the draft process, they have had more visits with prospects than any other team. A primary area for concern in 2022 for the Buccaneers was the offensive line play. Adding a lineman would make a lot of sense for a team in search of an identity post Tom Brady. Harrison is up and down on team boards ranking anywhere from OT4 to out of the top 10. Harrison compares similarly to former starter Donovan Smith.

In Consideration: Lukas Van Ness, Myles Murphy, Darnell Wright.
20. Seattle
Seahawks

- Luka Van Ness, DL, Iowa

Seattle adds a versatile defensive lineman in Van Ness here. This may seem like overkill after drafting an edge at pick five, but Seattle needs to add more consistency to its pass rush. In this scenario, the talent of Van Ness is too much to pass up.

WR and CB are two other considerations. Zay Flowers and Jordan Addison should be in heavy consideration at this spot for Seattle.

In Consideration: Zay Flowers, Jordan Addison, or best available CB.
21. Los Angeles
Chargers

-

Jordan Addison

, WR, USC

There are strong connections for this pick with Addison. Not only is WR a need for the Chargers but they have the inside track on evaluating Addison. Addison's coach at both Pitt and USC is now on the Chargers' coaching staff and that is the major connection for this pick.

In Consideration: Zay Flowers, Top TEs, or CB.
22. Baltimore
Ravens

- Myles Murphy, EDGE, Clemson

Every year it seems as though a talented player falls past their projection and ends up as a value pick for the Ravens. Myles Murphy is the player that falls in this mock. Baltimore has a need at EDGE and Murphy would fit in nicely in Baltimore's defense.

CB is another position of need that will be in play for the Ravens.

In Consideration: Trade Down, Zay Flowers, Emmanuel Forbes.
23. Minnesota
Vikings

-

Zay Flowers

, WR, Boston College

Adam Thielen has been jettisoned to Carolina and Minnesota is looking for a running mate for Justin Jefferson and T.J. Hockenson. Flowers would fill that void with more explosiveness than what Thielen had left in the tank. Flowers has been compared to a young Antonio Brown and would bring a different element to this passing scheme. Minnesota is another team that has been rumored to have QB interest and could make a move up if a QB were to drop. They have also been mentioned as a possible team of interest should Henson Hooker be drafted in the first round. My feeling is this pick is WR or CB.

In Consideration: Jordan Addison, Trade Up, Best CB available, Herndon Hooker.
24. Jacksonville
Jaguars

- Brian Branch, S, Alabama

Branch has been one of the more heavily mocked players in the entire first round. Mock drafters and beat reporters alike have linked Branch to the Jags. Branch isn't a traditional CB and more of a S/Nickel hybrid in the mold of Chauncey Gardner-Johnson. Branch plays well off the ball and gets rave reviews from Nick Saban.

Adding offensive line help in hopes of Trevor Lawrence taking the next step is another option in play. It should also be noted that Jacksonville has extensively used the majority of their top-30 visits on defensive line prospects.

In Consideration: Myles Murphy, O'Cyrus Torrence, Bryan Bresee.
25. New York
Giants

- Emmanuel Forbes, CB, Mississippi St.

The Giants need help at the WR position if Daniel Jones is going to get to the next level. The Giants may not be as high on the WRs in the first round as they are at some other positions. CB seems to be a primary need and Forbes has been getting a ton of buzz throughout the league. He is a bit undersized and may struggle in round support at the NFL level because of it but his ball skills are off the charts. The Giants' CB depth chart is thin and will likely be addressed early.

In Consideration: Zay Flowers, Jordan Addison, Quentin Johnston, or John Michael-Schmitz
26. Dallas
Cowboys

-

Michael Mayer

, TE, Notre Dame

The Cowboys have had a solid offseason. The glaring loss thus far has been TE Dalton Schultz. Michael Mayer is the most well-rounded TE in this class and would be one of the finishing pieces to the Dallas offense. Offensive line and defensive line could be other areas the Cowboys explore. With the release of Ezekiel Elliott, Cowboys fans are hungry for Bijan Robinson but he will probably be out of reach.

In Consideration: Dalton Kincaid, Zay Flowers, Jalin Hyatt, Darnell Washington, or Maui Smith
27. Buffalo
Bills

- Mazi Smith, DT, Michigan

The Bills seem to be prioritizing adding another weapon in the WR corps. Whispers have the Bills linked to having an interest in acquiring DeAndre Hopkins via trade from the Cardinals. Should that happen, the Bills would be able to address a few holes on defense. Here I have them selecting the powerful DT from Michigan. Smith's ability to bully offensive linemen and penetrate the interior while also playing the run would make him an every-down player on a talented Bills defense.

In Consideration: Bryan Bresee, Jack Campbell, or O'Cyrus Torrence
28. Cincinnati
Bengals

-

Dalton Kincaid

, TE, Utah

The Bengals did extensive work on TEs in the 2022 draft. Dalton Kincaid is a top-10 player on some evaluators' boards and could go as high as 15 to the Packers. Kincaid is essentially an oversized WR and may be the best pass catcher in the draft. Kincaid has been recovering from injury and thus far has yet to test during the draft process. The Bengals could also look to address the secondary and wait to draft a TE in later rounds due to the depth in the class and the recent signing of Irv Smith Jr.

In Consideration: Michael Mayer, Darnell Washington, Emmanuel Forbes, or Calijah Kancey
29. New Orleans
Saints

- Felix Anudike-Uzomah, DE, Kansas State

Cam Jordan is 34 years old and nearing the end of his career. Payton Turner has yet to make a difference after being overdrafted in the first round in 2020. Marcus Davenport signed with Minnesota in free agency leaving another vacancy along the defensive line. It's hard to envision the Saints picking anything other than defensive line with this pick. Anudike-Uzomah is a name that has been gaining momentum throughout the pre-draft process. Anudike-Uzomah has the length and body type that New Orleans values.

In Consideration: Quentin Johnston, Adetomiwa Adebawore, Calijah Kancey, Darnell Washington, or Michael Mayer
30. Philadelphia
Eagles

- Will McDonald IV, Edge, Iowa State

Brandon Graham is back for another year and the Eagles don't have much of a long-term plan behind the likes of Hassan Reddick and Josh Sweat. McDonald is an explosive athlete with the ability to bend around the corner. He offers a scheme fit with what the Eagles do on defense and would immediately fit in as a rotational piece in the Eagles' pass rush.

In Consideration: Trade down, Felix Anudike-Uzomah, Aditomiwa Adebawore, or Calijah Kancey.
31. Kansas City
Chiefs

-

Quentin Johnston

, WR, TCU

The Chiefs have a need along the defensive line but I have a feeling a reunion with Frank Clark could be in the future. Lucas Niang may seem like a swing tackle but the Chiefs may be more comfortable with starting him at RT than most fans realize. Both of those positions are certainly in play and would be no surprise should they draft one of those positions.

The Chiefs have been inviting prospects to work out with Patrick Mahomes. One of the first players to do so was Quentin Johnston. Rumor is that the Chiefs love the player who was once thought to be the top WR in the draft. This position may be too low to make that happen and it could be a situation that Kansas City trades up to make this pick happen.

In Consideration: Trade Up, Zay Flowers, Anton Harrison, Will McDonald IV, or Felix Anudike-Uzomah