Draftkings Reignmaker Core Strategy: Week 12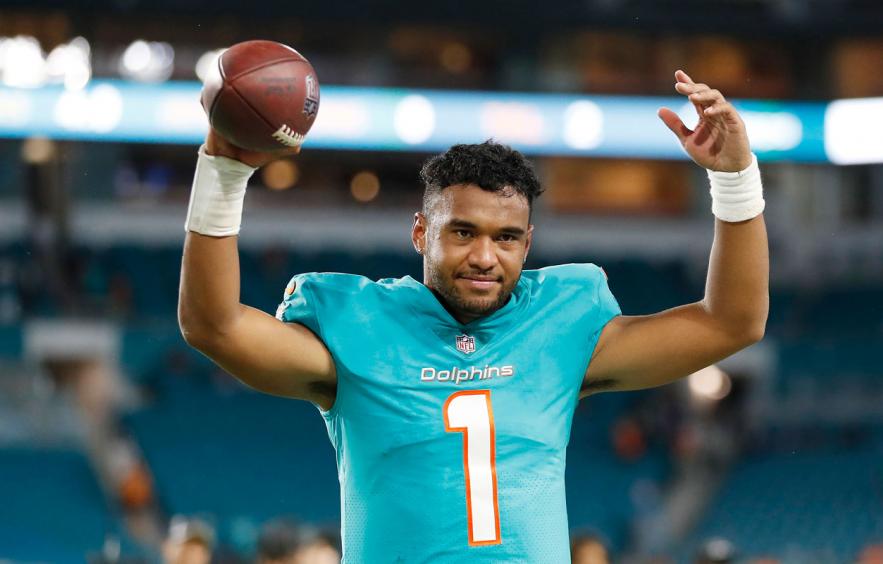 Michael Reaves/Getty Images
It's Thanksgiving week, which means everything from big meals to increased stress levels to family bonding to family tiffs. We get the gift of three Thanksgiving NFL games, but that removes a chunk of players from the main slate, and yet the main slate still features 11 games because there are no Week 12 byes. We also get Reignmakers' first Million-Dollar contest: the Thanksgiving holiday Million-Dollar Reignmakers contest, which uses Flannel cards pulled from holiday packs (or purchased on the marketplace). Matt Price and I opened a Holiday pack on Make It Reign, our pack-opening video show that includes some early-week strategy, this week focusing on the Thanksgiving slate. We open up a new pack each week on Make It Reign, which drops every Tuesday on our YouTube Channel.
---
More DraftKings Reignmaker Content!
---
15 players remain designated as "SuperStars" for Week 12, and only one SuperStar card is allowed in each contest lineup:
Core SuperStar Strategy
Week 12 SuperStar Strategy
With no team byes, only the Thanksgiving games and the nighttime games remove SuperStar cards from the main slate. The Bills, Lions, Giants, Cowboys, Patriots, and Vikings all play on Thursday, which takes out Josh Allen, Saquon Barkley, and Justin Jefferson as SuperStar main-slate options.
The Packers visit the Eagles on Sunday night, and the Steelers face off against the Colts on Monday night, which removes only Jalen Hurts from SuperStar consideration.
Patrick Mahomes is likely the top SuperStar option at QB, as the Chiefs welcome the Rams to Kansas City and oddsmakers favor the Chiefs by 11 points and give them a 28.25 implied team total. That being said, I would lean toward other positions at SuperStar given other quarterback options on the slate like Tua Tagovailoa, Dak Prescott, and Geno Smith.
Austin Ekeler is 4for4's top-ranked running back for the week, with the Chargers road-favorites against the Cardinals, who are giving up the 10th-most aFPA to running backs. Los Angeles projects to score 25 of the game's 47.5 points, and Ekeler is averaging 19.2 touches per game, 6th-most in the league.
Using him as your SuperStar prevents drafting Tyreek Hill, Justin Jefferson, and Davante Adams, but the top projected non-superstar wide receivers are all in close range of those three. A start of Austin Ekeler, Stefon Diggs, CeeDee Lamb, and DeAndre Hopkins projects for 85.3 combined points, while a start of Josh Jacobs, Stefon Diggs, Tyreek Hill, and CeeDee Lamb projects for 86.5 points. That's extremely close, but Ekeler's 20.5% target share is the highest among all RBs and easily outpaces Jacobs' 12.2% share. For ceiling value in PPR formats, it's a significant drop down in target share from Ekeler to Jacobs, while DeAndre Hopkins actually has a higher target share at 32.1% than Tyreek Hill's at 30.7%.
Core Marketplace Values
Lamar Jackson

, QB BAL

Jackson's low-ask on the marketplace is $7.99, and while his SuperStar status depresses his value to an extent, he remains one of the top options at the quarterback position, ranking as 4for4's QB4 for Week 12. He may not be my SuperStar choice for the week, but he's projected to score just 0.1 points fewer than Patrick Mahomes, and Jackson's card can be had for nearly half the price.
Austin Ekeler

, RB LAC

Ekeler is the RB1 by 4for4's projections for the week, and his receiving work is extremely valuable in Draftkings' PPR scoring setup. The Chargers face a Cardinals defense that's welcoming to RBs, and oddsmakers project a 25-point team total for Los Angeles.
Alvin Kamara

, RB NO

Kamara is the only RB with a cost less than $7.00 among those ranked in the top 10 for the week by 4for4. While he faces a difficult matchup with a 49ers defense that ranks 4th in aFPA allowed to the position, he will remain an RB1 option moving forward with matchups against a 25th-ranked Atlanta defense by aFPA allowed to RBs in Week 15, and a Cleveland defense in Week 16 allowing the most aFPA to RBs.
Terry McLaurin

, WR WAS

Picking up McLaurin for his $2.95 low-ask is basically stealing. His Washington Commanders line up against an Atlanta Falcons defense that ranks 24th in aFPA to opposing wide receivers. McLaurin's athletic and production profiles remain excellent, and the only thing holding him back in 2022 has been quarterback play. The Falcons rank 27th in aFPA to QBs, so this should be a week for McLaurin to shine.
Week 12 Tournament Strategy
RMF Classic - CORE - $50K Fiat Frenzy [$5K to 1st]
The $50K Fiat Frenzy includes the 11 Sunday afternoon games, excluding the BUF@DET, NYG@DAL, NE@MIN Thanksgiving Thursday night games, the GB@PHI Sunday night game, and the PIT@IND Monday night game. The payout structure awards $5,000 to first place, payouts down to $5 for 4,150th place, and a Core Plus pack prize all the way down to 6,150th place. As of late-Wednesday there are 5,289 entries in the Week 12 contest, and last week's contest drew 23,889 entries by kickoff.
Top Options at Each Position
QB:
Tua Tagovailoa

, MIA

Tua might not be the absolute best option at QB for the week, but he projects as the top non-SuperStar option at the position, and 4for4 ranks him as the QB3 among players available for the Sunday afternoon slate. The Dolphins host the Texans for a game that projects for a 47.5-point total, with the Dolphins claiming 28 of those projected points. While the Texans defense has been excellent at limiting opposing QBs, ranking 3rd in aFPA to the position, the duo of Tyreek Hill and Jaylen Waddle are extremely hard to lock down.
RB:
Austin Ekeler

, LAC

As I mentioned earlier in the SuperStar strategy portion of this piece, Ekeler is the number one RB for the week by 4for4's projections. He projects to score 22.7 fantasy points, and the next-best running back on the main slate is Josh Jacobs with 19.5 projected points. He'll be lining up against the Cardinals' 23rd-ranked defense to opposing RBs by aFPA, and he commands the highest market share of team targets of any RB in the league. It's hard not to roster SuperStar Tyreek Hill in any week in 2022, but positional value makes Ekeler my choice here.
WR:
Stefon Diggs

, BUF

Stefon Diggs is capable of explosive performances against the best defenses, but the man can go nuclear against defenses that struggle to limit wide receiver production. Diggs gained 148 yards and scored 3 touchdowns against a Titans defense that ranks 30th in aFPA to WRs in Week 2. In Week 5 against a 29th-ranked Steelers defense by aFPA to WRs, he had 102 yards and a touchdown. He faced the Chiefs and their 31st-ranked defense in Week 6 and went off for 148 yards and a touchdown, and had 128 yards on 12 receptions against a 26th-ranked Vikings defense in Week 10. His opponent in Week 12 is the Detroit Lions. They rank 28th in aFPA to wide receivers. Get your popcorn ready.
WR/TE:
CeeDee Lamb

, DAL

The Cowboys host the division-rival Giants in Week 12, and in their previous Week 3 matchup, they didn't have Dak Prescott available to steer the ship. CeeDee Lamb still managed 8 receptions for 88 yards and a TD, and after 11 weeks, the Giants rank 14th in aFPA to WRs. Lamb commands a jaw-dropping 31.8% market share of targets among Dallas WRs, and his 2.51 yards per route run ranks 9th among wide receivers.
FLEX:
Josh Jacobs

, LV

The Raiders travel to Seattle to face the Seahawks, and oddsmakers peg the game to result with 47.5 points scored, and Las Vegas accounts for 22 of them. Seattle ranks 24th in aFPA to RBs, and 4th in aFPA to WRs, making them one of the more obvious run-funnel matchups out there. Jacobs ranks as the PPR RB3 for Week 12 by 4for4's projections, and the highest-ranked non-SuperStar at the position with 20.8 projected points.