DK Reignmakers Super Bowl Elite Tier Strategy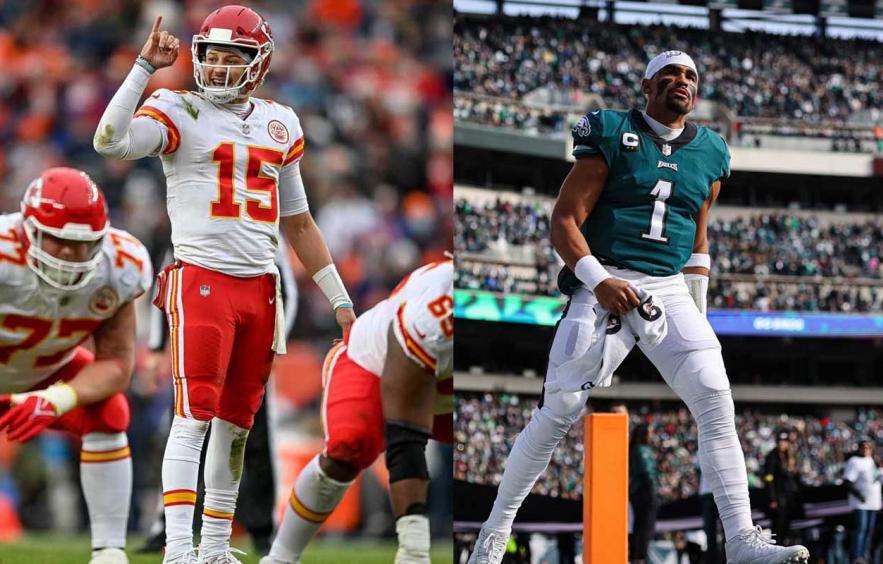 Dustin Bradford (PM) and Scott Taetsch (JH)/Getty Images
Welcome to the final edition of the 4for4 DraftKings Reignmaker strategy series! Each week Andrew Fleischer and I have brought you an article detailing different strategies to help you take home the money in DraftKings' newest DFS offering played with NFTs. Thanks for coming along with us on this ride through a new kind of fantasy football.
---
More DraftKings Reignmaker Content!
---
The primary contests are different this week, with four flex starters, including a captain spot that will earn 1.5x points. You will recognize this format for one-game slates if you're familiar with DraftKings' regular DFS offerings.
Optimal Options
These are the best plays at each starting spot based on the Super Bowl rankings over at 4for4.
Jalen Hurts

, QB PHI (Elite FP: $678, Rare FP: $50)

For those only playing one lineup this week, the choice for the captain spot is an easy one. Jalen Hurts offers the highest ceiling of any player, thanks to his rushing upside. I want to take advantage of that ceiling and hit the highest possible single-player score with the 1.5x bonus that comes with playing him as the captain. Of the two quarterback options, Hurts is the completely healthy one and on the team that is favored to win the game with the higher implied team total. He is projected to score 22.2 DK points. We didn't get a chance to see Hurts really light up the scoreboard in the conference championship against San Francisco because of the Niners' quarterback woes. The Eagles just didn't need to throw the ball much and scored all four touchdowns on the ground, including one for Jalen Hurts. Philadelphia is a one-point favorite against the Kansas City Chiefs, who give up the fifth most schedule-adjusted points in the league to enemy quarterbacks. The Eagles have a 25.75-point implied team total.
Patrick Mahomes

, QB KC (Elite FP: $650, Rare FP: $46)

Despite the hobbled ankle, Mahomes led his team past the Cincinnati Bengals with 326 passing yards and two passing touchdowns. With inferior passing game weapons outside of Travis Kelce, it will be up to Mahomes to win this game and bring home a second Super Bowl victory. Mahomes is projected to score 18.2 DK points but could undoubtedly score more if he hits the bonus for 300-passing yards, which almost feels inevitable in this game. Kansas City is a one-point dog against the Philadelphia Eagles, who give up the 12th-most schedule-adjusted fantasy points to opposing quarterbacks. The Chiefs have a 24.75-point implied team total.
A.J. Brown

, WR PHI (Elite FP: $499, Rare FP: $42)

Devonta Smith outproduced A.J. Brown in each of the last two games, but both (against the Cowboys and the Niners) got out of hand and limited the need to go nuts in the passing game. Against Kansas City, the Eagles will need to score more points through the air if they want to keep up with Mahomes, and I expect to see A.J. Brown resume his alpha status in the Eagles' passing attack. Both Brown and Smith are great plays, but I think more people will be on Smith due to his recent performances down the stretch, so it's an opportunity to add some uniqueness to the lineup. Brown is ranked as the top wide receiver at 4for4 and is projected to score 15.7 DK points. The Niners are giving up the twelfth-fewest points to the wide receiver position, but Brown is a matchup-proof play each and every week.
Travis Kelce

, TE KC (Elite FP: $605, Rare FP: $48)

We don't need to play a tight end this week, but you better believe we are going back to Travis Kelce. He has averaged 9.4 receptions, 104.4 yards, and a touchdown over his last eight playoff games and will be leaned on heavily again in the Super Bowl. Kelce is projected to score 16.7 DK points in the final game of the 2022 season. The Eagles are tough on tight ends, giving up the eighth-fewest schedule-adjusted fantasy points to the position, but we know Travis Kelce can win against any defense.

That will do it for this season's final edition of the DraftKings Reignmakers contests. If you have any comments or suggestions for next season, please feel free to reach out to me on Twitter!