Draftkings Reignmaker Core Strategy: Super Bowl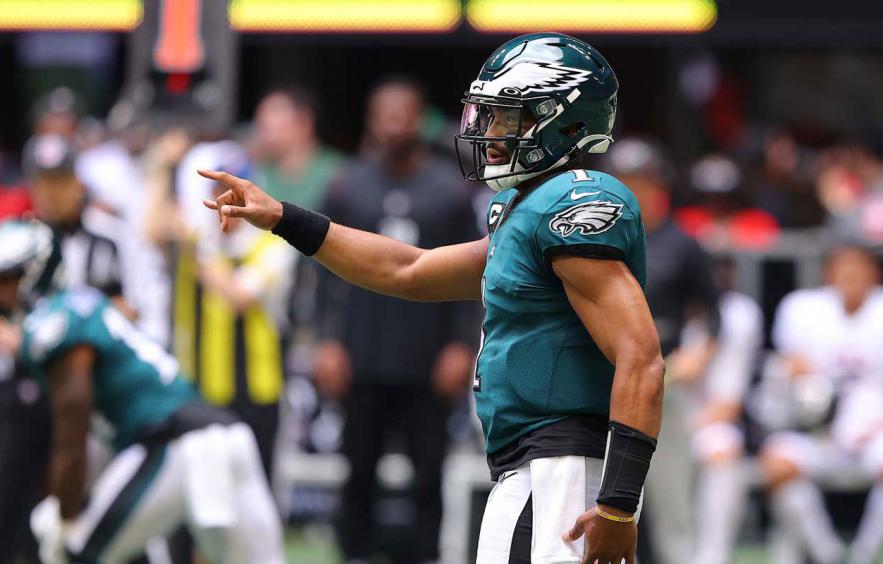 Kevin C. Cox/Getty Images
The ups and downs, the drama, and the trials and tribulations of the NFL season have all come down to this. Super Bowl weekend is finally here! The final installation of Reignmakers Core strategy for the 2022 season is here as well to help you take your best final shot at the Reignmakers prize pool.
---
More DraftKings Reignmaker Content!
---
Kansas City and Philadelphia are the two teams that remain in the hunt for the Super Bowl trophy, leaving only the teams' respective QBs, Patrick Mahomes and Jalen Hurts, as the players designated as Reignmaker Superstars.
Core SuperStar Strategy
Because you can only start one QB in the Fiat Frenzy contest, and both remaining Superstars are QBs, the designation doesn't prevent you from making any choices you like at the remaining skill positions.
The only decision left to be made for a single entry is which Superstar QB you expect to have the better statistical output. Patrick Mahomes finished the 2022 regular season as the highest-scoring fantasy QB in 17 games, while Hurts ended up as the QB3 in total points in 15 games played.
Jalen Hurts faces an exploitable Kansas City passing defense that allowed the fifth-highest aFPA to opposing QBs during the regular season, and the Chiefs' cornerback trio of Jaylen Watson, L'Jarius Sneed, and Trent McDuffie definitely haven't made opposing offensive coordinators wake up in the middle of the night in a cold sweat. Chiefs defensive tackle Chris Jones has notably shifted into a higher gear for the playffs, tallying 16 total pressures combined in the Divisional and Championship round games, but Jones and the Chiefs have yet to face an offensive line as formidable as the Eagles' unit. Hurts also has significant rushing upside, and Kansas City gave up the fifth-most QB rushing yards during the regular season.
Patrick Mahomes' remarkable talent can overcome nearly any defensive matchup, but that doesn't mean you should dismiss the Philadelphia secondary. Darius Slay, James Bradberry, and Avonte Maddox form an extremely strong coverage unit. The Eagles defense as a whole has allowed a grand total of 14 points through two playoff games, and they lay claim to one the most - if not the most - effective pass rushing personnel in the league. Despite their defensive prowess, the Eagles did give up the 12th-highest QB aFPA during the regular season, so I wouldn't count on them holding the Chiefs to seven points. The Eagles also allowed the sixth-most QB rushing yards, but unless Mahomes' high ankle sprain was misdiagnosed, it's hard to see him rushing for significant yardage on Sunday.
4for4 Ranks Hurts as the QB1 for the Super Bowl, with 22.2 projected points to Mahomes' 18.2. Hurts' involvement as a rusher is ultimately the deciding factor for me, because his ability to add to his fantasy total regardless of game script outcomes gives him the higher floor. Hurts' 43 red zone rushing attempts during the regular season was sixth among all players, and his 11 red zone touchdowns was tied for third.
Super Bowl Week Tournament Strategy
RMF Showdown - CORE - $100K Fiat Frenzy [$10K to 1st]
The year's final Fiat Frenzy is a Showdown contest, the format used for all single-game slates. One of the four team positions is designated as the "Captain" and whichever player you select has their fantasy points multiplied by 1.5. The prize pool for Super Bowl Week is $100K, and the payout structure awards $10,000 to first place and payouts down to $5 for 6,986th place. As of Friday there are 8,143 entries in the Super Bowl Week contest, and the final field should end up with over 20,000 entries.
Top Options at Each Position
QB:
Jalen Hurts

, PHI

Quarterback is often the most popular choice for the captain position, and while it can be tempting to go contrarian with another position here, you'd be flying against strong headwinds by doing so. The opening odds for the Super Bowl favored the Chiefs by two points, but after early betting, the odds have shifted to the Eagles being favored by 1.5 points, making Hurts Vegas' projected favorite at QB. 4for4 also projects Hurts as the highest-scoring player in the game, and he's rushed for a touchdown and over 30 yards in both playoff matchups so far. Looking at a small sample size can often be a trap, but Hurts averaged 11 rushing attempts for 51 yards and 0.87 touchdowns per game for the entire regular season, and the Chiefs present a favorable matchup for rushing QBs.

Kansas City has allowed the fifth-highest aFPA to QBs, they have a very exploitable secondary, and their one recent defensive strength has been the pass rushing prowess of Chris Jones, which should be mitigated by Philadelphia's excellent offensive line. The Eagles were the 10th-most run-heavy team in the regular season, running on 42.9% of their offensive plays, and they've only amped things up for the playoffs so far, rushing on 59.6% of their plays. It's reasonable to expect the Eagles to feature the passing game more frequently against a Chiefs defense with such a disparity between their QB aFPA (fifth highest) and their RB aFPA (12th lowest). That outcome, along with a 49.5 projected point total that assumes a high-scoring and close game, should give us access to a potential ceiling game from Hurts.
FLEX: Isaiah Pacheco, KC
The Chiefs have run far less frequently than the Eagles in the playoffs, doing so on 33.1% of their offensive plays, and that's been slightly above their regular-season rushing frequency of 32.6%. Pacheco has definitely asserted himself over the last two games, compiling over 186 total yards and making Jerick McKinnon virtually an afterthought. His 5 receptions on 6 targets for 59 yards in the Chiefs' Divisional round matchup with the Bengals were particularly noteworthy, especially given the likelihood that Kansas City will want to mitigate Philadelphia's pass rush with quicker (and therefore shorter) passes. 4for4 projects Pacheco to score the fourth-most points in this game, ahead of Miles Sanders due to a higher projected receiving total. Pacheco had an aDOT behind the line of scrimmage at -2.1 yards, while his 91 yards after the catch is the highest mark among all players over the last two games.
FLEX:
A.J. Brown

, PHI

Deciding between A.J. Brown and DeVonta Smith has been no easy call throughout the season. Both players have had extremely similar target shares and yards per route run, with Brown claiming a 12-yard aDOT to Smith's 9.7 yards as well as a 50% end zone target share to Smith's 30.8%. If the Eagles do in fact increase their passing percentage in this game, Brown's efficiency should give him the edge. Both WRs line up all over the formation, and when either is on outside right of the offensive formation and draws coverage from Jaylen Watson, they'll be facing the most advantageous matchup. The Eagles beat the Giants in the Divisional round 38-7, and were then victorious over the 49ers 31-7 in the Conference Championship round, building sizeable first-half leads that gave them no reason to stray from a run-heavy game plan. As a result, both Philadelphia receivers had limited fantasy outcomes (though Smith's 61 yards plus a touchdown against the Giants dwarfed Brown's three receptions for 22 yards). With projections pointing to a high-scoring game for both teams, Brown should see more opportunities, and recent gamescript outcomes should keep his drafted percentage slightly lower.
FLEX:
Travis Kelce

, KC

The Chiefs' wide receiver usage has been difficult to predict, but the one constant has been Travis Kelce. He led the team in targets by over 50 for the regular season, and that trend hasn't stopped through two playoff games. Kelce earned 17 targets in the Divisional round against the Jaguars, while eight other Chiefs receiving options combined for 18 targets. Two weeks ago against the Bengals, Kelce tied Marquez Valdes-Scantling with eight targets. Kelce's aDOT of 8.7 for the season won't put him out of range for quicker, shorter throws from Mahomes, and Kelce turns into a slippery Abrams tank from there, as his 726 yards after the catch was the second-highest total behind Austin Ekeler. Kelce also has the advantage of frequently drawing coverage from Eagles safeties and linebackers, giving him a matchup advantage over receivers being covered by Philadelphia's excellent cornerback crew. Kelce's red zone usage is what really sets him apart, and he's responsible for three of the five receving touchdowns Kansas City has sccored through two playoff games this post-season.
FLEX:
Kenneth Gainwell

, PHI

Don't look now, but Kenneth Gainwell has oustcored Miles Sanders through the Eagles' two playoff games in PPR formats. Granted, only by two fantasy points, but that's enough for differentiation from a field that will be leaning heavily toward Miles Sanders. Gainwell's snap percentage has grown from 28% through the regular season to 37% in the Divisional round to 42% in the Conference Championship round. Meanwhile, Sanders' usage has decreased from a 57% snap share in the regular season to 40% and 30% over the last two games, respectively. Gainwell's playoff efficiency has outpaced Sanders in Rushing Yards Over Expectation per Carry, Broken Tackle percentage, Rushing EPA per Carry, and even percentage of team red zone carries. If the Eagles pass at a slightly higher rate than usual given the matchup, and Philadelphia's RB playoff usage trends continue into the Super Bowl, Gainwell stands to benefit. Gainwell has out-targeted Sanders 5-to-1 over the last two games, while also outperforming Sanders as a rusher with his 6.2 YPA vs Sanders' 4.7 YPA.