Draftkings Reignmaker Core Strategy: Championship Round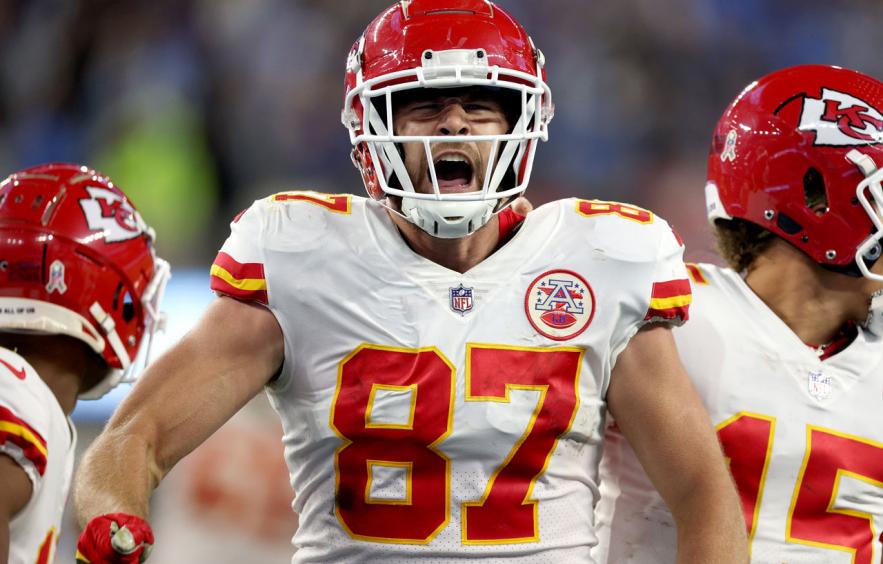 Harry How/Getty Images
The time has come for the NFL Conference Championship games. It's the final weekend of NFL football until the Superbowl! Only four teams remain, with the highest seeds advancing on the NFC side of the bracket and the #1 and #3 seeds advancing for the NFC. The player pool may be smaller, but the Reignmakers Core strategy rundown is here to make some sense of the field. Matt Price and I took a quick look at the two games on Make It Reign, our weekly pack opening and strategy show.
---
More DraftKings Reignmaker Content!
---
For the Championship round, three players remain as designated "SuperStars," and only one SuperStar card is allowed in each contest lineup:
Core SuperStar Strategy
Championship Round SuperStar Strategy
There are only three players designated as SuperStars remaining with the elimination of Josh Allen's Buffalo Bills: Jalen Hurts, Patrick Mahomes, and Christian McCaffrey.
With only four teams remaining, the differentiation between the top remaining options becomes quite small. The 49ers/Eagles game has a 46.5 projected point total, while the Bengals @ Chiefs game has a projected total of 48. Figuring in the spreads, both Mahomes and Hurts' teams have projected team totals of 24.5, while McCaffrey's 49ers are projected to score 22 points.
4for4 projects Hurts to score 20.4 PPR fantasy points, Mahomes to score 16.4, and McCaffrey to score 18.8. With non-SuperStar Joe Burrow projected for 19.6 points, a Burrow/McCaffrey combo projects for 38.4 combined points. The RB with the next-highest projected points after McCaffrey is Joe Mixon at 16.1 points, and a Hurts/Mixon combo combines for 36.5 points. McCaffrey also benefits from the best matchup among the four starting RBs against the Eagles (20th in RB aFPA), and Burrow's matchup with the Chiefs (28th in QB aFPA) is the best among the four QBs. McCaffrey is my choice for a single fiat frenzy lineup.
Championship Round Tournament Strategy
RMF Classic - CORE - $50K Fiat Frenzy [$10K to 1st]
The Fiat Frenzy contest is whole again, with both games on Sunday and all four teams on the main slate. This contest draws from four teams across two games: CIN@KC at 3:30 pm EST and SF@PHI at 6:30 pm EST. The payout structure awards $10,000 to first place and payouts down to $5 for 3,859th place. As of Thursday, there are 5,956 entries in the contest.
Top Options at Each Position
QB:
Joe Burrow

, CIN

Joe Burrow isn't the top QB option for the Championship round of the NFL playoffs. That distinction goes to Jalen Hurts, but Burrow projects for just 0.8 fewer points than Hurts, and Burrow doesn't prevent access to Christian McCaffrey. Burrow also benefits from his matchup against the Kansas City defense, which ranks 28th in aFPA to QBs. The Bengals were the fourth-most pass-heavy team in the league during the regular season, but last week against the Bills, Cincinnati only passed on 57.7% of their offensive plays, fifth among the eight remaining teams. Of course, Buffalo allowed the seventh-lowest aFPA to QBs this season but ranked 14th in RB aFPA, so that outcome lines up with the Bengals taking what Buffalo's defense gave them. Meanwhile, the Chiefs ranked 12th in RB aFPA, making them more of a pass funnel than any of the remaining defenses.
RB:
Christian McCaffrey

, SF

McCaffrey is 4for4's highest-ranked RB for the Conference Championship weekend, and his 18.8 projected points are the fourth-most among all positions on Sunday. He's up against an Eagles defense that ranks 21st in QB aFPA and 20th in RB aFPA, so he doesn't face a prohibitive matchup as either a runner or a receiver. The 2022 Eagles haven't been terrible at defending targets to RBs, but merely average, ranking 16th in with 527 receiving yards allowed to opposing RBs along with three TDs. The 49ers entered the postseason as the fifth-most run-heavy team at 45.5%, and through two playoff games, they've actually cranked it up a notch, rushing on 48.5% of their offensive plays. Brock Purdy has targeted McCaffrey 10 times through two postseason games, the second-most among 49ers skill players behind Deebo Samuel.
WR:
Ja'Marr Chase

, CIN

Only Dalton Schultz has outscored Ja'Marr Chase in PPR formats through two playoff games, and you may have noticed that Shultz won't be playing this Sunday. 4for4 projects Chase to score 19.8 PPR fantasy points against the Bengals, the second-highest point total among all players. If the Bengals lean on their passing offense as I believe they will on Sunday, Chase is the obvious beneficiary. His regular-season target share among Bengals receivers was 28.9%, fourth among all offensive skill players, and through two playoff games, Chase's target share stands at 30.3%. He's also an excellent bet to score a touchdown, as his 26 regular-season red zone targets ranked fourth among all skill position players, while his 131 red zone receiving yards ranked #1.
WR/TE:
A.J. Brown

, PHI

Brown ranks sixth in 4for4's projections for Sunday with 16.3 PPR fantasy points, and he'll be facing a 49ers defense that ranked 26th for the season in aFPA to WRs. Brown's 2022 target share of 28.7% was just barely below Ja'Marr Chase's number. Brown certainly faces target competition from DeVonta Smith, but the two receivers function differently from one another in this Eagles offense. Brown's aDOT was 12.1 yards for the season, while DeVonta Smith's was 9.6 yards, and Brown's 40.7% share of air yards was 3rd-highest in the league. This discrepancy was even wider for last week's matchup, with Brown's 10.5-yard aDOT to Smith's 6.9. Part of the reason for Brown's high air-yard share total is that the Eagles run the ball so frequently, but if there was ever a time to lean more heavily on passing, it's this Sunday. San Francisco's fourth-ranked RB aFPA alongside their 26th-ranked WR aFPA makes them a clear pass-funnel defense.
FLEX:
Travis Kelce

, KC

Kelce has been the Chiefs' target leader all season long, but last week's Divisional Round matchup with the Jaguars stepped into the realm of the absurd. Kelce was targeted 17 times, catching 14 passes for 98 yards and 2 TDs. The remaining eight Chiefs players that put up any fantasy stats combined 13 for targets. While the Bengals might not rank 30th in TE aFPA as the Jaguars did, Cincinnati has been more successful at limiting QB and RB scoring (fifth in aFPA to both positions) than they have WR and TE scoring (16th and 13th respectively). The CIN@KC matchup projects for 48 total points, and don't expect Chiefs RBs to account for an oversized portion of the team's 24.5 projected points. Kelce's aDOT of 7.1 yards was the 7th-lowest among all 38 players with at least 100 targets, but who cares? His 648 yards after the catch bested all but Austin Ekeler among the same field of 100-target players, and Kelce's 30 red zone targets led the entire league. You want Kelce in your Flex. You NEED him in your Flex. Don't fight the feeling.