2022 Round 2 NFL Mock Draft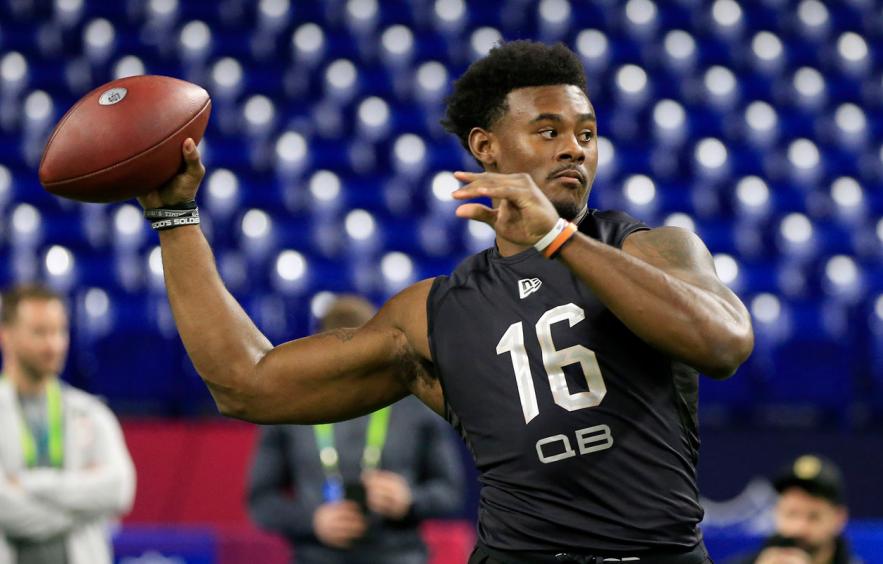 Justin Casterline/Getty Images
Day one featured nine trades and some crazy movement between draft prospects and established NFL receivers alike. Round 2 features plenty of fantasy-relevant draft prospects and impact players on both sides of the ball. I hit on 29-of-32 draft prospects in the first round, let's see how we do in the second.
---
More Draft Content: Round 1 Recap | Final Big Board |
---
33. Tampa Bay
Buccaneers

: Logan Hall, DL, Houston

While I expect many of the QB needy teams to try and move up for this pick, no trades are allowed on a mock for me. Hall was rumored to be of interest at 27, and a fall to 33 is easily explained. Either he or Kyler Gordon is easily explainable for a Bucs team looking to go on a Superbowl run. Hall is a 6-foot-6 283-pound man who had 13 tackles for loss and six sacks last season at Houston. Hall ran a 4.88 and had elite agility scores which gave him an overall RAS of 9.4. Hall is considered a fringe first-round prospect but is said to have a bunch of fans in the twenties including the Buccaneers, Packers, and Bengals.
34. Minnesota
Vikings

: Kyler Gordon, CB, Washington

After passing on teammate Trent McDuffie and trading out of 12, the Vikings add to their cornerback room with Kyler Gordon. Kyler Gordon is a sub-6-foot corner who ran a 4.52 at the combine but his tape is equally impressive to that of previously selected teammate Trent McDuffie. Gordon has longer arms than McDuffie and is one of the corners invited to the green room on Draft Day which means the league thinks he is a fringe day one pick. Gordon is a fluid athlete who can sink his hips and break on the ball whether it be in man or zone coverage. Gordon needs to clean up his tackling, but his tenacity could get him on the field either in the slot or on the outside.
35. Tennessee
Titans

:

Malik Willis

, QB, Liberty

While Ryan Tannehill might be the quarterback now, they just reset their timeline by trading away A.J. Brown. Enter Malik Willis who has one of the most athletic profiles since Michael Vick and has immense upside as he also has one of the strongest arms in the class. Malik Willis has all the physical tools to be a great quarterback at the NFL level. Willis posted the top initial air speed (75.7 MPH) at the Senior Bowl confirming what we see on tape, elite-level arm strength. Willis' legs jump off the page when watching his film, but he did not run a forty at the combine or his pro day. Over the last two seasons, Willis has averaged nearly 80 rushing yards a game (including yardage lost due to sacks) and has 27 rushing touchdowns over his last 23 career games. Willis should be considered a developmental prospect after taking 51 sacks last season behind a porous offensive line and offensive weapons that failed to haul in passes, some easy and some difficult. The physical tools are there, and the ceiling is immense, but Willis will likely be best in a place where he can sit for a season and develop, and with Ryan Tannehill currently as the starter, he can sit for a season or two.
36. New York
Giants

: Andrew Booth, CB, Clemson

After missing out on Sauce Gardner and Derek Stingley, the Giants can add a talented corner to the roster. Booth has the blend of size (6-foot-0, 194 pounds) and athleticism that is typical of a five-star recruit. Booth plays corner like the ball is his and that confidence cannot be overlooked. Booth did not compete in on-field testing due to a quad injury and his injury is not considered serious, but with Clemson's Pro Day on March 17th having come and gone, Booth will not have any official testing scores on his profile. In Wink Martindale's scheme, this would be a home run.
37. Houston
Texans

: Nakobe Dean, LB, Georgia

Dean is an undersized linebacker but can play in the middle of Lovie's defense and run sideline to sideline. Dean was a leader on the Georgia defense and his production at the SEC level will be valued by Lovie who just loves solid backers.
38. New York
Jets

: Bernhard Raimann, OT, Central Michigan

The Chargers took a chance on an athletic tackle with short arms last season, and it turned into a second-team All-Pro selection. The Jets need a tackle to provide insurance for Mekhi Becton and to combat that they select Raimann who put together an elite combine that saw him post an elite RAS of 9.81 which ranks in the top 2% of all tackles since 1987. Raimann did have slightly below-average arm length and his 303-pound frame could stand to gain 10-15 pounds of muscle, but he is a converted tight end with two years of experience at the position. Raimann's athletic gifts are among the best in the class and his addition could make the offensive line better and help protect Zach Wilson in the passing game.
39. Chicago
Bears

:

Christian Watson

, WR, NDSU

With the undersized and speedy Darnell Mooney as the only locked-in receiver, the Bears must add options for Justin Fields. Enter Christian Watson who absolutely demolished the combine becoming just the second receiver ever to post a perfect 10. Watson displayed plus size at 6-foot-4 208-pounds, plus speed with a 4.36 forty, and plus explosiveness with a 38.5-inch vertical and 11'4" broad jump. For his career, Watson averaged over 20 yards a catch and that number was at least 18 in every season of his career. The NDSU product does come from one of the heaviest run-centric offenses in college football and his level of competition was not the SEC, but Watson was able to dominate when called upon. Watson lacks polish but has immense upside and will attract teams late Round 1 or early Round 2.
40. Seattle
Seahawks

:

Desmond Ridder

, QB, Cincinnati

After being patient and taking the best available player, the Seahawks select their preferred quarterback in this draft in Ridder. Desmond Ridder is another quarterback who checks off all the commandments of Bill Parcell's with extensive experience as a starter and a winning record. Ridder has extensive starting experience with four years under his belt and steady improvement season after season. Ridder has good size at 6-foot-3 211 pounds and can generate impressive throw power whether his feet are underneath him or not. Ridder is also an exceptional athlete who can break tackles and set defenders up with his shiftiness in the open field. Ridder's greatest weakness is accuracy and overall execution on timed routes, but his ability to make all the throws and work off schedule makes him a solid developmental pick, but one with massive upside. His ability to stretch the field vertically would work in a heavy play-action scheme, especially one with a strong run game that can feature QB run wrinkles. Ridder ran a 4.52 and posted an overall RAS of 9.62 which ranks in the top 4% of QBs since 1986.
41. Seattle
Seahawks

: David Ojabo, Edge, Michigan

The Seahawks use their second-round pick on the best remaining edge. Without a clear-cut starting quarterback, the Seahawks don't have a win-now timeline, making the value of waiting for Ojabo coming off his injury worthwhile.
42. Indianapolis
Colts

:

Skyy Moore

, WR, Western Michigan

The Colts add a secondary receiving weapon outside of Michael Pittman for new quarterback Matt Ryan with the pick acquired for Carson Wentz. Skyy Moore is a smaller wide receiver at 5-foot-9 but has solid bulk at 195 pounds and makes up for it with elite-level speed at 4.41 at the combine. Moore also posted a strong 10'5" broad jump to help round out a 7.49 RAS which ranks just outside the top 25% of all receivers since 1987. Moore posted a college dominator rating of nearly 45% and was a First Team All-Mac selection as a freshman in 2019. In his final season, Moore caught 95 passes for 1,292 yards and 10 touchdowns with his combination of RAC ability and getting behind defenders. Moore had the largest hands among receivers at the combine and his competitive nature is evident on film as he looks like a bulldog pushing for extra yardage. Despite his blazing speed, Moore wasn't asked to return kicks or punts which will be a concern for some teams.
43. Atlanta
Falcons

:

Matt Corral

, QB, Ole Miss

The Falcons add a quarterback who some compare to Ryan Tannehill and Marcus Mariota, and when you tie this all to Arthur Smith it is kind of weird. Matt Corral excelled in the quick passing game and in the RPO game while also bringing a QB run threat. The question with Corral is can he operate in a more traditional NFL offense, or will he be pegged into a heavy RPO scheme like the one designed for Tua Tagovailoa (to date). Corral isn't a physical specimen at 6-foot-1 212-pounds and his overall arm strength doesn't fly off the field, but he can manipulate the pocket and make throws from a variety of angles. Corral improved his accuracy in his junior season completing 68% of his passes and showed more effectiveness in the run game particularly near the end zone finding paydirt 11 times. Corral will be questioned for his frame and arm strength at the NFL level, but his high level of play in the SEC could land him in a situation where a team views him as a developmental starter.
44. Cleveland
Browns

:

George Pickens

, WR, Georgia

After trading for Deshaun Watson, the Browns decide they need to lock in pieces around him. Pickens has some diva and character concerns, but a team who just traded for Watson isn't concerned about that. George Pickens was a heralded high school recruit who in 2019 was considered the fourth-best receiver in the country. Pickens measured in at over 6-foot-3 and 195 pounds and blazed a 4.47 forty despite recovering from a 2021 ACL tear. George set the record for receiving yards by a freshman at Georgia and found the endzone 14 times over his first two seasons. Pickens could still add a few pounds to his lean frame and could still add some releases to his mix to get off the line of scrimmage against NFL corners. Pickens is good in the intermediate to deep areas of the field but needs to work on his precision in the short areas. Pickens has the kind of build and tenacity that could make him a true number one receiver in an NFL with some time to develop.
45. Baltimore
Ravens

:

John Metchie

, WR, Alabama

After trading away Marquise Brown, the Ravens must add receivers for Lamar Jackson to work with. John Metchie is a 5-foot-11, 187-pound receiver with vertical speed to burn and would likely have been a Round 2 pick prior to tearing his ACL late in the season. In 13 games prior to his injury Metchie compiled 96 receptions for 1,142 yards and eight touchdowns and was sorely missed in the Alabama loss to Georgia. Metchie has struggled with concentration and drops a little too often, but he is constantly looking to attack a defense, whether he has the ball in his hands or not. Metchie played inside and outside at Alabama and was very involved in the screen game and as an option on RPOs but is one of the silkiest route runners in the class and adept at creating separation from defenders in all areas of the field. While Metchie likely wouldn't have blown the doors off at the combine and his overall athletic profile will remain a question mark with no tests incoming due to the torn ACL.
46. Detroit
Lions

: Roger McCreary, CB, Auburn

After moving up in the draft and grabbing a difference-making wide receiver, the Lions select Roger McCreary who had first-round buzz before a non-existent combine showing. McCreary doesn't meet the arm length threshold but his play in the SEC cannot be passed up. McCreary is a speedy corner who can close on the ball and tackles well in the open field limiting big plays when receivers do make the catch. McCreary can shut down receivers playing bump and run but is also well versed in zone coverage.
47. Washington
Commanders

: Jalen Pitre, S, Baylor

After the Commanders traded out of a Kyle Hamilton pairing, the Commanders add a safety who can work in on the Buffalo Nickel. Pitre is an elite athlete who can move around the formation and match up with any offensive player.
48. Chicago
Bears

: Travis Jones, DL, UConn

After failing to get the Larry Ogunjobi deal done due to a failed physical, the Bears draft a three-technique with a ton of potential. Jones was considered a fringe first-round prospect who can affect the opposing offense in the backfield.
49. New Orleans
Saints

: Kenneth Walker, RB, Michigan State

With pending legal trouble surrounding Alvin Kamara at the Pro Bowl, the Saints add his complement and Mark Ingram's replacement. Kenneth Walker is arguably the best pure runner in this class, but he has a non-existent receiving profile which calls into question his fit in the modern NFL. Walker has exceptional contact balance in his 5-foot-9 211-pound frame and is a chiseled Greek god. Walker has one of the best jump cuts in this class and can explode through holes. Walker posted a mind-blowing 4.38 forty at the combine and smashed a 10'2" broad jump to give him a top 10 percentile RAS among running backs. Walker started his career at Wake Forest before transferring to Michigan State and ended up starting every game last season en route to winning the Doak Walker award for the nation's best running back. Walker has scored 31 rushing touchdowns over the last two seasons and led all FBS players with 89 missed tackles in 2021. Walker can still stand to improve his pad level and will need to prove to the NFL his worth as a receiver as it is a complete unknown outside of a few screens here and there. Walker could be in the mix for RB1, but teams may prefer the proven versatility of Breece Hall.
50. Kansas City
Chiefs

: Boye Mafe, EDGE, Minnesota

After adding a power-style rusher in the first, the Chiefs also take a shot on a supped-up edge rusher out of Minnesota. The explosive first step could add an instant impact early on passing downs.
51. Philadelphia
Eagles

: Leo Chenal, LB, Wisconsin

A linebacker for the Eagles, I am really not willing to give any more effort than that.
52. Pittsburgh
Steelers

: DeMarvin Leal, DL, Texas A&M

With the Steelers' defensive line aging, they add a five-technique who was once considered elite in this class.
53. Green Bay
Packers

: Arnold Ebiketie, EDGE, Penn State

The Packers add another edge option to go along with their two defensive picks. This is mostly to see how John Paulsen reacts, though.
54. New England
Patriots

: Jaquan Brisker, S, Penn State

After adding an offensive lineman in Round 1, the Patriots add a versatile safety to their defense. The fact that he is an elite athlete doesn't change much.
55. Arizona
Cardinals

:

Breece Hall

, RB, Iowa State

While Chase Edmonds has departed, the Cardinals did re-sign James Connor. Hall helps sell the team to Kyler Murray though as those names would be fiye, or whatever the kids say these days.

56. Dallas
Cowboys

: Nik Bonitto, EDGE, Oklahoma

After losing Randy Gregory this offseason, the Cowboys need a pass-rushing threat. Bonitto is undersized but launches like a rocket is up his ass to get after the QB.
57. Buffalo
Bills

: Darian Kinnard, OL, Kentucky

While the Bills wanted to jump up for a running back, adding an interior lineman who can provide some push is still well worth the investment.
58. Atlanta
Falcons

: Christian Harris, LB, Alabama

After losing their top tackler from last season, the Falcons fill in those tackles from the MLB spot. Harris ran a 4.44 and can cover serious round.
59. Green Bay
Packers

: Coby Bryant, CB, Cincinnati

Coby Bryant is a lengthy corner who can play on the outside and allow Jaire Alexander to bump inside on some nickel situations.
60. Tampa Bay
Buccaneers

:

Trey McBride

, TE, Colorado State

With Rob Gronkowski still teetering between retirement and suiting up, McBride is the most pro-ready tight end in this class. I am sure some draft analyst has even comped him to Gronk this offseason.
61. San Francisco
49ers

: Drake Jackson, EDGE, USC

A rumored Schefterbomb to sneak into the first, Drake Jackson can provide speed and explosiveness off the edge in event of another Dee Ford injury.
62. Kansas City
Chiefs

:

Jalen Tolbert

, WR, South Alabama

After spending their first-rounders on defense, the Chiefs pick a weapon for Patrick Mahomes. Jalen Tolbert is a 6-foot-1, 194-pound wide receiver from South Alabama with a 4.49 forty and big hands to snatch the ball away from his body. Tolbert posted elite-level acceleration in his forties at the combine while having a strong show in both the vertical and broad jumps. Tolbert played in the Sun Belt conference against lesser competition but did have a massive showing against Tennessee last season catching seven passes for 143 yards and a touchdown. Jalen also had strong showings against Southern Mississippi (5 catches 168 yards) and Bowling Green (7 catches 95 yards) to round out his draft profile against stronger competition. Tolbert is a silky-smooth receiver who can throttle down his routes and snatch the ball away from defenders when called upon. Tolbert has posted over 2,500 receiving yards and 16 touchdowns over the last two seasons in route to becoming a two-time first-team All-Sun-Belt.
63. Cincinnati
Bengals

: Perrion Winfrey, DT, Oklahoma

A tweener-sized DT, the Bengals bet on athletic traits and try to replace the production from Larry Ogunjobi. Perrion can disrupt in the backfield adding to the Bengals' D.
64. Denver
Broncos

: Josh Paschal, EDGE, Kentucky

With their first draft pick of the year, the Broncos add an edge across from Bradley Chubb. Paschal had a 4.77 forty at 268 pounds and also produced explosive jumps.