2022 NFL Draft: Live Fantasy Recap (Round 1)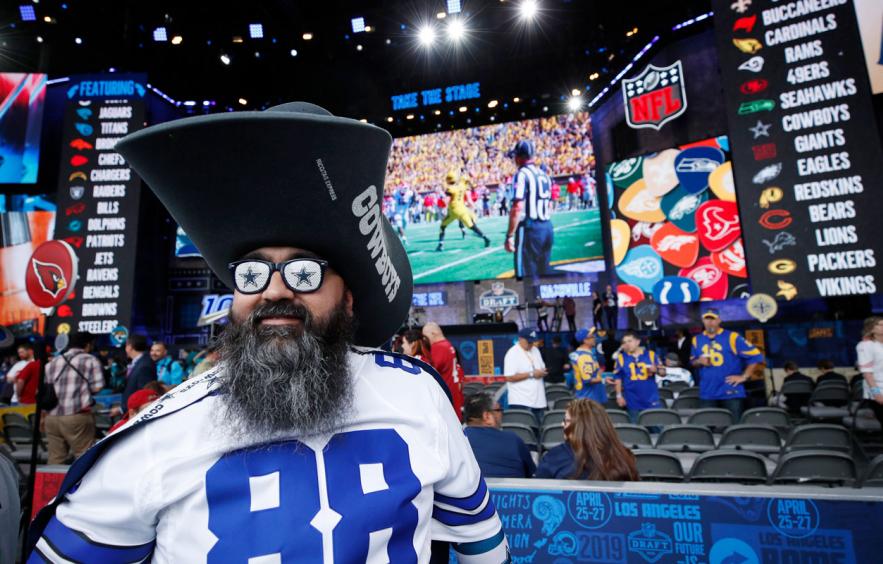 Joe Robbins/Getty Images
The first round of the 2022 NFL Draft begins at 8:00 p.m. ET on Thursday, April 28th. The second and third rounds will be held on Friday (beginning at 7:00 p.m. ET), while Rounds 4-7 will happen on Saturday (12 p.m. ET). Coverage is on the NFL Network, ESPN, ABC, and also FuboTV Livestream.
---
* 4FOR4 LIVESTREAM: Jam-packed with staff and guests, we will be live on the 4for4 YouTube channel and Twitter on Thursday night only starting at 7.30 ET!
---
Throughout Night 1, I'll be updating this page with player evaluations from our very own John Daigle, along with my take on the player's opportunity and potential fantasy impact in 2022. Be sure to check back tomorrow and Saturday for the second and third rounds, as John will be taking over to summarize the mid-to late-round picks.
1.01 -
Jaguars

- EDGE Travon Walker, Georgia

A rotational player until his final year with the Bulldogs, Walker (6'5/272) started all 15 games for the national champions in 2021, recording 37 stops and two pass breakups as the team's run-first end who was often asked to maneuver inside opposing tackles — hence his unimpressive pass-rushing metrics. His combine performance showcased a developmental player than can be molded into a freak EDGE at the next level, checking in with 35.5" arms, 10.75" hands, a 4.51 40-time, and 94th-percentile three-cone (6.89). He has the potential to be one of the best NFL defenders from this draft class in the right scheme.
1.02 -
Lions

- EDGE Aiden Hutchinson, Michigan

A consensus All-American and the Big Ten Defensive POY last season, Hutchinson (6'7/268) totaled 120 pressures and 18.5 sacks across 27 starts in 2019 and 2021 between his season-ending fractured ankle three games into 2020. A 'football guy' with elite preparation and practice habits, his determination when chasing down opposing ball carriers is borderline maniacal. His position-high 28 bench reps at Michigan's pro day combined with a 99th-percentile three-cone (6.73) lend Hutchinson power in his upper half to overwhelm blockers while keeping agile on his feet. Michigan head coach Jim Harbaugh even praised Hutchinson for being "one of my absolute favorite guys that I've coached and for all the right reasons." He projects as a disruptive, scheme-proof All-Pro.
1.03 -
Texans

- CB Derek Stingley Jr., LSU

A consensus first-team All-American as a true freshman for the national champions in 2019, Stingley (6'0/190) held opposing quarterbacks to a 37% completion rate in his age-18 season en route to earning the Tigers' No. 7 jersey, which is reserved for the player who shows the best talent and leadership qualities, in his final year. His durability will be questioned after playing in only 10 games the past two seasons due to injuries but has since fully recovered from last year's Lisfranc injury, even participating in all drills at LSU's pro day. With the pedigree and experience from press coverage (49% of his career coverage snaps) against SEC competition, Stingley projects as an All-Pro who can comfortably be left on an island on the outside.
1.04 -
Jets

- CB Ahmad "Sauce" Gardner, Cincinnati

'Sauce' Gardner (6'3/193) dominated receivers in press coverage from the moment he first set foot on Cincinnati's campus, earning All-American status in each of his three college seasons after never allowing in 1,103 career coverage snaps. With a pterodactyl wingspan (33.7-inch arms) and zero concerns on how he'll transition against stiffer competition — he allowed only 14 yards on four targets to Alabama in the playoffs last year — Gardner is prepared to be left on an island and smother man-coverage assignments in Week 1. He admittedly needs to improve his tackling fundamentals to be a more reliable finisher against the run.
1.05 -
Giants

- EDGE Kayvon Thibodeaux, Oregon

The highest-ranked recruit in Oregon history, Thibodeaux led the Ducks in tackles for loss and sacks in each of the past three seasons, registering the FBS' fourth-most TFL (35.5) in that span. Knocked throughout the draft process for his mindset both on (flagged seven times in 2021) and off (created his own cryptocurrency) the field, there is no denying his power (27 bench reps) and explosiveness (4.58 40 at 6'4/256) translating against opposing NFL tackles; his go-to rip is lauded. Thibodeaux best comps to Jadeveon Clowney with raw pass-rushing moves that need to develop.
1.06 -
Panthers

- T Ikem Ekwonu, NC State

An Outland Trophy finalist for the nation's best college football interior lineman, Ekwonu (6'4/328) bullied 250-plus pound EDGE rushers in pass-pro with the Wolfpack, registering 154 pancakes (67 in 2021) and 47 knockdowns in his career. He lined up exclusively at left tackle in his final season but made 31 consecutive starts as an interchangeable option at both left guard and LT. A mauling blocker in gap or zone, Ekwonu's amped-up personality and aggression admittedly causes him to overset and even play beyond the whistle (10 penalties over his three years in college) at times. With the length (34-inch arms) and strength (26 bench reps) of an elite blocker in the NFL, Ekwonu can be developed at either tackle or guard.
1.07 -
Giants

- T Evan Neal, Alabama

Neal was cross-trained at a different position in every single year of his career under Nick Saban, registering 13 starts at right guard, 13 at right tackle, and 15 at left tackle. His athleticism often wows coaches as he bench pressed 475 pounds, squatted 650 and, prior to the combine, reportedly hit 18.5 MPH at 6'8/345 (!!!) on the GPS. Crimson Tide director of sports science Matt Rhea said Neal's "jumping power is in the top 1 percent we have ever measured." With only one missed start (due to COVID-19) in his career, the 21-year-old's durability is not a concern. His versatility and rare mix of size and flexibility project him as an immediate NFL starter.
1.08 -
Falcons

- WR

Drake London

, USC

A big-bodied athlete who averaged 29 points and 12 rebounds in high school, London (6'3/219) ran 90% of his routes from the boundary in 2021, spiking a collegiate-high 1,084 yards in only eight games played before suffering a season-ending broken ankle in October. He also joined Texas Tech's Michael Crabtree (2007) as the only Power 5 players to average 11 catches through eight starts, finishing with an FBS-high 19 contested catches in that stretch. London did not test his ankle in Indianapolis but conducted a full workout at his Pro Day and has since been cleared for football activities. His utter domination at the point of catch is reminiscent to rookie Mike Evans.

Opportunity: B

Fantasy Impact: There are certainly plenty of targets available for Drake London in Atlanta with Calvin Ridley sidelined and Russell Gage now in Tampa Bay. He'll be somewhat limited by the QB play of Marcus Mariota, but should be fantasy relevant in 2022.
1.09 -
Seahawks

- T Charles Cross, Mississippi State

Cross (6'5/311) was thrown into the fire and forced to improve year over year through experience, skyrocketing from 22 snaps in 2019 to 720 under coach Mike Leach the following year. He played exclusively at left tackle in his last two seasons, allowing only 16 pressures in 2021, before opting out of the team's bowl game to prepare for the NFL draft. Inexperienced in pro-style run-blocking concepts, Cross' projection as a long-term starter is dependent on how he develops in typical NFL power-based formations. His excellent pass-blocking skills will keep him on the field in the meantime.
1.10 -
Jets

- WR

Garrett Wilson

, Ohio State

Wilson left Ohio State ranked top-10 in school history in receptions, receiving yards and receiving scores despite never leading his own team in receiving in any year. One of only six FBS players to average 95 receiving yards and one touchdown in 2021, Wilson moved to the boundary for his final season and recorded four plays of 50-plus yards (three receptions, one rush), finishing with an impressive 61.8 percent catch rate in contested situations at 5'11/183. Although his weight and lack of physicality may pigeonhole him into the slot at the next level, Wilson averaged a career-high 16.8 yards per catch as a focal point from that position in 2020. A raw and developing talent, his ceiling is dependent on whether or not he can play through NFL contact.

Opportunity: B

Fantasy Impact: Wilson enters a fairly crowded WR room in New York, and will be fighting for targets with Elijah Moore, Corey Davis, and Braxton Berrios. Another weapon for sophomore QB Zach Wilson is a good thing but we'll need to see him take a leap in 2022.
1.11 -
Saints

(from

Commanders

)- WR

Chris Olave

, Ohio State

Olave (6'0/187) finished his career as the Buckeyes' all-time leader in touchdown catches (35), leading OSU in receiving scores for three consecutive seasons around fellow classmates Garrett Wilson, Jameson Williams (2019), and Jaxon Smith-Njigba. Wilson was also considered the "big brother" in those locker rooms, leading by example with his effort on the field whether it be adjusting to the football on the boundary or in punt coverage. Olave will need to prove he can separate via his straight-line speed (4.39 40-time) at the next level since his unimpressive build limited him to 10 career broken tackles on 176 receptions in the Big 10.

Opportunity: B+

Fantasy Impact: The Saints have been perenially searching for a WR2 behind Michael Thomas, and Olave can be that guy. He's a reliable wideout who can stretch the field, but will have an inconsistent Jameis Winston under center.
1.12 -
Lions

(from

Vikings

) - WR

Jameson Williams

, Alabama

A one-year wonder after transferring to Alabama from Ohio State for depth chart reasons, Williams (6'1/179) led the FBS with four touchdowns of 70-plus yards in 2021, averaging 20 yards per catch on 78 receptions. His 104.8 receiving yards per game were also the most for any Crimson Tide player dating back to 2010 (Amari Cooper, 91.1). January's torn ACL in Williams' left knee sidelined him during the draft process — he underwent surgery on January 18 — but he is said to be ahead of schedule in his rehab and running once OTAs begin. Having averaged 35.2 yards per kick return with two touchdowns (10/352/2) on special teams throughout his career, Williams will undoubtedly be viewed as a versatile playmaker while he's creatively schemed into his next offense. What he offers beyond speed remains unclear.

Opportunity: B-

Fantasy Impact: Williams is coming off a serious knee injury but when healthy will have ample opportunity to succeed in Detroit. QB is a concern, and he'll be in competition with T.J. Hockenson, DeAndre Swift, and Amon Ra St. Brown, but he has a path to fantasy relevancy this season.
1.13 -
Eagles

(from

Texans

) - DT Jordan Davis, Georgia

Georgia's rotational nose tackle since his freshman year in 2018, Davis (6'6/341) never played more than 265 snaps for conditioning concerns in any season until 2021, registering 378 (while failing to shed those workload concerns) for the national champions in his final year. He still won the Chuck Bednarik Award for the best defensive player in college football on 25.2 snaps per game as a hard-to-move space-eater. Davis offers limited pass rush value at the next level but has the size to be a dominant run defender on early downs in multiple NFL schemes.
1.14 -
Ravens

- S Kyle Hamilton, Notre Dame

Hamilton (6'4/220) earned All-American status in each of his three seasons in South Bend, seeing his missed tackle rate drop exponentially every year. Although his 2021 season ended following a knee injury after just seven starts, Hamilton was named a finalist for the Chuck Bednarik Award as the nation's top defender with three interceptions and 35 tackles. His underwhelming 4.59 40-time from Indy's combine is not a concern since he reportedly reached 21 mph top speed in-game at times. The Athletic's Dane Brugler compared Hamilton to "a mash-up of Isaiah Simmons and Justin Simmons."
1.15 -
Texans

- G Kenyon Green, Texas A&M

The only NCAA player with 80-plus snaps at four different offensive line positions in 2021, Green (6'4/325) showed great versatility by starting at right tackle, left tackle, right guard, and left guard under coach Jimbo Fisher. He finished the year as a finalist for the Lombardi Award for the nation's top lineman, flashing explosive traits to create movement in the run game or as an anchor in pass protection. With elite tape specifically at left guard, Green should establish himself as a dependable starter and run-blocker early into his career.
1.16 -
Commanders

- WR

Jahan Dotson

, Penn State

Labeled a late breakout who will be 22 on draft night, Dotson (5'10/178) merely waited his turn behind teammates Pat Freiermuth, K.J. Hamler, and Juwan Johnson at Penn State, soaking up a 28.3% target share sans that group the past two seasons. A slot fit at the next level with 30.7" arms (24th-percentile), Dotson encouragingly registered only two drops on 138 targets in 2021. 10 of his 21 career touchdowns also went for 40-plus yards, utilizing his massive catch radius to give himself a chance downfield. His experience as PSU's main punt returner for two seasons should help his playing style translate at such a light weight.

Opportunity: B

Fantasy Impact: The former Nittany Lion should be a great complement to Terry McLaurin in most likely the slot for the Commanders. They'll have Carson Wentz tossing the rock which is questionable, but Dotson should be worthy of drafting as a WR in 2022.
1.17 -
Chargers

- G Zion Johnson, Boston College

Johnson (6'3/314) transferred from Davidson to Boston College ahead of his junior year, garnering all-conference accolades for his performance at left tackle (786 career snaps) and left guard (1,496) across three seasons with the Eagles. He was initially considered a guard during the pre-draft process but tested with 34-inch arms and elite agility (4.46 shuttle, 7.38 three-cone) for any team willing to try him out at tackle. With very few blemishes as both a pass and run blocker, Johnson has the talent to carve out a decade-long career as an interior NFL blocker.
1.18 -
Titans

(from the

Eagles

for

A.J. Brown

& a 3rd-Round Pick) - WR

Treylon Burks

, Arkansas

Burks (6'2/225) ran 77 percent of his career routes from the slot at Arkansas, being deployed across the formation as the focal point of OC Kendal Briles' up-tempo offense. He showcased big-play ability in 2021 by turning short opportunities — 68% of his catches came within 10 yards of the line of scrimmage — upfield for an SEC-high 22 20-plus yard plays, averaging an absurd 3.57 yards per route run and 9.3 yards after contact per catch. Burks also benefitted from rarely squaring off against press coverage (39 total snaps) last year, hauling in 12-of-18 deep targets. With underwhelming straight-line speed (4.55 40) and verticality (51st-percentile), Burks' development boils down to whether or not his traits dominate NFL competition, as they did so often against smaller collegiate players.

Opportunity: B+

Fantasy Impact: Considering some compared him to A.J. Brown, Burks is a solid fit for Tennessee. He has the capability of emerging as an outside threat with monster YAC potential and could see enough usage in an offense lacking weapons outside of Derrick Henry to produce for fantasy this season.
1.19 -
Saints

- OT Trevor Penning, Northern Iowa

At 6-foot-7 and 333-pounds, Penning toyed with his food in the Missouri Valley Conference, garnering first-team All-American recognition in 2021 and being named a finalist for the Walter Payton Award as the top player in the FCS. He also proved durable at his size, never missing a game due to injury while logging starts at three separate positions (left tackle, right tackle, right guard). An athletic mover with the fastest 10- and 20-yard splits among linemen at the combine, Penning's impressive blend of size and power project him as a long-term starter as long as he continues to improve in pass-pro. His killer instinct and intensity (34 penalties in his last 31 games) also need to be toned down at the next level.
1.20 -
Steelers

- QB

Kenny Pickett

, Pittsburgh

Pickett (6'3/217) set single-season passing records in his final year at Pittsburgh including 42 touchdowns, which broke Deshaun Watson's ACC record of 41. He also left the Panthers with collegiate records in passing yards (12,303), completions (1,045), and total scores (102), toppling Hall of Famer Dan Marino on the program's all-time list. Pickett was infamously knocked throughout the draft process for his smaller hands (8 1/2 inches) — he wore gloves on both hands in college — which likely attributed to his ball security issues with 38 career fumbles. He also benefited from above-average offensive line play in 2021, suffering no consequences from recording the second-highest time to throw in the country. Whether he was a one-year wonder after totaling 38 passing touchdowns across his first three seasons remains to be seen.

Opportunity: A

Fantasy Impact: Considered the most NFL-ready QB in this draft class, Pickett landed on a team where he will be expected to compete for the starting job. He's most likely not in play in redraft formats as a QB1 but could have some nice weeks for best ball formats.
1.21 -
Chiefs

(from

Patriots

) - CB Trent McDuffie, Washington

McDuffie (5'11/193) tied for sixth in the FBS with three fumble recoveries as a true freshmen starter, ascending to first-team All-Pac 12 status in 2021 with just 111 yards permitted all year. The best tackling corner in this class, he missed only 6.9% of his tackle attempts throughout his career. Although McDuffie is familiar (and capable) in both man and zone coverages, he was moved down multiple draft boards post-combine for his short arms (29-3/4 inches). He has high ceiling and high floor as a zone corner immediately.
1.22 -
Packers

- LB Quay Walker. Georgia

Walker (6'4/242) started all 15 games for the 2021 national champions, occasionally being asked to play man coverage against opposing running backs and tight ends from the slot. Although he averaged 40.7 defensive snaps per game in his first (and only) season as a full-time starter, Walker recorded ordinary production in averaging only 4.5 tackles per game. He is still developing his instincts, especially in coverage, but does offer NFL-ready athleticism (4.52 40-time, 87th-percentile three-cone) to build on.
1.23 -
Bills

(from

Cardinals

) - CB Kaiir Elam, Florida

Elam (6'2/192) logged nearly 1,000 career coverage snaps against SEC competition, initially showing pro potential as a true freshman with three interceptions and four total pass break-ups in 13 games. He missed three contests with a knee injury in 2021 but still made 10 starts, permitting only 18 catches for 185 yards (on 35 targets) all year. Outside of his tendency to grab receivers at the top of their routes (seven penalties in 10 games in 2021), Elam's physicality in press coverage is an NFL-ready trait.
1.24 -
Cowboys

- T Tyler Smith, Tulsa

One of the youngest players in the draft (who has only been playing on the offensive line for five years), Smith (6'5/324) earned Tulsa's starting left tackle job in 2020 and promptly finished with All-AAC honors in each of the last two seasons. Described as incredibly raw with undisciplined hands (12 holding calls in 2021), Smith is considered a blank canvas that lacks snap-to-snap consistency. There is a sizable gap between where he is now and his ceiling as an anchor left tackle.
1.25 -
Ravens

- C Tyler Linderbaum, Iowa

Linderbaum was named the Rimington–Pace Offensive Lineman of the Year and won the Rimington Trophy along with snagging All-American honors. He'll add some nasty to the Ravens' run-first attack.
1.26 -
Jets

(from

Titans

) - DE Jermaine Johnson, Florida State

From "Last Chance U" to Athens and Florida State in his final year, Johnson's defensive snaps jumped from 27 per game with the Bulldogs to 61.3 in 2021 as he logged the 10th-most snaps of any edge in the country, leading all Power 5 defensive linemen in tackles and registering multiple pressures in all 12 starts. Although he piled up an ACC-best 12 sacks with the Seminoles, his pass rush win rate (14.1%) was admittedly mediocre. The fact he avoided any shuttle or cone drills during the pre-draft process brings pause about his athleticism. His elite ability to set the edge in the run game will still keep him on the field while he develops into an effective pass-rusher.
1.27 -
Jaguars

(from the Bucs) - LB Devin Lloyd, Utah

A high school safety who was asked to play the "Rover" and "Mac" linebacker positions with the Utes, Lloyd (6'3/237) established himself as one of the best defensive players in the country in leading Utah in tackles for three consecutive seasons and becoming just the 10th consensus All-American in school history as a senior. Described as a "student of the game" by his coaches, Lloyd knows when to take chances and arguably has an answer for every issue he comes across on the field. His measurables are near identical to 49ers LB Fred Warner's.
1.28 -
Packers

- LB, Devonte Wyatt, Georgia

Wyatt (6'3/304) became a regular starter in 2020 (25 tackles, two for loss in 10 games) and burst onto the scene as a first-team All-SEC selection during Georgia's national title run. He did not reach opposing quarterbacks often (five career sacks) but did lead all Georgia defensive linemen in tackles the last two seasons. Overshadowed by some of his teammates, Wyatt tested out only .03 seconds slower in the 40-yard dash (4.77) than classmate Aidan Hutchinson despite weighing 44 pounds more. He shined around lesser talent as a three-down player at the Senior Bowl.
1.29 -
Patriots

(from

Chiefs

) - G Cole Strange, Chattanooga

This is a surprise pick from New England, as Strange is a 24-year-old o-lineman from a small school who was not projected to leave the board this early.
1.30 -
Chiefs

- EDGE George Karlaftis, Purdue

A member of the Greek youth national water polo team growing up, Karlaftis moved to the U.S. in 2014 and hit the ground running with 55 pressures and the sixth-most snaps (843) of any defensive lineman in the country as a true freshman at Purdue. He missed time in 2020 due to COVID-19 but returned healthy the following year, garnering first-team all-conference accolades while also being named a Ted Hendricks Award finalist as one of the nation's top defensive ends after leading the Boilermakers in tackles for loss (11.5) and sacks (5). His 38-inch vertical at 6'4/266 is noticeable in his violent bull rush, making him more than capable as a starting NFL defensive end in a traditional four-man front.
1.31 -
Bengals

- S Daxton Hill, Michigan

Hill (6'0/191) stuffed the stat sheet with team-highs in passes defended and interceptions last year, interchangeably playing slot nickel, deep safety, or in the box in Ann Arbor. While he lacks the elite size that classmate Kyle Hamilton brings to the table, Hill's

wingspan (32.2-inch arms) measured within an inch of Hamilton's at the combine, where Hill additionally displayed freak traits during his speed (4.38 40) and agility (98th-percentile three-cone) drills. His man-to-man coverage skills and willingness to play downhill against the run also work in his favor.
1.32 -
Vikings

(from

Lions

) - S Lewis Cine, Georgia

A do-everything safety for the Bulldogs the last two years, Cine (6'2/199) earned All-American status and Defensive MVP honors in the national championship game in 2021. He also led a talent-rich Georgia defense in both tackles and pass deflections last season, missing only 6.9% of his tackle attempts throughout his career. There were questions about his size during the pre-draft process but Cine tantalized NFL execs by blowing every drill out the water in Indy, showcasing himself as a proven enforcer against the run with the athleticism to make plays in coverage.