Running Back Market Shares: Week 3 Report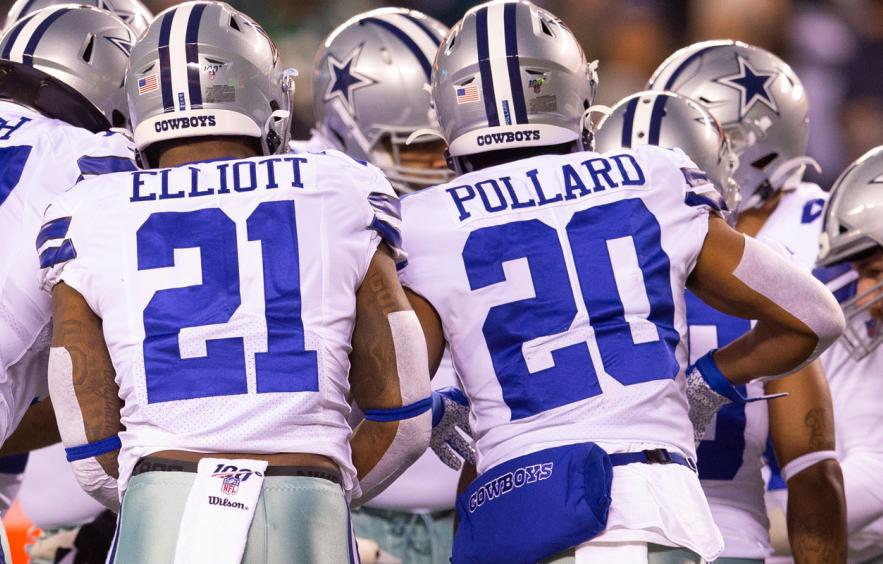 Mitchell Leff/Getty Images
In the modern NFL, the running back is no longer the focal point of an offense. Gone are the days where a 400-touch rusher is the norm, and now is the age of the running back-by-committee. With carries and targets being diluted between backs more than ever, it's important for fantasy managers to know which backs are seeing usage and how they're being utilized.
This column will explore the landscape of running back rushing and receiving through team market shares – the percent of a team's running back rushes or the team's passing targets. By looking at these rates of usage rather than raw totals, we help to strip away some of the noise of game script and pare our data down to the truer representation of how each offense thinks about its backfield.
Without any further ado, let's ring the bell and open the markets: which running backs had a significant change in usage in Week 2?
Carries
Peyton Barber

, Las Vegas

Raiders

, +65.0% Team Rushing Share (TRS)

The Las Vegas Raiders were without lead rusher Josh Jacobs in Week 2, leading some to believe that Kenyan Drake would slide up the depth chart to the one-spot and Peyton Barber would fill in as the change-of-pace. Instead, Barber was a one-to-one replacement for Jacobs' rushing attempts and Drake remained at about 35% of the carries as the clear three-down back. This didn't yield much fantasy production for either player in Week 2, and head coach Jon Gruden's insistence on strictly stratified roles might keep either player from being more than a touchdown-dependent FLEX option.
James Robinson

, Jacksonville

Jaguars

, +48.9% TRS

Truthers for Jacksonville Jaguars running back James Robinson everywhere, you can now exhale slightly. After the second-year undrafted runner was consigned to about a third of the running back carries in the season opener, he dominated rushing attempts to the tune of 84.6%. The Jags don't figure to often be in positive game script this year, but Robinson getting the majority of available carries is necessary for him to retain any fantasy value in this dumpster-fire offense.
Sony Michel

, Los Angeles

Rams

, +37.6% TRS

Prior to Darrell Henderson leaving the Los Angeles Rams' game with a rib cartilage injury, he was still monopolizing the backfield touches for the team. It was only when he left midway through the second half that Sony Michel got into the game and picked up much work at all. Michel is worth a stash in case Henderson can't go in Week 3. That said, head coach Sean McVay is optimistic about Henderson's outlook and this is a one-back system. If Henderson is healthy, Michel is bench fodder.
Tony Pollard

, Dallas

Cowboys

, +23.4% TRS

The bell seems to be tolling on Ezekiel Elliott's fantasy upside. The Dallas Cowboys' supposed superstar out-carried backfield-mate Tony Pollard by a 4:1 ratio in Week 1, but the latter doubled his RB rush share this week, carrying the ball just three fewer times than Elliott. Making matters tougher on the Cowboys, Pollard posted an 8.4 yards per rush rate – also nearly double that of Elliott's 4.4 yards per rush. Pollard is trending upward massively if the Cowboys reward his usage, and Elliott's only path right now to staving off falling into matchup-dependent FLEX territory would be to somehow reclaim his incredible touch volume of previous years. Right now, that's not looking likely.

Others of Note: Aaron Jones, GB (+35.1%); Zack Moss, BUF (+34.8%); Justin Jackson, LAC (+24.6%); Kareem Hunt, CLE (+21.4%).
Targets
Austin Ekeler

, Los Angeles

Chargers

, +22.5% Team Target Share (TTS)

It's extremely heartening to see Austin Ekeler on this report as the top target share gainer for the week. After he went from minimal goal-line usage last season to seeing all four opportunities inside the 10 in Week 1, now Ekeler goes from no targets in Week 1 to a whopping nine in Week 2. We shouldn't expect NFL WR1 target share numbers going forward, but if he's able to maintain half of this, Ekeler will have a complete fantasy star profile for the remainder of 2021.
Aaron Jones

, Green Bay

Packers

, +17.0% TTS

Although the Green Bay Packers got walloped in Week 1, running back Aaron Jones shockingly wasn't seeing many targets in that extremely negative game script. Week 2, however, saw the Pack run the game through Jones to the tune of eight targets – two of which ended up as scores. Jones is the back to own in green and gold, though it's worth noting that Jones' backup A.J. Dillon only saw a minor dip in targets in this game (down just 2.2%).
David Montgomery

, Chicago

Bears

, +14.9% TTS

With Andy Dalton banged up, the Chicago Bears turned to Justin Fields in Week 2 and changed the complexion of their offense immensely. What seemed an early-downs-only role for David Montgomery and a passing-game complement role for Damien Williams in Week 1 became a running back fantasy point bonanza. Not only did Montgomery go from a 2.5% target share in the opening game to a 17.4% one this past week, Williams actually essentially maintained his target share. It's still likely that Williams caps Montgomery's passing-game ceiling, but Monty may yet retain the upside that made him such a fantasy value in 2020.
J.D. McKissic

, Washington Football Team, +8.9% TTS

Speaking of capped receiving ceilings, the Washington Football Team remains committed to stunting Antonio Gibson's three-down fantasy value by making J.D. McKissic a third-down and hurry-up focal point. McKissic's nine-point jump in target share was precipitated by a drop of 19% for Gibson this week, with McKissic seeing six targets to Gibson's two. This is an uglier situation than we had expected for the WFT backfield, especially with little touchdown value for the two early on.

Others of Note: Darrell Henderson, LAR (+12.4%); Demetric Felton, CLE (+9.5%); Ronald Jones, TB (+8.6%); Zack Moss, BUF (+6.9%).

Goal-Line Work
Mark Ingram

, Houston

Texans

, +33.3%

The Houston Texans don't have a ton going for them in 2021, but what they have is kinda fun and weird. One of the weirdest parts of their identity is how they are slapping one very specialized role on each of their running backs and using them like specific vacuum cleaner attachments – but never mixing those roles. For veteran runner Mark Ingram, that role is "goal-line and short-yardage bowling ball". Ingram went from nabbing four of the Texans' six goal-line touches in Week 1 to taking all three of them in Week 2. The goal-line back for a bad NFL team isn't a highly coveted fantasy player, even if it's all his, but it's worth noting in case Houston gets a juicy matchup and you need a cheap DFS or waiver wire option.
Cordarrelle Patterson

, Atlanta

Falcons

, +100.0%

When the Atlanta Falcons signed Cordarrelle Patterson, I had assumed they wanted him to be the second coming of Deion Sanders or Billy "White Shoes" Johnson as a return specialist. Heck, I thought they might even return him to receiver when they traded away Julio Jones. Instead, Patterson is working as the backup and receiving complement to Mike Davis, stealing just enough of the primary back's workload to dampen his value but not enough to be a true standalone fantasy option. That is, until this week when Patterson saw all three goal-line touches (two rushes and one target) for the Falcons, and Davis received none. It's too early to tell if this means anything for Patterson going forward, but it's certainly a bad sign for Davis.

Others of Note: Zack Moss, BUF (+75.0%); Ty'Son Williams, BAL (+50.0%); Tony Pollard, DAL (+50.0%); Jamaal Williams, DET (+16.7%).