Using Vacated Targets to Identify Opportunity (2020)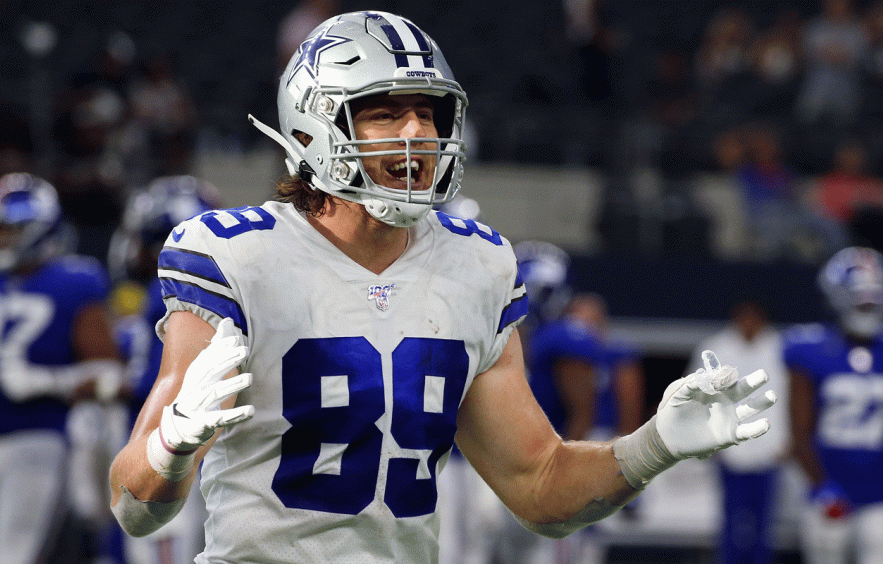 Richard Rodriguez/Getty Images
Opportunity is one of the major factors I consider as I evaluate free agent signings and trades, and attempt to identify impact rookies in any given season. For years, I gauged this opportunity holistically—e.g. DeAndre Hopkins was (ponderously) traded away, so there is major opportunity in Houston—but last season I thought I'd go through the process of calculating vacated targets to see if it would identify opportunity that wasn't readily apparent.
Note: On Wednesday, April 22, at 10 AM Pacific I'll be doing a chat on my Instagram [link] to discuss both the vacated targets and vacated touches articles.
Looking back at that (pre-NFL Draft) article, it appears that my work did identify opportunity even if I didn't always correctly identify the biggest beneficiaries on each team:
Given injuries, trades and Week 17 weirdness, I realized last year that it's a little tricky to calculate total vacated targets, but I think the numbers below provide a good roadmap to find 2020 opportunity in the passing game.
Included are targets per game and the share of targets vacated through Week 16. I also pulled in the fantasy value of the targets based on the (presumed) starting quarterback's fantasy point per pass attempt from the last two years and multiplied that by the vacated targets per game to find the implied fantasy points up for grabs for each team. For Cincinnati and New England, I used the average of the bottom 15 quarterbacks since we don't have a good idea who will be their starters in 2020.
Vacated Targets

| Team | Vacated Tgts/G | Vacated Tgts % | Key Additions | Implied FP (half-PPR) |
| --- | --- | --- | --- | --- |
| ATL | 16.0 | 39.6% | Todd Gurley, Hayden Hurst, Laquon Treadwell | 22.5 |
| HOU | 14.3 | 44.0% | Brandin Cooks, Randall Cobb, David Johnson | 20.7 |
| DAL | 11.9 | 32.7% | Blake Bell | 16.5 |
| NYJ | 11.7 | 38.3% | Breshad Perriman | 14.6 |
| CAR | 9.3 | 25.4% | Robby Anderson, Seth Roberts, Pharoh Cooper, Seth Devalve, Keith Kirkwood | 12.1 |
| ARI | 9.3 | 28.6% | DeAndre Hopkins | 11.5 |
| IND | 9.2 | 29.7% | - | 13.3 |
| WAS | 8.8 | 30.8% | Peyton Barber, Cody Latimer, Logan Thomas, J.D. McKissic, Marcus Baugh | 10.3 |
| PHI | 8.5 | 22.5% | - | 11.2 |
| LAR | 7.9 | 21.0% | - | 10.9 |
| GB | 7.3 | 22.5% | Devin Funchess | 9.5 |
| MIN | 7.2 | 25.7% | Tajae Sharpe | 10.2 |
| TEN | 6.7 | 25.1% | - | 10.8 |
| LAC | 6.5 | 18.2% | Darius Jennings | 8.3 |
| NO | 6.2 | 19.0% | Emmanuel Sanders | 9.8 |
| NE | 5.8 | 15.6% | Damiere Byrd | 7.4 |
| TB | 5.4 | 13.9% | - | 7.0 |
| SEA | 5.1 | 16.7% | Phillip Dorsett | 7.9 |
| BAL | 4.7 | 17.6% | - | 7.2 |
| DET | 4.3 | 12.5% | Geronimo Allison | 5.9 |
| CIN | 4.1 | 10.9% | Geremy Davis | 5.2 |
| CLE | 3.9 | 12.0% | Austin Hooper, Jojo Natson | 5.3 |
| DEN | 3.7 | 12.3% | Melvin Gordon, Nick Vannett | 4.6 |
| CHI | 3.7 | 10.5% | Jimmy Graham, Demetrius Harris | 4.6 |
| KC | 3.6 | 10.1% | Ricky Seals-Jones | 5.8 |
| LVR | 3.5 | 11.6% | Jason Witten, Nelson Agholor, Nick O'Leary, Rod Smith | 4.6 |
| SF | 3.4 | 11.5% | Travis Benjamin | 5.1 |
| JAX | 3.3 | 9.6% | Tyler Eifert | 4.2 |
| PIT | 3.3 | 10.8% | Eric Ebron | 4.5 |
| NYG | 3.3 | 9.1% | Levine Toilolo, Dion Lewis, Eric Tomlinson | 4.2 |
| MIA | 3.1 | 8.2% | Jordan Howard | 4.3 |
| BUF | 2.0 | 6.7% | Stefon Diggs, Taiwan Jones | 2.3 |
Here's the data in chart form: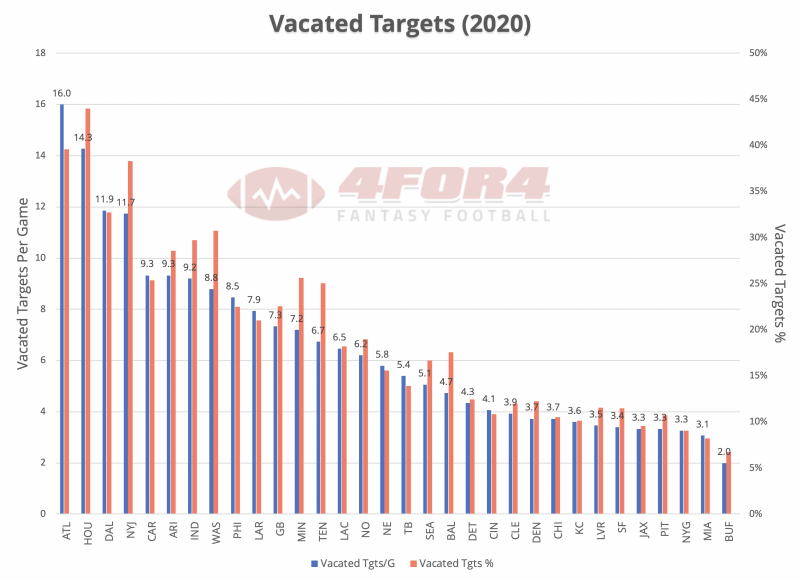 Players to Keep An Eye On