Post-Combine, 4-Round Rookie Mock Draft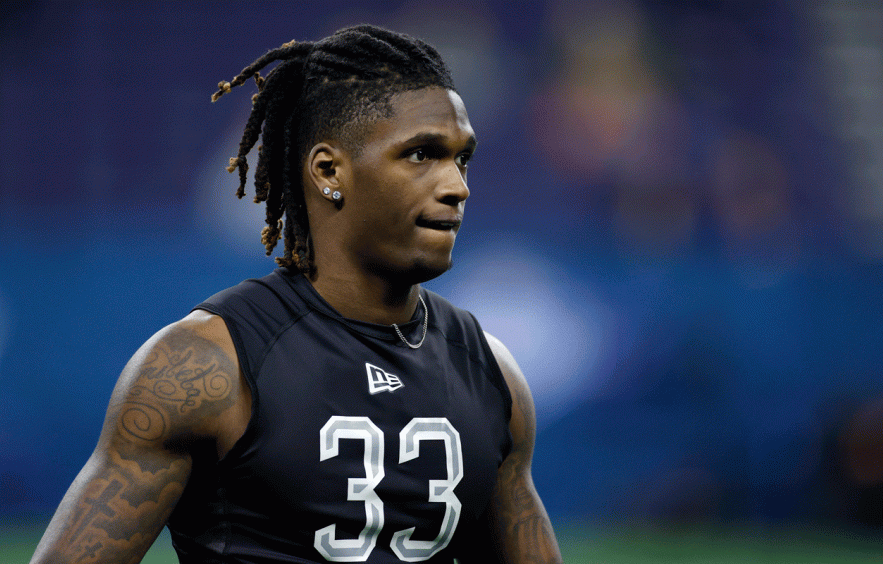 Joe Robbins/Getty Images
Like going for seconds at a buffet, this mock draft is going bigger and really exploring everything that is being offered. This edition occurred after the NFL Combine and features four rounds of mock drafting rookies. Another significant difference between this edition and the last one (find it here) is the inclusion of our friends over at Dynasty League Football. Included are Jeff Haverlack, Ray Garvin, Ryan McDowell, Dan Meylor, Rob Willette, and myself. Like before, every pick will include comments where provided, along with my personal commentary. And just like before, the draft will assume a 1QB league with PPR scoring and no tight end premium.
---
4for4 Rankings: Dynasty | Never-too-Early Redraft
---
Round 1
Pick 1-6

| Pick | Drafter | Name | Pos | College Team | Age | Height | Weight |
| --- | --- | --- | --- | --- | --- | --- | --- |
| 1.01 | Jeff H. | D'Andre Swift | RB | Georgia | 21.2 | 5-8 1/4 | 212 |
| 1.02 | Ray G. | Jonathan Taylor | RB | Wisconsin | 21.2 | 5-10 1/4 | 226 |
| 1.03 | Ryan M. | CeeDee Lamb | WR | Oklahoma | 20.9 | 6-1 5/8 | 198 |
| 1.04 | Dan M. | Jerry Jeudy | WR | Alabama | 20.9 | 6-1 | 193 |
| 1.05 | Rob W. | Cam Akers | RB | Florida State | 20.7 | 5-10 3/8 | 217 |
| 1.06 | George K. | J.K. Dobbins | RB | Ohio State | 21.2 | 5-9 1/2 | 209 |
1.01 -
D'Andre Swift
Previous 1.01 - D'Andre Swift
Jeff: "There are five legitimate 1.01 players in this draft, almost unheard of. I still believe Swift is the 1.01 due to a combination of agility, less mileage on his legs and an NFL skill-set."
Jeff is probably an outlier on the selection after the combine but his broader point around the razor-thin margins at the top holds true. It will be a dealer's choice at the top unless landing spot widely favors a singular option.
1.02 -
Jonathan Taylor
Previous 1.02 - Jonathan Taylor
Ray: "One of the most prolific rushers in NCAA History. Extremely durable and improved in the receiving game in 2019. He just blazed a 4.39 40-yard dash at the NFL Combine at 226 pounds!"
Jonathan Taylor has moved up in most mock and actual rookie drafts to the 1.01, but stays at the second pick in this exercise. His combine speed was impressive, even if players who are deeper into devy and rookie analysis knew his track and field history. There are few, if any, red flags with Taylor and he may be the safest selection overall.
1.03 -
CeeDee Lamb
Previous 1.03 - CeeDee Lamb
Ryan: "The top RBs are the talk of this draft class and could be causing Lamb and other top WRs to actually be undervalued. Lamb is a lock to be drafted in the top half of Round One and could immediately become the WR1 on many teams. I am hoping for a pairing with his former QB Kyler Murray in Arizona."
Lamb did nothing to hurt (or help) himself at the NFL Combine and should remain in this range. Ryan's hope of a Kyler Murray reunion would be equal parts fun and welcomed by dynasty players. A whopping 42% of his 2019 receptions went for 20-plus yards, something that every team would love to have as part of their offense.
1.04 -
Jerry Jeudy
Previous 1.04 - Jerry Jeudy
Dan: No comment available
The top four remains the same in this version and Dan had one of the easier choices in this draft. The fourth spot could prove to be the tier break for many with Jeudy potentially representing the last of the high floor/high ceiling players in this class.
1.05 -
Cam Akers
Previous 1.05 - J.K. Dobbins
Rob: "It is not outlandish to claim five members of this mock could have done a better job blocking for Cam Akers during his FSU career. Despite the absence of help, Akers was a playmaker for the Noles and crushed the Combine. We have yet to see his best."
Akers is the rawest, but possibly the most physically talented player in this draft class. He was a high school quarterback who threw for over 3,000 yards and 30 touchdowns while also running for over 2,000 yards and 30 touchdowns...in his senior year! Give him any semblance of coaching and an offensive line to see what can be unlocked.
1.06 - JK Dobbins
Previous 1.06 - Cam Akers
George: "Dobbins is still my number three running back after the combine due to his versatility and production at Ohio State. Not working out at the combine was disappointing but it does little to move the needle in his case."
Not participating at the combine was unfortunate but shouldn't hurt him provided a decent Pro Day showing. I prefer him to Akers due to his overall production, receiving ability, and the higher chance he is an immediate contributor.
Round 1
Round 2
Picks 1-6

| Pick | Drafter | Name | Pos | College Team | Age | Height | Weight |
| --- | --- | --- | --- | --- | --- | --- | --- |
| 2.01 | Jeff H. | Denzel Mims | WR | Baylor | 22.4 | 6-2 7/8 | 207 |
| 2.02 | Ray G. | Eno Benjamin | RB | Arizona State | 20.9 | 5-8 7/8 | 207 |
| 2.03 | Ryan M. | Bryan Edwards | WR | South Carolina | 21.3 | 6-2 3/4 | 212 |
| 2.04 | Dan M. | Brandon Aiyuk | WR | Arizona State | 22 | 5-11 5/8 | 205 |
| 2.05 | Rob W. | Tua Tagovailoa | QB | Alabama | 22 | 6-1 | 218 |
| 2.06 | George K. | Zack Moss | RB | Utah | 22.3 | 5-9 3/8 | 223 |
Round 3