15 Position Battles to Watch in 2020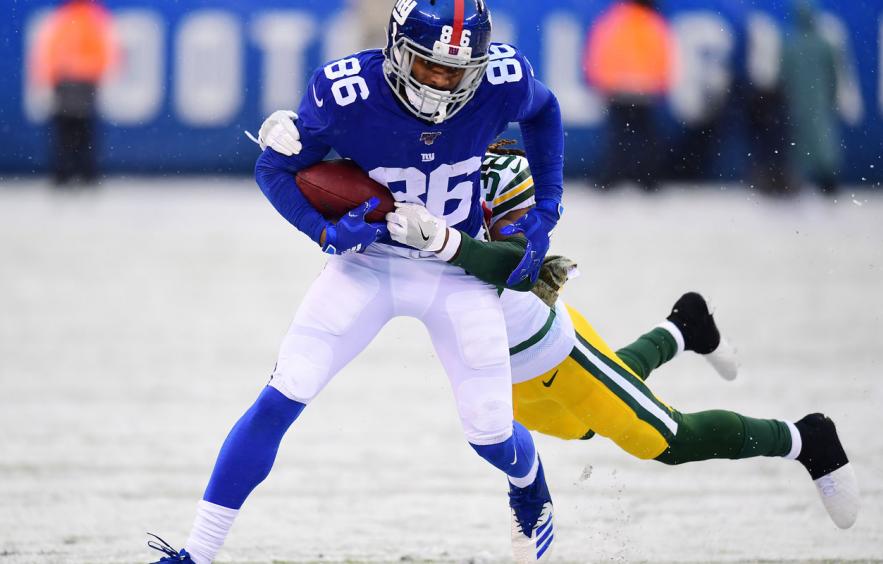 Emilee Chinn/Getty Images
This is the time of the year when many casual fantasy football fanatics begin preparing for their drafts. As NFL coaching staffs continue to prepare for training camp they examine the depth charts of their team. Players compete like gladiators in Thunderdome for a starting position. He who gets the most practice repetitions has a very good chance to come out on top. The cold harsh reality of the NFL is that those who are on the field with the first string play and those who don't are on the outside looking in. This article will discuss 15 position battles with fantasy implications you should be watching very closely once training camps open.
Who Will Be Named the
Cardinals

No. 4 Wide Receiver?
Key Players:
Andy Isabella

,

Hakeem Butler

,

KeeSean Johnson

Cardinals quarterback Kyler Murray finished last season as the fantasy QB8. He averaged 34 pass attempts, 232.6 passing yards, and 246.4 air yards per game. The 2019 Associated Press Offensive Rookie of the Year finished the season ranked outside the top-20 in passing yards and outside the top-15 in air yards per game. Murray's rushing yards and rushing touchdowns propelled him into the top-10 from a fantasy perspective. Cardinals head coach Kliff Kingsbury will look for him to continue improving as a passer in 2020 especially with the addition of DeAndre Hopkins this offseason. Hopkins, Larry Fitzgerald, and Christian Kirk are projected to open the season as Arizona's top three receivers.

Kingsbury's NFL version of the Air Raid offense adapted as the season progressed. Ten players had double-digit receptions and 12 had more than 100 receiving yards last season, with four finishing with more than 300. The Cardinals ran 376 plays with three receivers on the field and 326 with four according to NFL Game Stats and Information Systems. The team's offense will continue to be receiver-heavy in 2020. This makes the competition between Andy Isabella, Hakeem Butler, and KeeSean Johnson for the team's fourth receiver spot very interesting. The rookie seasons for these receivers were not overly positive, but the Cardinals continue to convey belief in their abilities through words and actions.
Prediction
Isabella opens the 2020 season as the Cardinals fourth wide receiver. He was selected in the second round of last year's NFL Draft out of UMass and had a disappointing rookie season with only nine receptions for 189 receiving yards and a touchdown. As the Cardinals fourth receiver, Isabella's fantasy viability will be limited to deeper formats. He is a very intriguing stash from a dynasty perspective for the 2021 season if Larry Fitzgerald decides to retire after this season.
Who Will Be Named the
Bears

Starting Quarterback?
Key Players:
Mitch Trubisky

,

Nick Foles

The Bears trade for Foles was meant to be motivation for Trubisky. The reality is that we have a quarterback competition on our hands. Trubisky was selected second overall in the 2017 NFL Draft and has been a colossal disappointment. He has only finished as a QB1 in 29% of his career games. Trubsiky finished the 2019 season 28th in quarterback rating and 21st in passing yards (3,138) despite having numerous offensive weapons including Allen Robinson, Anthony Miller, and David Montgomery. Bears head coach Matt Nagy sees Trubisky and Foles splitting reps in training camp and both playing in preseason games. This is shaping up to be a situation that will not be resolved until right before the regular season.
Prediction
Foles opens the season as the Bears starting quarterback. He has a strong familiarity with the team's coaching staff. Nagy coached Foles with the Chiefs and Eagles. Bears offensive coordinator Bill Lazor, quarterbacks coach John DeFilippo, and offensive line coach Juan Castillo all interacted with the 31-year old quarterback during various stints with the Eagles. It also doesn't help Trubisky that Chicago declined to pick up his fifth-year option. Foles can be viewed as a mid-range QB2 in two-quarterback and Superflex formats.
Which
Packers

Running Back Will Open the Season as the No.2?
Key Players:
A.J. Dillon

,

Jamaal Williams

Aaron Jones is locked in as the Packers starter for the 2020 season. He averaged 19.1 opportunities and 18.4 fantasy points per game in half-point PPR last season. Jones's 19 total touchdowns tied with Christian McCaffrey for the most among running backs. He ranked 15th in rushing attempts and 11th in targets at his position in the Packers committee. The team's selection of Dillon in the second round implies he'll be a major contributor this season. Williams played 373 offensive snaps in 2019 as Jones's backup, finishing as an RB3 in 57% of his games. The Packers appear to be transitioning to a more run-heavy approach. The team averaged 30.6 opportunities per game last season and didn't draft a single wide receiver in this year's draft.

Dillon will head into training camp with an impressive collegiate resume. He rushed for 1,000 or more yards in all three of his seasons at Boston College. Dillon finished his collegiate career with 14 games with 150 or more rushing yards while surpassing 200 in four.
Prediction
Dillon opens the season as the Packers backup running back and forms an imposing committee with Jones. He's underrated from a redraft and dynasty perspective. My recent profile on Dillon provides the rationale for why he shouldn't be overlooked.
Who Will Lead the
Rams

Running Back Committee?
Key Players:
Cam Akers

,

Darrell Henderson

,

Malcolm Brown

The Rams addressed the running back position early in this year's draft by selecting Akers No. 52 overall. Los Angeles is one of only two teams to draft a running back on the second day of the draft in each of the last two years. The selection of Akers implies that the Rams are not comfortable heading into this season with Darrell Henderson and Malcolm Brown as their top two backs as the team looks to replace Todd Gurley. The former Florida State running back has an impressive college resume which you learn more about in a recent profile I wrote. The Rams lean on one running back in their offense more than many other NFL teams.
Prediction
Akers opens the season as the head of the Rams committee with a steadily increasing workload as the season progresses. Henderson struggled in 13 games last season, finishing with just 147 rushing yards. This left a very bad taste in the mouths of Rams head coach Sean McVay and fans. Akers can be viewed as a mid-range RB2 with RB1 upside in redraft.
Who Will Open the Season as the
Rams

No. 3 Wide Receiver?
Key Players:
Van Jefferson

,

Josh Reynolds

The Rams traded away Brandin Cooks which creates a void that the team's offense will have to fill this season. Los Angeles' selection of Jefferson No. 57 overall in this year's draft spoke volumes. Cooks averaged 6.3 targets and 82.5 air yards in 30 active games over the last two seasons. Who will come out on top in the street fight between Reynolds and Jefferson?
Prediction
Jefferson opens the season as the Rams No. 3 receiver. He's essentially Cooper Kupp and Robert Woods rolled into one with his very good hands and route-running ability. This is worth noting because Kupp and Reynolds will be testing the free-agent waters in 2021. It's unlikely that the Rams will resign Kupp considering the amount of money he'll command in free agency and the other players they're tethered to from a contract perspective. We'll see glimpses of Jefferson's versatility in 2020, but he's set to be fully unleashed in 2021.
Who Will Emerge as the
Giants

No. 1 Receiver?
Key Players:
Sterling Shepard

,

Golden Tate

,

Darius Slayton

Will the Giants every find a viable replacement for Odell Beckham? The team's roster moves suggest they are very comfortable heading into this season with Shepard, Tate, and Slayton. The Giants didn't use any of their 10 picks in this year's draft on receivers.

Shepard was only limited to 10 games last season. He missed games due to concussions. Injuries also derailed Shepard's 2017 season. He missed five games while dealing with migraines, an ankle injury, and a neck injury. Shepard had a very promising start to his career back in 2016 with 65 receptions, 683 receiving yards, and what remains a career-high eight touchdowns. This is a make-or-break season for the 27-year old receiver.

Tate caught 49 of 85 targets for 676 receiving yards and six touchdowns in his first season with the Giants. He had to sit out the first four games of 2019 on a suspension for violating the NFL policy on performance-enhancing substances. Tate is entering his 11th season.

Slayton looks to build on an impressive rookie season. He caught 48 of 84 targets for 740 receiving yards and scored a team-high eight touchdowns. Slayton also led the Giants in receiving yards.
Prediction
Slayton emerges as the Giants No. 1 receiver. He has the most upside among all three receivers and appears to be an absolute steal after being selected in the fifth round of the 2019 draft. Giants starting quarterback Daniel Jones and Slayton displayed an undeniable rapport during their rookie seasons. Jones led all rookie quarterbacks in passing touchdowns and Slayton led all rookies in receiving touchdowns. The best is yet to come from this dynamic duo with a new head coach in Joe Judge and a new offensive approach.
Who Will Lead the
Buccaneers

Running Back by Committee?
Key Players:
Ronald Jones

, Ke'Shawn Vaughn

The Buccaneers averaged 95 rushing yards per game last season which ranked 24th in the NFL. Ronald Jones was productive in his second season when given opportunities after a disastrous rookie season. The Buccaneers chose not to resign Peyton Barber in free agency and instead drafted Ke'Shawn Vaughn in the third round of this year's draft. This hints that the team still felt pressured to find a versatile running back to pair with Jones. The Buccaneers offense has made a splash this offseason with the addition of Vaughn, future Hall of Fame quarterback Tom Brady, and future Hall of Fame tight end Rob Gronkowski. Jones will have a chip on his shoulder entering training camp and Vaughn will be determined to make a splash as a rookie. Which running back will come out on top?
Prediction
Vaughn will be open the season as the lead in Buccaneers running back by committee. My player profile on him builds a compelling case on how this will come to fruition. Vaughn should quickly become a key contributor in the Buccaneers offense because of what he can do on third downs and in the passing game.
Who Will Emerge as the Redskins No. 2 Receiver?
Key Players:
Antonio Gandy-Golden

,

Kelvin Harmon

Antonio Gandy-Golden was selected No. 142 overall by the Redskins and one of the best value picks in this year's draft. His 1,410 receiving yards in 2019 were the fourth-most in the FBS. Gandy-Golden's receptions (79), yards per reception (19.3), and receiving touchdowns (10) all ranked in the top-20. Kelvin Harmon was a sixth-round rookie last season, finishing the season with 30 receptions and 365 receiving yards in the Redskins dysfunctional offense. An encouraging sign with that most of this production came late in the season when fellow rookie Dwayne Haskins was the starter. New Redskins offensive coordinator Scott Turner has emphasized acquiring players with versatility all offseason. Gandy-Golden is a great example of this type of player and was one of the sleepers I mentioned that could supercharge your dynasty team. Which receiver will win the battle to start opposite of Terry McLaurin?
Prediction
Harmon will open the season as the Redskins No. 2 receiver. He and Haskins grew up together in New Jersey and have also been working out together this offseason. This rapport will be displayed on the field in 2020. Harmon's in a great position to break out this season and is someone to keep on your radar in deeper formats.
Who Will Emerge as the
Ravens

No. 2 and No. 3 Receivers?
Key Players:
Miles Boykin

,

Devin Duvernay

,

Willie Snead

,

James Proche

The Ravens had the number one offense in the NFL last season averaging nearly 415 total yards per game. Lamar Jackson was named the league's Most Valuable Player and the Offensive Player of the Year. Miles Boykin had a taxing rookie season. The Ravens had high expectations for him last season after selecting the former Notre Dame receiver in the third round. The team had hoped Boykin would develop into a consistent pass-catcher. He finished his rookie season with 13 receptions, 198 receiving yards, and three touchdowns in the Ravens run-heavy offense while thriving as a blocker.

Willie Snead only had 31 receptions for 339 receiving yards and five touchdowns in 2019. This was surprising considering Marquise "Hollywood" Brown and Boykin were rookies. Baltimore's general manager Eric DeCosta was very vocal this offseason about a potential breakout season in 2020 for Boykin. Once the dust settled from the Draft, the Ravens selected two receivers. Devin Duvernay was selected in the third round out of Texas and James Proche in the sixth round out of SMU. The Ravens offense will lean more on the passing game in 2020 as Jackson continues to evolve as an NFL quarterback. Baltimore offensive coordinator Greg Roman has a plethora of offensive weapons to work with. This should open the door for other receiving options besides receiver Brown and tight end Mark Andrews. Will Boykin, Duvernay, Snead, or Proche seize the moment?
Prediction
Boykin opens the season as the Ravens No. 2 receiver and Duvernay as the No. 3. Snead is a free agent after this season. He and Duvernay will evenly split snaps and targets early in the season as the slot receiver, but this will change as the season progresses. Boykin is a better fit lining up on the outside. He's 6'4" and 220 pounds with very good play speed and is very capable of imposing his will on defensive backs while converting a high number of contested targets. Boykin will have to improve his route running, hands, and comprehension of the Ravens playbook to truly breakout in 2020.
Who Will Emerge as the
Browns

No. 3 Receiver?
Key Players:
Rashard Higgins

, Donovan People-Jones,

Damion Ratley

,

KhaDarel Hodge

Odell Beckham and Jarvis Landry will open the season as Cleveland's top two receivers. Landry finished the season with 83 receptions and 1,174 receiving yards. Beckham, on the other hand, battled a sports hernia and finished with a disappointing 74 receptions, 1,035 receiving yards, and four touchdowns. He's an excellent bounce-back candidate in 2020. Higgins appears to be the frontrunner for the No. 3 spot after resigning with the Browns. He was a disappointment last season finishing with four receptions and 55 receiving yards in 10 games. This was a surprise considering he broke out back in 2018 with 39 receptions for 572 receiving yards and four touchdowns. Higgins will also be competing with sixth-round draft pick Peoples-Jones, Ratley, and Hodge. Beckham, Landry, and free-agent tight end addition Austin Hooper are projected to be quarterback Baker Mayfield's top three targets.
Prediction
Higgins will open the season as the Browns No. 3 receiver. Peoples-Jones has a high ceiling and is better than his college production shows. He's worth stashing now from a dynasty perspective because Peoples-Jones could be the long term solution for the Browns if they have to choose between keeping Beckham or Landry long term.
Who Will Emerge as the Starter in the
Chiefs

Backfield?
Key Players:
Damien Williams

, Clyde-Edwards-Helaire

The Chiefs selection of Clyde Edwards-Helaire in the first round of this year's draft left with one question. Will Damien Williams be the starter in 2020? Injuries derailed a portion of his 2019 season, but Williams's health improved as the season progressed. He was fantastic in the playoffs, finishing with 290 total yards and six touchdowns. The stage was set for Williams to operate as a bellcow until Chiefs general manager signed DeAndre Washington in free agency and then drafted Edwards-Helaire. Darrell Williams and DarwinThompson are also set to return. Chiefs head coach Andy Reid hasn't used this much draft capital on a running back since selecting LeSean McCoy back in 2009 when he was the head coach of the Eagles.
Prediction
Edwards-Helaire opens the season leading the Chiefs running back by committee. His last season at LSU was epic. Edwards-Helaire ranked ninth in the FBS with 1,867 yards from scrimmage and scored 17 total touchdowns in 15 games last season. His rushing yards rank as the third-highest single-season total in school history. The Chiefs ranked 22nd in rushing yards per game last season with 101.5. Edwards-Helaire will be leaned on heavily to improve that in 2020 and will justify his average draft position. He immediately finds himself on the RB2 radar with immense upside in the Chiefs' explosive offense.
Who Will Emerge as the
Texans

No. 5 Receiver?
Key Players:
Keke Coutee

,

DeAndre Carter

,

Isaiah Coulter

Texans head coach and general manager Bill O'Brien shocked the NFL world when he orchestrated a trade sending DeAndre Hopkins to the Cardinals. Houston replaced him with Brandin Cooks and Randall Cobb. Will Fuller and Kenny Stills are also on the roster and are both entering contract years. The injury histories of Cooks, Cobb, and Fuller are well documented. It is important for the Texans to have depth behind them. Coutee, Carter, and Coulter are the key players in this position battle. Coutee had a promising rookie season back in 2018, but was a disappointment last season. He only had 22 receptions for 254 receiving yards and had a rushing touchdown appearing in only nine games. Carter is more productive in fielding kicks on special teams than as a receiver. The Texans selected Rhode Island receiver Isaiah Coulter in the fifth round of this year's draft. Which receiver will win the battle royale?
Prediction
Coulter slinks onto the Texans roster thanks to his very good route running ability, strong catch radius, and body control. He had 72 receptions for 1,039 receiving yards and eight touchdowns in only 11 starts in his final season at Rhode Island. Coulter capped off last season with seven 100-yard receiving games. If Cooks, Fuller, or Cobb misses time then Coulter is in an excellent position to make an immediate impact for the Texans, especially with quarterback Deshaun Watson under center.
Who Will Emerge as the
Colts

No. 2 Receiver?
Key Players:
Parris Campbell

,

Michael Pittman

,

Zach Pascal

The Colts depth chart looks extremely different than it did last season. There have been some important additions to positions of need, but there is also a great deal of continuity on the roster. One interesting position battle is between Campbell, Pittman, and Pascal for the No. 2 receiver position opposite of T.Y. Hilton.

Campbell had a demanding rookie season in 2019. Hopes were high for him last season after the Colts selected him in the second round of the draft, but injuries derailed his rookie season. Campbell's season ended with him being placed on injured reserve with a fractured foot in early December. He also suffered a hamstring injury in training camp, a sports hernia that required surgery after Week 4, and a broken hand in Week 9 before fracturing his foot. Now healthy, Campbell is being touted by many as a breakout candidate in 2020.

That forecast isn't as clear for him after this year's draft. The Colts needed reinforcements at receiver and selected USC's Michael Pittman at the top of the second round. He's a first-round caliber talent, but with the depth of talent at the receiver position in the 2020 draft class, he fell to the second round. Pittman will also have the luxury of Hilton drawing away coverage. It's not out of the realm of possibility that he finishes as the No. 1 rookie receiver this season.

Pascal was one of the few bright spots for the Colts receivers last season. He finished with over 600 receiving yards and five touchdowns in his second season. Pascal was leaned on heavily by quarterback Jacoby Brissett. Now Pascal will be battling a healT.Y. Hilton, Campbell, and a rookie for offensive snaps and targets.
Prediction
Pittman emerges as the Colts No. 2 receiver. Many are discounting the fact that Rivers does not have any previous relationships with any of Indianapolis' veteran receivers. Pittman is already expected to be the Colts X receiver and could make an immediate splash if he calibrates quickly with Rivers. Campbell made changes to his training regime this offseason in an effort to improve his durability. Hilton turns 31 in November and dealt with injuries for the majority of the 2019 season. He had a career-low 45 receptions for 501 receiving yards and five touchdowns. It was disappointing considering he recorded five 1,000-yard seasons over the last six. If Hilton or Campbell were to miss time then Pittman's upside would be through the roof with Rivers under center. He has been one of the most productive passers of his era. Rivers will likely finish this season within the top-five all-time in NFL history in career passing yards and touchdowns. Pittman could accelerate his ascension in the history books.
Who Will Lead the
Steelers

Running Back Committee?
Key Players:
James Conner

,

Anthony McFarland

, Benny Snell,

Jaylen Samuels

The Steelers general manager Kevin Colbert has been adamant all offseason that Conner would retain his role as the starter for the 2020 season. Pittsburgh did select Maryland's Anthony McFarland in the fourth round of this year's draft. He's third in school history with 6.7 yards per rushing attempt, ninth with six 100-yard games, and 21st in Maryland history with 1,648 career rushing yards. Conner will be given another opportunity to start in spite of missing six games last season due to injuries and averaged a disappointing 13.1 fantasy points per game in half-point PPR. He averaged nearly 20 fantasy points in half-point PPR in 2018 and was named to the Pro Bowl.

The Steelers backfield is very interesting because the team may lean on the running game even more than they have in the past due to quarterback Ben Roethlisberger's age and declining health. Conner's injury history is a concern as he looks to hold off McFarland, Samuel, and Snell in a contract year. Snell was primarily used in short-yardage situations last season. He started two games in Conner's absence and had the second-most rushing yards for the Steelers with 426 yards. Samuels, on the other hand, saw more use as a receiver out of the backfield finishing with 175 rushing yards and 305 receiving yards. If Conner is not capable of carrying the load for the Steelers in 2020, the team has adequate depth to make do. Who will come out on top?
Prediction
Conner will open the season as the Steelers starting running back in their committee. This is a backfield that fantasy players should want exposure to. If Conner were to miss an extended amount of time then Samuels and McFarland would form a committee for the Steelers. Samuels would handle most of the receiving work with McFarland dominating the early downs.
Who Will be Named the
Patriots

Starting Quarterback?
Key Players:
Jarrett Stidham

,

Brian Hoyer

Future Hall of Fame quarterback Tom Brady surprised fantasy football fans when he decided to leave the Patriots and sign with the Buccaneers. The pressure is on for Stidham to elevate his game in New England this season. He will have to earn the starting job this summer and compete with Hoyer, who has five years of experience in the Patriots' offensive scheme. It will be fascinating to see the decision that New England head coach Bill Belichick will make regarding the team's starting quarterback in 2020.
Prediction
Stidham opens the season as the Patriots starter with a very short leash. Many are predicting that he'll be named the starting quarterback in 2020. Stidham has also hosted private workouts with some of his teammates and been in regular contact with veteran Patriots receiver Julian Edelman. It's important for Stidham to develop as much chemistry as possible with the team's receivers before the beginning of training camp. This preparation is invaluable for him to lock down the starting quarterback job.
Bringing It All Together
How will you put what you learned into action? You've learned about 15 intriguing position battles, but there are many more not mentioned in this article. A best practice is to have an awareness of the depth chart of all of the NFL teams. This allows you to stay multiple steps ahead of your competition as you are drafting, especially in deeper fantasy football formats early in the year.