Will Cam Akers Meet or Exceed Expectations in 2020?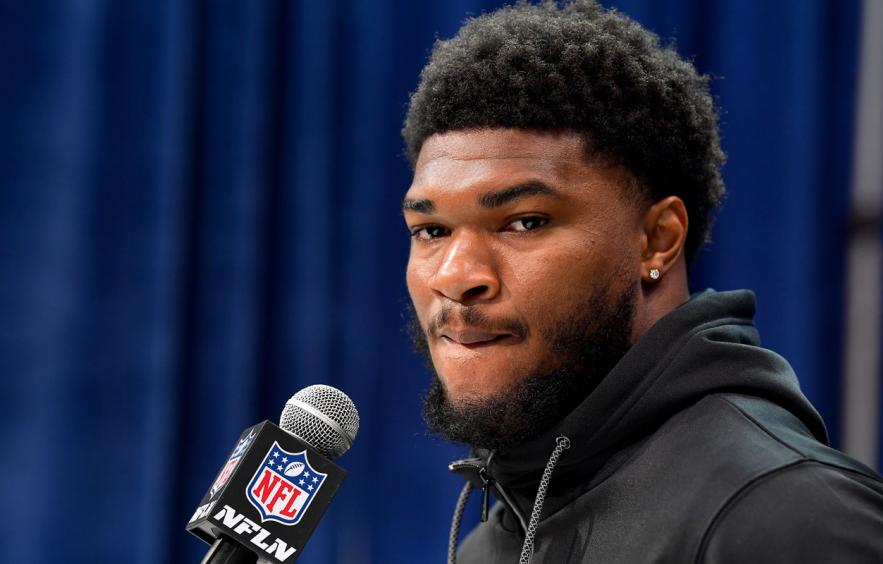 Alika Jenner/Getty Images
The Rams addressed the running back position early in the NFL Draft by selecting Akers No. 52 overall. Los Angeles' didn't have a first-round pick and the decision to draft a player of his caliber this high given the Rams' needs at other positions implies that they are not comfortable heading into 2020 with Darrell Henderson and Malcolm Brown as their top two running backs. Head coach Sean McVay and general manager Les Snead are desperately looking for Todd Gurley's successor. This duo is well aware of the short shelf life of an NFL running back and will look to maximize Akers' contract.
#NFL Offensive Rookie of the Year odds via https://t.co/0hqbdcSqaP: #Bengals Joe Burrow 5-2, #Colts Jonathan Taylor 9-1, #Rams Cam Akers 20-1, #Broncos K.J. Hamler 28-1, #Steelers Chase Claypool 40-1.

— Gene Collier (@genecollier) April 27, 2020
Were you aware that the Rams and the Bills are the only teams to draft a running back on the second day of the draft in each of the last two years? In McVay's three seasons as Los Angeles' head coach, all areas of the offense ran through or operated off Gurley. The former Florida State Seminole is perfect for his zone-based running scheme as a one-cut back with great balance, play strength, and play speed. This article will discuss Akers' collegiate statistical body of work, why he'll flourish in Los Angeles and his fantasy football outlook.
Cam Akers

's Statistical Body of Work

Akers impressed McVay and other NFL coaches during the draft process. His team-first attitude and positive personality are great qualities to add to any locker room. Akers was still very productive statistically at Florida State in spite of various hurdles. He endured coaching changes, poor offenses, and sub-par blocking. Akers provides the Rams with an offensive weapon who can make an impact as a runner, receiver and is a willing blocker. This was quite the transformation for the former top-five overall recruit and five-star all-purpose championship-winning quarterback. Akers passed for 3,128 yards and rushed for 2,105 yards as a senior in high school.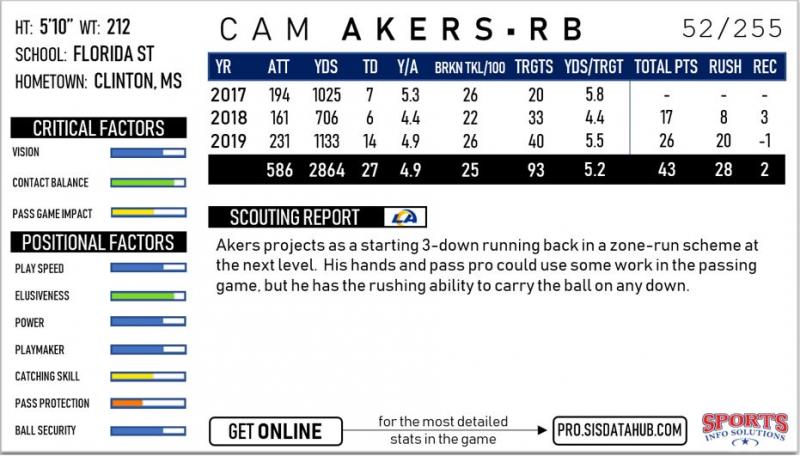 Akers is the third running back in school history with multiple seasons with 1,000 or more rushing yards. The other two are Warrick Dunn and Dalvin Cook. Akers ranked fifth all-time in Florida State history with 586 rushing attempts. His 2,874 rushing yards and 11 100-yard games ranked sixth in school history. Akers's 34 touchdowns tied for sixth in Florida State history while his 27 rushing touchdowns rank seventh. He also left the program ranked 12th all-time with 3,375 all-purpose yards. Many view Akers' landing spot with the Rams as suboptimal, but as Sun Tzu mentioned: "In the midst of chaos, there is opportunity." Let's walk through his fantasy outlook with Los Angeles in 2020.
How
Cam Akers

Fits with the

Rams

The Rams offense finished last season ranked seventh in total yards per game (375) in McVay's third season as head coach. Los Angeles finished third in 2018 and eighth in total yards per game in 2017. The Rams averaged an impressive 28 points per game over this time frame. Gurley's opportunity share (Percentage of the total team running back carries plus targets) positively impacted the Rams' offensive results.
Todd Gurley

Opportunity Share, 2017–2019

| Season | Opportunity Share | Rank | Fantasy Points Per Opportunity |
| --- | --- | --- | --- |
| 2019 | 72.4% | 9th | 0.80 |
| 2018 | 86.2% | 2nd | 1.09 |
| 2017 | 73.2% | 4th | 1.05 |
The Rams lean on one running back in their offense more than many other NFL teams. Arthritis in Gurley's previously injured left knee is well documented following the 2018 season. The Rams front office was highly criticized after signing Gurley to a four-year, $60 million contract extension with $45 million in guarantees before the start of that season. The deal made him the highest-paid running back in the league at the time. McVay entered last season attempting to keep Gurley on a load-management plan. This plan collapsed like a house of cards as the season progressed. The Rams ultimately released the 25-year old running back in mid-March after spending weeks trying to trade Gurley due to his contract. He signed a one-year deal with the Falcons.
Quarterback Jared Goff and the entire Rams offense are at their best with a dynamic runner in the backfield handling the majority of the touches. Goff finished as the fantasy QB7 back in 2017. It's important for the franchise to get him back on track considering Goff signed a four-year extension last September worth $134 million in new money over four years with $57 million guaranteed. Having Akers fill the void left by Gurley is the perfect way to do that considering the plethora of receiving options the Rams are blessed with. And now, you're asking yourself a few questions internally. How can Akers thrive behind the Rams' poor offensive line play? What about a crowded Los Angeles backfield that includes Darrell Henderson and Malcolm Brown?
Let's debunk the narrative entering the 2020 season about the Rams offensive line. The unit ranked 31st in Pro Football Focus' offensive line rankings for the 2019 season. Those rankings take into account their player grades and other advanced metrics. Many also look at the Rams number of rushing yards per game, that they didn't make any major offseason additions, and assume the unit will be a dumpster fire this season unless significant changes are made.
The Rams did prioritize their offensive line in free agency. Left tackle Andrew Whitworth will return on a three-year, $30 million deal. This provides Los Angeles with some flexibility by not forcing a young player into blocking Goff's blindside. The Rams also signed Austin Blythe to a new one-year deal. He started at guard and center over the last two seasons. They selected Tremayne Anchrum with the 250th pick in this year's NFL Draft. You may be with me on this one, but many people wouldn't consider those significant changes. The reality is that the McVay and Snead are comfortable with the offensive line heading into this season.
The starting lineup of the Rams offensive line was very inconsistent last season due to injuries. Left tackle Whitworth had his worst season which is very uncharacteristic. Right tackle Rob Havenstein, who has a very reliable track record, had a poor start and had his season end prematurely due to a knee injury. The guards and centers were also in a constant state of flux. Continuity is very important when it comes to offensive line play.
The Rams offensive line finished 19th in adjusted line yards and 29th in open field yards according to Football Outsiders. This suggests that Los Angeles was heavily dependent on its offensive line to make the running game work. Gurley's yards created per attempt last season was significantly lower than the previous two seasons. This advanced metric created by Graham Barfield tracks all yards above and beyond what was blocked. Yards created are generated by the runner after the first evaded tackle.
Todd Gurley

Yards Created, 2017–2019

| Season | Yards Created Per Game | Rank |
| --- | --- | --- |
| 2019 | 18.5 | 26th |
| 2018 | 26.4 | 12th |
| 2017 | 26.5 | 10th |
Akers is talented enough to transcend poor offensive line play. He accumulated a high number of yards after contact and broken tackles during his three-year career at Florida State. It's going to be hard for Snead and McVay to keep Akers off the field considering his draft capital. Darrell Henderson and Malcolm Brown aren't two running backs that instill fear when thinking of an in the team competition. Henderson didn't have a key role as a rookie. He rushed for 147 rushing yards on 39 attempts before suffering an ankle injury in the second to last game of last season.
Brown signed as an undrafted free agent back in 2015. The 26-year old running back only rushed for 255 yards and five touchdowns on 69 rushing attempts last season. McVay has a history with the Rams of leveraging one running back. Akers will enter the season as the starter with Henderson operating as a change of pace. His receiving ability is underrated, and Akers' background playing quarterback adds to his ability to understand routes at the NFL level. He did have a number of drops last season, but Akers also has excellent hands.
Ridiculous effort here by Cam Akers on this one-handed catch. #FSUvsUF pic.twitter.com/4CV5plhLKq

— Cam Mellor (@CamMellor) November 24, 2018
Akers is very dangerous as a receiver out of the backfield who averaged 8.8 yards after the catch. It's a mistake to think that Henderson will take opportunities away on passing downs. Akers is the back to own in the Rams backfield.
Bottom Line
Many are sleeping on Goff and the Rams offense in 2020. Akers's ability to overcome poor offensive line, tackle-breaking ability, and other traits mentioned above will translate very well at the NFL level.
Akers can be viewed as a mid-range RB2 with RB1 upside in redraft.
He was the Rams' first selection of the 2020 NFL Draft. This suggests Akers will see a steady number of opportunities and play a high number of snaps.
You'll need a top-five rookie draft pick to have a realistic shot of selecting Akers.
From a dynasty perspective, he's landed in a great situation and is expected to see a consistent number of opportunities per game over the next four to five seasons considering how the Rams leverage Gurley.