A.J. Dillon is a Late-Round Lottery Ticket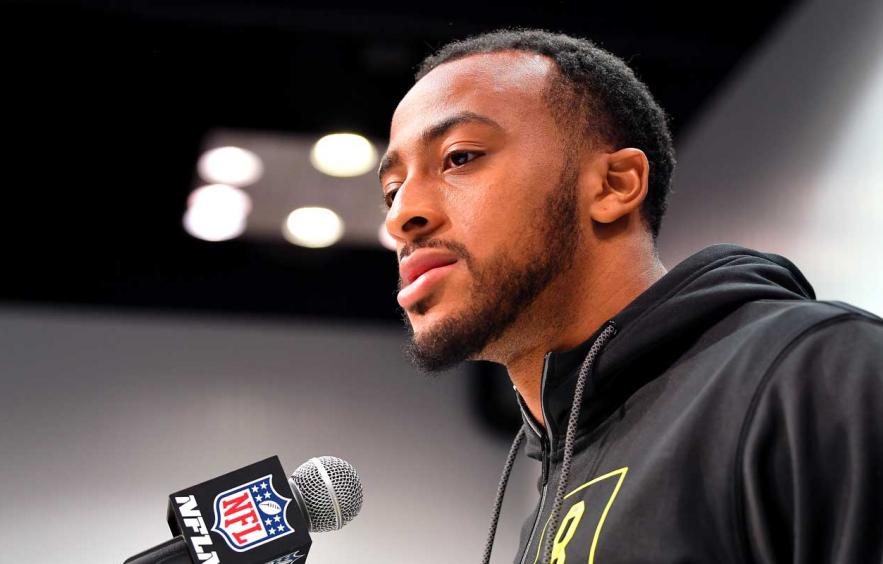 Alika Jenner/Getty Images
The Packers have fortified their backfield with the selection of A.J. Dillon at No. 62 overall in the 2020 NFL Draft. This selection along with Utah State quarterback Jordan Love No. 26 overall left many Green Bay fans dumbfounded. The Packers already have backs Aaron Jones and Jamaal Williams on the roster who formed a formidable committee last season. Jones averaged 19.1 opportunities and 18.4 fantasy points per game in half-point PPR. He totaled 1,558 total yards and tied Christian McCaffrey for most touchdowns. Jones only needed 236 rushing attempts to record his first season with 1,000 or more rushing yards. He is the first Packers running back to achieve that milestone since John Brockington in 1971.
Williams played 41% of the offensive snaps in 2019 while averaging nearly 11 opportunities per game. He finished as an RB3 in 57% of his games last season in half-point PPR. Williams was clearly in a secondary role to Jones, but his pass blocking and contributions as a receiver out of the backfield were significant. He finished the season with five receiving touchdowns. Packers head coach Matt LaFleur had been very vocal leading up the draft about his desire to add more workhorses to the team's backfield.
I think anytime you look at the running back position, it's such a long season, and those guys take on a ton of punishment. It's one of the tougher positions to play in terms of physicality, and I think you always need multiple guys to get to that finish line. Certainly, we'd like to play one more game than we did last season, and we're going to need not only those two guys, but I do think we're going to need a third guy to put into that mix moving forward.
Packers general manager Brian Gutekunst delivered with his selection of Dillon. And now, you're thinking what does this have to do with the former Boston College running back. Jones and Williams were selected in consecutive rounds during the 2017 NFL Draft by former Packers general manager Ted Thompson. Both are entering the final years of their rookie contracts. McCaffrey became the NFL's highest-paid running back when he signed a four-year extension with $30.1 million fully guaranteed at signing.
The Packers haven't given a second contract to a back according to Spotrac since they drafted James Stark in the sixth round in 2010. Eddie Lacy rushed for over 1,000 yards in his first two NFL seasons from 2013 to 2014. His statistical production trended down over the next two seasons and the Packers let him leave in free agency. Green Bay hasn't drafted a running back as high as Dillon since Lacy back in 2013. Will he see notable playing time right away? Could Dillon challenge Jones for the starting role? This article will answer those questions and more. Let's discuss Dillon's collegiate statistical body of work and his fantasy outlook with the Packers.
A.J. Dillon

's Statistical Body of Work

Dillon rushed for 1,000 or more yards in all three of his seasons at Boston College. Dillon finished his collegiate career with 14 games with 150 or more rushing yards. He surpassed 200 rushing yards in four.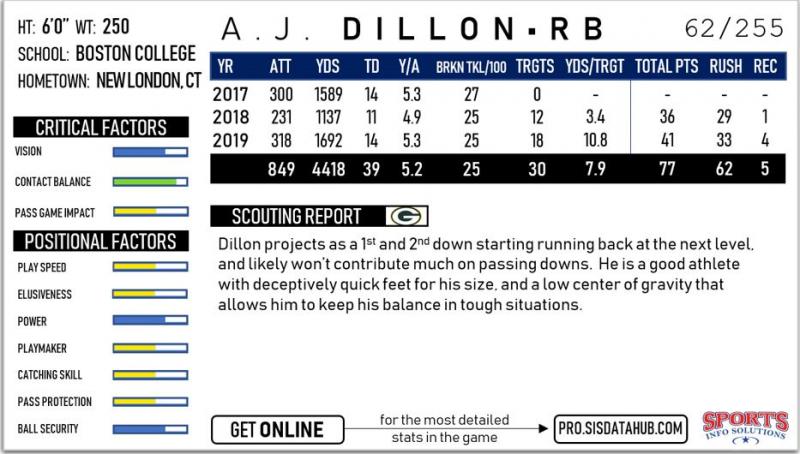 Dillon holds the Boston College records in rushing yards and rushing touchdowns. His 845 rushing attempts were an astounding amount, but Dillon only missed two games in his college career. He finished with third-team Associated Press All-American honors and was a first-team All-ACC selection. Dillon wasn't used much as a receiver out of the backfield, but he was very productive when given opportunities.
Dillon (0.35) finished with higher expected points added per target (EPA) than Cam Akers (-0.21), Clyde Edwards-Helaire (0.20), Jonathan Taylor (0.05), and D'Andre Swift (0.06) according to Sports Info Solutions. He strengthened his draft stock at the NFL Combine with a majestic 4.53 second time in the 40-yard dash and a 7.19 time in the three-cone drill. Dillon also finished with 23 bench reps and a 41-inch vertical.
He has the highest-rated Adjusted SPARQ Percentile of all the 2020 running draftees. Dillon's been on the Packers radar since his freshman season. One of the team's scouts, Mike Owen, watched Dillon eviscerate the Syracuse Orange during his freshman season. Let's walk through his fantasy outlook with the Packers.
How
A.J. Dillon

Fits with the

Packers

Dillon's draft capital, critical factors, positional factors, scouting report, and college production suggest he'll make a fantasy impact as a rookie. There seems to be a power struggle in the Packers organization between LaFleur and future Hall of Fame quarterback Aaron Rodgers. LaFleur is partly responsible for Green Bay selecting Love and Dillon even though they weren't positions of need when analyzing the roster. It was more about sending a message, in my opinion, as both of their egos battle for supremacy.

LaFleur is tethered to a coaching lineage that includes Kyle Shanahan, Mike Shanahan, and Gary Kubiak when you look at his NFL resume. When you think of these coaches four words should enter your mind: prolific running back production. You're aware of the success that Jones had last season. Derrick Henry was also very successful in LaFleur's lone season as the Titans offensive coordinator back in 2018 while averaging 14.6 opportunities per game. He surpassed 1,000 yards for the first time in his career while scoring 12 rushing touchdowns. Dillon and Henry are similar when you look at their measurements, testing, and game film. Both running backs have a very physical running style and excel at creating yards after contact.

The Packers continue to move toward a more run-heavy offense. The word on the street suggests that LaFleur is trying to emulate the 49ers running game. Shanahan's committee consisted of their very capable backs and San Francisco averaged 33.1 opportunities per game. The Packers averaged 30.6 opportunities per game last season. This trend could continue in 2020 with Jones, Williams, and Dillon all being active contributors similar to the 49ers backfield last season. It will be interesting to watch Williams and Dillon battle for the Packers No. 2 running back this summer. The outcome will determine how many opportunities per game Dillon could see during his rookie season. The Packers have the luxury to ease him throughout the season since Jones and Williams are in the last year of their rookie contracts. Dillon has the potential to be a league-winner if Jones or Williams were to miss an extended amount of time.
Bottom Line
Dillon can be viewed as an upside RB5 in redraft.
He'll have an opportunity for the first time in his career with the Packers to see a high percentage of light defensive fronts on his rushing attempts because Rodgers is under center.
Dillon could finally see more targets in his career as a receiver out of the backfield. The Packers provided their running backs 8.4 targets per game last season.
From a dynasty perspective, he's landed in a perfect situation in Green Bay due to the contract situation of Jones and Williams. Dillon has a very good chance to enter the 2021 season as the unchallenged starter in the Packers backfield.
He is a marvelous target in the second round of rookie drafts.