Can Ke'Shawn Vaughn Thrive in Tampa Bay?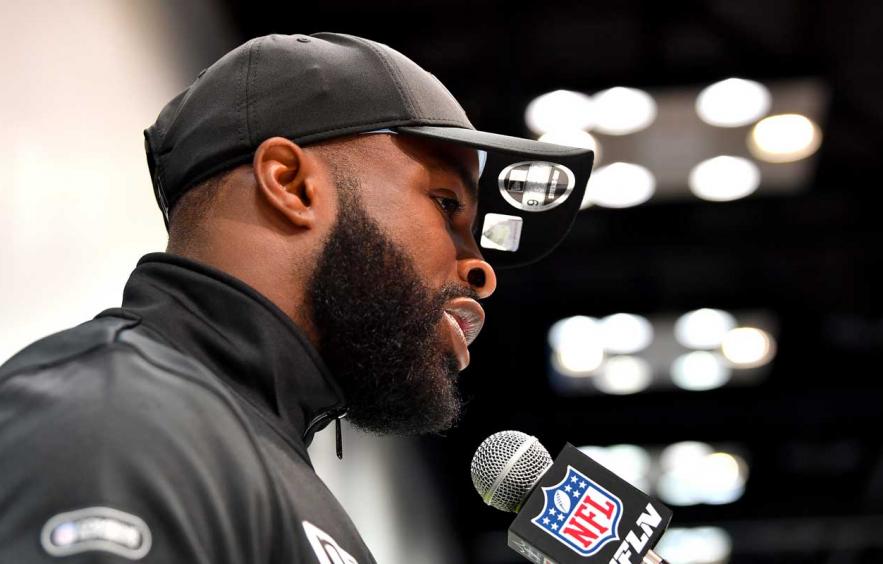 Alika Jenner/Getty Images
The Buccaneers' acquisition of tight end Rob Gronkowski cost the team a fourth-round pick. It was important for Tampa Bay to use one of its early picks on a running back. The Buccaneers averaged 95 rushing yards per game last season which ranked 24th in the NFL. Ronald Jones was productive in his second season when given opportunities after a disastrous rookie season. He averaged 0.78 fantasy points per opportunity finishing 2019 with 724 rushing yards and six rushing touchdowns. Jones also had 31 receptions for 309 yards.
The Buccaneers chose not to resign Peyton Barber in free agency. This left the team with Jones, Dare Ogunbowale, and T.J. Logan. General manager Jason Licht added Ke'Shawn Vaughn into the fold after drafting him in the third round of this year's NFL Draft. He's in a great position to make an immediate impact in the Buccaneers backfield. This article will discuss Vaughn's collegiate statistical body of work and his fantasy outlook in Tampa Bay.
Ke'Shawn Vaughn

's Statistical Body of Work

Vaughn spent two seasons at the University of Illinois before deciding to transfer to Vanderbilt University. After sitting out the 2017 season, he picked up his college career against SEC competition. Vaughn's nine career 100-yard performances rank fourth all-time in Vanderbilt history. His 21 career rushing touchdowns rank third in school history. Vaughn's only the third running back in Commodore history to post multiple 1,000 yard rushing seasons. The first two were Ralph Webb and Zac Stacy.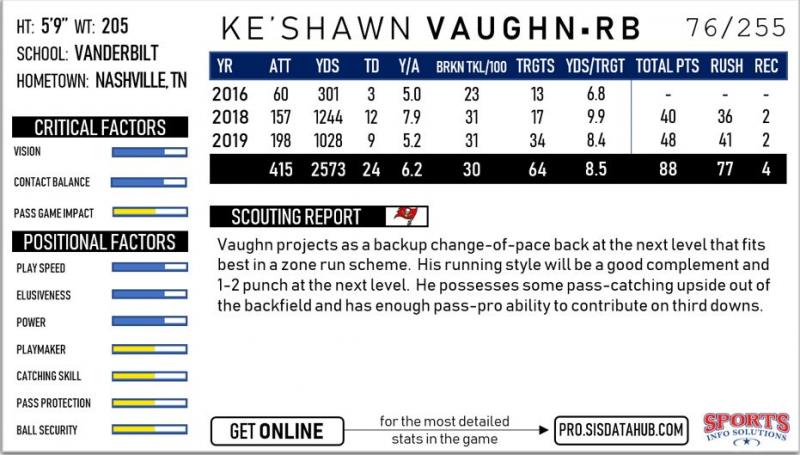 It's puzzling that Vaughn's name wasn't mentioned in the same breath as the draft's top backs. The Buccaneers drafted him not only for his rushing ability, but also his receiving ability. Tampa Bay's front office made the impossible, possible with their offseason acquisition of future Hall of Fame quarterback Tom Brady. TJ Hernandez wrote an article detailing the fantasy impact his addition will have on the Buccaneers. Brady is now surrounded by a plethora of receiving weapons including Mike Evans, Chris Godwin, Tyler Johnson, O.J. Howard, and Gronkowski. It was also important to provide him with a receiving option out of the backfield. Brady's running backs averaged 74 receptions in his 19 seasons as the Patriots starting quarterback. Let's walk through Vaughn's fantasy outlook with the Buccaneers in 2020.
How Ke'Shawn Vaughn Fits with the
Buccaneers
Tampa Bay has publicly expressed faith in Jones leading up to the draft and there were no reports of the team courting any running backs in free agency. The 22-year old back's sophomore season was filled with ups and downs. Actions speak louder than words. Jones now has some serious competition with the Buccaneers' selection of Vaughn. It's rare to see a running back drafted this high not have an opportunity to carve out a role as a rookie. Jones improved statistically last season, but continues to struggle with his vision and pass protection. There were numerous times last season where it was obvious the Buccaneers coaching staff did not completely trust him. Vaughn excels in these two areas. Licht spoke positively about him:
I think he's (Vaughn) capable of playing on all three downs. You can't have too many good backs. You can't rely on just one back. And if you have a guy who can do multiple things, it makes him even more valuable to your team.
Vaughn's proficiency in pass protection will be important. Brady is notorious when it comes to everyone on the offense knowing his responsibilities. The soon to be 43-year old quarterback isn't the epitome of mobility and protecting him will be very important. The Buccaneers addressed the offensive line by selecting Tristan Wirfs No. 13 overall in the draft. Tampa Bay's offensive line ranked 23rd in adjusted sack rate last season.
The stars are aligning for Vaughn to have a stranglehold on the passing downs immediately with rushing attempts sprinkled in. He also has experience splitting out as a receiver. As the season progresses it's not out of the realm of possibilities that Vaughn's used as a bellcow. The key is if he maximizes every opportunity and builds trust with Brady quickly. With the receiving talent assembled by the Buccaneers, it will be surprising to see defenses focus on the running backs. This could allow Vaughn to see lighter fronts. His vision as a runner is another trait that differentiates Vaughn from Jones.
Against Baylor, Ke'Shawn Vaughn averaged over 18 yards per carry (Dear Baylor, tackle better). But it's hard to tackle him when he shows great vision, a jump cut and adequate burst in the short areas of the field. pic.twitter.com/wDIZj0teK7

— Russell Brown (@RussNFLDraft) June 2, 2019
Vaughn's a better prospect coming out of college than Jones, has more experience than Jones working out of the shotgun formation, and is very comfortable in a zone-based running scheme. This all bodes well for Vaughn's fantasy outlook in 2020. He's landed in the perfect situation.
Bottom Line
Brady's arrival in the Sunshine State unquestionably improves the fantasy expectations for the Buccaneers offense. Vaughn will have a similar impact on Tampa Bay's running game.
Vaughn can be viewed as an RB3 with upside in redraft.
Licht was surprised to see Vaughn still available when the Buccaneers pick came up in the third round. He believed it was the right place to select a running back. This is notable because the Buccaneers did not have a fourth-round pick. Vaughn will see a steady number of opportunities and play a high number of snaps.
Vaughn's a great target in the late first round to early second round in rookie drafts.
From a dynasty perspective, he's landed in a great situation in Tampa Bay and has a very good chance to enter the 2021 season as the undisputed starter in the Buccaneers backfield.