How Tom Brady to the Buccaneers Impacts Fantasy Football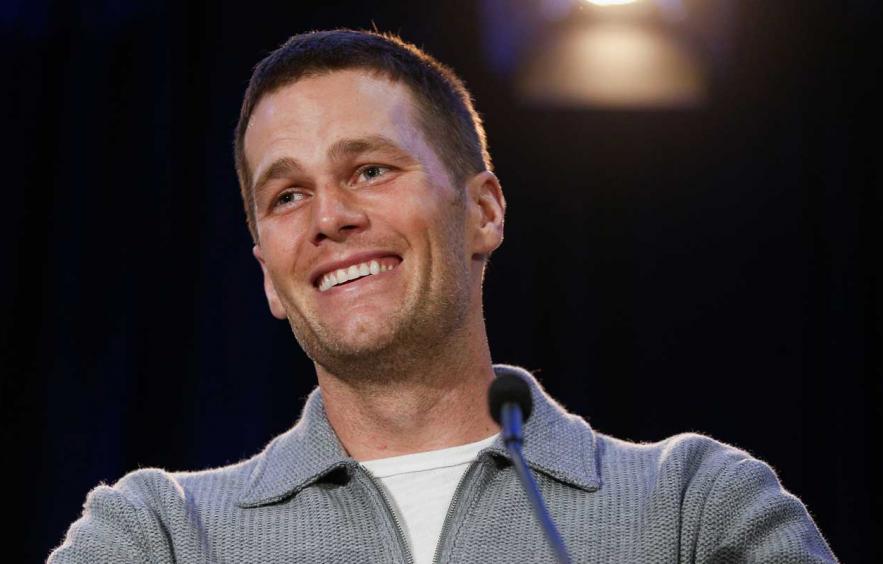 Bob Levey/Getty Images
On March 17, Ian Rapoport announced that Tom Brady is expected to join the Buccaneers for roughly $30 million per year. Brady will take over for an offense that led the league in passing yards and ranked third in passing touchdowns but also threw the most interceptions. Brady's style is a stark contrast to Tampa Bay's 2019 starter, Jameis Winston, which will have a major impact on the fantasy value of the entire Buccaneers offense.
Tom Brady

versus

Jameis Winston

The most glaring differences between Brady and Winston are the deep ball and turnovers. Last season, Winston was paired with Bruce Arians, a coach that throws deep as much as any in the league. Throw in downfield weapons such as Mike Evans and Breshad Perriman and it shouldn't be a surprise that Tampa Bay led the league in deep-ball rate (passes thrown 15+ yards downfield). With that let-it-fly mentality, Jameis ranked second in passing touchdowns (33) but also led the league in interceptions (30).

Brady, on the other hand, ranked 32nd in yards per target and his 16.2% deep-ball rate was tied for 31st among passers with at least 100 attempts. This conservative approach resulted in the ninth-lowest interception rate in the league but New England ranked 14th in passing yards and tied for 16th in passing touchdowns. An easy narrative is to point to Brady's lack of reliable weapons in 2019 but the differences between these two quarterbacks, especially as it pertains to downfield passing and turnovers, can be traced back to Winston's rookie season.
Tom Brady

Deep-Ball Rate and Interception Rate, 2015–2019

| Year | Team Deep-Ball Rate (Rank) | Interception Rate (Rank) |
| --- | --- | --- |
| 2015 | 15.9% (24) | 1.1% (2) |
| 2016 | 17.6% (16) | 0.5% (2) |
| 2017 | 20.5% (6) | 1.4% (3) |
| 2018 | 16.5% (16) | 1.9% (16) |
| 2019 | 16.2% (23) | 1.3% (9) |
Jameis Winston

Deep-Ball Rate and Interception Rate, 2015–2019

| Year | Team Deep-Ball Rate (Rank) | Interception Rate (Rank) |
| --- | --- | --- |
| 2015 | 23.2% (6) | 2.8% (33) |
| 2016 | 22.3% (3) | 3.2% (30) |
| 2017 | 22.1% (5) | 2.5% (23) |
| 2018 | 22.5% (3) | 3.7% (37) |
| 2019 | 24.3% (1) | 4.8% (41) |
Since Winston came into the league, the Buccaneers have ranked sixth or better in deep-ball rate every season, while New England finished in the top half of the league just once in that span. Interceptions have plagued Winston since he entered the league, as his 3.5% career interception rate is the highest among active passers since 2015. Meanwhile, Brady has posted an interception rate below 2% in every season since 2011. We know what we are getting from Brady at this point in his career and Bruce Arians and the Buccaneers offense will conform to Brady's strengths and weaknesses, not the other way around.
How
Tom Brady

Impacts the

Buccaneers

UPDATE: On March 21, the Buccaneers traded for tight end Rob Gronkowski. While this move puts Brady firmly in the top-12, Gronk's presence limits the upside of Godwin and Evans. With limited offseason workouts, quarterbacks may be even more prone to leaning on familiar targets than we have seen in the past. In terms of Gronkowski's fantasy outlook, his production was already waning before his short-lived retirement and he has never had the level of competition for targets that he will in 2020. Because the tight end position is so thin, Gronk should be drafted as a low-end TE1 but he does not warrant significant capital in fantasy drafts. Godwin and Evans are fringe WR1s.

The two players that fantasy owners will be most interested in from this offense are Chris Godwin and Mike Evans, who finished second and third, respectively, in half-PPR fantasy points per game. Given Brady's tendency to keep the ball closer to the line of scrimmage, it would stand to reason that Godwin is more likely than Evans to maintain his status as a top-tier receiver—Godwin's 10.8-yard average depth of target (aDOT) ranked 52nd among wide receivers with at least 40 targets while Evans posted the seventh-highest aDOT in the league (15.3 yards). Returning to the argument that Brady's lack of a downfield threat may have contributed to his conservative play, consider his accuracy on deep balls.
Tom Brady

Deep-Ball On-Target Rate, 2015–2019

| Year | On-Target % | Rank |
| --- | --- | --- |
| 2015 | 61.8% | 3 |
| 2016 | 60.8% | 10 |
| 2017 | 61.1% | 5 |
| 2018 | 62.0% | 12 |
| 2019 | 58.7% | 23 |
Data courtesy of SportsInfoSolutions
The decline for quarterbacks is rarely a gradual one and there's evidence that Brady may have hit his wall as a 42-year old last season. In addition to a dip in accuracy, Brady posted his lowest yards per attempt since 2002 and tied for his fewest fantasy points per target of his career. For reference, Winston finished 12th in deep-ball accuracy, sixth in yards per attempt and 11th in fantasy points per attempt in 2019.
As of now, Godwin and Evans are going as the WR6 and WR7, respectively, in early best-ball drafts, but early reactions to the Brady news suggest that the risk for Evans may end up being baked into his price by the time the general public starts drafting.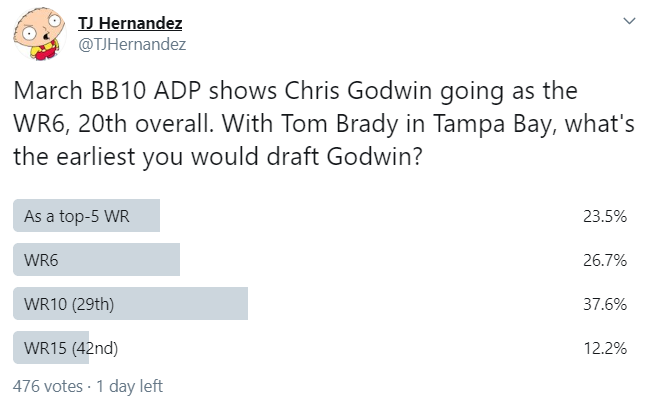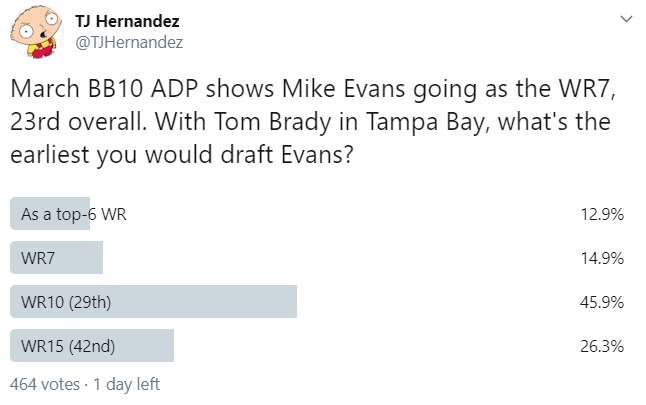 Of course, there is more to this offense than their fantastic wide receiver duo. Breshad Perriman ranked third on the team with 69 targets last season but his top-three aDOT doesn't mesh with Brady, and Perriman could land elsewhere in free agency. If there is a player that could pop, it might be O.J. Howard as a post-hype sleeper. Brady's late-career success coincided with a healthy Rob Gronkowski and Howard at least has the ability to stretch the field down the middle, as one of five tight ends with an aDOT above 10 yards last year. (Brady's deep-ball concerns don't necessarily translate here as the highest aDOTs at tight end translate to Godwin- and Julian Edelman-type depths.)
Tampa Bay's backfield could present the fantasy headaches that we have become accustomed to with Brady's backs in New England. Last season, no Buccaneers back eclipsed a 50% backfield touch share and although Peyton Barber is a free agent, Ronald Jones could lose some passing-down work to Dare Ogunbowale, who out-targeted Jones 47–41 on the season. Additionally, the Bucs could add a back to replace Barber through the draft or free agency.
One thing Brady's conservative play will surely help is Tampa Bay's offensive line struggles. The Buccaneers ranked 23rd in adjusted sack rate compared to a top-10 ranking for New England, but many say that sacks are a quarterback stat. In contrast to Winston's long drops and poor decision making, Brady will surely utilize Tampa Bay's personnel to get rid of the ball quickly on top of being a superior decision-maker to Winston.
The Bottom Line
Tom Brady's arrival in Tampa Bay significantly alters the fantasy expectations for this offense. Godwin should play an Edelman-like role for him and could maintain low-end WR1 numbers. Whether he is worth drafting, like all players, will depend on his price—if Godwin continues to go off the board as a top-six player at his position, you may be paying for him at his ceiling. Mike Evans has a much wider range of outcomes but there is a good chance that his risk will be accounted for in his price. The floor for both receivers should keep owners from reaching for either player.
As for Brady, an upgrade in supporting cast should offset some of the concerns of his age and decline in efficiency but even one of the best wide receiver duos in the league may not be enough to make Brady worth drafting. Last season, the Bucs' new quarterback finished as the QB12 overall and QB15 on a points per game basis. Even if this offense can catapult Brady to a QB10 finish, he doesn't have the upside that we want from a late-round quarterback. He will have enough downside to be a streaming option throughout the season.
If there is a sleeper here, it's tight end O.J. Howard. The hype train was out of control last summer and its quick derailment should leave drafters sour enough that Howard's price stays relatively low—he is currently being drafted as the TE17. The possible departures of Breshad Perriman and Peyton Barber could open enough target share to make the tight end relevant. Brady's most recent success has been with a healthy downfield tight end and the position is so sparse that it will be worth taking a late-round stab at Howard, with the intention to quickly drop him if a 43-year old Brady shows up in Florida as last year's iteration of himself.