TJ's #Taek: Week 7 NFL DFS GPP Recap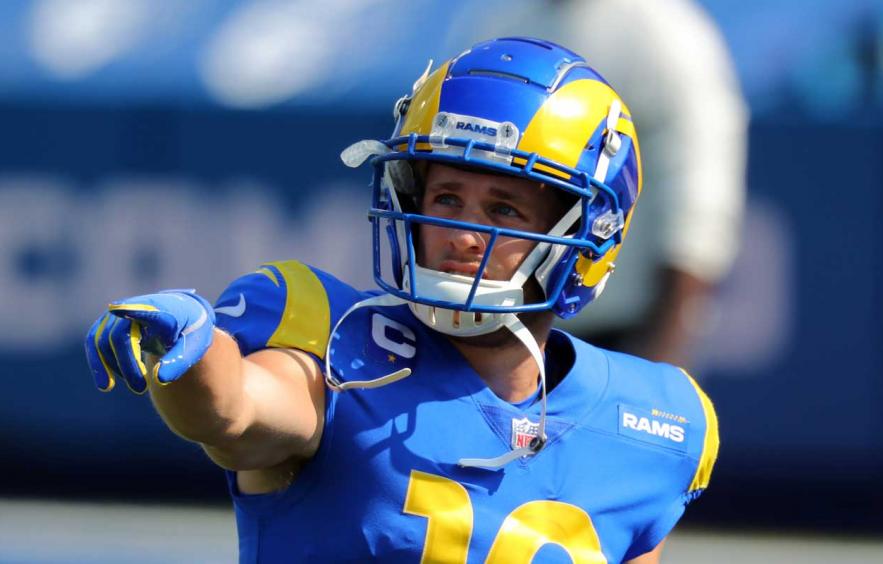 Timothy T Ludwig/Getty Images
Week 7's winning lineups from the biggest contests on FanDuel and DraftKings can be used to tease out lineup-building strategies and offer clues on how you could have landed on a similar team. Reviewing your hits and misses each week is imperative if you want to be a profitable DFS player but examining winning lineups is also a useful exercise in cultivating a winning approach.
---
More GPP Strategy: QB | RB | WR | TE | DEF
---
DraftKings Week 7 Millionaire Winning Lineup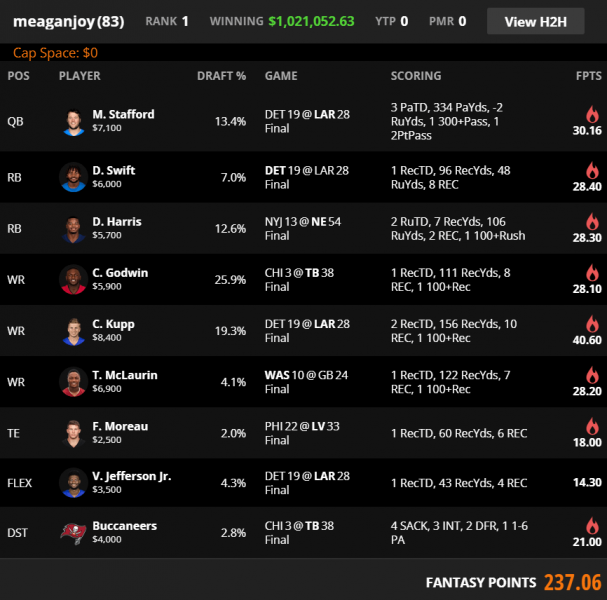 Most Rostered Players
Five Most Popular Player by Position, Week 7 Millionaire

| Player | Pos | DK Salary | DK Ownership |
| --- | --- | --- | --- |
| Matthew Stafford | QB | $7,100 | 13.4% |
| Matt Ryan | QB | $5,700 | 11.6% |
| Patrick Mahomes | QB | $8,400 | 11.5% |
| Lamar Jackson | QB | $7,400 | 10.2% |
| Tua Tagovailoa | QB | $5,500 | 8.3% |
| Darrell Henderson | RB | $6,600 | 39.1% |
| Derrick Henry | RB | $9,200 | 26.7% |
| Chuba Hubbard | RB | $6,100 | 18.0% |
| Cordarrelle Patterson | RB | $6,300 | 17.8% |
| Darrel Williams | RB | $5,800 | 14.9% |
| Chris Godwin | WR | $5,900 | 26.0% |
| Calvin Ridley | WR | $6,600 | 21.6% |
| Cooper Kupp | WR | $8,400 | 19.3% |
| Jaylen Waddle | WR | $5,600 | 19.1% |
| Davante Adams | WR | $8,900 | 19.0% |
| Mike Gesicki | TE | $4,700 | 14.8% |
| Dallas Goedert | TE | $4,600 | 13.4% |
| Ricky Seals-Jones | TE | $3,700 | 12.7% |
| Travis Kelce | TE | $7,600 | 8.9% |
| Zach Ertz | TE | $3,900 | 8.9% |
| Cardinals | DEF | $3,100 | 37.5% |
| Patriots | DEF | $3,400 | 12.3% |
| Eagles | DEF | $2,300 | 9.6% |
| Jets | DEF | $2,400 | 5.4% |
| Giants | DEF | $2,500 | 5.2% |
Using four players from one of the most popular games of the week can rarely be seen as a huge leverage opportunity, especially when the quarterback is in over 13% of lineups, but this winning Millionaire stack lapped the 39% of lineups that rostered Darrell Henderson instead. That ownership on Henderson was the highest for any player all season. Using the running back opposite Henderson along with a 4% punt play who was also a pivot off of the much more popular Rashod Bateman more than offset Matthew Stafford's and Cooper Kupp's higher ownership rates.
The other correlation play in this lineup paired one of the best values on the slate in Chris Godwin with his team's defense, leaning into the idea of a potential blowout by the Buccaneers. Although a pass-catcher and defense isn't a traditional stack, it's a correlation play that has shown up in two winning Millionaire lineups this season.
Terry McLaurin had been featured multiple times in the 4for4 Breakout Receiver Model as the top breakout candidate. These regression plays don't always hit as soon as they pop in the model but when they do hit, it's typically in a big way without much ownership.
It's unclear whether this lineup used late swap or had a contingency plan in place but it leveraged the uncertainty of Darren Waller's status by getting his $2,500 backup at just 2% ownership. These late-window injury situations are almost always going to present huge leverage opportunities on the field since most DFS players either don't want to take on the added risk or are simply too lazy to build a backup plan.
One trend that continues to gain popularity is using a tight end in the flex with just under 15% of the Millionaire field using two tight ends in Week 7. For the season, the field has used a wide receiver in the flex roughly 60% of the time, a running back flex in about 30% of lineups, and a tight end in the flex 10% of the time. Only one Millionaire winner this year has flexed a running back.
FanDuel Week 7 Sunday Million Winning Lineup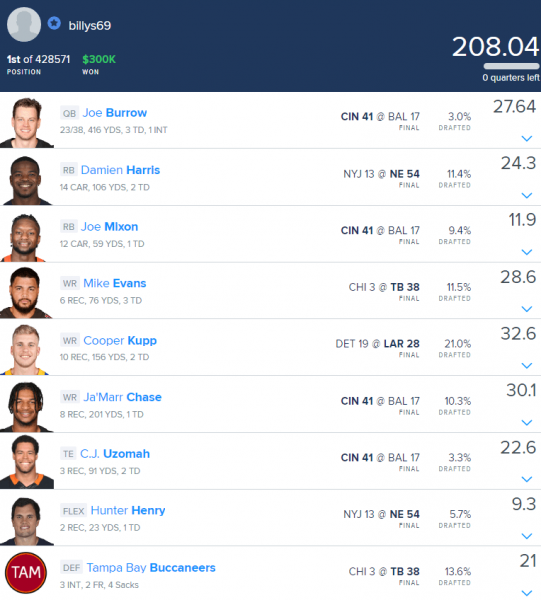 Week 7's Sunday Million winner maximized correlation opportunities with the first true onslaught in a winning lineup this season, rostering four players from one team. With two more mini-correlations in the lineup, a total of eight players were correlated to at least one other player. All seven Sunday million winners this season have used a running back in their secondary stack.
Joe Burrow's 3% rostered rate was the lowest that we have seen for a quarterback in the winning Sunday Million lineup this season and it was also the first time that a quarterback priced below $7,500 was in the winning lineup. When dedicating four roster spots to one offense, it makes sense to look for a discount quarterback in order to lower the salary needed to make such a big team stack.
In addition to building a low-owned stack around popular pass-catchers, this lineup differentiated itself by flexing a tight end, a strategy rarely found in winning FanDuel lineups. As noted in the offseason, teams that opt for the seldom-used tight end flex should maximize their correlation opportunities with those tight ends, as this lineup did.

TJs Final #Taek
In a recent DFS MVP episode, Matt Savoca and I discussed different ways to gain leverage on the field in GPPs. One way to do so that is often overlooked is by looking for unique salary allocation opportunities.
Consider the examples this week.
On DraftKings, the two most popular running backs in the Millionaire were $6,600 and $9,200. The winner used two backs priced at $6,000 and below. Additionally, only two players (non-defense) with a salary below $4,000 were on over 10% of teams and no players with a sub-$3k salary were on at least 5% of teams. The winning lineup rostered a $2,500 tight end.
FanDuel's seven most popular quarterbacks had a salary of $7,900 or higher. The Sunday Million winner rostered a $7,200 quarterback.
By looking for these lineup-building opportunities to go against the grain, DFS players maximize the chance that they can separate from the field when their players hit. Unique salary allocation can be especially useful in lineups that are on the chalky side since one or two overlooked salary tiers can drastically increase the likelihood of a lineup being able to stand out.