Running Back Market Shares: Week 11 Report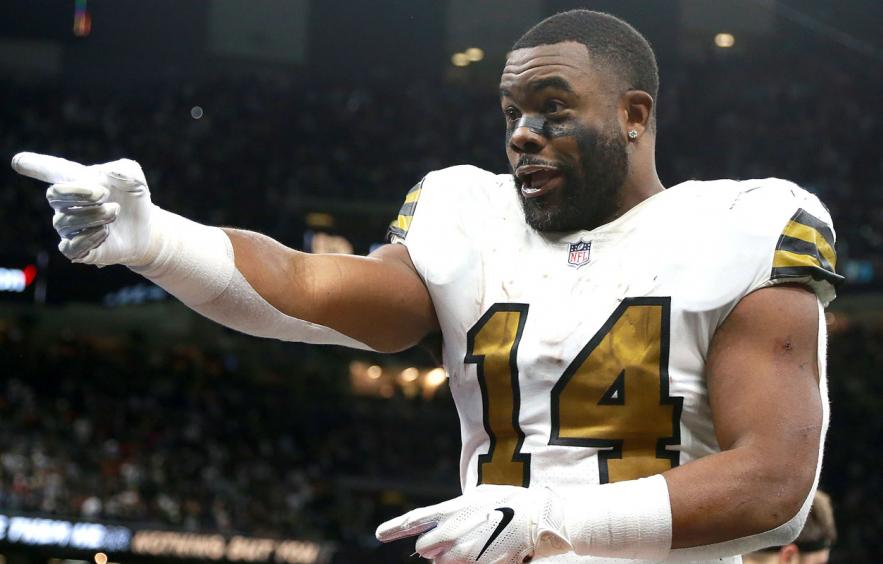 Sean Gardner/Getty Images
In the modern NFL, the running back is no longer the focal point of an offense. Gone are the days where a 400-touch rusher is the norm, and now is the age of the running back-by-committee. With carries and targets being diluted between backs more than ever, it's important for fantasy managers to know which backs are seeing usage and how they're being utilized.
This column will explore the landscape of running back rushing and receiving through team market shares – the percent of a team's running back rushes or the team's passing targets. By looking at these rates of usage rather than raw totals, we help to strip away some of the noise of game script and pare our data down to the truer representation of how each offense thinks about its backfield.
Without any further ado, let's ring the bell and open the markets: which running backs had a significant change in usage in Week 10?
Carries
Mark Ingram

, New Orleans Saints, +50.0% running back rushing share

With the injury to star running back Alvin Kamara that came in Week 10, the New Orleans Saints have to be patting themselves on the back for reacquiring Mark Ingram. The Saints threw veteran power back Ingram a rope to climb out of the desperate loss-hole he found himself in Houston, and he is now currently in the lead back spot while Kamara gets right. It's a role that is paying off well for fantasy managers, as the "washed" Ingram plunged his way into 108 scrimmage yards on 21 opportunities in Week 10. A high-volume rushing attack with little competition behind him is the perfect spot for Ingram to succeed in relief – and he has been a viable fantasy RB2/3 even when Kamara is healthy.
Jeff Wilson

Jr., San Francisco 49ers, +27.0%

It appears the San Francisco 49ers will need to delve deep into their own backfield toolbox yet again this season. First, the injury to Raheem Mostert forced the coaching staff to try out rookie third-rounder Trey Sermon. When he didn't pan out in training camp, sixth-round rookie Elijah Mitchell usurped the role. Now Mitchell is dealing with a broken finger that may require surgery and/or a pin insert, which presents an opportunity for Jeff Wilson Jr. – himself just activated off of the injury list – to at least spell the young phenom more than expected. Wilson captured a quarter of the running back rushes this week but didn't draw a target in the passing game. His ultimate usage remains to be seen, but the injury to Mitchell makes JWJ an intriguing stash in most leagues.
A.J. Dillon

, Green Bay Packers, +30.0%

In relief of star running back Aaron Jones, who suffered a knee injury that could sideline him for weeks, Green Bay Packers second-year powerback A.J. Dillon turned on the cheat codes in Week 10. Dillon saw 70% of the Green Bay running back rushes as the Packers salted away a low-scoring win against the tough Seattle Seahawks. He also ripped off two catches for 62 yards, and he should be locked in as a fantasy RB1 until further notice.
Devonta Freeman

, Baltimore Ravens, +22.8%

With the release of Le'Veon Bell, things became much clearer in the Baltimore Ravens backfield in terms of workload. Still, even before that, Devonta Freeman took a major lead among running backs on the team, capturing three-quarters of the rushes and a team target share over 10% in Week 10. This is still not a wildly lucrative role, given how much Lamar Jackson rushes himself, but Freeman is a great name to stash on your bench in deep leagues or file away as injury insurance to claim in shallower ones.

Others of Note: Wayne Gallman, ATL (+62.5%); Matt Breida, BUF (+17.6%); Boston Scott, PHI (+9.5; Brandon Bolden, NE (-13.9%); Darrel Williams, KC (-31.4%); Mike Davis, ATL (-33.3%).

Targets
Austin Ekeler

, Los Angeles Chargers, +11.2% team target share

The Los Angeles Chargers may not have found a way to win in Week 10, but they certainly found a way to continue funneling looks to running back Austin Ekeler, who touched the ball 14 times, coming away with 59 all-purpose yards and a touchdown. The score salvaged a bad day, but the process is still right for a dual-threat back who is averaging 6.5 targets per game over his team's last month and whose team is constantly around and in the end zone. He could have had an even bigger score if Larry Rountree III hadn't vultured a touchdown run, but Ekeler remains a valuable fantasy option.
Michael Carter

, New York Jets, +10.0%

Finally, the shares are coming home to roost for New York Jets rookie Michael Carter. We've discussed his fantastic running back rush share and team target shares previously this season, but noted that with the Jets in constant catchup mode, those rates hadn't had the chance to blossom into real volume. Over the last month, though, Carter has averaged 14 rushes and 7.8 targets per game as the Jets have had a capable NFL-esque offense. He has supplemented that volume with rushing scores, and if he can increase his yardage efficiency now, he'll be the full fantasy package.
Boston Scott

, Philadelphia Eagles, +9.1%

The Philadelphia Eagles went back to the well with Boston Scott this week, featuring him on the opening drive as the starter, and feeding him 13 touches for 105 scrimmage yards and a score in the game. The 9.1% team target share yielded 24 of those yards on just two catches as the Philly rushing renaissance continues, but that's good news: Scott is still ahead of both Jordan Howard and rookie Kenneth Gainwell in the receiving game and is earning work on early downs and in close. Perhaps that changes next week, but Scott remains a hold.
Melvin Gordon

III, Denver Broncos, +3.4%

Just an update on a veteran refusing to be usurped by a rookie: reports of Melvin Gordon's demise have been greatly exaggerated. Gordon saw very little rushing work in an ugly game script but equaled the workload of Javonte Williams – including four targets. Gordon remains the fantasy back to roster on the Denver Broncos for now, but things will also clearly remain murky while both Gordon and Williams split the work so evenly.

Others of Note: Matt Breida, BUF (+10.7%); Ty Johnson, NYJ (+10.4%); Josh Jacobs, LV (+7.0%); D'Onta Foreman, TEN (+7.7%); Ameer Abdullah, CAR (-3.8%); James Conner, ARZ (-5.4%).
Goal-Line Work
Ezekiel Elliott

, +50.0% running back goal-line share

The Dallas Cowboys had a massively positive game script in Week 10, so we shouldn't take Ezekiel Elliott's five goal-line opportunities too far. Still, it's notable that even in a scenario where Dallas was up a ton and backup Tony Pollard got significant usage, Elliott was still the man for the Cowboys inside the 10. He's not what he used to be in terms of efficiency, but in the right contexts, Elliott is still a fantasy star.
Adrian Peterson

, -16.7%

One week after smashing the hopes of every Jeremy McNichols truther, Adrian Peterson stumbled to another moderate-touch, low-efficiency game as the new primary early-down back for the Tennessee Titans. That said, he only had one touch at the goal line in Week 10, instead ceding the other two to McNichols and D'Onta Foreman, who looks to have overtaken Peterson as the fantasy back to roster right now. Peterson is the definition of a touchdown-dependent option right now.