The Rundown: Week 16 Stats to Know & Football Saturday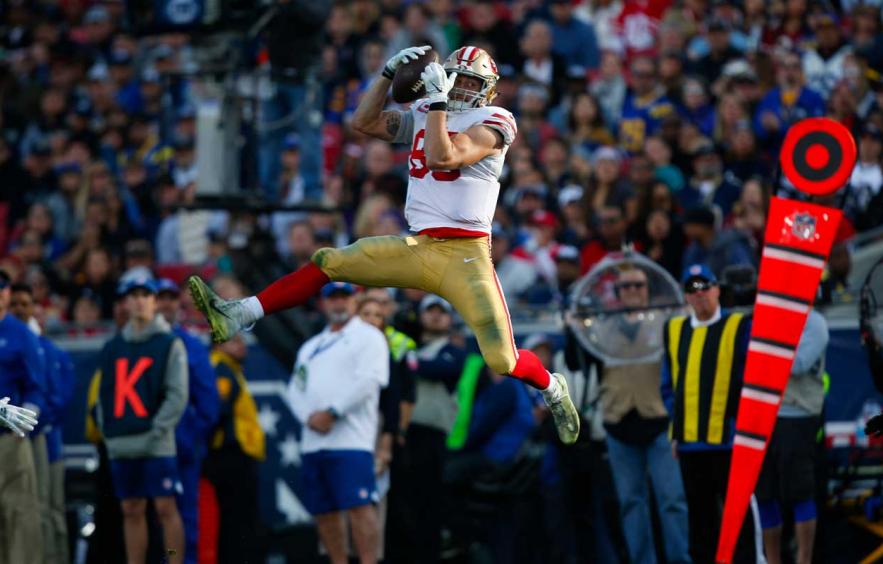 Michael Zagaris/Getty Images
Week 15 ended the season for many, but for those who made it through have reached the pinnacle, fighting for a fantasy championship. At this point, the waiver wire is offering fewer options and the goal is to focus on setting the best lineup based on matchups. While now is not the time to abandon studs, there is a need to scrutinize those last starting spots that could be the difference between first and second place. For much of this data, I will be using 4for4's Snaps, Touches, and Targets Apps as well as analyzing each team's pace and play-calling tendencies.
This is the last week of the season for the Rundown so I appreciate everyone who has been reading this series throughout this year. While this series will be on hiatus for the offseason, expect plenty of content from myself and the rest of the 4for4 crew.
Ten Stats to Know for Week 16
Texans

@

Buccaneers

Spread: Buccaneers +3 | Total: 51.5

A firefight to open up the fantasy championship week is perfect. The Texans have only scored under 20 points once since Week 4 and remain a top 10 offense. They are clinging to the divisional lead as well so there is no reason they'll bench starters or dial things back here. The Buccaneers are not in playoff contention but could finish above .500 so it is likely they pull out all the stops here as well. That's good since the offense has scored over 28 points in six of the last seven games and Jameis Winston has propelled many fantasy teams to the finals.
Houston
Texans
Unlike the grinding affair against the Titans, this is a contest that could shy away from Carlos Hyde and towards the aerial attack and Duke Johnson. The Buccaneers see the most pass attempts against and Deshaun Watson will get the green light here to keep up with Winston.
Team Trends That Matter
Week 15 saw Ryan Tannehill become the eighth quarterback to exceed 20 fantasy points against the Texans in 2019.
Allow a touchdown on a league-worst 68.2% of red-zone trips by opponents.
Score a touchdown on 29.1% of all offensive possessions, third-best in the NFL.
Fantasy Rating and a Stat to Know
Tampa Bay
Buccaneers
Even if both Chris Godwin and Scott Miller are out for this game, don't expect Winston to suddenly stop throwing the ball. It's next man up with Breshad Perriman and Justin Watson stepping into more prominent roles. Also, the tight ends and running backs could see a few more targets. There might be a running game too, but I haven't seen it.
Team Trends That Matter
13.9% of their offensive possessions end in an interception, tops in the league.
Have allowed just one quarterback to exceed 11 fantasy points in the last four weeks.
See the second-most pass attempts against (84) in the red zone of all teams.
Fantasy Rating and a Stat to Know
Bills

@

Patriots

Spread: Patriots -6 | Total: 38.5

If this is anything like the first matchup, there will be little for fantasy players to take from this game. The Bills have run for more than 80 yards in every game this season, including 135 in their first game against the Patriots. It was the four turnovers that hurt them the first time. The Patriots had their worst offensive game against the Bills in Week 4 with just 224 yards of offense and 16 total points. It will be tough for the second game to be less fruitful but don't expect it to come close to the first Saturday game.
Buffalo
Bills
Running the football will always be the key to their offense. Expect no different here with Josh Allen and Devin Singletary, who missed the first contest, to get their share of rushing volume. The passing game will have moments but the ceiling for this offense is limited by what will be a lack of touchdowns.
Team Trends That Matter
Allow just 1.26 points per opposing offensive drive, the second-lowest rate in the NFL.
Only one rushing touchdown has been allowed to an opposing running back since Week 8.
Have attempted the third-fewest passes (51) in the red zone this season.
Fantasy Rating and a Stat to Know
New England
Patriots
The Patriots offense has sputtered over the last month or so with just one game over 300 offensive yards in its past five. It shouldn't end here as the dynamism from the offense is essentially gone. Julian Edelman will be a solid starter and James White could have a nice game but everyone else is a fringe option at best.
Team Trends That Matter
The seventh worst red zone touchdown conversion rate in the NFL at 49.1%.
First defense since 2012 to force four turnovers in at least five different games.
Lead the NFL with 88 pass attempts in the red zone.
Fantasy Rating and a Stat to Know
Rams

@

49ers

Spread: 49ers -6.5 | Total: 46

Their first matchup was a one-sided affair that saw the 49ers completely shut down the Rams offense. It will come down to Todd Gurley and his ability to get going here and keep any hopes of a playoff spot alive. They can't fall behind like they did last week to the Cowboys. As for the 49ers, a flat effort against the Falcons after a shootout win versus the Saints was somewhat expected. They better get back up for this one to keep their division title aspirations in view.
Los Angeles
Rams
As mentioned, this needs to start with Todd Gurley working against a somewhat suspect 49ers run defense. The Rams will need to throw, but hopefully, it will be in low-pressure situations in a closer game rather than to try and catch back up. There are some options here but everyone's ceiling is limited by the 49ers pass defense.
Team Trends That Matter
The fastest offensive pace (20.79 seconds) when trailing by seven or more points.
Have allowed five different rushers to reach 75 rushing yards in the last four weeks.
Fourth worst defensive red zone touchdown rate allowed at 63.6%.
Fantasy Rating and a Stat to Know
San Francisco
49ers
The second-ranked run offense against a bottom five-run defense seems like a recipe for success offensively. The only hitch for fantasy players will be the rotation of running backs limiting each other's overall output. Start George Kittle and avoid the wide receivers unless your fantasy team is desperate.
Team Trends That Matter
19 or more fantasy points allowed to four of the past five quarterbacks the 49ers have faced.
The 49ers punt on just 28.5% of their offensive possessions, the third-lowest rate in the NFL.
Opposing offenses have run just 130 plays in the red zone against the 49ers, second-fewest in the league.
Fantasy Rating and a Stat to Know
Fantasy Rating Key
(5) - Elite option. Must start.
(4) - Strong option. Likely start.
(3) - Good option. Low-end starter to high-end backup.
(2) - Weak option. Possible flex or desperation play.
(1) - Bad option. Bench in nearly all cases.
(0) - Not an option. Injured, bench, or waivers.