2018 NFL Draft: Live Fantasy Recap (Rounds 2-3)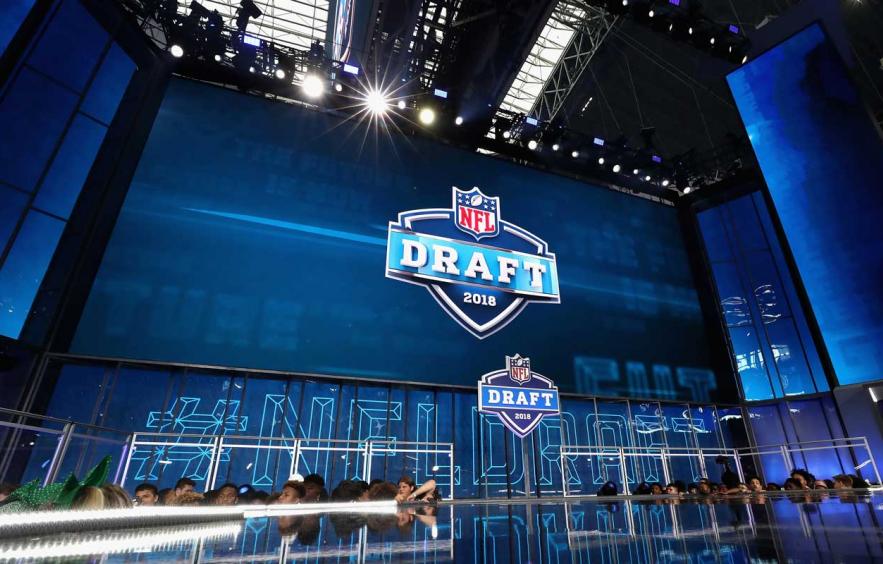 The second round of the 2017 NFL Draft begins at 7:00 p.m. ET, while the remainder of the draft will finish up on Saturday (12 p.m. ET).
Throughout the second and third rounds, I'll be updating this page with player evaluation from Brandon Niles and my own live analysis of the fantasy implications of each skill position pick. Brandon will be taking over tomorrow to summarize the mid- to late-round picks. Since opportunity is crucial for a rookie, I'll provide a grade for each early pick given the player's opportunity for playing time and overall situation.
To see our fantasy recap of the first round, click here.
2.03 -
Browns

- RB

Nick Chubb

, Georgia

Chubb looked like a game-changing back his freshman year at Georgia but lost some explosiveness his junior year after a knee injury suffered as a sophomore. As a senior last season, he looked fully recovered and gained 1,345 yards and scored 15 touchdowns on 6.0 yards per carry. Chubb was the primary ball-carrier, although he split time with Sony Michel in a potent Bulldog offense. Chubb is a decisive, powerful runner, who clocked 4.52 in the 40-yard-dash at the combine, showing more speed than expected for a downhill runner. Chubb will fit best in a zone-blocking scheme and he offers little as a receiver out of the backfield outside of short dump offs, but he should find a home in the league as an exceptional two-down back.

Athletic Comparables: Jonathan Stewart, Robert Turbin

Opportunity: C

The Browns let Isaiah Crowell walk but signed Carlos Hyde, so Chubb will have some work to do to carve out a role as a rookie. As Brandon mentioned, he offers little as a receiver, so Duke Johnson's role as a receiver should be safe. The Hyde/Chubb camp battle will be something to monitor this summer.
2.06 -
Buccaneers

- RB

Ronald Jones

, USC

Jones runs with dynamic agility and has a deadly jump-cut that breaks the ankles of opposing linebackers. He was productive last year for the Trojans, finishing eighth in the country with 1,550 yards. He also scored 19 touchdowns on the ground and caught 14 passes. Jones will need to prove he can put some weight on his lean, 6-foot-0, 200-pound frame if he's going to be more than a complementary back, but he has game-breaking ability. His 4.65 40-yard-dash time at the combine was affected by a pulled hamstring, but he ran a 4.48 at his pro day once his hammy was healed.

Athletic Comparables: Devontae Booker, Joique Bell

Opportunity: A

This is a great landing spot in terms of potential touches since the Bucs let Doug Martin walk and don't have a no-brainer replacement on the roster. Given the draft capital they spent on Jones, he'll likely see 200+ touches as a rookie. Peyton Barber, Charles Sims and Jacquizz Rodgers stand in his way.
2.08 -
Broncos

-

Courtland Sutton

, SMU

Sutton looks the part, standing 6-foot-3 and playing like a fearless behemoth across the middle of the field. What he lacks in explosiveness, Sutton makes up for with physicality and a talent for walling off defenders and making tough catches. He'll need a quarterback willing to trust his ability to win 50/50 balls, because he's unlikely to get much separation at the next level, but Sutton has the talent to thrive as a pro. He has a nice floor as a big-bodied possession receiver but has WR1 potential in the right situation.

Athletic Comparables: Larry Fitzgerald, Alshon Jeffery

Opportunity: B-

This is a good landing spot for dynasty purposes, but Sutton will have a tough time being fantasy relevant as a rookie with Demaryius Thomas and Emmanuel Sanders entrenched as Denver's top two receivers. The Broncos also have the talented Carlos Henderson coming back from injury, so Sutton will have his work cut out for him.
2.10 -
Dolphins

- TE

Mike Gesicki

, Penn State

Gesicki is a phenomenal athlete. He tied with Jaylen Samuels out of N.C. State for the best 40-yard-dash by a tight end at the combine, running 4.54 seconds, and he's a 6-foot-5 target in the red zone. Gesicki offers next to nothing as a blocker, but he should be an excellent option stretching the seam against opposing linebackers and safeties, and the right coach should find a role for him lining up in multiple spots on the field. Gesicki will need to ensure he's not just outmuscling guys on the sidelines at the next level, but his explosive athleticism should allow him to develop into a top-notch receiver at the position. While fantasy tight ends rarely make an impact as rookies, Gesicki profiles as an upper-tier fantasy option long-term.

Athletic Comparables: Vernon Davis, Jimmy Graham

Opportunity: A-

The Dolphins don't have a great quarterback, but Adam Gase has been looking for a tight end for a while now and Gesicki fits the bill. Athletically, he's great for his position. Rookie tight ends typically don't make much of a fantasy impact, but Gesicki is a player to monitor this summer. If he has a good offseason he could make some noise in 2018.
2.11 -
Lions

-

Kerryon Johnson

, Auburn

Johnson is a versatile back who cuts well and has excellent vision. Both patient and decisive, Johnson has a natural ability to locate the seam and maximize the blocking ahead of him. He was one of the top performers in both the broad jump and the vertical at the combine, and his explosiveness shows up when he hits the hole. He filled a grind-it-out role against a tough Alabama defense last season, finishing with 30 carries for 104 yards and a touchdown in the Tigers victory. Johnson's work against Alabama and Georgia likely will have teams considering him a power back to pair with a speedster, but he has three-down capabilities and even returned kicks his freshman and sophomore years.

Athletic Comparables: Kenneth Dixon, Tevin Coleman

Opportunity: B

Along with the acquisition of LeGarrette Blount, this pick is another sign that the Lions may be giving up on Ameer Abdullah. Per Football Outsiders, the Lions offensive line provided the league's worst run-blocking, so this is not a great landing spot from an efficiency standpoint. Johnson will have to get the bulk of the volume to become a fantasy starter in 2018.
2.12 -
49ers

- WR

Dante Pettis

, Washington

A versatile part of Washington's pass attack, Pettis scored seven touchdowns as a receiver last year, and added another four as a punt returner. Pettis scored nine times on punt returns during his four-year career with the Huskies, and his threat as a returner will help him make an NFL roster. Pettis shows the ability to get open downfield, and he works through his routes, making him a potential option as a slot receiver. He also uses subtle moves with his head and feet to uncover against cornerbacks, allowing him to play outside as well. Pettis plays with explosiveness and has high upside as a versatile threat in the right offense.

Athletic Comparables: Marqise Lee, Reggie Wayne

Opportunity: B

Trent Taylor manned the slot (catching 43 passes) and returned punts last season, so this is a somewhat surprising pick. He'll have to compete with Taylor for targets behind Pierre Garcon and Marquise Goodwin.
2.15 -
Cardinals

- WR

Christian Kirk

, Texas A&M

Kirk struggled to separate consistently on standard routes in college, leading to questions about his playmaking ability, but after an excellent combine performance, athleticism doesn't seem to be a problem for him. Kirk plays with tremendous strength and is more physical than his 5-foot-10 frame would suggest. He attacks the ball and is fantastic after the catch. He also can help in the return game, and a clever offensive coordinator will line him up all over the field in an effort to get him the ball in space. Kirk has a high ceiling as a playmaker, but also has a higher floor than most players in this draft, as he projects to be a dominant slot receiver at the very least.

Athletic Comparables: Stefon Diggs, Randall Cobb

Opportunity: A-

With John Brown and Jaron Brown no longer in Arizona, the Cardinals needed to shore up the position. Kirk should have an opportunity to play immediately if he can beat out J.J. Nelson and/or Chad Williams. The passing attack is going to run through Larry Fitzgerald and David Johnson is one of the best receiving backs in the league, so at best the Cardinals' WR2 will be the third option in the passing game.
2.17 -
Eagles

- TE

Dallas Goedert

, South Dakota State

Goedert was a reliable and productive target for the Jackrabbits, overpowering opposing defenders who challenged his positioning, and using athleticism to get by linebackers. Goedert uses his size well and attacks the ball. He faced a lower level of competition at South Dakota State, but his tape against TCU in 2016 showed what he can do against more athletic defenders. He seems disinterested as a blocker at times, and he lacks elite speed for the position, but his acrobatic catches and ability to win jump balls should make him a viable long-term receiving option.

Athletic Comparables: Zach Ertz, Todd Heap

Opportunity: D

The Eagles will use Goedert as a replacement for Trey Burton and Brent Celek, but he's going to be playing second fiddle to Zach Ertz for a while.
2.19 -
Bears

- WR

Anthony Miller

, Memphis

Miller was highly productive at Memphis the past two seasons, catching a combined 191 balls and 32 touchdowns. Miller plays bigger than his 5-foot-11 frame and runs with power after the catch. He has a knack for making difficult catches look easy and uses his physicality to get separation downfield. He was second among receivers at the combine with 22 reps on the bench. Miller will get ahead of himself and drop simple, short throws at times, and he had five fumbles at Memphis. If he cleans up his focus and ball security issues, he's the type of player quarterbacks will love to feed the ball to.

Athletic Comparables: Victor Cruz, Nate Burleson

Opportunity: B+

The Bears signed Allen Robinson, so at best Miller will serve as the No. 2 option in the receiving corps. The Bears offense will have to take a big step forward to support Robinson, Miller and Trey Burton as bona fide fantasy starters.
2.27 - Redskins - RB
Derrius Guice

, LSU

After a breakout season subbing in for Leonard Fournette as a sophomore, Guice rushed for 1,251 yards and 11 touchdowns as the primary ball-carrier last season for the Tigers. Guice was banged up last season but runs violently and doesn't shy away from downfield contact. He ran a 4.49 40-yard-dash at the combine, showing rare speed to go with exceptional power and balance. Guice also caught 18 passes last season and projects as a three-down starter if he can stay healthy through his punishing running style.

Athletic Comparables: Ezekiel Elliott, Matt Forte

Opportunity: A-

Guice is a first round talent who should immediately slide in as the RB1 with Chris Thompson coming in on third downs. This pick is obviously terrible news for Samaje Perine, who failed to impress as a rookie (3.4 YPC). Guice looks like a fantasy RB2 with upside, especially in standard formats since he's unlikely to catch a ton of passes with Thompson on the roster.
2.28 -
Steelers

-

James Washington

, Oklahoma State

Washington plays bigger than his 5-foot-11 frame, extending to catch the ball at its highest point, and tracking passes well downfield. He was highly productive for the Cowboys, gaining at least 1,000 yards and 10 touchdowns in each of his past three seasons, including 74 catches for 1,549 yards, and 13 scores last year. Washington was the favorite target of quarterback Mason Rudolph, and his ability to beat defenders for jump balls will make him a red zone target at the next level. Washington has good playing speed once he gets going, but he lacks explosiveness off the line and in and out of his breaks, which may make it difficult for him to gain separation against physical defenders. He'll need to prove he can develop a more refined route tree and beat press coverage if he's going to make it as a pro, but his ball skills should give him an opportunity to produce.

Athletic Comparables: De'Andre Hopkins, Michael Crabtree

Opportunity: B-

Washington was drafted to replace Martavis Bryant. With Antonio Brown and JuJu Smith-Schuster entrenched as the Steelers top two receivers, Washington is unlikely to carve out a big enough of a role to be a fantasy starter as a rookie. Owners should have Washington on speed dial if anything were to happen to Brown or Smith-Schuster.
2.29 -
Jaguars

- WR

D.J. Chark

, LSU

Chark blew everyone away with a 4.34 40-yard-dash at the combine, and his 6-foot-3 frame shows he has the requisite size to have draft scouts salivating. His wiry frame and inconsistency kept him a notch below the elite players at his position, but the raw talent is there. He'll need to get a little stronger if he's going to beat press coverage in the NFL, and his route-running is a work in progress. However, Chark plays with competitiveness, can help as a return specialist, and has shown a willingness to work on his game throughout his career as a Tiger. If the right team can develop him, his upside is huge.

Athletic Comparables: Robby Anderson, Chris Conley

Opportunity: C

The Jaguars' receiving corps is young and talented - Marqise Lee, Dede Westbrook, Keelan Cole and the newly signed Donte Moncrief - so Chark will have his work cut out for him to earn enough targets to be a fantasy factor this season. With his elite speed, he does offer some best ball/cheap DFS appeal (since he's bound to catch a few long touchdowns), but he's unlikely to be a consistent fantasy asset as a rookie given the team's depth at the position.
3.07 -
Broncos

- RB

Royce Freeman

, Oregon

Freeman looks the part, with nimble feet for a 229-pound back, and he runs with a low center of gravity, keeping his legs churning through contact. Freeman was highly productive, rushing for 5,621 yards throughout his four-year career with the Ducks, seventh most in college football history, including bowl games. Freeman also had 60 touchdowns on the ground. He'll need to prove he can contribute in the passing game, although he flashed receiving ability with 26 catches and 348 yards as a sophomore. He'll also need to prove he isn't already beginning to show signs of wear and tear after 947 college carries. He was nicked up throughout his final two seasons, but if he can stay healthy and get back to his sophomore-year form, he has as high a ceiling as anyone in this drafted not named Barkley.

Athletic Comparables: Steven Jackson, D'Onta Foreman

Opportunity: A-

The Broncos recently cut ties with C.J. Anderson, leaving Devontae Booker and DeAngelo Henderson as the team's two remaining running backs. A very significant 74% of the team's running back touches have been vacated, so there is a ton of work available for Freeman, provided he has a good camp.
3.12 -
Steelers

- QB

Mason Rudolph

, Oklahoma State

Rudolph was extremely productive in three seasons as a starter for the Cowboys and led college football with 4,904 yards last year. Rudolph has a career 3.5 touchdown/interception rate and he makes good decisions when he's able to stay in the pocket. He demonstrates excellent touch on intermediate throws, able to drop it in over the top of linebackers. Rudolph has prototype size at 6-foot-5 and 235 pounds and he keeps his eyes downfield as he moves around in the pocket. Rudolph has functional arm strength but isn't going to wow anyone when he zips it to the outside hash marks, and the ball can hang on him sometimes. He throws well downfield however, using accuracy to allow his receivers to run underneath the ball. While he'll need to adjust from a pass-happy spread system at Oklahoma State to a pro-style offense, Rudolph demonstrates all the traits you look for in a long-term starting quarterback.

Athletic Comparables: Jared Goff, Christian Ponder

Opportunity: C

The Steelers have their heir-apparent to Ben Roethlisberger. Barring an injury to Big Ben, Rudolph is unlikely to play much this year, but his long term prospects are good.
3.17 -
Cowboys

- WR

Michael Gallup

, Colorado State

Gallup was very productive for the Rams over the past two seasons, catching 176 balls for 2,685 yards and 21 touchdowns during that span. Gallup uses explosiveness to get open, and he has adequate straight-line speed to develop into a consistent all-around threat at the position. Gallup had a nice combine, including a 36-inch vertical jump that placed him 10th in his positional group and helped to assuage concerns over his athleticism. He'll need to prove he can make the jump from Colorado State to the NFL, but he has all the tools to succeed. Gallup demonstrates flaws in his game that can be coached up in the right situation, including lackluster routes when he's not the first read, difficulties adjusting to poorly thrown balls, and staying engaged throughout the entirety of plays and games. It'll be up to him if he can overcome those deficiencies in his game and develop into a starter.

Athletic Comparables: Justin Blackmon, Terrance Williams

Opportunity: A

The Cowboys replaced Dez Bryant with Allen Hurns, and Jason Witten retired today, so finding a quality pass-catcher was obviously a priority for Dallas. Gallup finished third in catches (100) and fifth in receiving yards (1418) last season. He'll have to beat out Hurns and/or Terrance Williams to turn into a fantasy factor this year, though the Cowboys could elect to play Hurns in the slot if they're willing to put Cole Beasley on the bench.
3.22 -
Ravens

- TE

Mark Andrews

, Oklahoma

Whenever Baker Mayfield needed an outlet option, Andrews fit the bill last year. He led the Sooners with 62 receptions and eight touchdowns, and he projects as a dynamic receiving option at the next level. Andrews can get bullied around at the line, which means he'll be best suited as a move tight end, but he has a knack for making big catches in the red zone and he improvises well. Quarterbacks under pressure will appreciate how he stays with every play, fighting to get open. Andrews ran well at the combine, with a 4.67 in the 40-yard-dash, but that speed doesn't translate to the field, where he struggled to get consistent separation. Andrews will need to play more physically if he's going to become a dynamic fantasy option, but he has the ball skills to thrive in the right situation.

Athletic Comparables: Eric Ebron, Ben Watson

Opportunity: B-

The Ravens drafted Hayden Hurst in the first round, so tight end was obviously a big priority for GM Ozzie Newsome. Andrews probably won't make a big fantasy impact as a rookie, and he'll have to beat out Hurst to hold significant long term value.
3.27 -
Saints

- WR TreQuan Smith, UCF

A 4.49 40-yard-dash time was a welcome site for the productive Smith, who led the Knights with 59 catches, 1,171 yards, and 13 touchdowns last year. Smith has a nose for the end zone and long arms that help him play above his 6-foot-1 frame. He accelerates well and tracks the ball well downfield. He's already a pretty good blocker for a young receiver, which might help him win a job in camp. Smith lets too many balls get into his body and hears footsteps when going across the middle, but he has the physical skills and production to develop into a steady starter at the next level.

Athletic Comparables: Kenny Britt, Jordy Nelson

Opportunity: C

Smith joins a receiving corps that already boasts Michael Thomas, Cameron Meredith and Ted Ginn, so he'll have some work to do to be fantasy relevant as a rookie.
3.34 -
Texans

- TE

Jordan Akins

, UCF

Akins had a roundabout path to the NFL draft, starting with baseball, then enrolling at UCF as a receiver, then finally a move to tight end. Akins demonstrates good playing speed and has above-average hands. He caught 32 balls last year, averaging 16.1 yards per catch for the Knights. Akins may get bullied on the line, and he offers nothing as a blocker, but he has explosive short-area quickness and should be able to get open at the next level. He's a project but has the work ethic and basic skill set to develop into a solid fantasy option down the line.

Athletic Comparable: A.J. Derby, Joseph Fauria

Opportunity: B+

The Texans have Ryan Griffin and Stephen Anderson at tight end, so it's not like Akins would have to beat out any future Hall of Famers to earn a significant role, but given how rookie tight ends typically struggle, it's hard to get excited about his fantasy prospects in 2018. He's a player to monitor this summer.

More 2018 NFL Draft Coverage:

Photo by Ronald Martinez/Getty Images.