2018 NFL Draft: Live Fantasy Recap (Round 1)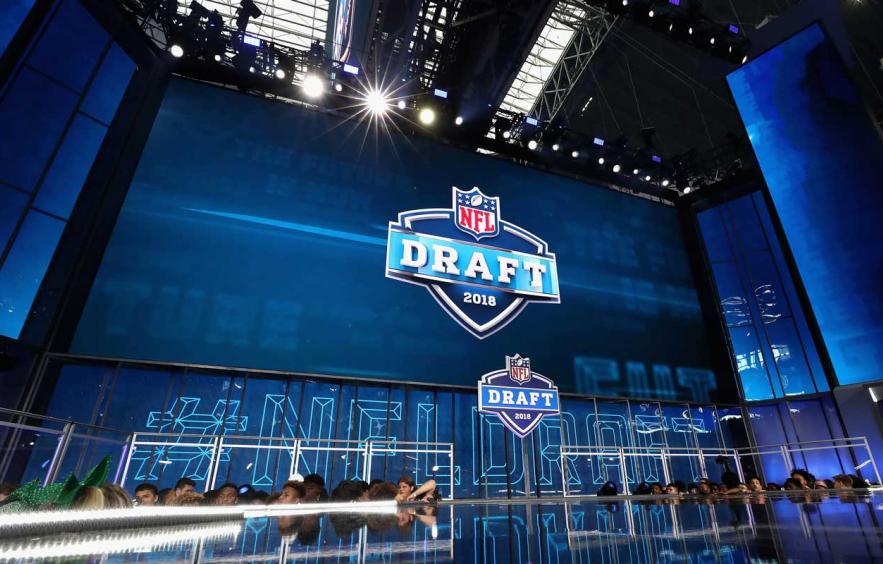 The 2018 NFL Draft begins at 8 p.m. ET on Thursday, April 26th with the first round. The second and third rounds will be held on Friday (beginning at 7:00 p.m. ET), while the remainder of the draft will finish up on Saturday (12 p.m. ET). Coverage is on ESPN, the NFL Network and Fox.
Throughout the first round, I'll be updating this page with player evaluation from our very own Brandon Niles, along with my take on the player's opportunity and potential fantasy impact in 2018. Brandon has also provided athletic comparables from PlayerProfiler.com and Mockdraftable.com and I have added a highlight video for each player, if I could find one. (Note: The music of the highlight videos is mostly terrible and sometimes offensive, so I highly recommend muting before watching.) Be sure to check back tomorrow for the second and third rounds. Brandon will be taking over on Saturday to summarize the mid- to late-round picks.
1.01 -
Browns

- QB

Baker Mayfield

, Oklahoma

While many compare Mayfield's playmaking style and diminutive size to Johnny Manziel, his leadership and athleticism is more reminiscent of Russell Wilson. Mayfield stands 6-foot-1 and will need to add some weight to his 215-pound frame, but he was wildly productive at Oklahoma, and just won the Heisman Trophy. Mayfield doesn't demonstrate elite arm strength and his accuracy wanes the harder he throws it, but he switches reads quickly and is very accurate when given the time to throw. He's a high-upside, high-risk prospect with excellent strengths and glaring weaknesses in his game.



Athletic Comparables: Russell Wilson, Drew Brees

Opportunity: A-

This is a good landing spot for a young quarterback given the weapons that the Browns have acquired over the last few seasons. Josh Gordon, Jarvis Landry and Corey Coleman are a good trio at receiver, David Njoku has a lot of potential at tight end and Duke Johnson is one of the best receiving backs in the game. Tyrod Taylor was brought in to start this season, so Mayfield will have time to develop if he's not ready to start immediately. For that reason, he's a risky pick in early best ball drafts because we don't know for sure if he'll even start Week 1.
1.02 -
Giants

- RB

Saquon Barkley

, Penn State

While there are no sure things in the NFL draft, Barkley is about as close as you can get. He has significant size and runs with decisive power on the inside, but he has impressive speed to get outside as well. Barkley also has rare patience and receiving ability for the position, making him a prototype modern NFL running back. His 4.40 40-yard-dash time at the combine was second among running backs, and he tied Nick Chubb for the most bench press reps in his positional group with 29. Barkley is a rare talent and is the best overall prospect in the entire draft. He'll be an immediate impact player.

Athletic Comparables: Ezekiel Elliott, Leonard Fournette

Opportunity: A

While this may not be a wise real-world pick (given how running backs have been devalued over recent years), this is a terrific landing spot for Barkley as he's likely to surpass 300 touches as the Giants' bellcow back. He had a terrific Combine and should have a great career. His ADP should settle near the 1st/2nd turn and there's a strong possibility that he'll turn in a RB1 season.
1.03 -
Jets

- QB

Sam Darnold

, USC

Darnold is a complete prospect at the position, with prototype size, above-average athleticism, and excellent accuracy. His mechanics and decision-making can suffer at times when under pressure, but a good coach will help him develop those skills. Darnold was productive in his two seasons playing for the Trojans, finishing fifth in passing yards last season with 4,143. Darnold excels at ball placement, and while he struggled against Ohio State in the Cotton Bowl this year, his five touchdowns in a Rose Bowl victory over Penn State a year ago prove he can light it up on the big stage.

Athletic Comparables: Jared Goff, Kirk Cousins

Opportunity: B

Darnold won't have a great receiving corps to throw to, and the Jets may stick with Josh McCown for a while to let their rookie get acclimated to the NFL. Darnold is likely to get at least a few starts at some point this year, but he may not be under center Week 1.
1.07 -
Bills

- QB

Josh Allen

, Wyoming

Allen's tape is all over the place, with excellent games against Texas State and New Mexico last year, along with horrible showings against Oregon and Iowa. Allen has prototype size and an incredibly strong arm, and he's more accurate than his 56 percent career completion percentage suggests, making him an elite prospect. Allen has a gunslinger mentality and he hasn't shown the ability to consistently anticipate or throw his receivers open, which are two factors that will make a difference in whether or not he becomes a franchise quarterback or another career backup with a big arm. Allen is a risky pick, but in the right environment, has the potential to be the best of a talented group of passers.

Athletic Comparables: Ryan Tannehill, Brock Osweiler

Opportunity: B

The Bills do not have a great receiving corps (Kelvin Benjamin, Zay Jones and Charles Clay), but Allen may be able to step in and start immediately given that his primary competition is A.J. McCarron. There are big questions about his accuracy, but he has a big arm (and big hands, so he should be able to deal with the weather in Buffalo. I'll rank him as a QB3 heading into the 2018 season.
1.10 -
Cardinals

- QB

Josh Rosen

, UCLA

Rosen looks the part of a franchise quarterback. He's 6-foot-4 and is deadly accurate. Rosen is pro-ready from a technique perspective. He moves well in the pocket, can already cycle through multiple reads, and keeps his eyes downfield. He'll need to learn how to get hit and when to give up on a play to cut down on costly turnovers and protect his frame. An NFL conditioning program might help him put on weight. Rosen shows an advanced level of understanding when reading defenses, and he overcomes average arm talent with sound fundamentals. He may be the most polished quarterback in this draft.

Athletic Comparables: Eli Manning, Matt Ryan

Opportunity: B

Sam Bradford was signed to start, so Rosen can sit and learn, at least for a while. After Larry Fitzgerald, the Cardinals receiving corps is largely unproven, though David Johnson is one of the best receiving backs in the league.
1.24 -
Panthers

- WR

D.J. Moore

, Maryland

Moore was productive despite a revolving door at the quarterback position. He caught 80 balls for 1,033 yards last season, which is impressive given that all Maryland quarterbacks combined for a total of only 1,940 yards. Moore was the primary focus for opposing defenses, and he still managed to pluck the ball out of the air consistently and make big plays. Moore had a great combine, running a 4.42 40-yard-dash and demonstrating his ability to threaten opposing defenses downfield. With deep speed combined with excellent vision and running ability after the catch, Moore could end up being the best receiver in this class.

Athletic Comparables: Sammy Watkins, Pierre Garcon

Opportunity: A

This is a great landing spot for Moore. He'll play with a good quarterback and the best veteran receiver on the roster, Devin Funchess, is better suited to be a No. 2 option. I think he should be ranked as a fantasy WR3 (perhaps as a WR2 if he has a good offseason), so his ADP should land in the 5th or 6th round.
1.25 -
Ravens

- TE

Hayden Hurst

, South Carolina

Hurst showed explosiveness in college, and then backed it up with a 4.67 second 40-yard-dash time at the combine. Hurst plays with intensity and runs violently after the catch. Hurst thrives as a receiver, but his all-around talent at the position might be what allows him to see the field early as a rookie. He can beat out opposing linebackers for jump balls, making him a viable red zone target, but he also pulls well and gets out in front of blocks, eager to make contact. Hurst will be 25 during his rookie season, but his steady hands and fierce competitiveness should help him develop into a starter sooner rather than later.

Athletic Comparables: Jared Cook, Coby Fleener

Opportunity: A

The Ravens have a load of vacated targets, so the opportunity is there for Hurst to step into a big role. Keep in mind that rookie tight ends rarely make much of a fantasy impact, and the Ravens have addressed their receiver woes by signing Michael Crabtree, John Brown and Willie Snead.
1.26 -
Falcons

- WR

Calvin Ridley

, Alabama

Ridley combines excellent separation skills with downfield speed to be one of the more explosive options at the receiver position this year. His 6-foot-1, 190-pound frame leaves him susceptible to press coverage, and he plays hesitantly when catching the ball in traffic. However, he displays tremendous run-after-catch ability and uses his body positioning to attack the ball in the air downfield. Ridley will be counted on as a top receiver for the team that uses a first-round pick on him, but his niche skill-set is more likely to make him a quality second option and deep threat.

Athletic Comparables: Marvin Harrison, Brian Hartline

Opportunity: B+

Ridley figures to leapfrog Mohamed Sanu to serve as the No. 2 option in the passing game after Julio Jones. Taylor Gabriel vacated 51 targets after he left for Chicago. Ridley feels like he should be ranked as a fantasy WR4, which means his draft value will likely fall in the 8th-10th range.
1.27 -
Seahawks

- RB

Rashaad Penny

, San Diego State

Penny took full advantage of his opportunity as a full-time starter for the Aztecs, rushing 289 times for 2,248 rushing yards, more than anyone else in college football last year. He also caught 19 passes and scored a total of 25 touchdowns. Penny runs with patience, but he also shows excellent speed and game-breaking ability. He ran a 4.46 40-yard-dash at the combine, and he ran back seven kick returns for touchdowns throughout his college career. Penny will need to be more consistent in his decision-making at the next level, and not always go for the big play, but he has all the qualities you look for in a long-term starter.

Athletic Comparables: Melvin Gordon, Javorius Allen

Opportunity: A

As far as potential workload goes, this is a very good landing spot for Penny, who should immediately push Chris Carson for the starting job. The Seahawks have been looking for a good running back since Marshawn Lynch "retired." Given the first round capital they used to acquire Penny, he should get every chance to serve as the RB1 in 2018. Unfortunately for Penny, the Seattle offensive line is not very good. Still, given the volume I would rank him as a low-end RB2, which should put his ADP in the 4th or 5th round.
1.31 -
Patriots

- RB

Sony Michel

, Georgia

As a complementary back to Nick Chubb, Michel averaged 7.9 yards per carry and scored 16 touchdowns on the ground last year for the Bulldogs. Michel has a nice blend of strength and speed and would have likely put up much more impressive numbers in a less crowded backfield. Michel's 4.54 40-yard-dash time at the combine was disappointing, given his playmaking ability in college, but he flashes deceptive speed on tape and shows patience waiting for blocks to set up. He's pro-ready in pass protection, which should help him see the field early, and while he only caught nine balls last year, he had 48 receptions his previous two seasons and flashes three-down potential.

Athletic Comparables: Chris Thompson, Spencer Ware

Opportunity: C

This is a curious real-world pick given how the Patriots have valued the running back position over the years. The team lost Dion Lewis to free agency, but Rex Burkhead, James White, Mike Gillislee and Jeremy Hill are on the roster, so Michel will have to earn his touches. Mike Mayock just compared him to Alvin Kamara, so that's something.
1.32 -
Ravens

- QB

Lamar Jackson

, Louisville

The 2016 Heisman Trophy winner has garnered varying attention as a draft prospect throughout the last season. At times, he looks like an elite prospect, able to affect games with both his arm and his legs. His gutsy win over Florida State showed his ability to rally a team to victory, and his 1,601 rushing yards last year ranked sixth in college football. Jackson has an excellent arm and can make every throw at the NFL level. However, he is still a raw prospect as a quarterback. He is often too quick to abandon his progressions and take off running, which may lead to durability issues at the next level, given his 216-pound frame. Likewise, he doesn't anticipate open receivers very well, and he hasn't demonstrated the ability to place the ball in ideal catch locations. If Jackson can develop the mechanics of being a quarterback, the sky is the limit for him, but he'll need to stay healthy and would benefit from a situation where he can learn to be a more complete passer.

Athletic Comparables: Michael Vick, Deshaun Watson

Opportunity: B+

Joe Flacco should continue as the starter, so Jackson will have time to develop. Per Adam Schefter, Joe Flacco has no more guaranteed money on his contract after this season, so the Ravens could move on to Jackson in 2019.

Photo by Ronald Martinez/Getty Images.

More 2018 NFL Draft Coverage: