Scott Smith's 2023 NFL Mock Draft Version 1.0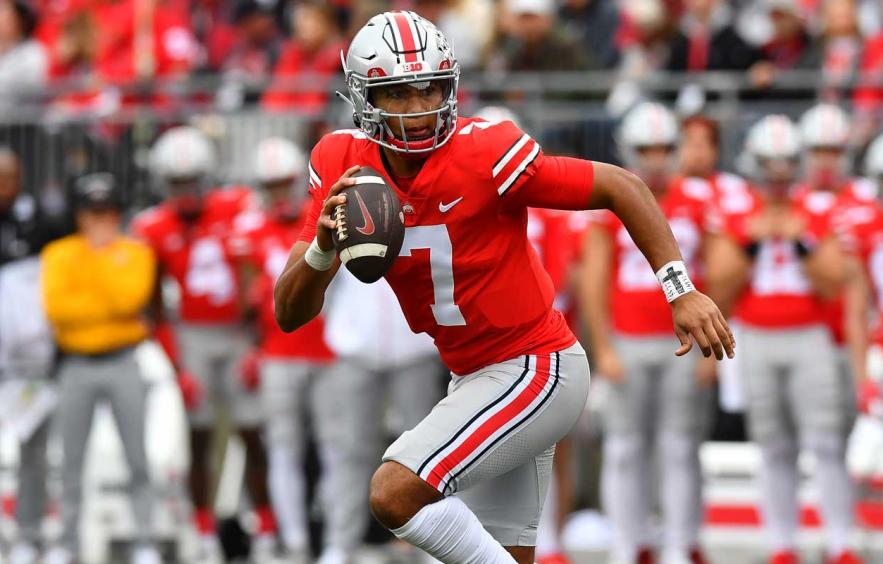 Ben Jackson/Getty Images
The NFL Draft takes place on Thursday, April 27th, 2023. The first round will have a lot of movement as player's stock will rise and fall with the results of free agency, the NFL Combine, and individual pro days. This is my first attempt at matching players to teams based on player skill, team needs, and fit, as well as buzz coming from beat writers and fan groups.
2023 NFL Mock Draft Version 1.0
1. Indianapolis Colts (via trade w/CHI) -
Bryce Young

, QB, Alabama

The Colts have gone the veteran route at QB with Carson Wentz and Matt Ryan with little success. The team has a playoff-caliber roster that is missing a QB. Chris Ballard gets this deal done and secures his QB.
2. Houston Texans -
C.J. Stroud

, QB, Ohio St.

Will Levis will be in the conversation to be the second QB off the board but the Texans select Stroud here. Stroud has an excellent deep ball and throws with anticipation well. He will need to show better pocket awareness at the NFL level.
3. Arizona Cardinals - Will Anderson Jr., Edge, Alabama
The Cardinals need to infuse some talent along their defensive front. Jalen Carter could also make sense but edge defenders are typically more valued so Arizona takes Anderson Jr. to help with a struggling pass rush.
4. Chicago Bears (via trade w/IND) - Jalen Carter, DT, Georgia
Jalen Carter would be in play should the Bears stay atop the draft. Carter would immediately be an impact player along the interior for Chicago. Ryan Poles will have a number of suitors for the top selection but this is the move that makes the most sense.

5. Seattle Seahawks - Tyree Wilson, EDGE, Texas Tech
Wilson and Myles Murphy seem to be in play as the second EDGE to come off the board. The combine will be an important factor in separating the two. For now, Wilson is the pick as Seattle needs a consistent threat on the edge to build around.

6. Detroit Lions - Christian Gonzales, DB, Oregon
The Lions have drafted well over the past few years. Aidan Hutchinson made a nice impact in his rookie season for a defense that struggled. The Lions made some defensive changes midway through the season that improved their play but the secondary continued to struggle. The Lions ranked 30th in passing yards per game and 32nd in explosive pass rate. Gonzales is a big physical corner who would pair well with 2020 1st-round pick Jeff Okudah.
Detroit finds themselves in a solid position here to fill a team need or possibly trade down with a QB-needy team.

7. Las Vegas Raiders -
Will Levis

, QB, Kentucky

The Raiders cut Derek Carr and will be active in the QB market during the offseason. Connecting the dots, Jimmy Garappolo would make a lot of sense due to his history with Josh McDaniels. Should the Raiders look to address the position via the draft, Levis is the most viable option and a player NFL scouts are higher on than the general public. Offensive line is another option here should Garappolo fill the QB vacancy.

8. Atlanta Falcons - Myles Murphy, EDGE, Clemson
Over the last two years, no team has had fewer sacks than the Atlanta Falcons. Murphy is expected to test well at the combine which could make him unavailable here. The argument between Murphy and Wilson will continue through the build-up to the draft. Murphy is the pick for now until we see how the combine plays out.

9. Carolina Panthers -
Anthony Richardson

, QB, Florida

Richardson is extremely raw but has upside and tools that can't be taught. It will likely take a bridge year or two to get Richardson ready to compete at the NFL level. If Carolina doesn't want to play the waiting game, then a trade-up with Detroit could be an option to select the more "game-ready" Will Levis.

10. Philadelphia Eagles - Joey Porter Jr., DB, Penn State
The Eagles enter the offseason with a number of question marks in terms of free agency. The defensive line will have some turnover due to salary cap and could be a target here. Instead, the Eagles select a player with NFL pedigree in Joey Porter Jr. The Penn State product offers size and athleticism at the position that coordinators covet. Porter's development projects him as a day-one starter.

11. Tennessee Titans - Paris Johnson Jr., OT, Ohio State
The Titans have been trying to add a tackle to stabilize the offensive line for the last few years. Johnson would be a welcomed addition from a fit standpoint for a team that prioritizes smash-mouth football. Johnson has the prototypical size and athleticism for the position.

12. Houston Texans -
Quentin Johnston

, WR, TCU

Brandin Cooks likely won't be with the team much longer. John Metchie was diagnosed with leukemia which leaves his future murky as well. Drafting Johnston here would give Stroud a young 50/50 WR to grow with as the Texans rebuild their offense.
13. New York Jets - Peter Skoronski, OT, Northwestern
Injuries along the offensive line have derailed the potential of the Jets. Mekhi Becton is unreliable after only playing one game since his rookie season. Skoronski projects as an immediate starter at the NFL level. Some analysts question his ability to play tackle at the next level due to length but the skills are there. Drafting Skoronski here will not only help rookie sensation Breece Hall but go a long way in attracting a new QB.

14. New England Patriots -
Jordan Addison

, WR, USC

Bill Belichick has struggled to draft WRs in the first round. Addison has a versatile skill set and has proven this through multiple challenges in college. The jury is out on Mac Jones but the Patriots need to give him more legitimate weapons before cutting bait.

15. Green Bay Packers -
Michael Mayer

, TE, Notre Dame

This pick seems to be chalk amongst the mock draft community. Michael Mayer is a do-it-all TE who would help in both the run and passing games. With Aaron Rodgers expected to be traded in the offseason, surrounding Jordan Love with quality weapons will be imperative if he is to succeed.


16. Washington Commanders - Devon Witherspoon, DB, Illinois
The Commanders have underachieved under perennial loser Ron Rivera. Washington recently hired Eric Bienemy to take over an anemic scoring offense. Unfortunately, very few of their needs will fall to this spot. Fortunately, Washington desperately needs help at DB after the William Jackson signing was a failure. Kendall Fuller is a premier slot corner but Washington does not have a legitimate DB1 on the roster. Witherspoon or whichever DB falls to this spot will be a win for Washington.

17. Pittsburgh Steelers - Broderick Jones, OT, Georgia
The offensive line was a struggle for Pittsburgh in 2022. Surrounding Kenny Pickett with players that can protect him will only help his development. Jones has limited experience as a sophomore but showed his potential at Georgia en route to back-to-back NCAA championships. Jones has the athleticism and upside to develop and anchor the Pittsburgh offensive line for years to come.
18. Detroit Lions - Bryan Breese, DT, Clemson
Aidan Hutchinson was a revelation last year as a rookie. Adding a player like Breese to the defensive line would not only help alleviate double teams on Hutchinson but also ensure Breese has matchups that would aid in his development.
19. Tampa Bay Buccaneers - Cam Smith, DB, South Carolina
Tampa Bay's secondary is in flux going into free agency with only Carlton Davis and Antoine Winfield under contract. Cam Smith is SEC tested and would bring much-needed talent to a secondary that declined in 2022.

20. Seattle Seahawks - Brian Branch, S, Alabama
Branch brings a versatile skill set to any secondary. His ability to play multiple positions allows him to fit multiple personnel packages. Pete Carrol has shown in the past to value players of Branch's skill set. His ability would allow the Seahawks defense to disguise their coverages and get back to being the Legion of Boom.

21. Los Angeles Chargers -
Zay Flowers

, WR, Boston College

Keenan Allen is expected to be moved in the offseason. The Charger's WR corps had a multitude of injuries in 2022, causing them to play a multitude of WRs. Zay Flowers is rising up draft boards and his explosiveness could open up the offense and elevate Justin Herbert to elite status.
22. Baltimore Ravens - Jaxson Smith-Njigba, WR, Ohio State
Lamar Jackson has had to do it all for the Ravens offense over the last couple of years. The lack of depth was on full display in 2022 after Rashod Batman went down. Washed-up Sammy Watkins and Demarcus Robinson aren't enough to contend in an improving AFC North. Baltimore plans to open up their offense in 2023 and Smith-Njigba would combine nicely with Bateman and Mark Andrews.
23. Minnesota Vikings - Kelee Ringo, DB, Georgia
The Vikings need secondary help in the worst way, Ringo showed his warts as he got lit up in the college football playoffs leading many analysts to drop him out of the first round. Ringo will likely test well at the combine leading him back into the discussion at this range.

24. Jacksonville Jaguars - O'Cyrus Torrence, G, Florida
Many mocks will have a WR or TE in this spot. Jacksonville is on solid footing with those positions. Trevor Lawrence leveled up in 2022 and looks to take another jump in 2023. The Jaguars would be wise to grab the best guard in the draft to not only protect their young QB but to also open up running lanes for Travis Etienne,

25. New York Giants -
Jalin Hyatt

, WR, Tennessee

Getting Daniel Jones and Saquon Barkley signed will be the top priorities for the Giants. Adding WR talent will be next up on the list. Isaiah Hodgins proved to be serviceable for the Giants down the stretch but is ideally a WR3. Hyatt Brings a home run skill set that would force more 2-high looks giving both Jones and Barkley more room to operate.

26. Dallas Cowboys - Drew Sanders, LB, Arkansas
Cutting Ezekiel Elliott and taking Bijan Robinson would make a lot of sense for the Cowboys but Jerry Jones may be loyal to a fault when it comes to Zeke. Leighton Vander Esch and Anthony Barr are both set to become free agents. Getting LB help outside of Micah Parsons could allow Parsons to be even more productive. Sanders has rare athletic traits that allow him to be active in both coverage and while blitzing. Sanders needs to improve in the box but this is a week LB draft and he is the best.

27. Buffalo Bills - Keion White, EDGE, Georgia Tech
White is an athletic freak. White is raw and unrefined as a pass rusher but offers upside as he is new to the position, He has movement skills that can't be taught. Von Miller is 33 and after being injured, insists he will be ready for 2023. White can serve as insurance in case Miller isn't ready to go while Miller serves as the perfect mentor.

28. Cincinnati Bengals - Clark Phillips III, DB, Utah
Eli Apple has too often been a liability in coverage. Phillips is a bit undersized but offers instincts and ball skills that Apple has never shown. Phillips shows fluidity in his hips and feet while in coverage. Phillips tackling in run support can be inconsistent but it's not due to effort. Phillips is a player that checks nearly all the boxes at DB.

29. New Orleans Saints -
Bijan Robinson

, RB, Texas

It's hard to imagine a player of Robinson's caliber falling to this range in the draft. 2022 was a revolving door at RB outside of Kamara. Saints fans may have seen the last carry for Kamara in New Orleans. Kamara has a pending legal issue that will likely see him suspended for a portion of the season. Drafting Robinson would give the Saints offense the identity it has been struggling to find since the exits of Sean Payton and Drew Brees.

30. Philadelphia Eagles - Lukas Van Ness, EDGE, Iowa
Brandon Graham is set to turn 35 this year and the Eagles will likely have other turnovers at the defensive line. At this stage, the Eagles simply take the best player on the board at a position of need. Van Ness needs to expand his pass-rush repertoire but he has excellent burst for his size. The Iowa product projects as an impact starter with room for growth.

31. Kansas City Chiefs -
Dalton Kincaid

, TE, Utah

Future Hall of Fame TE Travis Kelce has yet to show signs of slowing down but it has to happen sooner or later. Drafting Kincaid would give him on-the-job training from one of the greats before taking over. That would be ideal considering that tight ends usually take 2-3 years to develop. As a former basketball player, Kincaid only played one year of high school football. His athleticism and body control at the college level should have no problems translating to the NFL level. While he doesn't offer much in the way of blocking, that's not how Kelce is typically used either. Kincaid could offer a smooth transition from Kelce when the time comes.