Running Back Market Shares: Week 5 Report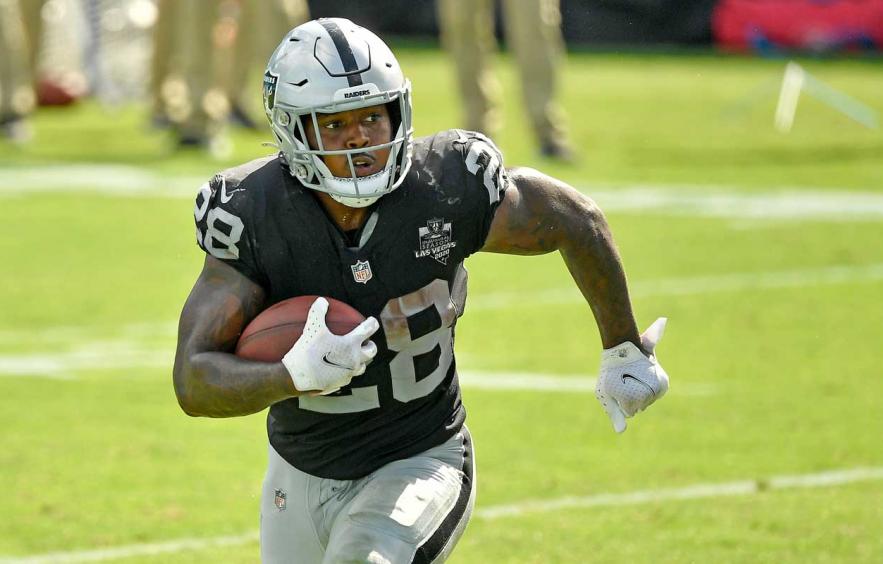 Grant Halverson/Getty Images)
In the modern NFL, the running back is no longer the focal point of an offense. Gone are the days where a 400-touch rusher is the norm, and now is the age of the running back-by-committee. With carries and targets being diluted between backs more than ever, it's important for fantasy managers to know which backs are seeing usage and how they're being utilized.
This column will explore the landscape of running back rushing and receiving through team market shares – the percent of a team's running back rushes or the team's passing targets. By looking at these rates of usage rather than raw totals, we help to strip away some of the noise of game script and pare our data down to the truer representation of how each offense thinks about its backfield.
Without any further ado, let's ring the bell and open the markets: which running backs had a significant change in usage in Week 4?
Carries
Latavius Murray

, Baltimore

Ravens

, +31.6% running back rushing share

Though his touches were trending this way, the Baltimore Ravens pulled a surprise move in Week 4 by making waiver-wire darling Ty'Son Williams inactive for the game. They, therefore, leaned on veteran pounder Latavius Murray for over 75% of the team's backfield carries, while mixing in a little Le'Veon Bell and Devonta Freeman as well. The takeaway from this is that the Baltimore backfield might end up being a week-to-week nightmare for fantasy managers, which was the concern before Williams' emergence.

Perhaps Murray settles in as the team's lead back going forward, but it's far more likely that the Ravens will play the matchups and we won't know the active status of any of the four backs until a few hours before game time. Fantasy managers in deeper leagues should consider stashing Bell in particular for this reason, as he saw the second-highest share of backfield touches and snaps in Week 4.
Alex Collins

, Seattle

Seahawks

, +27.4%

Seattle Seahawks bruiser Chris Carson came out of this week's games on the injury report for his neck. With his snap share having dropped below 50% over the last two weeks, this brings up questions about whether he has been dealing with this injury for longer than we knew, which is a slight concern for his outlook. Collins would be the player to step up and take a larger portion of work should Carson go out for any length of time. He has seen his rush share go from 7.1% in Week 2 to 41.7% in Week 4, and his team target share rise to over 9% in that same span of time.
David Johnson

, Houston

Texans

, +17.9%

Another piecemeal mess of a backfield, the Houston Texans employ the rushing force of Mark Ingram, the ground speed of Phillip Lindsay, and the receiving skills of David Johnson all in somewhat equal measure. In Week 4, though, the Texans were in such negative game script that Ingram's bruising short-yardage work was not needed. Lindsay, too, rushed the ball four times for -1 yard, bringing his season total to 32 yards on 24 attempts. Perhaps the Texans were just rolling out more David Johnson on the ground because he was already on the field for catchup mode, perhaps they realized he's more dynamic as a complementary rusher than Lindsay. Either way, he's the most useful back in this Houston backfield as the circles in that Venn diagram cross over the most for him.
Clyde Edwards-Helaire

, Kansas City, -12.5%

It's hard to keep defending using Clyde Edwards-Helaire in fantasy when Kansas City – one of the best teams in professional football, who spent a first-round pick on him – won't use him either. CEH's snap share and running back rush share has dropped each week this season, and fullback/halfback hybrid Darrel Williams vultured 100% of the KC goal-line looks in Week 4. This is a bad look for a player many fantasy managers were hoping for a bounce-back season for, and there's little in terms of peripherals to indicate it will get better.

Others of Note: A.J. Dillon, GB (+26.0%); Le'Veon Bell, BAL (+17.4%); Larry Rountree III, LAC (+14.4%); Cordarrelle Patterson, ATL (-12.8%); Kenyan Drake, LV (-19.1%); Ronald Jones, TB (-32.5%).

Targets
Josh Jacobs

, Las Vegas

Raiders

, +16.7% team target share

Josh Jacobs returned from his injury this week and the Las Vegas Raiders threw him directly into the first with absolutely no limitations. Jacobs was handed an 86.7% running back rush share in his post-injury debut and – more impressively for a back who struggles at points to earn targets – a 16.7% team target share. Jacobs was fourth on the target pecking order for the Raiders in Week 4, completely kicking Peyton Barber to the curb and even dampening complementary back Kenyan Drake's workload to basically nil. If this level of usage continues for Jacobs in a potent Vegas offense, he could end up being a league-winning type of back. It's worth kicking the tires on him in your fantasy leagues to see if his manager wants to trade him.
Damien Williams

, Chicago

Bears

, +12.5%

You all know about the injury to lead Chicago Bears running back David Montgomery, and that Damien Williams will be his primary replacement for the next four to five weeks, I'm sure. It's important to note, though, by just how much Williams took over this backfield once Montgomery went down early in the fourth quarter. In about a quarter of play, Williams had a 23.5% running back rush share for the Bears and an eighth of the team's total targets in the contest. Extrapolate that out to a full game, and that would be nearly 100% of the running back rushes and almost 50% of the team's passing game looks. I cannot overstate how Williams is likely to be the waiver-wire back to snap up heading into Week 5.
Brandon Bolden

, New England

Patriots

, +7.0%

This is just a little victory lap for those of us who trusted what we were seeing on the field. The New England Patriots, while diminishing his rushing work by over 10 percentage points, afforded Brandon Bolden a 15% target share in Week 4. The receiving work from the backfield in this team is his duty to lose, as the Pats reportedly still don't trust lead rusher Damien Harris in pass protection.
Kenneth Gainwell

, Philadelphia

Eagles

, +3.2%

Speaking of not trusting their lead back, the Philadelphia Eagles continue to siphon off work from Miles Sanders for Kenneth Gainwell. Former Memphis slot receiver "Kenny G." saw a 30% rushing share and increased his team target share to 14.3%. With quarterback Jalen Hurts throwing quicker and shorter in 2021 than before, Gainwell is likely to continue seeing plenty of work as the year goes forward.

Others of Note: Rodney Smith, CAR (+13.2%); Justin Jackson, LAC (+12.1%); Jonathan Taylor, IND (+6.1%); Javonte Williams, DEN (-9.1%); D'Andre Swift, DET (-11.1%); Ezekiel Elliott, DAL (-12.0%).
Goal-Line Work
Jonathan Taylor

, Indianapolis

Colts

, +100.0% running back goal-line share

I've been getting concerned about Indianapolis Colts running back phenom Jonathan Taylor's workload for a while now. The Colts seem dedicated to apportioning about a third of the team's rushing attempts to some combination of Marlon Mack and Nyheim Hines, while Taylor is on the outside looking in for the receiving game as well. This week got things on track a little more, however, as Taylor was up to a 9% team target share and got both goal-line opportunities for the Colts. He did nothing with them, so maybe this won't end up as much of a positive, but he did see them for now. And that's not nothing.
James Conner

, Arizona

Cardinals

, +4.8%

The Arizona Cardinals' backfield, while a frustratingly split timeshare, is at least an extremely predictable timeshare. Agile and small scatback Chase Edmonds handles 10-25% of the team's target share, while bruising plodder James Conner sees somewhere between 0-6%. Conner commands 50-67% of the team's running back rush share, and Edmonds is around 33-50% – nearly evenly split. Why is Conner interesting to talk about here then? It's just comforting that he's retained a strong usage in scoring range, commanding 66.7%. of the team's goal-line opportunities or more over the last three weeks. In Week 4, Conner was the man on five of the Cardinals' seven goal-line chances, converting two for scores. That's #good for fantasy.

Others of Note: J.D. McKissic, WAS (+66.7%); Michael Carter, NYJ (+66.7%); Zack Moss, BUF (+16.7%).