NFL Combine Winners and Losers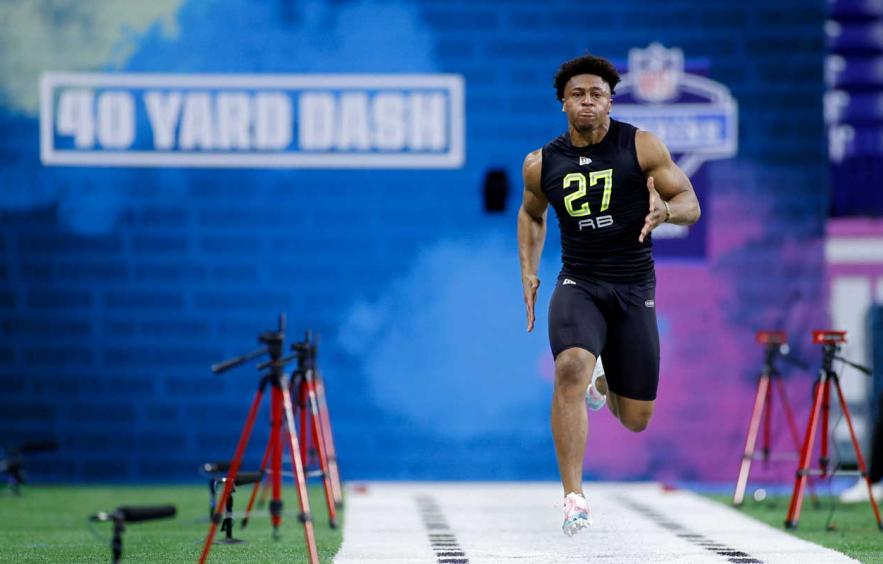 Joe Robbins/Getty Images
The NFL Combine held in Indianapolis each year is a big event for the NFL offseason. It's well attended by coaches, scouts, agents, fans, media and many young men hoping to make football a career. The value placed on the event varies, but everyone gathers information from it. The combine consists of weigh-ins, interviews, medical evaluations, athletic events, and positional drills.
Unfortunately, fantasy football degenerates aren't allowed to see the medicals and team interviews. To help fill that gap, I've tracked measurements and test scores for players that figure to be the most fantasy-relevant along with takeaways to remember for your fantasy drafts for each position.
Quarterbacks
2020 NFL Combine Stats, Quarterbacks

| Player | College | Height | Weight | 40-Yard Dash | Vertical Jump | Broad Jump | 3-Cone Drill | Short Shuttle |
| --- | --- | --- | --- | --- | --- | --- | --- | --- |
| Joe Burrow | LSU | 6'3" | 221 | - | - | - | - | - |
| Jacob Eason | Washington | 6'6" | 231 | 4.89 | 27.5" | 110" | 7.50 | 4.75 |
| Jake Fromm | Georgia | 6'2" | 219 | 5.01 | 30.0" | 111" | 7.27 | 4.51 |
| Justin Herbert | Oregon | 6'6" | 236 | 4.68 | 35.5" | 123" | 7.06 | 4.46 |
| Jalen Hurts | Oklahoma | 6'1" | 222 | 4.59 | 35.0" | 125" | - | - |
| Jordan Love | Utah St. | 6'4" | 224 | 4.74 | 35.5" | 118" | 7.21 | 4.52 |
| Cole McDonald | Hawaii | 6'3" | 215 | 4.58 | 36.0" | 121" | 7.13 | 4.52 |
| Tua Tagovailoa | Alabama | 6'0" | 217 | - | - | - | - | - |
General Notes
From the reports given to the public, Tua Tagovailoa's recovery is going well. However, he did measure in shorter than expected at the combine at 6'0."
While Jalen Hurts showed off his athleticism, he was slower in the combine than Cole McDonald in the 40-yard dash. Apparently, shaving off the dreads didn't rob McDonald of his powers.
Biggest Winner
Athleticism was always a bonus to Justin Herbert's game at Oregon, but it was confirmed at the combine with a 4.68 40-yard dash, 7.06 3-cone, and a 123" broad jump. I don't place much value in the throwing drills at the combine, but Herbert looked solid in them as well. Overall, Herbert gained momentum heading into the NFL Draft.
Biggest Loser
As stated above, I don't place much value in throwing at the combine. However, Jake Fromm lacked accuracy and arm strength.
Running Backs
General Notes
Running a 4.39 40-yard dash at 226 lbs was a crazy feat by Jonathan Taylor. Saquon Barkley ran a 4.40 40-yard dash at the combine—Leonard Fournette and Melvin Gordon were both over a tenth of a second slower in the 40-yard dash than Taylor as well. Taylor not only impressed with his 40-yard dash, but his other tests were also solid. He's moving up draft boards after his performance.
One of the main unknowns of D'Andre Swift was athletic testing. He quieted those critics with a good performance. He also measured in shorter than expected at 5'8", which explains his thick build and power.
While he didn't test as well as anticipated, Cam Akers turned in a good performance overall. Akers highlight of the combine was positional testing, where he appeared very smooth in drills.
Choosing to not participate at the combine has moved J.K. Dobbins down rankings due to the stellar performances by his competition. He also measured in smaller than anticipated at 209 lbs.
He's quicker than fast, but a 4.60 40-yard dash didn't help Clyde Edwards-Helaire's stock. He measured in shorter than expected at 5'7" as well.
Biggest Winner
The biggest surprise from the running backs was A.J. Dillon. He turned in an absolute monster combine. Measuring in at 6'0" 247 lbs proved how big of a player he showed on tape. Then he ran a 4.53 40-yard dash while posting a 41" vertical jump, 131" broad jump and a 7.19 3-cone drill. The last three drills all beat Jonathan Taylor with Dillon weighing 21 more lbs.
Biggest Loser
Film revealed Zack Moss wasn't a fast player—a 4.65 40-yard dash was still a tough pill to swallow. He lost momentum after being hyped up prior to the combine. It will be interesting to see how NFL teams will weigh this performance.
Wide Receivers
General Notes
The battle for the fastest man between Henry Ruggs and Jalen Reagor wasn't close. Ruggs blazed his way with a 4.27 in the 40-yard dash and also posted a 42" vertical jump.
Don't get too down on Reagor running a 4.47 40-yard dash. He also posted a 42" vertical and 138" broad jump. He's still very athletic.
Donovan Peoples-Jones had some crazy numbers himself. He ran a 4.48 40-yard dash with a 44.5" vertical jump and a 139" broad jump, proving to live up to some of his hype after being a top-tier recruit out of high school.
Justin Jefferson ran faster than anticipated with a 4.43 40-yard dash.
Jerry Jeudy and CeeDee Lamb both held their draft position at the combine. They ran 4.45 and 4.50, respectively, in the 40-yard dash.
Biggest Winners
I chose two from this group because they both will see a big jump in their stock. Chase Claypool and Denzel Mims dazzled the crowds with their testing numbers. Claypool measured in at 6'4" 238 lbs and ran a 4.42 40-yard dash with a 40.5" vertical jump. Denzel "this is why I'm hot" Mims measured in at 6'3" 207 lbs and ran a 4.38 40-yard dash with a 38.5" vertical jump and an overall combine best 6.66 in the 3-cone drill.
Biggest Loser
Liberty WR Antonio Gandy-Golden showed off his large frame by measuring in at 6'4" 223 lbs, but his combine performance didn't support his sleeper case in this draft class. He ran a 4.6 40-yard dash, along with a 7.33 3-cone and a 4.55 short shuttle.
Tight Ends
General Notes
Biggest Winner
The showstopper of the group is Albert Okwuegbunham running a 4.49 40-yard dash at 6'5" 248 lbs. This is going to make me go back to check his film again.
Biggest Loser
Jared Pickney ran a 4.96 40-yard dash and just got himself crossed off of many draft boards.