DraftKings Week 1 Cash Game Picks and Strategy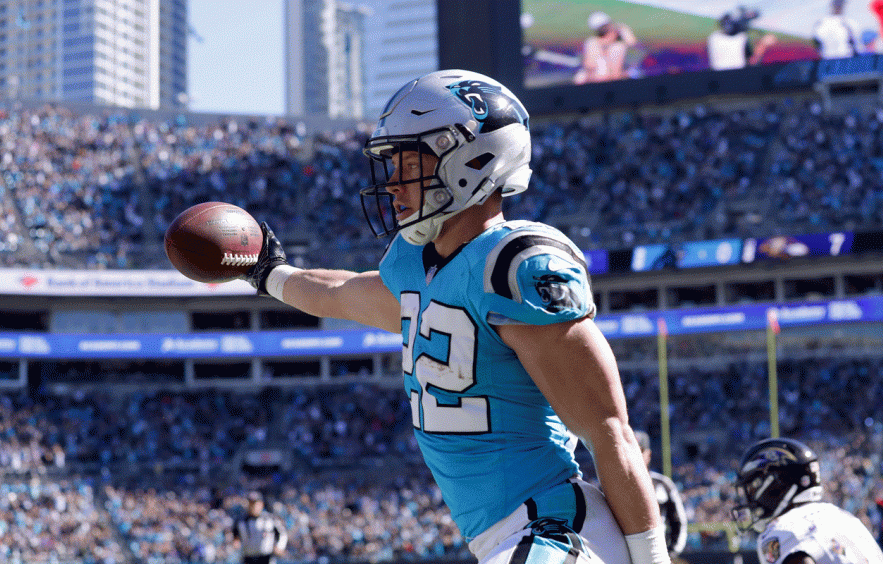 Streeter Lecka/Getty Images
This is a free sample of premium weekly content contained in the 4for4 DFS subscription. Not a subscriber? Sign up now!
Below you'll find my Week 1 DraftKings cash game picks and strategy. By offering a general approach to the week, along with a player pool to consider, you should walk away feeling well-equipped no matter your bankroll strategy or game selection process.
In general, my cash game strategy revolves around the running back position. My main focus is to roster three running backs with workhorse-type roles that simultaneously allow me to build a high-floor lineup at the other positions. Certain weeks, we'll be able to jam in multiple high-priced running backs because of the value that presents itself at quarterback, wide receiver and tight end. Other weeks we may have to dip into the mid-range at running back because value hasn't emerged at the other positions. Because quarterback is a position with a narrower range of outcomes, it often makes sense to pay down for a signal-caller. As always it will depend on the makeup of the entire lineup, but I'll usually favor spending down at quarterback.
For up-to-the-minute and Sunday morning updates, be sure to join the 4for4 DFS subscription-only Discord channel.
I'm not opposed to paying up at wide receiver or tight end if the constraints of the week dictate that it's the most prudent lineup construction. However, with the propensity to allot the most salary to the running back position, I usually attempt to roster the most targets per dollar at wide receiver. It often results in rostering mid-tier wide receivers and tight ends. Given the volatility and variance week-to-week in pass-catchers, it makes sense to not use a ton of salary there as a general rule of thumb. Defense/special teams usually comes down to the cheapest defense with a respectable matchup and a relatively high sack rate, as pressure is what creates the plays defenses need to score fantasy points.
Week 1 is always a tricky proposition, but even more so this year as we have an abbreviated off-season and no preseason games to analyze. My process this week is going to roster players who I feel have the safest projectable workloads at every position.
Note: As always, I'll have a Sunday update posted closer to kickoff in the event of any late-breaking injury news or beat reports.
Update: Boston Scott, Marvin Jones and Chris Godwin are all in consideration for cash games with injuries to Miles Sanders, Kenny Golladay and Mike Evans Scott is pretty close to a lock in cash games for me as he should get a ton of playing time in a scheme that needs to throw quick short passes to subdue a ferocious Washington pass rush. Marvin Jones should see an uptick in volume, which puts him squarely in play. I'm still higher on Terry McLaurin. The problem with Chris Godwin is we don't know exactly how Evans' absence affects where he lines up on the field. If the Buccaneers move Justin Watson into the slot or play more two tight end sets, that's not good for Godwin as he'll matchup with Lattimore. If they sacrifice Watson and leave him on the outside, with Godwin primarily playing the slot, that's a smash spot. Godwin gets a bump either way, but it will be much more beneficial if he plays mostly in the slot. I would not put him above Davante Adams.
With the added value that has popped up it's a bit easier to get to Lamar Jackson, though you do have to be okay with not rostering Christian McCaffrey.
I'm adding the Washington DST to my player pool as well. They are going to face a ton of pass attempts against a beatable offensive line.
Quarterback
All indications seem to point to Cam Newton ($6,100) being healthy and ready to roll in Week 1 against a Dolphins' defense that gave up the most points last season. They've added some solid young talent to the defensive side of the ball as well as Byron Jones, but it's not enough for me to shy away from a healthy Cam. He checks all the boxes in this game with his rushing upside and touchdown opportunities both through the air and on the ground. I wouldn't be surprised to see some Fitzmagic on offense to keep the Patriots on their toes for the entire game as well. Much has been made of the weapons Cam will have in New England, but with Julian Edelman and James White to lean on in the underneath game, I have confidence the Pats will keep the chains moving and provide plenty of scoring opportunities. Cam rates out as the third-best DraftKings value according to the 4for4 projections behind just Lamar Jackson and...
Tyrod Taylor ($5,600) travels to Cincinnati for a matchup with the Bengals defense. I love the fact that Taylor adds rushing yards and the ability to score rushing touchdowns to his fantasy point output. In fact, it's one of the first things I look for when choosing a quarterback. The "statue" quarterback has a very capped ceiling, but Taylor can get it done through the air and on the ground. As I mentioned previously, the lack of an off-season creates a bit of uncertainty, but Taylor is 100% the starter and I highly doubt the Chargers will use any type of college-style quarterback rotation.
There are a few reasons Taylor will be a cash game consideration—the first is the opposing defense. The Bengals made some off-season moves to upgrade their defense, however, they ranked bottom five in adjusted fantasy points allowed (aFPA) last year and while they may have improved a bit, they are by no means a good defense. We should see an uptick in pace with Taylor under center. I'm not saying the Chargers are going to run at a lightning-fast pace, but gone are the days of Philip Rivers audibling until the very last tenth of a second remaining on the play clock. Taylor has a plethora of weapons in Keenan Allen, Hunter Henry and Austin Ekeler. The fact that the Chargers' main running back is a better pass-catcher than pure runner gives me comfort in rostering Taylor as well.
Running Back
First and foremost Christian McCaffrey ($10,000) deserves to be the first button clicked in your lineup. There's enough value, especially in a Week 1 stale pricing slate, that you can jam him in. There are certainly some weeks in which a five-figure running back is tough to squeeze in because of the rest of the tight pricing—this week isn't one of them. McCaffrey is the best player in fantasy, doesn't split snaps or touches with anyone, and is one of the more consistent options week in and week out. Teddy Bridgewater targeted Alvin Kamara over seven times per game in his starts last year. Bridgewater's game translates very well for McCaffrey—he manages the game and works the short to intermediate routes mostly. McCaffrey is going to get all the important touches (goal line, receptions) in a very beatable matchup with the Raiders.
As long as Miles Sanders ($6,300) has no setbacks leading up to Week 1, he looks like he should be the top cash option in terms of meeting or exceeding salary-based expectations. The Eagles conveyed their trust in Sanders by not bringing in any other running backs in the offseason despite some high-profile runners being available. Boston Scott will have a role in the offense, most likely on third downs, but this is Sanders' backfield. While Sanders remains game-script independent, the Eagles are 5.5-point favorites with a 24.25-point DraftKings Sportsbook implied team total.
Previously, I mentioned my goal is to roster the most guaranteed touches and Sanders fits that bill with a depleted Eagles' wide receiver corps and little backfield competition. In that same price range, we also have Alvin Kamara ($7,200) facing the Buccaneers. Similar to Sanders, make sure he's healthy as he's been getting back injections leading up to Week 1. Kamara's price seems a bit too cheap, especially in a matchup against the Buccaneers and the highest total on the main slate. The Buccaneers ranked first against the run last year, but that was more a product of teams game-planning to throw all over their weak secondary. Kamara racked up 17 targets against this Bucs' defense last year and if he is going to hit value in Week 1, it will also be through the air.
With the release of Adrian Peterson, Antonio Gibson ($4,000) is in line for a workload that makes him a valuable cash game centerpiece. Of course, there is the worry that the offseason hype and beat reports are a bit overblown and Peyton Barber handles the majority of the rushing duties. Getting Gibson in your lineup opens everything up, especially coupled with a cheaper receiver or two from below. However, if you're feeling a bit risk-averse, you can opt for the three pay-up options and go super light at WR and TE.
Wide Receiver
Although I don't think I'll be able to get up to him because of my running back heavy salary spending, I'd be remiss if I didn't mention Davante Adams ($7,300). If you're someone who likes to spend up at receiver or feel as though this is the week to do so, Adams will command a monster target share with very little talent around him. After coming back from injury, Adams only saw one game with fewer than double-digit targets. The Vikings have been a scary secondary to target the last few years, but losing Xavier Rhodes, Makenzie Alexander, and Trae Waynes creates a chasm at corner that the Packers can exploit. The Vikings also are rebuilding along the defensive line, so Rodgers may find himself with time to find Adams. If he doesn't make it into my cash game lineup, he'll probably be a heavy piece of my tournament exposure.
The middle tier is where I'll be grabbing my cash game receivers in Week 1.
Jamison Crowder ($5,200) isn't getting enough love from a season-long or Week 1 perspective. The guy absolutely dominated when Darnold was under center last year, averaging 14 fantasy points per game. The theme of concentrated opportunity continues here with the Jets, who I don't think are going to have much success running the football. Breshad Perriman, whether he suits up or not, isn't healthy. We are likely going to have a trailing Jets team here in Week 1 slinging the ball in catch-up mode in the second half. Additionally, and somewhat surprisingly, the Bills played pretty fast last year so I wouldn't worry about reduced snaps or a slow game pace.
As I'm expecting the Redskins to be trailing early, I am looking to get a piece of their cheap pass-catchers. Preferably, I want that receiver to be Terry McLaurin ($5,600) who flashed undeniable talent in his rookie season and by all accounts has had a great camp. He should be the leading target getter in a negative game script against a beatable Eagles' secondary. If not McLaurin, roster Steven Sims ($4,700) who finished the season on fire, going 16-190-4 in his final three games.
DeSean Jackson ($4,900) will be the benefactor of a depleted wide receiver corps missing Jalen Reagor and Alshon Jeffrey. Jackson absolutely smoked the Washington Football Team for 8-154-2 in Week 1 last year.
Anthony Miller ($5,000) received heaps of praise all offseason about his effort and production in camp. With no true running back on the Bears' squad to start the season, I could see Miller becoming an extension of the run game by getting a slew of low-aDOT targets.
Lastly, the Seahawks have a pretty concentrated passing attack which makes me like DK Metcalf ($5,800) a ton at his current price. There a lot of favorable factors at play here. The game has a great shot to be a shootout with a DraftKings Sportsbook high total (49) and a short spread (-2). My only worry about Metcalf is that the Seahawks have yet to unleash their passing attack. I could see them pounding Carson and just taking shots in the passing game and those are the receiver types I play in tournaments, not cash. The price mitigates some of that risk, but it's personal preference with regards to risk aversion.
Tight End
I can't fault anyone for trying to get up to Zach Ertz ($5,800) being that the Eagles have a very concentrated group of pass-catchers that I've alluded to previously. With leaning towards Sanders and Jackson already in cash, adding in Ertz would be too many eggs in one offense. The highest-priced tight end I'm considering in cash is Hayden Hurst ($4,300). Hurst looks to be stepping into the full workload that Austin Hooper vacated. The only problem with Hurst is that there are a lot of mouths to feed in Atlanta. In the dome against a tight end-friendly defense in the Seahawks is a great spot. If he doesn't fit into my cash build, he'll absolutely be part of my tournament player pool.
Jack Doyle ($3,600) deserves a ton of consideration for two reasons. Philip Rivers is his quarterback and Trey Burton is out Week 1. I'm not sure how much Burton was going to eat into Doyle's snaps and routes run if healthy, but now it's not even a question. Additionally, Doyle gets to pick on a weak Jaguars secondary with a quarterback who loves to target his tight end. My only concern with Doyle is game script. If the Colts get out of the gates quickly, Doyle may not be needed, but at his price, he opens up a lot at other positions and should push for a sizeable target share.
In that same range, Ian Thomas ($3,400) and Chris Herndon ($3,300) could see large target shares as well. I'm not trying to load up on multiple players from the Jets, so it's Crowder or Herndon, but not both, in cash. Herndon has looked great in camp when he hasn't been nicked up. Thomas could absolutely have a big Week 1, but with D.J. Moore, Robby Anderson, Curtis Samuel and McCaffrey all commanding targets as well, he may not have the chances to meet value.
Defense and Special Teams
Note: Defense and special teams is of the least priority in terms of building a cash game lineup, therefore I would never advise you to force one of the below-recommended defenses into your lineup at the expense of not rostering one of the aforementioned skill players. Instead, build your cash game roster around your skill players and find the best DST that works in those salary constraints.
The Patriots ($3,200) will get to have their way with the Dolphins' offensive line, one of the worst in the league. Despite the fact that I think the Dolphins can keep pace with the Patriots, or at least not get blown out, the Patriots have the best chance to score a defensive touchdown on this slate. Fitzpatrick is as loosey-goosey as it gets with ball security. He'll try to zip the ball into tight windows, hold onto the ball too long, scramble recklessly and take on safeties in the open field. The pressure the Patriots are going to be able to generate coupled with Fitzpatrick's turnover-prone nature makes the Patriots my favorite defense on the slate.
Continuing along the lines of picking on brutally bad offensive lines, the Bengals rank dead last in our offensive line rankings going into the 2020 season. The Chargers ($2,800) just lost a key piece in their defense in Derwin James last week, but they will still be able to create pressure with Joey Bosa and Melvin Ingram. They also possess incredibly talented defensive backs in Casey Hayward, Chris Harris and Desmond King. Joe Burrow may have a ton of hype, but he's still a rookie behind a shaky offensive line.
Cash Game Considerations
---
Full Slate Observations
If you are playing cash games on the Thursday-Monday slate, all the above options are in play with the addition of the players listed below.