Dynasty Winners & Losers (Post Free Agency)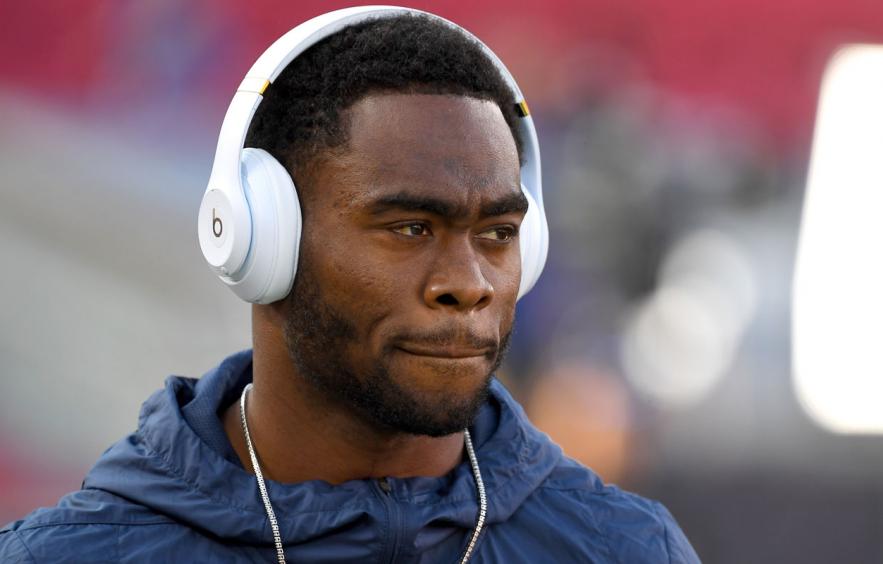 Jayne Kamin-Oncea/Getty Images
Rookies have taken the spotlight with the NFL Draft quickly approaching. Virtual drafting now blends fantasy and real football in a way few ever thought possible. GMs and other team strategists will appear on our TVs looking like most of us. A bunch of nerds at their computers arguing over prospects. But before the virtual pomp and circumstance ensues, we still have the current league members to consider.
Free agency has already made its mark on the market. Redraft and best-ball leagues have seen ADPs shift as releases, trades, and signings have helped or hurt a player's short-term outlook. But dynasty takes the long view into account, as well. Using the free-agency moves and the latest ADP data, I've looked into each position to determine some of the biggest winners and losers. Start-up drafts are currently underway with veteran situations still under scrutiny. As their situations change, we'll need to reassess their value as the 2020 season continues to take shape.
Quarterbacks
Winners –
Kyler Murray

(Pre-FA ADP: 51.6, Post-FA ADP: 45.7)

We expected Murray to perform well his rookie season. The connections to Kliff. Familiarity with the system. Investments at the wide receiver position. It all intersected at Murray, but a QB8 finish wasn't exactly expected.

You'd have to go back to Andrew Luck and the 2012 draft to find a rookie who finished as a QB1 in his rookie season. Plus, Luck was throwing to T.Y. Hilton, an aged Reggie Wayne, and Dwayne Allen. The 2012 Colts had multiple experienced pass catchers on the roster to help their rookie quarterback. Arizona drafted three wide receivers who totaled 376 yards collectively. Their primary receiver was 36 years old. Christian Kirk was entering his second season. Despite a worse situation, Murray was able to recreate something the fantasy community hasn't seen in seven years. And now his situation has somehow improved.

Adding DeAndre Hopkins to the Cardinals' offense produced quite the stir across the league. But the ripple effect is of greater concern. Kirk and Larry Fitzgerald produced on nearly equivalent target shares in 2019 (108 and 109 targets, respectively). Hopkins hasn't seen less than 150 targets in five seasons. Projected target shares in 2020 will be debated all offseason. But the value, and production, intersects at Murray. His additional 4.9 PPG on the ground complemented his passing game which only stands to improve with three established receivers on the field and another three developing. He's now swapped places with Deshaun Watson in the dynasty ranks at QB3 in FFPC startup ADP. With his dual-threat ability and receiving talent, he's been one of the biggest winners of the 2020 free-agency period.
Losers –
Jared Goff

(Pre-FA ADP: 123, Post-FA ADP: 116.1)

Let's back up a second. The simple answer(s) to the biggest losers in free agency at quarterback are Jameis Winston and Jacoby Brissett. They were both replaced, and one still doesn't have a team. Let's look at one that still has a job.

If we think adding pieces to an offense increases value, what happens when we remove them? Brandin Cooks is now playing the DeAndre Hopkins' role in Houston. Todd Gurley moves on to Atlanta (pending a physical) to replace Devonta Freeman. The dynasty community still holds some of the individual offensive pieces in high regard (e.g. Robert Woods, Cooper Kupp, etc.). But Goff has fallen from grace after Sean McVay took over in 2017.

His completion percentage has maintained itself at 63.3% since McVay's hiring. His yardage total saw a 23.2% increase between 2017 and 2018. The Rams were a premiere offense in the NFC West until this past season. Goff's 23.2% drop in completion percentage under pressure is one of the highest in the league. He also saw pressure on 218 of his 660 dropbacks (second-most in 2019). The short-circuiting of how Goff processes the field immediately showed up on both film and data. His efficiency numbers waned from the healthy 8.5 AY/A he held in 2017 and 2018, to just 7.0 in 2019. His 5.7% TD rate (above league average) plummeted to 3.5%. The 2020 season holds expectations for players like Gerald Everett and Josh Reynolds to make weekly contributions when their previous roles were ancillary at best. All of this uncertainty within the offense brings down Goff's value as he drops from QB12 to QB13 post-free agency.
Wide Receivers
Winners -
Brandin Cooks

(Pre-FA ADP: 93.2, Post-FA ADP: 105.9)

There's obvious risk here.

Brandin Cooks has sustained five concussions throughout his relatively short career. For comparison, Jordan Reed (who carries a serious concern for continuing his career in the NFL) has had seven. His last concussion, during the 2019 preseason, caused him to miss the entire season. This is the precipice we're approaching with Cooks. Another risk is his usage.

Cooks was, at times, considered a complete receiver.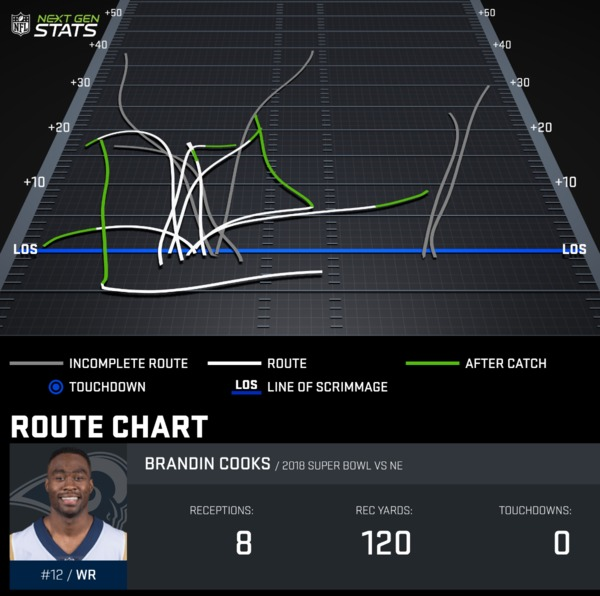 Short-area routes across the middle. Routes out of the backfield. Intermediate and deep patterns. Cooks could (and still can) do it all. However, the ascension of Cooper Kupp and Tyler Higbee coupled with Robert Woods destroyed what utility the 5'10" receiver had in those parts of the field. Cooks saw 45.8% of his targets come from 10 air yards or less in 2018. A healthy balance that could threaten defenses with his 4.33 speed. But that usage shifted to just 26.8% in 2019. Goff's pressure rate and limited mobility didn't allow for deeper routes. After missing multiple games last season, Cooks was typecast as only a deep threat on a team that didn't throw deep. We'll see if that's true.
The Texans have a considerably worse offensive line. They finished in the bottom five for pass blocking and Deshaun Watson saw pressure on 38.4% of his dropbacks. Despite lacking protection, Watson still made the 11th-most throws of 10 air yards or more in 2019. His pocket mobility and aggressive nature are two of his greatest strengths. Cooks now enters a situation that thrives on leveraging the playmakers, versus relying primarily on scheme. Plus, we can at least explore the myth of vacated targets.
Hopkins 'leaves behind' 150 targets. A massive 30.3% target share. We shouldn't expect a similar target share, but Hopkins' usage fits what Cooks was during his time in LA.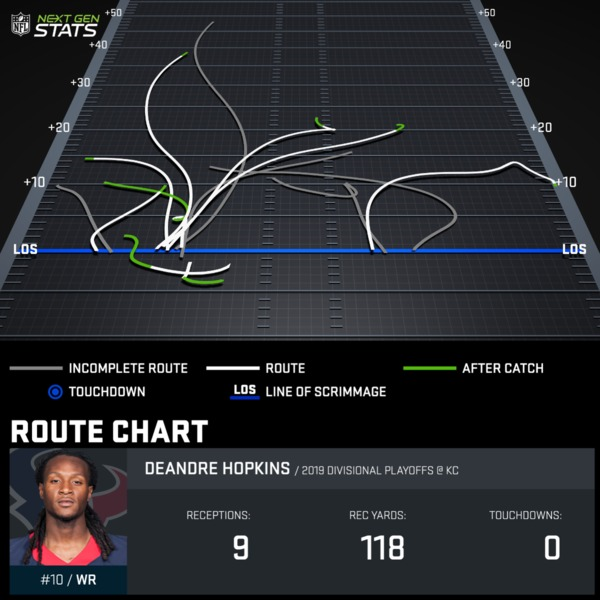 The playoffs represent an extreme example, but we saw Hopkins' full utility on display during their final game in 2019. Short, intermediate, and deep patterns that overlap well with Cooks' skills. The Texans' addition of Randall Cobb puts a damper on some of the interior work, but his days as a primary receiver aren't over yet. Cooks' landing spot and role within his new offense have made him a tremendous value for those who invested in him earlier in the offseason and a clear winner of free agency.
Losers -
Christian Kirk

(Pre-FA ADP: 66.8, Post-FA ADP: 78)

Kirk's limitation only seemed to be a 36-year-old receiver taking some of his targets. His slot rate ticked up slightly to 50.9%, but his usage elsewhere became a greater part of his game. He was first in both intermediate and deep targets after being passed over for Fitzgerald and Ricky Seals-Jones the previous year. His continued development was expected in 2020, but the Cardinals couldn't resist a good offer.

Hopkins' arrival (plus their additions on defense) halts any projection for an increase in usage for 2020. Kirk now likely becomes the 2A option behind Hopkins and next to Fitzgerald with players like Kenyan Drake and the second-year receivers bucking for targets behind him. While it boosts Kyler Murray's value, Kirk's is suppressed for another year as Arizona's offense continues to evolve.
Running Backs
Winners –
Miles Sanders

(Pre-FA ADP: 21.4, Post-FA ADP: 18.2)

Jordan Howard's departure opened up the door to Miles Sanders maintaining a lead role in the Eagles' backfield. His second-round draft capital in the 2019 draft suggested it was in the range of outcomes for the Penn State prospect, but his usage throughout the season pushed back on the idea. Howard saw 129 touches to Sanders 98 through Week 9. The rookie showed burst which garnered much attention from Eagles' enthusiasts. Howard was no speedster and players like LeGarrette Blount and Josh Adams had seen significant time the year prior. The offenses needed speed out of the backfield to go with their aggressive pass-happy nature. But, as noted by Michael Kist, Sanders had his own faults to fix.

p>His problems with vision and decision-making were part of the rookie growing pains most expected. Jordan Howard's shoulder injury gave Sanders the opportunity to lead the way. The result was an 18.8 PPG campaign that allowed the Eagles to (almost literally) limp into the playoffs. Even with the Eagles bringing back Jay Ajayi, Sanders' 68.4% touch share dwarfed that of the remaining running backs. Boston Scott gained some traction as well, but his diminutive size should give way to Sanders leading the way in 2020.

There were, and still are, multiple free-agent running backs out on the market. Melvin Gordon. Todd Gurley. Devonta Freeman. David Johnson. The Eagles had the option to pursue any of them. They still do. Instead, they let Jordan Howard walk and have kept their current duo intact. While it's likely they'll add through the draft, the projected draft capital shouldn't be close to Sanders' given that investment was made the previous season. Any UDFA additions may be a concern, but again, Sanders will maintain his lead role.

Sanders has a clear path to having a full season as the lead back in an aggressive offense tied to a good quarterback. Without any free agents (currently) on the radar to be signed by Philadelphia, he's one of the biggest winners of free agency at running back.
Losers –
Todd Gurley

(Pre-FA ADP: 33.2, Post-FA ADP: 38.3)

To be fair, he at least has a job.

Gurley signed a 4-year $60M extension in 2018. While $45M of that was guaranteed, the Rams still decided to cut him before playing even one year on that extension. There are multiple angles to examine yet another example of a running back extension gone awry. The Rams have their cap space issues and there's continued concern around Gurley's arthritic knee. After a lackluster season with his lowest yardage totals since 2016, a change seemed inevitable. We didn't see cutting him as a possibility.

The former RB1 found a home back in Georgia. Atlanta had recently released Devonta Freeman opening up a lead position in their offense. However, Gurley's $5.5M deal (fully guaranteed) is just for 2020. The Falcons are expected to draft a running back as they held the most meetings with RB prospects than any team in the league. Gurley's value took a critical hit during free agency and will continue to dwindle after the NFL draft.