O-Line Rankings and Matchups to Exploit: Week 10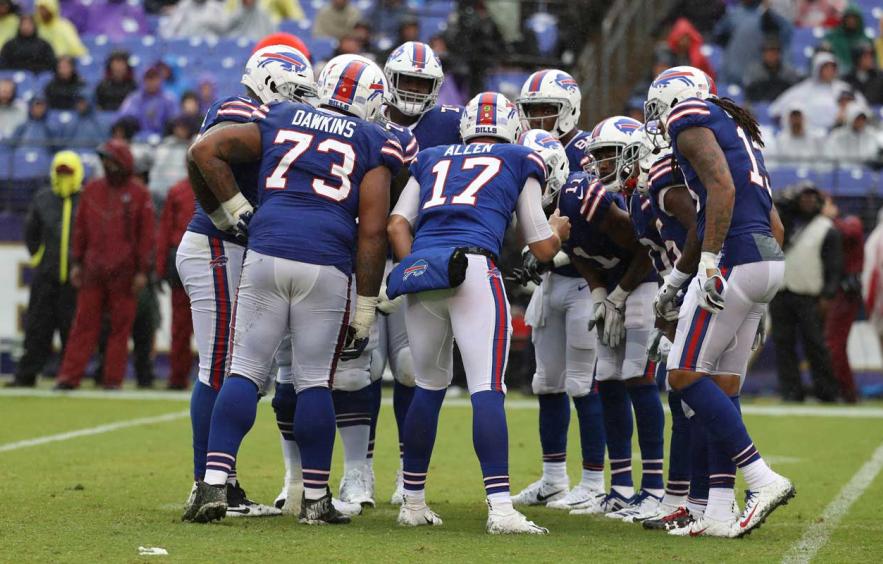 Rob Carr/Getty Images
Evaluating offensive line play regarding its effect on fantasy football output has been a stone unturned throughout the course of our game within a game. Here at 4for4, we're dedicated to looking at fantasy pieces from all angles, and that includes the positive and negative impact an offensive line has on that team's fantasy assets.
Below I'm going to be digging into specific weekly matchups between offensive lines and the opposing defense's aFPA —one of the many useful tools available to us here at 4for4. Many sites publish raw fantasy points allowed by position, but 4for4 goes a step further and adjusts those numbers for a defense's relative year-to-date schedule strength. Beginning this week and moving forward, aFPA will reflect the current season since we believe the three weeks of information begins to show reliable numbers and patterns.
Let's begin by diving into the passing game to see what o-line/defense matchups we can exploit.
Favorable Quarterback Matchups
Basically, what we're looking for here is a tall bar (a team ranked low in aFPA) towards the left of the graph (a team ranked high in offensive line play) for a positive correlation to offense and a small bar towards the right to a positive correlation for a defense. Here are the plays that stick out to me:
Saints

vs

Falcons

It's not much of a stretch to assume that those of you reading this article were already planning on starting your Saints, but I'm here to reiterate that it's a good idea. This week's highest implied team total via Vegas (32) squaring off against a team ranked 28th in our aFPA to quarterbacks is an auto-click for Drew Brees, but what about the ancillary pieces of the offense?

This game locks in Michael Thomas (WR1), Alvin Kamara (RB1) and even Latavius Murray (Flex/RB3), but I'm more intrigued by how we can use deep threats Tre'Quan Smith or Ted Ginn and even the seam-stretching Jared Cook. Jared Cook is as good of a desperation tight end start as anyone else you'll find on the waiver wire, even on minimal targets. His 6'5" frame working in the red zone for a team projected to score 32 points should make you feel comfortable enough to start him if you don't have one of the top-5 tight ends.

My favorite under-the-radar start on New Orleans is undoubtedly Ted Ginn. The elite play of the Saints offensive line has helped Drew Brees garner the highest completion percentage (74.4%) in the league while holding the ball 2.5 seconds or longer. This should open the window to deep passing against a defense that has allowed the fourth-highest percentage of explosive plays according to SharpFootballStats.com. Ginn is an intriguing ceiling play on teams where you believe you're the underdog, and priced at $3,700 on Draftkings, is a fantastic tournament play.
Colts

vs

Dolphins

If we only take one thing from last week's Dolphins victory, it's the fact that the players are not rolling over to the competition despite what the tanking situation would lead us to believe. Hopefully, the Indianapolis Colts discern this Miami team in the same way and attack their defense instead of laying back and grinding the clock out. Jacoby Brissett looks like he'll be good to go - and if not, Brian Hoyer would be a perfectly acceptable Superflex start for those dealing with injuries or a tough bye week. Peripherally this game sets up great for Marlon Mack, but if we take a step back we start to see some imperfections. There are, of course, his own running back mates who have throttled Mack's involvement down to 61% and 55% of the team's snaps in the last two weeks. (Snap% courtesy of 4for4's Snap App) What's more, of Marlon Mack's 159 carries this season, only three of them have been goal-line carries (Inside the five-yard line).

The Colts have opted instead to use the passing game deep in the opponents' red zone. Jacoby Brissett and Brian Hoyer have combined for 22 pass attempts from inside the 10-yard line, the sixth-highest rate in the league. Mack still makes for a good start, but there's a lot of upside in this passing offense.

Center Ryan Kelly had a scare last Sunday with a neck stinger, but he is going to get the start Sunday, meaning Indianapolis will remain one of only three teams to start the same five offensive linemen in every game this season. That's a good sign against this Dolphins team with possibly the worst coverage team and pass-rushing group in the league. It's doubtful this stout offensive line will falter but it will be slim pickings for Jacoby Brissett with T.Y. Hilton listed as doubtful and Parris Campbell declared out. Though a name that seemingly came out of nowhere, Zach Pascal is now the de facto number one receiver. As such, he is an acceptable play in nearly every format. With yardage totals of 53, 72, 106, and 76 already achieved on the year, it's not unreasonable to consider him a good play in Week 10 with his exceptional offensive line blocking a piteous defensive line - regardless of the quarterback.
Bills

@

Browns

The Bills come into this game as road underdogs and will look to expose a subpar Cleveland team that just had to cut it's starting safety after he made a slew of racially charged threats on Twitter. Though it's not fair to use those comments as a reflection on head coach Freddie Kitchens, it does tend to follow the trend of this season for the Browns; sloppy, undisciplined, careless play. Enter: the Buffalo Bills.

The holes in the Browns defense leave themselves susceptible to big plays, resulting in big box scores from players that have struggled against almost the entirety of the rest of the league. Players like Noah Fant (3-115-1), Robby Anderson (4-81) and A.J. Brown (3-100) have racked up yardage against Cleveland even though they've struggled in 2019 as a whole. Notorious speedster John Brown is a strong threat to break off a big gain, but he's also now created a floor for himself that he's never seen in his six-year career. Operating as Josh Allen's true number one receiver, Brown has 50+ yards in every single game this year, one of only two receivers (Michael Thomas).

John Brown remains a strong start for another week, while Josh Allen is a comfortable QB1 and Cole Beasley shouldn't make you squirm too much if you need to plug him in your Flex spot.
Favorable Defensive Matchups
Ravens

@

Bengals

There's plenty to unpack here, and a multitude of different angles the Ravens can attack this Cincinnati team. A.J. Green has been confirmed out which is a blow to Ryan Finley, who is making his first career start behind an offensive line that has been floating in my bottom-two rankings for the entirety of this season. The Bengals haven't moved the ball on the ground behind their line that ranks dead last with 3.13 Adjusted Line Yards, and they're currently on pace to post the worst ALY of the last 15 years. The passing game isn't much better, the inept line has a league-high 88 Blown Blocks (according to Sports Info Solutions) and sent Andy Dalton scrambling all the way to a bemoaning birthday benching.

On the Ravens' side of the ball, their coverage team has been bolstered by the return of Jimmy Smith and the addition of Marcus Peters. They will face off against Tyler Boyd, Alex Erickson and...Damion Willis? Auden Tate? Chad Johnson? The Baltimore defense has the highest floor of any play this week, with a very high ceiling if they can get their running game going. More on that later.
Steelers

vs.

Rams

Who would have thought just a year ago that the Los Angeles Rams offensive line would be one to exploit? Well here we are and there they are. After losing 235 career starts along the line in the offseason, everything depended on the play of the offensive tackles to maintain an upper echelon unit. That has not been the case. Left tackle Andrew Whitworth is beginning to look his age (38) and right tackle Rob Havenstein has allowed 30 quarterback pressures this season after allowing only 33 in 16 games of 2018. That's not likely to equate well with the staunch Pittsburgh pass rush featuring T.J. Watt, Bud Dupree and Stephon Tuitt.

The Steelers rank fifth in sacks and second in takeaways, averaging a ridiculous 2.75 forced turnovers through the first eight games of the season. I don't see enough here to warrant benching key pieces of the Rams offense (Cooper Kupp, Todd Gurley, Jared Goff - particularly in 2QB leagues) but I would still start the Steelers defense with confidence, especially in daily fantasy where they are priced way too low.
Favorable Running Back Matchups
The above rushing aFPA graph will work exactly the same way as the QB aFPA graph worked; tall lines on the left are areas we want to attack and short lines on the right should make you second guess the fantasy pieces associated with those offenses.
Packers

vs.

Panthers

We've picked on the Panthers rush defense a couple of times in the last couple weeks and so have opposing offenses. The Titans backfield combined for 17-83-1 on the ground and 8-69-1 through the air last week and the 49ers backfield went bonkers the week before; 235 yards on 35 carries and five touchdowns. Five. Touchdowns.

The numbers bare out in the advanced statistics to support this method of attack; the Panthers are a clear pass funnel defense, ranking as the third-best pass defense according to DVOA yet dead last in rush defense DVOA. The predicament we are now facing is exactly how we're going to handle this great matchup with the Packers backfield. After playing second fiddle to Aaron Jones through the first five weeks of the season (35% snap rate), Jamaal Williams is now seeing 46% of the snap share from Weeks 6 - 9. Things get even cloudier with a healthy Davante Adams taking his typical 10 targets away as well. Even with all these negatives, Jones remains a play in your season-long leagues but is inexplicably the most expensive ($7,400) he's been on Draftkings all year. Jamaal Williams, on the other hand, is affordably priced at $5,200 and has the following fantasy totals over the last month: 26.6, 13.1, 18.6 and 16.9. I like him as a tournament play this week.
Ravens

@

Bengals

As mentioned in the defensive section above, Baltimore shouldn't have much of a problem controlling the pace and direction of this game, as evidenced by their entering Cincinnati as 10-point favorites as a road team. If the Bengals defense has a strength it's the All-Pro defensive tackle Geno Atkins and to a lesser extent cornerback William Jackson and safety Jesse Bates. The rest of the team could use an upgrade, to say the least. The Ravens' best interest will be to avoid these key pieces and instead keep the ball on the ground and get into open space by taking the ball around the edge to force this miserable linebacking group to tackle.

This would make three usable pieces in the same backfield, with varying degrees of expected output. The most exciting is clearly Lamar Jackson, who racked up nearly 400 yards by himself when these two teams last met in Week 6 - with a career-high 152 of those yards coming on the ground. As the main "RB" in Baltimore's running back by committee, Mark Ingram will benefit from his offensive line's hearty 4.72 Adjusted Line Yards (seventh-highest) plugging away at a flimsy Bengals defensive line. If you've got him you're starting him. This leaves us with Gus Edwards who has an outside shot of putting up usable fantasy numbers for us. His 32% snap rate on the season is not exactly awe-inspiring but his season-high of 41% came back in their Week 6 matchup in which they were doing whatever they wanted to this same defense. In the very likely scenario where the Ravens shoot out to a big lead, I'd expect to see Edwards receive a good workload to protect Mark Ingram's legs.
Running Backs with Bad Matchups
As opposed to breaking down every bad match-up through the rest of the slate, here are some running backs I'm looking to avoid because of their poor offensive line and the strong defensive fronts they will be facing:
That's all I've got for this week, everyone. If there's something you'd like me to dig into specifically with regards to offensive line vs. defensive lines please give me a shout! For further reading regarding our aFPA statistic and how to use it in your favor, give John Paulsen's Sneaky Starts series a read!