Underdog ADP Risers & Fallers: June
Andy Lyons/Getty Images
Underdog best ball drafts are filling faster than they were a few weeks ago as more and more fantasy football folks are returning from whatever drafting hiatus they self-implemented. May changes in ADP are usually courtesy of the NFL Draft, the start of OTA hype, trades, or injury.
---
Additional Underdog Resources: Rankings | ADP | Tools | Draft Strategy | Free 4for4 Subscription
---
Let's take a look at the biggest risers and fallers at each position over the last four weeks in Underdog drafts, by comparing players' ADP from the start of May until June 3rd. I'll go position by position to tease out any relevant players' spikes or slides over the past month.
*All ADP is courtesy of 4for4's Underdog ADP Tool.
Quarterback
QB Risers
Jameis Winston

,

Saints

(ADP: 158.6, +12.4)

Winston's near-round rise in May could be that drafters are realizing he is indeed the Saints starter, or possibly the addition of rookie WR Chris Olave during the NFL Draft instilled some confidence in the New Orleans passing attack. The 28-year-old threw for 1,170 yards, 14 touchdowns, and three interceptions in the seven games he started for the Saints last season, and was the QB14 in fantasy points per game (16.8). Recovering from a torn ACL he suffered in October, a healthy Winston plus added weapons Olave and Jarvis Landry could be a great late-round fantasy asset at his current 14th-round price tag.
Jalen Hurts

,

Eagles

(ADP: 64.4, +7.8)

The Eagles QB is becoming one of the more divisive fantasy football players heading into 2022. Some love his possibilities this season, while others are writing Hurts and the Eagles offense off for fantasy purposes. It appears the believers elevated his ADP nearly eight spots throughout May, as he rose from the last pick of the sixth round up to the fourth. We can't forget that a trade for A.J. Brown went down during the NFL Draft which likely added to his ADP hike.

As a dual-threat, Hurts has incredible potential in 2022. He's coming off a season where he led all QBs in carries with 140 for 782 yards and 10 touchdowns, plus an additional 3,144 passing yards with 16 scores. He was limited by a late-season ankle injury which was surgically repaired and now has Brown at his disposal. The ceiling is the sky for Hurts this season.
QB Fallers
Ryan Tannehill

,

Titans

(ADP: 180.0. -41.2)

On the flip side of the A.J. Brown trade, Ryan Tannehill's ADP took a three and a half-round tumble with his WR1 no longer in Tennessee. Drafters were already skeptical of Tannehill's fantasy value coming off a QB16 season in fantasy points per contest, but with a run-heavy scheme and a depletion of star pass catchers to toss the rock to, fantasy managers are passing on Tanny and letting someone else take him at the end of the 15th round.

The Titans did add Robert Woods and Austin Hooper, along with rookie Treylon Burks this offseason, who all have the potential for fantasy relevancy. Drafters are blowing off this entire offense (including Derrick Henry whose ADP fell nearly three spots in May) and it seems like there could be value here. All pieces of the Titans are very cheap, and easy to correlate with their Week 17 opponent Dallas in Underdog drafts.
Mac Jones

,

Patriots

(ADP: 188, -38.4)

There's not much to say here except the Patriots didn't add excitement via the NFL Draft for Jones to work with, plus he's now being instructed by failed Giants coach Joe Judge. Jones' rookie campaign produced QB30 fantasy numbers and his current ADP puts him at QB25 with a small sophomore jump.
Justin Fields

,

Bears

(ADP: 135.4, -23.2)

Similar to Jones above, the lack of splash in the NFL Draft has people wary of the Bears' offense. With Allen Robinson now in LA, Fields backers were hoping for a much sexier rookie WR than 25-year-old Velus Jones, and are letting the sophomore QB fall nearly two rounds at this point in the summer. He could regain some draft capital as training camps get underway because the talent is there for some Konami code fantasy goodness.
Running Backs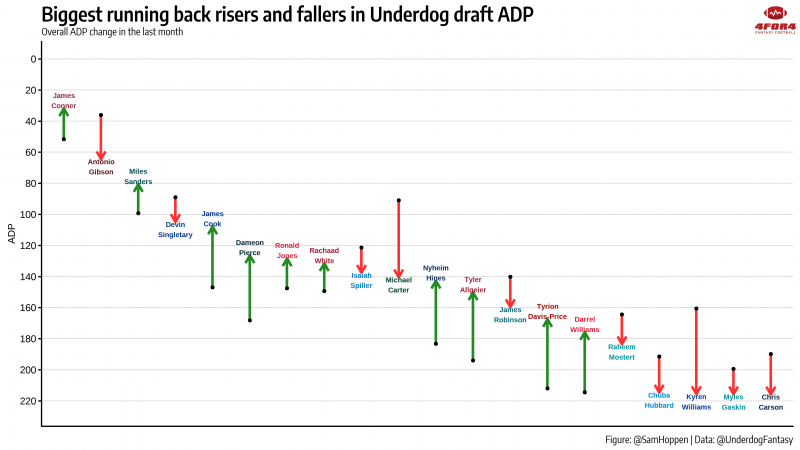 RB Risers
Tyrion Davis-Price

,

49ers

(ADP: 166.5, +45.4)

I'll assume this is a landing-spot spike, considering how much a Kyle Shanahan-run offense relies on their RBs. Elijah Mitchell should be their lead back, but you never know what to expect from the San Francisco backfield. Currently leaving boards in the 14th round, Davis-Price is worth a stab at this price point in Underdog formats.
Tyler Allgeier

,

Falcons

(ADP: 151.1, +42.9)

The release of Mike Davis following the NFL Draft has managers pretty stoked about the potential of rookie Tyler Allgeier this season. There was also this tweet from May 4th that added to the fervor.
"I think the Falcons could line up Cordarrelle Patterson at wide receiver more than running back next season," @mikerothstein on Fantasy Dirt @SiriusXMFantasy.

— Michael Fabiano (@Michael_Fabiano) May 5, 2022
Allgeier is currently a 13th rounder so his ADP is still within expectations of a rookie RB on a team in the midst of a rebuild, boasting limited weapons. His draft spot could continue to rise if reports from training camp are in the 22-year-old's favor, so if you believe in the rookie, draft him now.
Darrel Williams

,

Cardinals

(ADP: 173.4, +41.1)

After visiting Arizona in early April, the Cardinals finally signed Darrel Williams at the end of May. It's a great landing spot for the fifth-year RB as he only has to best Keaontay Ingram and Eno Benjamin for backup duties to the oft-injured James Conner. Williams is coming off a career-high finish as RB32 in half-PPR points per game with 10.1, and even with this ADP jump, is currently the 53rd RB off the board.
Nyheim Hines

,

Colts

(ADP: 142.3, +40.9)

The Hines bandwagon has been on a slow roll since Matt Ryan became the Colts QB, but an endorsement from HC Frank Reich may have aided in his ADP rise.
Attn: Fantasy football owners.



From Colts HC/play-caller Frank Reich: "If I was a fantasy owner, I'd consider drafting Nyheim (Hines)."

— Zak Keefer (@zkeefer) May 25, 2022
With limited ball catchers beyond Michael Pittman, Hines could play a significant role in Indy's pass attack and is still fairly inexpensive as a 12th rounder. Before the Carson Wentz debacle, Hines was RB6 in targets per game with 4.8 in 2020 and finished as the RB31 in half-PPR points per contest that season. With a potentially expanded role, the 25-year-old could easily best his current RB45 ADP.
RB Fallers
Michael Carter

,

Jets

(ADP: 140.3, -49.3)

All Michael Carter did was put up 10.3 half-PPR points per tilt for an RB30 performance as a rookie, and his payback was the Jets drafting Breece Hall with the 36th overall pick in the NFL Draft. It's a bummer for Carter and the cloudiness of the New York backfield, and as a result, Carter's ADP fell just over four rounds in May.
Antonio Gibson

,

Commanders

(ADP: 64.7. -28.7)

Gibson slid from the late-third round down to RB dead-zone land as a sixth-round pick. The Commanders appear to be attempting a re-creation of the Panthers backfield circa early-2000, with the RB duo of Gibson and rookie Brian Robinson, plus J.D McKissic handling the pass-catching duties. We can't disregard the third-year RB's talent and that Washington should be fairly run-heavy with Wentz under center, so this ADP fall could be advantageous if it continues throughout the summer.
Chris Carson

,

Seahawks

(ADP: 215.8, -26)

Drafters are writing off Chris Carson after the Seahawks selected Ken Walker with pick No. 41 of the 2022 NFL Draft. Seattle hasn't really divulged much information about Carson's recovery from neck surgery, thus the fantasy community is honing in on Rashaad Penny and Walker as their RB targets in this run-heavy offense. Carson went from a 16th-round dart to a final-round stab in May, and will most likely remain there unless he returns and shines in training camp, which turns this backfield into even more of a cloudy fantasy killer.
Wide Receivers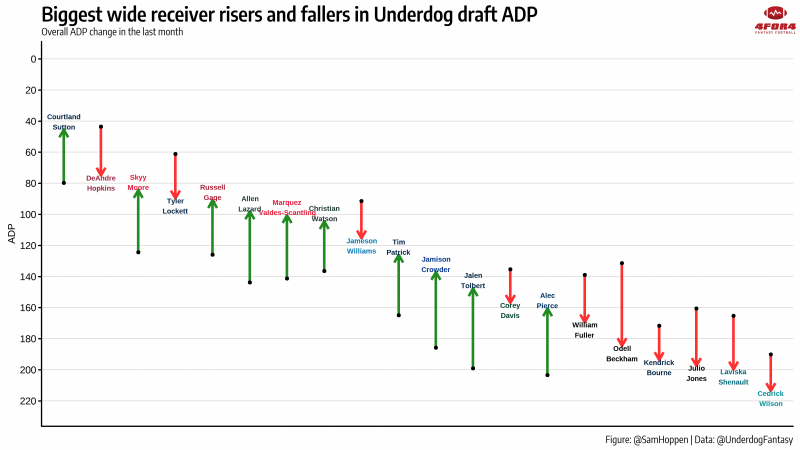 WR Risers
Jalen Tolbert

,

Cowboys

(ADP: 146.8, +52.2)

This rise is all about landing spot for rookie Jalen Tolbert. As a Cowboy, he could serve as their WR2 if Michael Gallup isn't ready to start the season, with only former Steeler James Washington in his way. Tolbert presents as a speedy, deep threat and currently sits as the WR52 in 4for4's half-PPR rankings, with a price tag of WR66 on Underdog even after the May jump. There's still value here as long as the rookie remains in the 12th round or beyond.
Jamison Crowder

,

Bills

(ADP: 136.4, +49.4)

This four-round jump doesn't make much sense considering Jamison Crowder signed with the Bills back in March, but maybe people are realizing that Gabriel Davis is way too pricey as an early-fifth round selection and want a piece of the Buffalo offense in 2022. Crowder has the talent to be fantasy relevant and finally has a solid arm in Josh Allen after wasting away in New York the last few seasons. The 28-year-old makes for a nice late-round grab on Underdog, as he should post some of those spike weeks we seek in best ball leagues.
Allen Lazard

,

Packers

(ADP: 97.5, + 46.3)

Aaron Rodgers is back in Green Bay without his trusty WR1, and the Packers didn't add an elite veteran, or draft one of the top-tier wideouts in this year's draft class. Rodgers and Lazard connected for 513 yards and eight touchdowns in 2021 and with Lazard currently slotted as the team's WR1, we could see higher volume and output for the fifth-year receiver. He went from a late-12th round pick up to the early ninth in a month, and could continue to rise depending on how both he and rookie Christian Watson look once training camps get underway.
WR Fallers
Odell Beckham

, FA (ADP: 184.6, -53.3)

The drafting community assumed OBJ would have found a home by now, but so far that is not the case. He was being selected in the 11th round at the start of May as a potential Ram but fell down to Round 16 in ADP over the course of the month. Recovering from ACL surgery, the former Giant, Brown, and Ram should ink a deal somewhere and is worthy of a late-round grab.
DeAndre Hopkins

,

Cardinals

(ADP: 75, +31.5)

News broke of a six-week suspension for DeAndre Hopkins for violating the league's PED policy on May 2, and his ADP dove nearly three rounds over the next month. The Cardinals acquired former Raven Marquise Brown during the NFL Draft which also could have had a slight impact on Nuk's ADP dip. Missing a third of the NFL season is not ideal for fantasy purposes, but in best ball formats, Hopkins could be a difference-maker down the stretch. Consider him a WR3/4 in 2022 and as the 37th WR off draft boards, he's justly priced.
Tight Ends
TE Risers
Robert Tonyan

,

Packers

(ADP: 137, +37.4)

Similar to Lazard, Robert Tonyan is the beneficiary of the fifth-most available targets from 2021 (248) combined with no new elite additions to the Green Bay offense. He is recovering from an ACL tear he suffered in Week 8 last season but is on track for 2022. As the current TE14, Tonyan has the upside to crack into the top 12.
Hayden Hurst

,

Bengals

(ADP: 182.2, +23.4)

Now a member of the Bengals, Hayden Hurst is still a steal even after jumping up close to two full rounds in May. With C.J. Uzomah in New York and 68 TE targets up for grabs, Hurst has the chance to easily best his TE23 ADP in Cincy's high-scoring offense. As a 16th-round pick, the former Falcon makes for a great complement to one of the elite early TE options, or if you're going with several late guys as a strategy for the onesie position.
David Njoku

,

Browns

(ADP: 151.2, +22.5)

I talk about David Njoku as a favorite in my article on late-round targets, and it seems I'm not alone, as his ADP climbed close to two rounds in the past four weeks. As the clear TE1 in Cleveland now, it's finally time for the Njoku breakout and you don't have to pay for it, even after the ADP spike.
TE Fallers
Noah Fant

,

Seahawks

(ADP: 169.2, -35.7)

The QB situation in Seattle didn't improve after the NFL Draft and Underdog drafters are not buying in on Noah Fant as a viable TE. He went from an early-12th round selection to an early 15th and is now the 21st TE leaving draft boards. Fant could have a few big weeks when either Drew Lock or Geno Smith is on, but is mostly a draft and pray TE in 2022.
Logan Thomas

,

Commanders

(ADP: 192.2, -31)

Thomas is coming off ACL surgery and could open the season on IR, meaning he would miss the first three weeks of 2022. As a 16th-rounder, the 30-year-old makes for a pretty nice late-round stab in this format as he could have some decent weeks in this convoluted offense. The two and half-round dip just adds to his appeal, so sprinkling in some Thomas may not be a bad idea.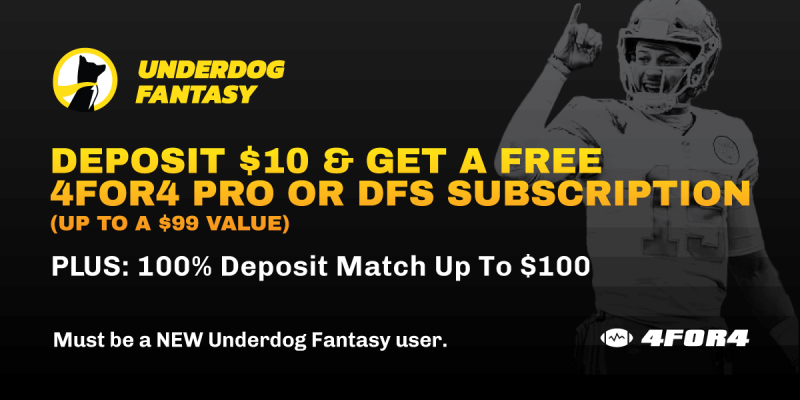 More Underdog Resources