TJ's #Taek: Week 6 NFL DFS GPP Recap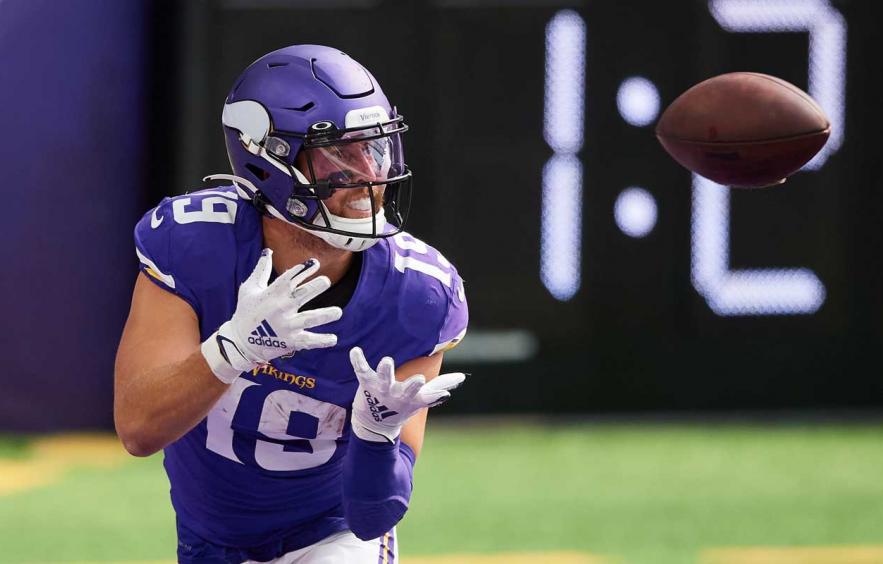 Hannah Foslien/Getty Images
Week 6's winning lineups from the biggest contests on FanDuel and DraftKings can be used to tease out lineup-building strategies and offer clues on how you could have landed on a similar team. Reviewing your hits and misses each week is imperative if you want to be a profitable DFS player but examining winning lineups is also a useful exercise in cultivating a winning approach.
---
More GPP Strategy: QB | RB | WR | TE | DEF
---
DraftKings Week 6 Millionaire Winning Lineup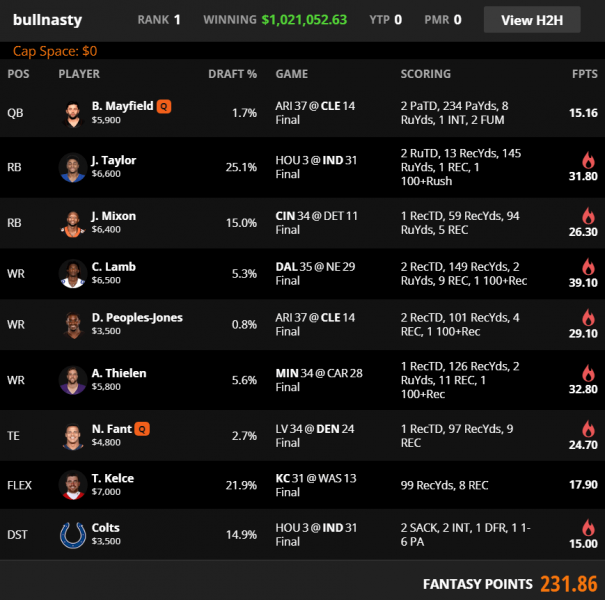 Most Rostered Players
This week's Millionaire winner took a true barbell approach to ownership, using two players on over 20% of rosters and the most popular defense on the slate with three sub-5% players, including a sub-1% wide receiver.
The primary stack of Baker Mayfield and Donovan Peoples-Jones provided massive leverage off of Kareem Hunt, the most popular player in the tournament, but that wasn't the only leverage the stack provided. Mayfield was a near-perfect salary pivot off of the heavily-rostered Taylor Heinicke while Peoples-Jones led to a unique salary allocation in a week where no receivers priced below $4,000 were in more than 5% of lineups. In Week 5, Peoples-Jones saw over 20% of Cleveland's targets, hinting at an increased role with Jarvis Landry still out.
Another seemingly unique aspect to this lineup was the decision to flex a tight end, but this was a strategy that was heavily utilized by the field with over 20% of Millionaire entries rostering two tight ends. Prior to Week 6, there hadn't been a Millionaire with a tight end flexed more than 12% of the time. Most lineups that did flex a tight end used some combination of Travis Kelce, Mark Andrews and Ricky Seals-Jones, making Noah Fant a great pivot in that strategy with the Broncos heavily favored over the Raiders at home.
Adam Thielen was almost the same salary as Marquise Brown and Brandin Cooks, two players with double-digit ownership, and served as a leverage play opposite a relatively popularly Chuba Hubbard.
A mini-stack including a running back continues to be a popular roster strategy, with four of six winners using that correlation and a fifth Millionaire winning lineup including a running back in their primary quarterback stack.
FanDuel Week 6 Sunday Million Winning Lineup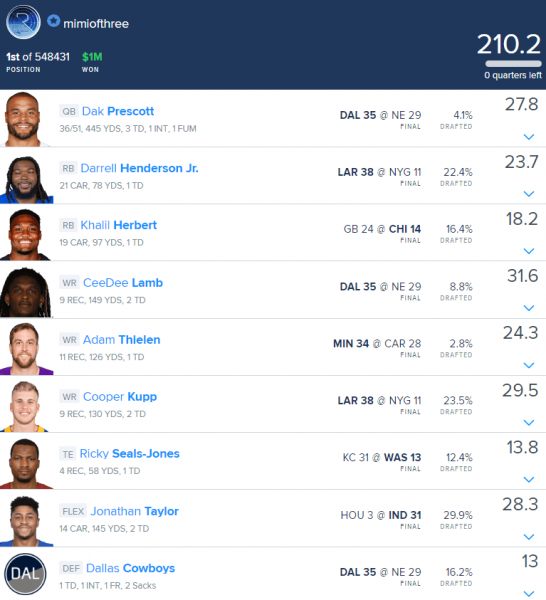 Week 6 saw the second-highest average ownership for a Sunday Million winner this year with an average above 15% and three players used in at least 20% of lineups. The major differentiator was a Dallas passing-game stack which used Dak Prescott as a price pivot off of Lamar Jackson who was in more than four times as many lineups as Prescott.
Dallas had the fourth-highest implied total on the slate but they projected ninth in cumulative ownership. CeeDee Lamb was highlighted as the leverage play of the week in the Sunday morning GPP Last Look show in the 4for4 subscriber-only Discord.
Almost as important as the players that were used in winning lineups was the player that wasn't used, namely Kareem Hunt. Hunt was in a salary range with four or five backs that had similar touch projections as well as the same or better game flow outlook and team scoring projections, but Hunt's ownership projection was much higher than the field. He also had a questionable designation that was largely ignored despite coachspeak that suggested that he could be limited. The upside of this week's running back field was highlighted by this build with all three running backs carrying ownership above 15% and providing ceiling games.
Every Sunday Million winner this season has used a mini-stack with a running back and two of those lineups included a running back in their primary quarterback stack.

TJs Final #Taek
Being contrarian and unique is essential to tournament success but how to differentiate your lineups should vary depending on whether you are playing on FanDuel or DraftKings. One spot where we see a big difference is at running back.
On FanDuel, running back hasn't typically been a position to differentiate at, at least so far in 2021—of the 14 running backs used, including flex plays, only three have had sub-10% ownership. Additionally, when tournament winners have rostered underdog running backs, those players have typically been relatively popular value plays. Split by point spread, running backs in winning Sunday Million lineups have averaged 17% ownership as favorites and 15% ownership as underdogs.
On DraftKings, we see a much larger gap in ownership between favorites and underdogs.
While the average ownership for the most popular running back in winning DraftKings Millionaire lineups has been just under 20%, the second back has typically been a contrarian play, averaging ownership around 7%. Those have often been underdogs. Among the 13 running backs used in winning lineups this season, seven underdogs have averaged 7.6% ownership while the six favorites have averaged over 17%.
The field in DraftKings tournaments is typically undervaluing high-volume running backs that are underdogs. With the full-PPR scoring and bonus opportunities, running backs can still have tournament-winning upside without a perfect game script, whereas on FanDuel, it's better to look for positive game flow unless you are getting a big salary discount.