Running Back Market Shares: Week 4 Report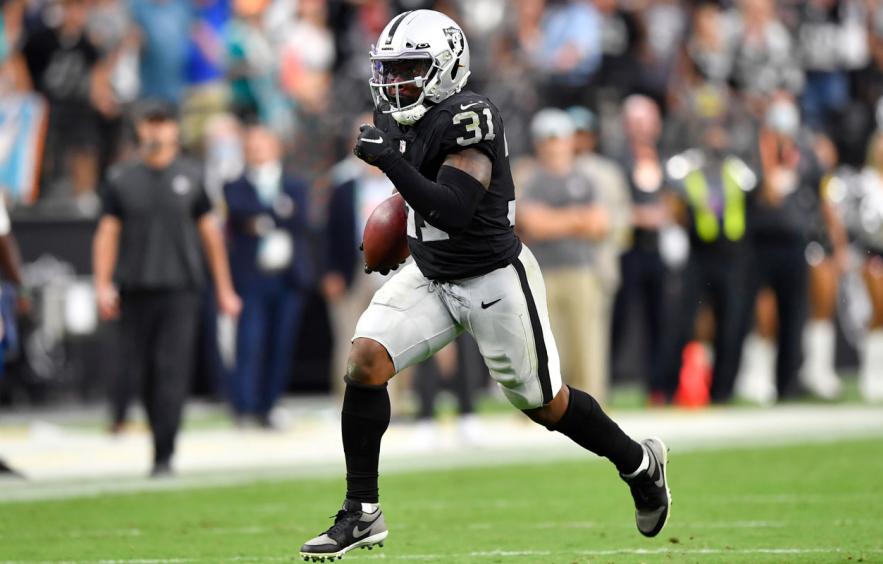 Chris Unger/Getty Images
In the modern NFL, the running back is no longer the focal point of an offense. Gone are the days where a 400-touch rusher is the norm, and now is the age of the running back-by-committee. With carries and targets being diluted between backs more than ever, it's important for fantasy managers to know which backs are seeing usage and how they're being utilized.
This column will explore the landscape of running back rushing and receiving through team market shares – the percent of a team's running back rushes or the team's passing targets. By looking at these rates of usage rather than raw totals, we help to strip away some of the noise of game script and pare our data down to the truer representation of how each offense thinks about its backfield.
Without any further ado, let's ring the bell and open the markets: which running backs had a significant change in usage in Week 3?
Carries
Trey Sermon

, San Francisco

49ers

, +96.0% running back rushing share

49ers' RB Trey Sermon was able to get active for this game after suffering a concussion in Week 2, and he was rewarded with all of the team's running back rushes in the contest. That did end up only being 10 total attempts, as the Niners spent much of Sunday night in negative game script. Still, it's notable that SF trusted their third-round rookie to tote the load especially given his short turnaround from the brain injury. With Elijah Mitchell still week-to-week with a shoulder injury, Sermon is in line for the majority (if not all) of the 49ers' running back touches for the foreseeable future.
Michael Carter

, New York

Jets

, +35.7%

The New York Jets are finally doing a smart thing and giving their fourth-round rookie, Michael Carter, the chance to prove himself. Even before he was ruled out with an illness (non-COVID), Tevin Coleman's snap share had dropped to just 10% in Week 2, signaling a shift towards Carter and satellite back Ty Johnson. Gang Green also had to play catch-up most of the game, so Carter's 75% running back rush share equates to just nine total carries, but this is a good sign for his usability in deeper fantasy formats.
Leonard Fournette

, Tampa Bay

Buccaneers

, -20.3%

It seems fair to call the Tampa Bay Buccaneers the "New England Patriots of the South" at this point. There's no telling which Bucs running back will end up the main fantasy asset, nor is there any indication of which one is on head coach Bruce Arians' bad side in any given week. Arians announced in Week 2 that Ronald Jones would start, then he promptly saw just six carries. In Week 3, Fournette was deemed the starter and ended up with four carries and three targets. Giovani Bernard (now day-to-day with an MCL injury) saw 10 targets, however. Expect to see a Tampa Bay running back on the "Five Up, Five Down" list essentially every week this season unless something changes drastically.
Salvon Ahmed

, Miami

Dolphins

, -37.5%

A week after leading the Miami Dolphins in carries, Salvon Ahmed was mothballed and received exactly zero touches. This could be an indication of potential deep-league value for Malcolm Brown, who got a lot of run early on in Week 3 if it was a specific coaching decision by Brian Flores. Myles Gaskin saw the biggest uptick in running back rush share, but Brown made a bench stash case for himself with his per-carry efficiency and score.

Others of Note: Nyheim Hines, IND (+32.7%); Brandon Bolden, NE (+27.3%); Phillip Lindsay, HOU (+26.7%); Ty'Son Williams, BAL (-18.7%); James Robinson, JAX (-19.4%); Marlon Mack, IND (-23.8%).

Targets
Najee Harris

, Pittsburgh

Steelers

, +19.2% team target share

The main storyline coming out of the Pittsburgh Steelers is how absolutely washed-up quarterback Ben Roethlisberger has looked through the first three games. One angle not getting enough attention, however, is that that is a very good thing for the fantasy value of Steelers' workhorse runner Najee Harris. With Roethlisberger's arm strength rapidly fading, Harris saw his already strong 13.5% team target share from Week 2 swell to a whopping 32.8% in Week 3. This target load shouldn't sustain indefinitely, but it's worth noting as another reason to believe in the weekly upside of Harris, as Pittsburgh completely reshapes itself around his talent and skill set.
Ty Johnson

, New York

Jets

, +15.2%

As mentioned before, Ty Johnson has seen the most work as a receiver out of the Jets backfield lately. He popped off especially profoundly in Week 3, though, after getting blanked in the passing game last week. Carter still earned a team target share over 9.0%, so it's not like he's struggling for work, but Johnson might be the Jets back to roster considering how badly New York has gotten run in the box scores so far in 2021.
Nyheim Hines

, Indianapolis

Colts

, +13.5%

In addition to a solid day on the ground (six carries for 25 yards and a touchdown), Indianapolis Colts' scatback Nyheim Hines posted his second game of the season with six or more targets. His skill set comes in especially handy when his team is playing from behind, and with quarterback Carson Wentz's ankles remaining a mess, the Colts could be on the back heel frequently in 2021. This is no death knell for the fantasy value of Jonathan Taylor, but it's definitely not a good sign that he's losing this much receiving work when coupled with the extension they gave Hines recently.
Peyton Barber

, Las Vegas

Raiders

, +13.2%

A mediocre rushing-only performance in Week 2 might have lulled potential Peyton Barber fantasy managers into dropping him after that game. In Week 3, however, the Las Vegas Raiders not only kept Barber the primary early-down back, but they also gave him almost a seventh of the team's passing targets, and more than even third-down complement Kenyan Drake. Drake is still a reasonable hold, given what we know about his skillset and Barber's history of mediocrity, but Barber is well worth a pickup if he's available in your league.

Others of Note: James Robinson, JAX (+10.3%); Chase Edmonds, ARZ (+9.5%); David Montgomery, CHI (+8.6%); Devin Singletary, BUF (-6.1%); Kenyan Drake, LV (-6.6%); David Johnson, HOU (-7.1%).
Goal-Line Work
Peyton Barber

, Las Vegas

Raiders

, +60.0% running back goal-line share

It's hard for me to explain how much good usage Barber is getting right now. He saw three of the Raiders' five goal-line running back touches, punching one of the rushes in for a score. With this much usage in the passing game and in scoring range, Barber is extremely useful in all formats.
Ezekiel Elliott

, Dallas

Cowboys

, +50.0%

Do you ever feel like NFL coaches hear the discourse about a player being washed up and then game plan specifically to try to dunk on football fans and sports media? Yeah, that's how I felt watching the Dallas Cowboys force-feed running back Ezekiel Elliott against a fairly staunch Philadelphia Eagles run defense on Monday night. They even gave him four of the team's eight running back goal-line touches, two of which he pushed into the end zone. Elliott should still have games like this and may end up shifting into the early-down bruiser for Dallas instead of an all-around sensation, but his production here feels less sustainable than it seems on the surface.

Others of Note: Kyle Juszczyk, SF (66.7%); Melvin Gordon, DEN (+42.9%); D'Andre Swift, DET (+25.0%).