DFS Optimal Values, Locks and Fades: Week 2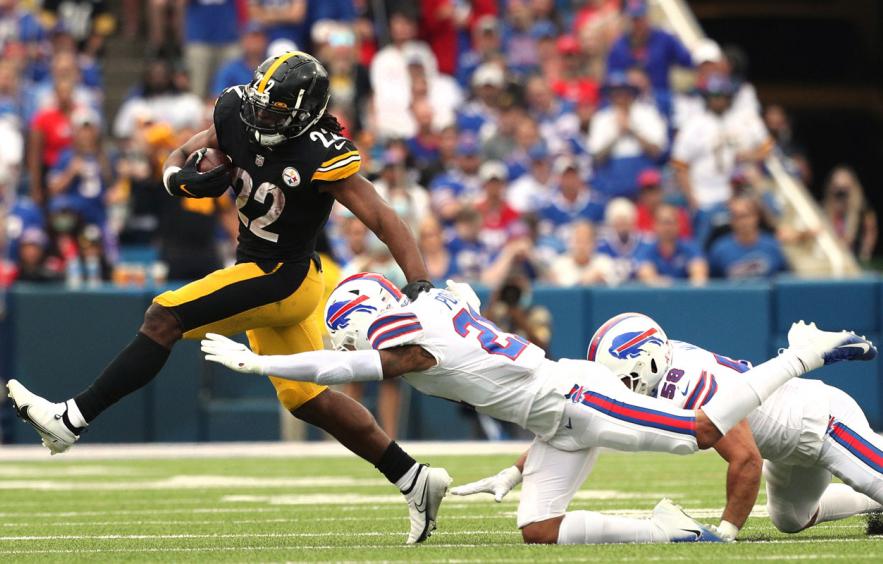 Bryan M. Bennett/Getty Images
In this article, we walk through the process of constructing an optimal lineup that will dominate your cash games on the main slate of Week 2. We start with the optimal lineups for FanDuel and DraftKings determined by the Lineup Generator. Then, we identify the players that are irreplaceable and should be locked into your lineup. For the remaining players, we discuss the main alternatives that you can swap in to make a winning team that best fits your own style.
For up-to-the-minute and Sunday morning updates, be sure to join the 4for4 DFS subscription-only Discord channel.
---
More Cash Game Strategy: FanDuel Breakdown | DraftKings Breakdown | Core Plays | WR/CB Matchups
---
FanDuel Week 2 Optimal Plays

Locks
Nick Chubb ($8,400) received 18 touches last week and totaled over 100 yards from scrimmage. This week he gets a Texans defense that allowed the most rushing yards per game last season. The Browns ran the football at the fourth-highest rate last year.
Dalvin Cook ($9,200) ran the ball 20 times and also received seven targets in Week 1. That was with the Vikings running at the seventh-lowest rate last week (29.3%). In 2020 they ran the ball at the sixth-highest rate (45.8%). The Cardinals' defense also allowed 125 rushing yards per game.
George Kittle ($6,700) caught four of five targets for 78 yards despite the 49ers having one of the lowest passing play rates in the league. The Eagles' defense mauled the Falcons last week but it's noteworthy that Kyle Pitts and Hayden Hurst combined for 43% of the team's targets. The 49ers will likely look to attack with a similar game plan.
Potential Build
At quarterback, our top value plays are Justin Herbert ($7,600) and Josh Allen ($8,100). Allen is always in play with his dual-threat ability and the Bills' willingness to air the ball out. However, Herbert has a juicy matchup against the Cowboys in a game with big shootout potential. Last season the Cowboys allowed the second-most passing touchdowns per game and allowed four touchdown passes in week one.
Had Najee Harris not performed well below what his points off volume suggests, we wouldn't be able to plug him in here at $6,100. If you haven't heard, Harris played 100% of the team snaps and yet he's priced with committee backs like Chase Edmonds ($6,000) and Melvin Gordon ($5,900). The outlook should look much better for Harris after he gets to play a Raiders defense that just allowed 189 rushing yards.
To load up at running back, we'll need to go cheaper at wide receiver. Cooper Kupp ($6,200), Mike Williams ($5,600) and Ja'Maar Chase ($5,500) round out the top values at our preferred price range. In Kupp's first game with Matthew Stafford at quarterback, he received 10 targets and had 100 receiving yards. The matchup isn't all that inviting though as teams preferred to run the ball against the Colts last season. In fact, the Colts saw the fifth-lowest passing play percentage against them.
All the hype Williams generated in training camp, appears to be translating to the regular season. Herbert targeted him 12 times in Week 1 and he caught a touchdown. Also encouraging is the fact that these were more of a function of the offense over his typical production coming from YOLO passes down the field. Chase rebounded from his drop issues in the preseason to have one of the most impressive debut performances ever. He caught five of seven targets for over 100 yards and caught a touchdown. Similar to the Colts, the Bears' defense doesn't entice teams to air the ball out but the Bengals have built their offense to do it anyway.
The Browns defense ($4,200) is easily our top value play. That said, I'm willing to punt defense in cash to add value to my core plays. One option could be to take the hit at defense and upgrade at receiver to our top value option DK Metcalf ($7,000). Moving off of Kupp could be a way to differentiate your lineup considering he will likely be a popular play.

DraftKings Week 1 Optimal Plays

Locks
Chris Carson ($6,100) had 19 touches and went over 100 total yards in Week 1. The Seahawks are 3.5-point home favorites in a game with a projected game total of 52.5 points. The Titans' defense allowed 127 rushing yards per game last season and allowed 136 in Week 1.
Last year Alvin Kamara ($8,800) scored six touchdowns on Christmas day. That was the first game he ever received 20 carries. Last week, he had his second career game with 20 carries. He's essentially cheaper Christian McCaffrey if he maintains that kind of usage.
Jalen Hurts ($6,500) is our top value play at QB. The 49ers' defense allowed the fourth-fewest passing yards per game last season but just allowed the Lions to throw for over 300 in week one. Also, their starting cornerback Jason Verrett has been placed on injured reserve. Hurts carved up the Falcons with 260 passing yards, three touchdowns and he also added 60 rushing yards.
Potential Build
Damien Harris ($5,400) received 23 rushes in week one and posted 100 rushing yards. The Patriots have historically used a committee at running back and while Harris caught two passes, there are running backs kept on the roster specifically to catch passes. Harris can be game scripted right out of the game and that hurts even more on DraftKings with the full PPR scoring. In this price range, I'd prefer both Myles Gaskin ($5,900) and Darrell Henderson ($5,700) if you can fit them in. Gaskin's 53% of the snaps is dead even with Harris but he is utilized in the passing game. In Week 1, Gaskin received five targets. Henderson may have the same receiving concerns as Harris but he at least looks like a workhorse in terms of playing time. He played nearly 95% of the snaps and punched in a touchdown.
Like on FanDuel, Kupp and Chase pop as top value options at wide receiver. However, to build out the roster with them we'll need to pay way down for a third option. Elijah Moore ($3,500) played 86% of the snaps and came close to bringing down a 50-yard bomb. I take these things into account because his price wouldn't be down here if he caught it. The matchup against the Patriots is tough but we are chasing the 25% of the team's air yards and the potential increase in targets.
I had George Kittle ($6,400) as a lock play on FanDuel and he is our top value play at tight end here. That said, paying down from him creates some interesting lineup-building possibilities. Noah Fant ($4,200) received eight targets last week and gets the Jaguars defense that allowed the third-most touchdown passes last season. With Jerry Jeudy out of the lineup, Fant could be the center of the Broncos passing game. Another cheap option is Cole Kmet ($3,700). Kmet played 74% of the team's snaps and received seven targets.
Additional salary would allow a jump up from Moore at receiver to one of our more preferred value options. Courtland Sutton ($5,200) received nine targets last week and will also benefit from the Jeudy injury. Tee Higgins ($5,400) was behind Chase in production for the Bengals but he actually left the game for a bit due to dehydration. He still caught four passes for 58 yards and a touchdown. If playing multiple pieces from the same offense concerns you, there's also Antonio Brown ($6,000). Brown isn't a full-time player for the Buccaneers but received seven targets and went over 100 yards in week one.
Playing Hurts, Kmet and Higgins would also allow a bump from one Harris to another at running back. Najee Harris ($6,300) is our fourth-best value play at running back and really doesn't have any of the concerns Damien does.