Running Back Market Shares: Week 13 Report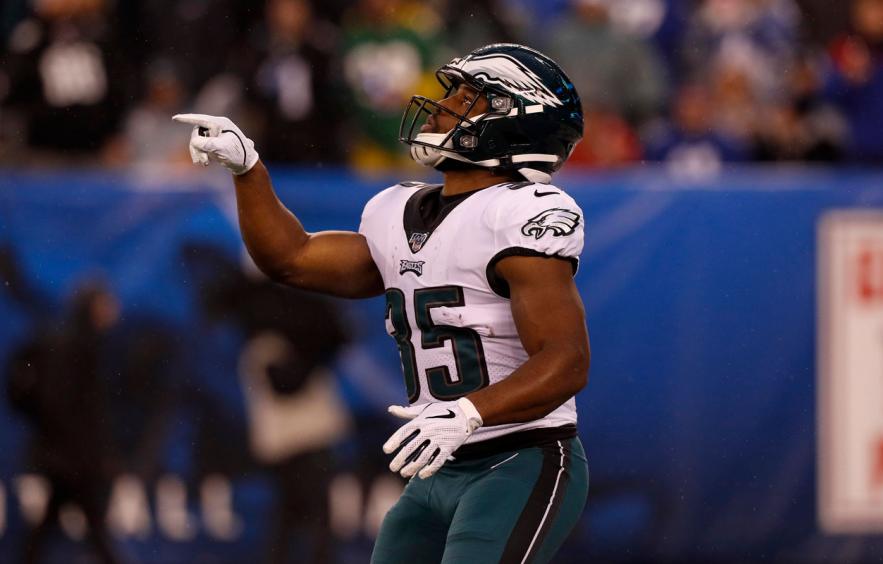 Jim McIsaac/Getty Images
In the modern NFL, the running back is no longer the focal point of an offense. Gone are the days where a 400-touch rusher is the norm, and now is the age of the running back-by-committee. With carries and targets being diluted between backs more than ever, it's important for fantasy managers to know which backs are seeing usage and how they're being utilized.
This column will explore the landscape of running back rushing and receiving through team market shares – the percent of a team's running back rushes or the team's passing targets. By looking at these rates of usage rather than raw totals, we help to strip away some of the noise of game script and pare our data down to the truer representation of how each offense thinks about its backfield.
Without any further ado, let's ring the bell and open the markets: which running backs had a significant change in usage in Week 12?
Carries
Tony Jones

Jr., New Orleans

Saints

, +85.0% running back rushing share

Without star running back Alvin Kamara or veteran Mark Ingram, the New Orleans Saints turned to Tony Jones Jr. in Week 12. Jones, a second-year undrafted man out of Notre Dame, has a robust frame very reminiscent of Ingram's and used it to bash into (not through) the Buffalo Bills' defense for just 27 rushing yards on 16 carries. That was an overwhelmingly large running back rush share, but Jones was scripted out of the passing game entirely. Those duties went to depth man Ty Montgomery, who led the entire offense with seven targets thanks to "Checkdown" Trevor Siemian.

One or both of Kamara and Ingram may return in Week 13 and Siemian might be replaced by running quarterback Taysom Hill, but this helps to know what the pecking order and backup plan are for the Saints as we head into the most crucial part of the fantasy calendar.
Boston Scott

, Philadelphia

Eagles

, +43.8%

If Philadelphia Eagles starter Miles Sanders could just stay healthy, maybe we wouldn't be talking about his backups so much. Nonetheless, Sanders rolled his ankle and could only muster nine total carries in Week 12. That meant an increased workload for Boston Scott, who turned his 18 combined rushes and targets into 72 yards from scrimmage and a score. Scott saw three targets and got all three of the team's goal-line chances, which makes him a high-value handcuff for an offense that is running a lot and a starting rusher who can't get out of his own way this year.
Phillip Lindsay

, Miami

Dolphins

, +33.2%

Not long after one of the worst offenses in football cuts you loose, you have to be feeling pretty low. That feeling will rapidly evaporate, however, if you start getting a third of the running back carries for your new team right out of the gate. New Miami Dolphins runner Phillip Lindsay should be sending a thank-you note to his former team for giving him the opportunity to show his stuff in a new locale. Lindsay's 12 carries in Week 12 were second only to starter Myles Gaskin's 16, and there's a non-zero chance that his role continues to expand and makes Miami a committee once again. Keep an eye on Lindsay, even though he saw most of his work in clock-killing duties with no targets or goal-line work.
Tevin Coleman

, New York

Jets

, +18.3%

With starter Michael Carter suffering an injury, it was Tevin Coleman who stepped up as a rusher for the New York Jets in Week 12. Coleman saw a slight majority of the backfield rushes and also facilitated a 13.0% team target share this past week to boot, fending off Austin Walter and Ty Johnson for lead duties across the board (except at the goal-line). Coleman is the rusher to roster in this offense, though this is obviously one of the worst offenses for fantasy production in 2021. Still, as we get into one more chunky bye week in Week 14 and injuries pile up, Coleman is a name to have on your Rolodex.
Targets
Elijah Mitchell

, San Francisco

49ers

, +23.1% team target share

Clearly, there were no issues with Elijah Mitchell's finger after a one-week injury tag, because he came back to a 93% running back rush share and nearly a quarter of the team's targets in the passing game to boot. This is a notice to all Trey Sermon truthers once again: he isn't happening; stop trying to make him happen. Only Jeff Wilson Jr. and fullback Kyle Juszczyk saw work in this backfield outside of Mitchell, which makes him a rare every-down back in a good offense. Assuming health, the San Francisco 49ers are Mitchell's team at least through the end of this year.
Ameer Abdullah

, Carolina

Panthers

, +16.0%

With the Carolina Panthers losing Christian McCaffrey to injury again this season, former second-rounder Ameer Abdullah has stepped up from return specialist to receiving specialist. Abdullah has gotten some offensive run across multiple teams this year, but he saw his biggest share of a team's targets to date in 2021 this past game, with six looks coming his way. He only caught two, so fantasy relevance is a little ways off still, but the peripherals are there for Abdullah to do some damage if he can seize the opportunity.
Rex Burkhead

, Houston

Texans

, +12.0%

With the Houston Texans' formerly five-headed monster of a running back committee cleared out a bit, it has been veteran Rex Burkhead that has taken the biggest slice of the pie in the aftermath. Burkhead has back-to-back weeks with over 50% of the team's running back rushes and added three targets to that pile of opportunity this past week. He still only turned in 54 scrimmage yards and 6.9 half-PPR points with those chances, but chances are a glimmer of fantasy hope if nothing else.
A.J. Dillon

, Green Bay

Packers

, -8.6%

The Green Bay Packers look to be getting star Aaron Jones back to full strength in the next week or so anyway, so it's no surprise that A.J. Dillon's workload could be reduced soon. It is surprising that he lost half of the previous week's target share in a game where Jones saw no targets, however. He still captured basically all of the rushing work with Jones easing back into the role, but this is a reminder that Dillon's primary, dependable value comes from his work on the ground. Anything we get through the air – especially once the offense is at full strength – is a bonus.

Goal-Line Work
Austin Walter

, New York

Jets

, +66.7% running back goal-line share

As mentioned before, the Jets' backfield is in a bit of turmoil. Austin Walter came out of nowhere to pick up nearly a third of the team's running back rushes in Week 12, with two of them coming inside the opposing 10-yard line. He scored on one of those and led the Jets in fantasy points this week, because of course. It'll be hard to depend on Walter's fantasy value moving forward, but he's an interesting unknown to keep your eyes on in case Coleman or Johnson falter down the stretch.
Ronald Jones

, Tampa Bay

Buccaneers

, -22.2%

The Tampa Bay Buccaneers love Leonard Fournette. They keep showing us this time and time again. Ronald Jones is, to them, nothing more than an afterthought on offense. He sees typically less than a third of the team's running back rushes and doesn't even get goal-line or short-yardage work consistently. He's a handcuff in case of a Fournette injury but has no standalone value at this point.