Running Back Market Shares: Week 10 Report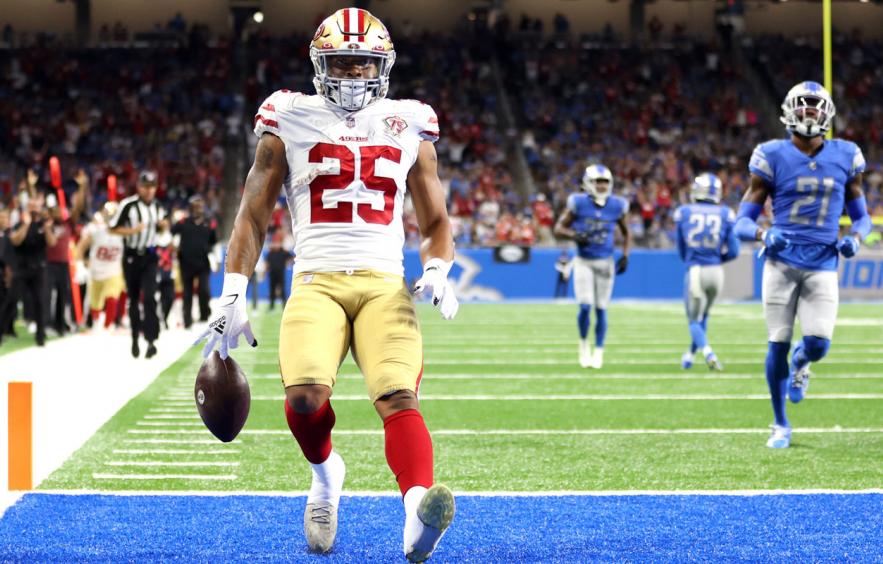 Gregory Shamus/Getty Images
In the modern NFL, the running back is no longer the focal point of an offense. Gone are the days where a 400-touch rusher is the norm, and now is the age of the running back-by-committee. With carries and targets being diluted between backs more than ever, it's important for fantasy managers to know which backs are seeing usage and how they're being utilized.
This column will explore the landscape of running back rushing and receiving through team market shares – the percent of a team's running back rushes or the team's passing targets. By looking at these rates of usage rather than raw totals, we help to strip away some of the noise of game script and pare our data down to the truer representation of how each offense thinks about its backfield.
Without any further ado, let's ring the bell and open the markets: which running backs had a significant change in usage in Week 9?
Carries
Adrian Peterson

, Tennessee

Titans

, +45.5% running back rushing share

In the wake of the Derrick Henry injury, many NFL analysts projected that the Tennessee Titans would immediately employ veteran running back Adrian Peterson as their lead rusher. Those people, though I thought they were being cynical, were proven correct straight away. Peterson tried out, was signed roughly 28 seconds later, and then lumbered his way to 10 carries for 21 rushing yards. This is fine, and also it is good. His fantasy day was salvaged by a rushing touchdown and some receiving work, but this is gonna be ugly if the Titans stick to AP leading the charge. It's worth noting that Jeremy McNichols and D'Onta Foreman each had about 20-35% of the team's running back rushes, so it's not like they're not involved. Hopefully, head coach Mike Vrabel just tweaks the knobs on these backs' shares of the ground game; no one wants to see this offense willingly starting a skill position player who was drafted in the same year as Hall of Fame Class of 2021 inductee Calvin Johnson.
Eno Benjamin

, Arizona

Cardinals

, +29.0%

With every tragedy, a joy: though the Arizona Cardinals' Chase Edmonds will be sidelined for a while with an injury now, electric backup Eno Benjamin has stepped into the lineup and seems likely to prove a capable substitute. Benjamin immediately slid into almost half of Edmonds' vacated 55% of running back rush share, though he's still well behind early-down thumper James Conner, who also soaked up an additional 26.1 percentage points of work. The one troubling aspect for Benjamin is that he saw a grand total of zero targets after Edmonds' injury; instead, Edmonds' entire 12.9% target share from Week 8 (and then some) was soaked up by Conner. Benjamin is depth and insurance for Conner with upside, but also without much of a floor.
Myles Gaskin

, Miami

Dolphins

, +20.2%

It's good to see Myles Gaskin largely functioning as the whole backfield for the Miami Dolphins. The former seventh-round pick has at points been a three-down guy, and at points been a committee member, but his all-around versatility and continued productivity have earned him a dominating share of touches. He went up to 83.3% of Miami's running back rushes in Week 9, increasing his team target share to a sturdy 15.4% as well. Gaskin is still not the sturdiest dynasty player, but he's a value going forward through the 2021 season.
Justin Jackson

and

Larry Rountree

III, Los Angeles

Chargers

, -16.7% and -17.5%

Another back whose work has inexplicably gone up and down, Austin Ekeler finally also crested the 80% running back rush share mark again this past week. That did come largely at the expense of Justin Jackson and Larry Rountree, the Los Angeles Chargers' change-of-pace backs. Game script dictated a precipitous drop in team target share for lead back Ekeler, but it's a huge bonus for the dual-threat fantasy star if he's getting a wide majority of the rushing work on a regular basis.

Others of Note: Samaje Perine, CIN (+27.8%); Jordan Howard, PHI (+26.2%); D'Onta Foreman, TEN (+22.7; A.J. Dillon, GB (-11.6%); Zack Moss, BUF (-20.0%)%); Damien Harris, NE (-20.3%).
Targets
Elijah Mitchell

, San Francisco

49ers

, +13.5% team target share

This performance kinda came out of nowhere for the San Francisco 49ers' Elijah Mitchell. Week 9 was by no means his best fantasy day, but – in heavy comeback mode – the Niners' sixth-round rookie saw a career-high five targets, caught all of them, and turned them into 43 receiving yards. That also meant he had just eight rushes for 36 yards, but Mitchell flashing a versatile skill set is helping further solidify his position atop this depth chart this season (and perhaps in years to come).
Mark Ingram

, New Orleans

Saints

, +6.6%

With lead back Alvin Kamara a bit banged up, new/old New Orleans Saints running back Mark Ingram stepped in and saw five looks in the passing game (he caught all five for 21 yards). Add that to a solid ground performance of 43 yards on nine rushes and it looks possible that Mark Ingram is having a season resurgence on his first team. If Kamara misses any time, there will undoubtedly be a committee, but Ingram seems likely to get the first and best crack at that work in a run-heavy offensive scheme.
Khalil Herbert

, Chicago

Bears

, -7.4%

One sixth-round rookie rises, and another falls in Week 10. With the return of David Montgomery from injured reserve, Chicago Bears rookie runner Khalil Herbert was relegated to the bench on all three downs. Herbert had functioned as the three-down workhorse in the absence of Montgomery and receiving specialist Damien Williams, but with both back and healthy, Herbert will be a change-of-pace runner more than anything else. His target share dropped to 0% in Week 9, and he'll be hard-pressed to find fantasy value without another injury in his backfield.
Mike Davis

, Atlanta

Falcons

, -15.7%

Speaking of struggling to find fantasy value, the fluky receiving workload of Week 8 for Atlanta Falcons' "primary" back Mike Davis was proven to be just that: fraudulent. Davis saw a handful of rushes in Week 9 but – most importantly – his team target share plummeted back under 5%. In order for Davis to be fantasy-viable in a diminished role, he needs receiving work. With Cordarrelle Patterson dominating those touches, though, that's not likely to happen any time soon.

Others of Note: David Johnson, HOU (+10.3%); Elijhaa Penny, NYG (+8.1%); Rhamondre Stevenson, NE (+6.4%); Boston Scot, PHI (-6.7%); Ezekiel Elliott, DAL (-7.3%); Zack Moss, BUF (-11.0%).

Goal-Line Work
Jonathan Taylor

, Indianapolis

Colts

, +0.0%

Indianapolis Colts lead back Jonathan Taylor's share of the goal-line work didn't change from Week 8 to last week, so why is he being highlighted here? That's exactly why: stability. Taylor has at points had to share this backfield – including the incredibly valuable goal-line touches – with Marlon Mack and Nyheim Hines, but this is the first pair of weeks where he has gotten every single goal-line touch both times. Taylor's arrow in fantasy is still climbing upwards.
Melvin Gordon

, -40.0% running back goal-line share

Don't be alarmed by Denver Broncos veteran Melvin Gordon shedding two out of five goal-line touches to rookie Javonte Williams this week. This backfield – including the receiving work – has largely settled into a 60-40 split in favor of Gordon, and that's fine enough if you're able to acquire him in fantasy going forward this season. There are likely still plenty of players in your leagues who think the Javonte experience is inevitable this year, but Gordon is a talented player and is getting used in a way reflecting that talent. At this point in the year, that's far more signal than noise.

Others of Note: David Montgomery, CHI (+100.0%); Sony Michel, LAR (+83.3%); Jordan Howard, PHI (-17.1%); Austin Ekeler (-33.3%).