Fantasy Football Debate: Keenan Allen vs. Michael Thomas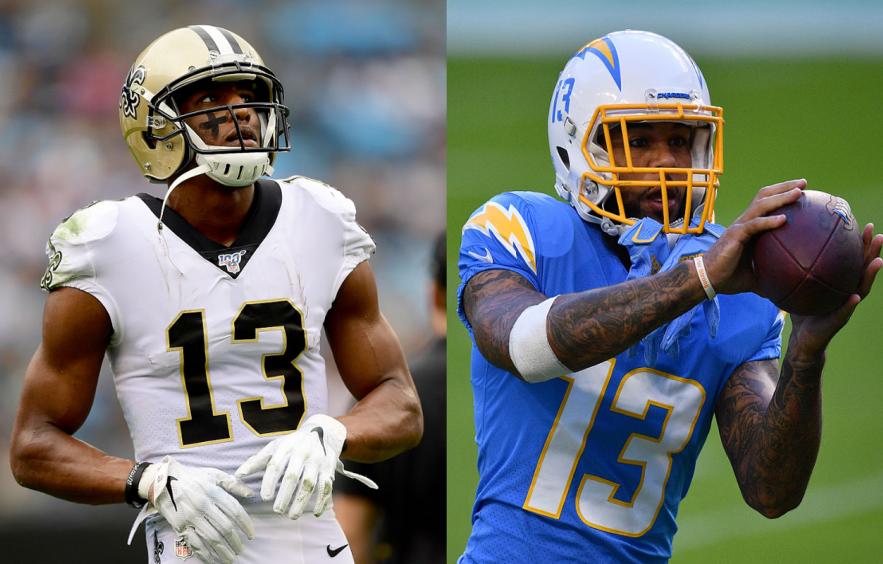 Jacob Kupferman/Mark Brown/Getty Images
Michael Thomas and Keenan Allen are being drafted as the WR9 and WR10 on Underdog Fantasy. In this debate, Frank Ammirante explains why he prefers Thomas while Jennifer Eakins argues for Allen as her preferred pass-catcher.
---
Other Fantasy Football Debates: Kyler Murray vs Lamar Jackson | Allen Robinson vs Terry McLaurin | D.J. Chark vs Laviska Shenault
---
The Case For
Michael Thomas
Frank: Michael Thomas is coming off an injury-plagued season, where he was limited to 40 receptions for 438 yards with zero touchdowns in seven games. Thomas enters his age-28 season with limited competition for targets. Currently being drafted as WR9 (26.6 ADP) in Underdog Fantasy leagues, Thomas comes at an affordable price. He definitely needs to be selected ahead of Keenan Allen, who is going as WR10 (27.4 ADP). Let's take a look at why this is the case.
Limited Competition for Targets
The Saints allowed wide receiver Emmanuel Sanders and tight end Jared Cook to sign elsewhere in free agency. Surprisingly, the team decided not to replace these players, which leaves Tre'Quan Smith, Marquez Callaway, and Deonte Harris to compete for the WR2 spot (it will likely be Smith). Second-year, former third-rounder Adam Trautman takes over at tight end. These four players combined for 90 receptions and 1,018 yards last season. While we can project increased roles this year, it's pretty clear that Thomas is going to be absolutely peppered with targets.
Thomas posted a 28.1% target share last year, which ranked fourth behind Davante Adams, DeAndre Hopkins, and Stefon Diggs. This type of volume tells us that it's pretty clear that "Slant Boy" would have produced at a high level were it not for injury. This is not a player who is on a downward trajectory. At the same time, with Drew Brees's retirement, fantasy players are concerned about the impact of the change at quarterback. Let's address those concerns.
New Quarterback, New Opportunity
Last season, Taysom Hill made four starts for the Saints, but one of those games was against the Broncos with wide receiver Kendall Hinton at quarterback. We can omit that game because the Saints won it before the whistle was even blown. During the three games with a regular game-script, Thomas caught 26-of-31 targets for 293 yards with target shares of 52.0%, 29.7%, and 21.6%. Hill really locked on to Thomas and we can expect more of the same if he's able to win the starting job.
If Jameis Winston wins the job, it's a huge opportunity for Thomas to prove to the league that he can do more than just run slants. Let's not underestimate the added motivation here, as Thomas likely has a chip on his shoulder coming off a disappointing season and trying to re-establish himself as an upper-echelon receiver in the NFL. Winston loves to take shots downfield, although we can expect a more tempered approach under Sean Payton's tutelage, especially because the defense is stout and Hill is waiting in the wings.
At the same time, when we last saw Winston as a starter, he helped Chris Godwin (WR2) and Mike Evans (WR3) in falf-PPR leagues back in 2019. Evans (15.1 average target depth) and Godwin (10.5 average target depth) were each targeted downfield, so we can reasonably project a career-high in this category for Thomas if Winston is under center.
2021 Outlook
Thomas is only one year removed from a record-breaking season where he caught 149-of-185 targets for 1,725 yards and nine touchdowns. Before last year, Thomas put up at least 147 targets in three consecutive seasons, which would have ranked fifth in the NFL last year, one ahead of Keenan Allen.
Allen is a great receiver, but you shouldn't be taking him over Thomas. While Allen has the better quarterback in Justin Herbert, he has to compete with Austin Ekeler, Mike Williams, and Jared Cook for targets, while Thomas deals with Kamara as well as inexperienced players like Smith and Trautman. Allen also showed declines in efficiency last season, posting a career-low 9.9 yards per reception. Thomas has the higher ceiling and floor due to the clear path to massive volume. Go with Thomas over Allen.

The Case for
Keenan Allen
Jennifer: Keenan Allen doesn't have a fancy nickname, but it should be Mr. Slept-On. He's caught 100 or more balls and put up over 1,100 yards in three of the past four seasons and he probably would have gotten there last year (992) had he not been sidelined in Week 15 for a hamstring injury and been placed on the COVID-19 list for the remainder of 2020. Allen is a consistent production machine, as shown by his fantasy finishes over the past four seasons.
Keenan Allen

Fantasy Output, 2017-2020

| Year | Half-PPR Points/G | Positional Rank | Total Half-PPR Points | Positional Rank |
| --- | --- | --- | --- | --- |
| 2020 | 13.9 | WR11 | 195.1 | WR14 |
| 2019 | 13.1 | WR12 | 209.5 | WR8 |
| 2018 | 13.1 | WR18 | 209.6 | WR12 |
| 2017 | 14.2 | WR4 | 227.2 | WR3 |
The 29-year old has everything you want from an elite wideout from quick feet off the line of scrimmage and solid route running ability to sticky hands and the knack for getting open as few receivers can. Now tied to one of the best young QBs in the NFL in Justin Herbert, we could easily see a top-10 finish from Allen in half-PPR formats and perhaps a top-5 ending in PPR leagues.
Allen's projected volume is a thing of beauty for fantasy purposes. He saw 147 targets last season in 14 contests, which ranked fourth overall among wideouts. Only five WRs reached double-digit targets per game in 2020, and Allen's 10.5 was the third-most. Imagine a full 17-game season.
Hunter Henry was next in the Chargers pecking order in terms of volume with 6.6 targets per tilt and he's now across the country in New England. They brought in journeyman Jared Cook as his replacement but it's unlikely he'll see similar usage which could mean a bump in Allen's looks. Rookie Josh Palmer is also in the mix which helps firm up a supporting cast around Allen and his talented QB.
Speaking of QBs, Michael Thomas doesn't know who'll be throwing him the ball yet in 2021. Will it be an erratic Jameis Winston who was great for fantasy in 2019 with almost as many interceptions (30) as touchdowns (33), or Sean Payton's gadget project Taysom Hill, or possibly both? Either way, it's a downgrade from Drew Brees and the rapport he and Thomas had built over their five years together in New Orleans.
Thomas is a star but is coming off a rough 2020 campaign where an ankle injury limited him to just seven contests which seemed to also hamper him for the rest of the year. He never reached the end zone during the regular season and only crossed 100 receiving yards twice last year. There's also the fact that he got into a fight during practice with safety C.J. Gardner-Johnson, along with rumors of some talking back to coaches that got the 28-year old benched for Week 5.
I assume that's all behind him now including the injury, and Thomas should still be the focal point of the Saints passing game in 2021. While he's a solid option and most likely a Top 10 wideout, Allen is my choice at their very similar ADP due to the guy throwing the football and the gadgetless offense he plays in. Allen is currently being drafted on Underdog at 27.8 as the WR10 with Thomas leaving boards as WR8 at 27.3.