Fantasy Football Debate: Kyler Murray vs. Lamar Jackson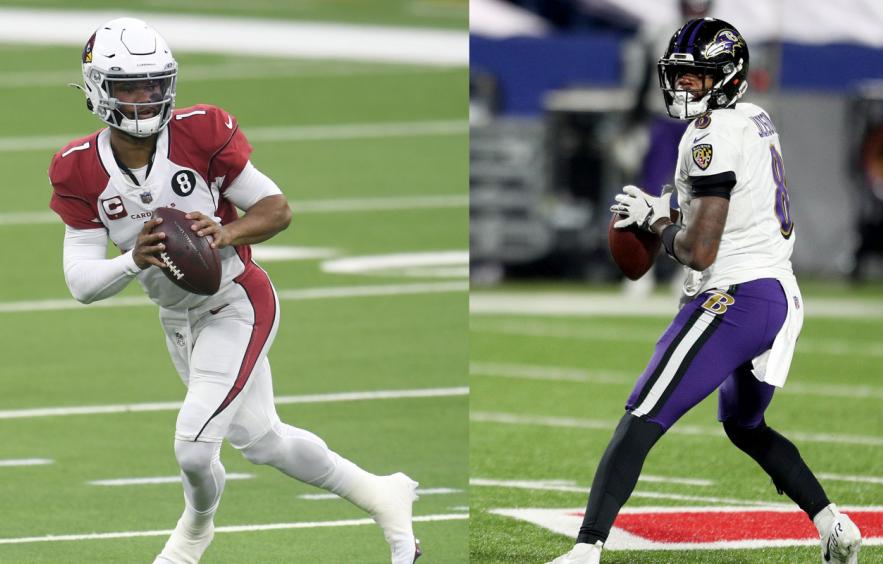 Harry How and Bryan Bennett/Getty Images
Kyler Murray and Lamar Jackson are being drafted as QB4 and QB3, respectively on Underdog Fantasy. In this debate, Justin Edwards makes his case for Lamar Jackson while Frank Ammirante argues for Kyler Murray.
---
Read other player-specific analysis from the 4for4 staff: Player Profiles | More Debates | Quarterback Rankings
---
The Case for
Kyler Murray
Frank: Kyler Murray is coming off an impressive sophomore season. He completed 67.2% of his passes for 3,971 yards on 558 attempts (7.1 Y/A) with 26 touchdowns and 12 interceptions. He also added 819 rushing yards on 133 attempts (6.2 Y/A) with 11 touchdowns. Murray has everything you want in a dual-threat quarterback. Currently being drafted as QB4 (56.2 ADP) in Underdog Fantasy leagues, Murray is undervalued. He definitely needs to be selected ahead of Lamar Jackson, who is going as QB3 (54.0 ADP). Let's dive in to find out why.
A Season Derailed by Injury
Murray first suffered a shoulder injury in Week 9 against the Dolphins. He then landed on it in Week 11 against the Seahawks. Murray decided to play through the injury, but this caused him to play more tentatively, especially as a runner, where he tried to avoid hits. It also affected his effectiveness as a passer. Let's take a look at his splits from Weeks 1-8 compared to Weeks 9-17: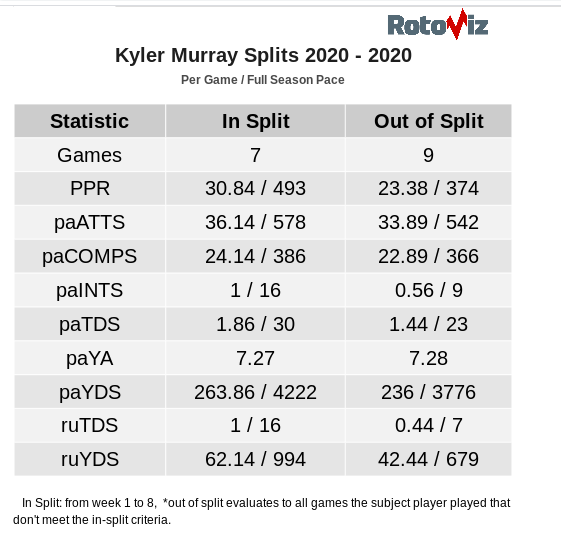 As we can see, Murray was in the middle of a historic fantasy season, averaging 30.84 fantasy points per game during the first seven games before suffering the shoulder injury. According to Stathead, this would have been the highest fantasy points per game of all-time for a quarterback, more than three points higher than Lamar Jackson's record-setting 27.71 total in 2019. Now healthy, the sky's the limit for Murray entering the 2021 season.
Improved Team Context
When Kliff Kingsbury joined the Arizona Cardinals in 2019, he wanted to run a spread offense, utilizing four wide receiver sets more than any other team in the league. In his NFL coaching debut against the Lions, Kingsbury used four wide receiver sets 45 times, which was nine more than the combined total of every NFL team that week (36).
Kingsbury was not able to continue to do this because of the team's lack of depth at wide receiver. In 2019, the Cardinals started out the year with Larry Fitzgerald (36 years old), Christian Kirk (2nd year), Andy Isabella (2nd-round rookie), KeeSean Johnson (6th-round rookie), and Michael Crabtree (played two games that year, final season). Since then, the team has made it a priority to improve the wide receiving core. Last offseason, they traded for DeAndre Hopkins. This year, they signed A.J. Green and drafted Rondale Moore in the second round.
What does this mean? The team now has more wide receiver depth than ever before, so Kliff Kingsbury can finally run his offense at full capacity. He can use Murray as a distributor in spread formations, similar to a point guard in an NBA offense. Murray should be able to ascend to new heights as a passer while maintaining his elite rushing upside. This has mouth-watering implications for his fantasy outlook this season.
The Ultimate Dual-Threat QB
Lamar Jackson is generating a lot of hype this offseason because the Ravens have significantly upgraded his pass-catchers while explaining that their offense will evolve to a more balanced unit. This sounds appealing to fantasy players because we'll see more passing volume for Jackson with similar rushing upside. That's great news and I do like Lamar has a fantasy quarterback this year, but here's the thing: we already have that with Kyler Murray.
Murray is the rare dual-threat quarterback who is also a high-volume passer. In 2020, Murray averaged 34.9 pass attempts per game (T-10th) with 8.3 rush attempts per game (3rd), 24 red-zone attempts (T-4th), and 819 yards (2nd). There isn't a quarterback in the league who can run like Murray and air it out at such a high volume. We can get excited about Lamar and the new Ravens offense, but we can't take him over a player who has already demonstrated the ability to operate effectively at high volume in both passing and rushing. Draft Kyler Murray over Lamar Jackson in your fantasy drafts this year.

The Case for
Lamar Jackson
Justin: After a scorching MVP-winning sophomore season, Lamar Jackson —relatively— fell back to earth in 2020, finishing as fantasy's QB10 in both overall scoring and points per game. Being that Jackson had more fantasy points per game than any quarterback in the history of the sport in 2019, it was understandable to expect a little bit of normalcy heading into last season. Opposing defenses were able to key in on a wide receiver group that consisted of Willie Snead, Miles Boykin, and an inefficient Marquise Brown while the offensive line dealt with injuries and retirements from the most important pieces to their infrastructure.
Regardless of the setbacks of the offense, Jackson was a consistent QB1 throughout the year because of his rushing floor and is now the only quarterback who can boast two separate 1,000+ yard seasons on the ground. Most understand the intrinsic value of his legs, but the additions and upgrades around Jackson are what make him a sensible bet to battle it out as the overall QB1 in fantasy for the 2021 season.
While targeting players lined up out wide, Jackson had a mediocre 73.7 on-target % (20th/36 qualifying quarterbacks), but a completion % of only 58.0 (30th/36), hinting at the inefficiency of the players he was forced to target. Marquise Brown and Miles Boykin combined for 61 such targets, turning 42 catchable balls into 33 receptions, and six drops. The next leading receivers while lining out wide were disappointing rookie Devin Duvernay and recently un-retired Dez Bryant. Understanding the need to address this problem and threaten defenses not only deep, but horizontally, the Ravens used draft capital to shore up the far edges of their formations.
Baltimore kicked things off in the first round by selecting Rashod Bateman, a boundary receiver that is sure to stretch the defense and attack the ball with his catch radius and exceptional speed. He instantly offers an upgrade to the offense and will force defenses to think twice about simply playing "isolation", compelling safeties away from consistently playing for the run. In the fourth round, the Ravens went with another perimeter receiver, Tylan Wallace, who can either develop and play opposite Bateman or be used as a hedge if their first-round pick doesn't explode onto the scene as many believe he will.
Both of these picks came one month after signing a veteran wide-out presence in former Chief Sammy Watkins. Though Watkins' long and winding injury history will make his time with the Buffalo Bills (125 catches, 2,029 yards, 15 touchdowns in his first two NFL seasons) seem like a lifetime ago, it introduces one more possible weapon for Lamar Jackson and instigates yet another reason to move Hollywood Brown into the slot where he can find more open-field targets and fewer possibilities for 50/50 balls.
Jackson's team simply attacked their two biggest weaknesses this offseason, by pouring resources into outside receivers and bolstering their offensive line by adding Alejandro Villanueva and Kevin Zeitler in free agency and Ben Cleveland through the draft. The team did all this to improve the life of a quarterback who, just two short seasons ago, became the all-time leading rusher among quarterbacks (beating his own record) and scoring an astronomical 30.9 fantasy points per game. As long as Lamar Jackson is at the helm and this coaching staff is behind him, the floor is his 2020 season and his ceiling is the sky.
Though Kyler Murray has what Lamar Jackson doesn't; a top-three NFL wide receiver in DeAndre Hopkins, he has something else that Jackson doesn't; a possibly inept coaching staff. Through two years, the Horizontal Raid and lack of consistent pass protection have had Murray stifled in the passing game. Protection issues should improve with the addition of All-Pro center Rodney Hudson but the refusal to move Hopkins around the formation and the addition of an injury-riddled A.J. Green to the fold are not decisions that will keep defenses honest.
Kyler Murray is electric with the ball in his hands and will make positives out of a lot of his team's negatives. Lamar Jackson, on the other hand, is the best rushing quarterback in history, and until he proves otherwise, he is my overall QB2 while he is still in his prime.