Fantasy Football Debate: Allen Robinson vs. Terry McLaurin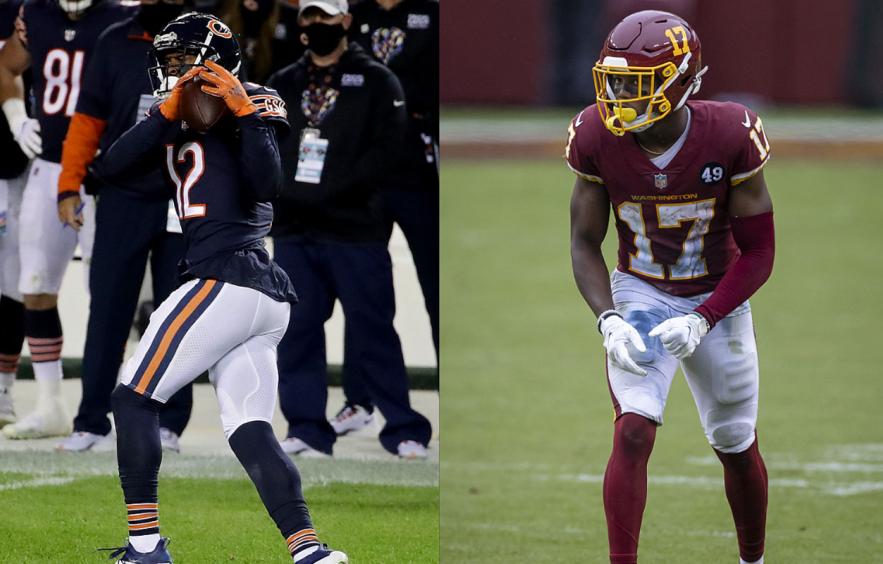 Jonathan Daniel/Scott Taetsch/Getty Images
Allen Robinson and Terry McLaurin are being drafted as the WR12 and WR13, respectively, on Underdog Fantasy. In this debate, Jeff Hicks makes his case for Robinson over McLaurin while Jennifer Eakins defends McLaurin's position.
---
Read other player-specific analysis from the 4for4 staff: Player Profiles | More Debates (coming soon!) | Wide Receiver Rankings
---
The Case for
Allen Robinson
Jeff: I want to make something clear before I delve into my admiration for Allen Robinson in 2021 and forever: I really like Terry McLaurin and his future is almost blindingly bright. Much like Robinson, McLaurin is a baller that makes quarterbacks better and Matt Harmon has seen similarities between the two.
But he is not Allen MF'ing Robinson.
The Bears alpha receiver will be playing with his seventh (and probably eighth) quarterback in 2021 as Andy Dalton is expected to start for the Bears. Chicago famously drafted Justin Fields in the NFL Draft as well which has led to the question of 'when' and not 'if' Fields usurps Dalton as the starter. No matter the starter, A-Rob has not only improved as a route runner, but excelled as the WR1 for Jacksonville, Chicago, and fantasy teams.
McLaurin has dealt with similar quarterback issues but doing it successfully for seven seasons is excellent, although maybe cruel. In six full seasons (10 games his rookie season) Robinson has never averaged less than 54 yards per game and only has one season with less than six yards per target. He was also not expected to be his team's top receiver immediately like McLaurin.
Both receivers are expected to lead their respective receiving corps in targets and yards, but Robinson's path to success is easier to see due in large part to Chicago's decision to not make significant upgrades at wide receiver in the offseason. Signing Damiere Byrd and Marquise Goodwin and drafting Dazz Newsome do little to Robinson's workload especially since he saw a three target drop from 2019 to 2020 and set career-highs in receptions, first downs, receptions per game and catch percentage.
Terry McLaurin saw his targets increase by 41 while playing one more game in 2020. It is difficult to see a jump that large for him with the additions of Curtis Samuel, Dyami Brown, Adam Humphries at receiver and Ryan Fitzpatrick at quarterback. There is also more safety in Washington's running game with Antonio Gibson showing his ability and J.D. McKissic as one of the better pass-catching backs in the NFL.
Based on Reception Perception, the two are excellent route runners, but Robinson gets the edge in success completing routes. Robinson was also better against press coverage. McLaurin can get better with physicality at the line, but for 2021 Robinson is better at winning at the line, and that is what we care about at the moment.
McLaurin dominated Washington's market share of targets and air yards in his first two seasons according to the 4for4 Air Yards App, and despite topping A-Rob in both categories over that time, Robinson averaged 1.9 more fantasy points per game. Robinson also had more points per snap outscored McLaurin in .5 point and full-point PPR formats while playing fewer snaps.
Our rankings guru John Paulsen has McLaurin as his WR8 in standard and WR11 in both PPR formats. Robinson is WR13 in standard and WR12 in PPR. Paulsen has Robinson projected for eight more receptions and only 20 receiving yards, 0.6 touchdowns, and 35 rushing yards fewer than McLaurin. That is less than 10 points of separation between the two, but allegedly the difference between one being a WR1 and the other being a WR2.
What is scary to think is that Robinson's numbers could be even better with Fields if he starts Week 1 or takes over sooner than later. Fields was not only considered the most accurate passer in the 2021 NFL Draft, but potentially of the past seven drafts. McLaurin will be who he is in 2021 because Washington does not have a quarterback that can top Fitzpatrick on their current roster.
Upside at an already elite level is tough to mine, but Allen Robinson could be gold with another QB change in his career.

The Case for
Terry McLaurin
Jennifer: Despite a carousel of middling QBs in his first two years in the NFL, Terry McLaurin has managed to put up a 145-2037-11 line in 29 games, translating to WR2 half-PPR numbers in both seasons. Yes, ARob falls into the bad-bounce QB category as well, but this isn't about him yet. McLaurin is set up for WR1 numbers in 2021 and here's why.
The 25-year old saw 8.9 targets per game last year (WR10) on an offense that only threw to its receivers 51.9% of the time, which was one of the lowest numbers in the league. McLaurin's output and the offensive game plan were heavily impacted by Alex Smith under center, and 2021 is looking to the contrary before a snap is even played.
Enter Ryan Fitzpatrick, a completely different QB who can get McLaurin more downfield looks. The journeyman has supported many fantasy wideouts in his day, propelling Brandon Marshall, Eric Decker and Mike Evans to fantasy WR1 status, with DeAndre Hopkins just outside as the fantasy WR14.
While some may worry that the addition of Curtis Samuel could eat into McLaurin's targets, we should expect Samuel's volume to come from the big 220 target pie that Logan Thomas and J.D. McKissic shared in 2020. There isn't a strong history of TE pairings with the 16-year veteran and McKissic's receiving load is bound to take a hit with the gunslinging Fitzpatrick at the helm.
Fitz loves to feed his top guy and it's realistic to think McLaurin will see 130+ balls in 2021. A Top-10 finish is something highly attainable for the WFT wideout whose speed, route-running ability and body control make him matchup proof when he takes the field every contest.
I'm certainly not anti-Allen Robinson this season, but I do prefer McLaurin head to head if they are both on the draft board at my turn. Their ADPs are basically the same, ARob as 3.09 and McLaurin 3.10, which is where they should be regardless of format. These teams seem to be going in opposite directions with Chicago regressing in two straight years after their impressive 2018 campaign, and Washington coming off an NFC East division title last season.
Sure, the Bears drafted a promising young QB in Justin Fields, but coach Matt Nagy has expressed that the job is Andy Dalton's to start which is troubling. Dalton was a tepid QB31 in fantasy points per game last year in Dallas with a plethora of talent around him. Once the inevitable happens and Fields enters the QB conversation, he brings a dual-threat ability that could limit opportunities available in the passing game. Robinson's floor is more likely to happen in 2020 as opposed to his ceiling, which projects as more of a solid fantasy WR2 instead of the WR1 season on tap for Terry McLaurin.