D.J. Chark vs Laviska Shenault: Who Will Emerge in 2021?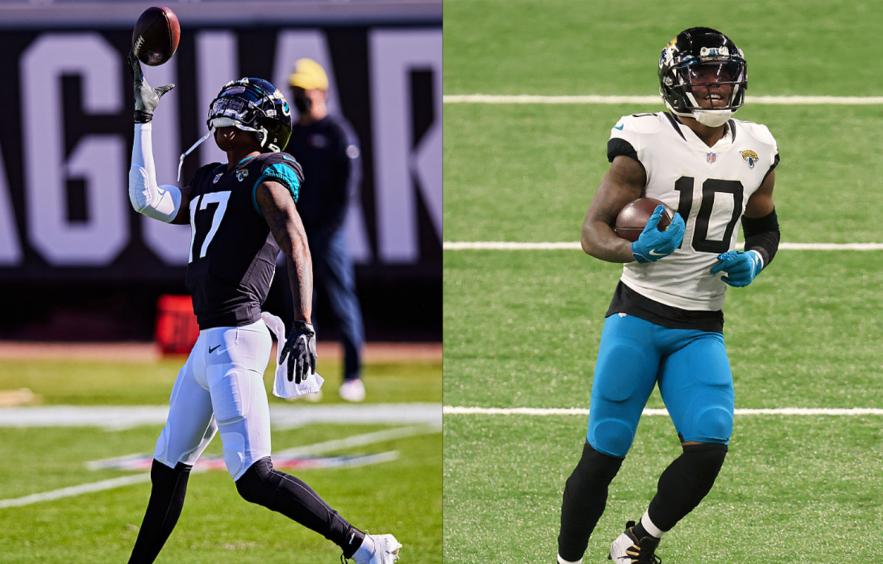 James Gilbert/Justin Casterline/Getty Images
Amid a slew of offseason changes, the Jacksonville Jaguars look on the cusp of a resurgence. With the hiring of head coach Urban Meyer and general manager Trent Baalke, Jacksonville fully embraced a fresh start. Positively for everyone involved, the Jaguars possessed a treasure trove of draft capital this offseason, leading to Trevor Lawrence and Travis Etienne in the first round of the NFL Draft. With a revamped offense, receivers D.J. Chark, Laviska Shenault, and free-agent acquisition Marvin Jones look particularly interesting ahead of the 2021 season.
This piece will first examine Jacksonville's receiving corps from a season ago and how the group potentially fits together. Next, we will examine what to expect this season and how the group may function into the future.
---
Editor's Note: Read more player profiles from the rest of the 4for4 staff!
---
Jacksonville's Continual Rebuild
Following a defensive-fueled conference championship appearance in 2017, Jacksonville finished with three straight seasons at or below six wins. Constantly struggling with receiver depth, the Jaguars selected D.J. Chark and Laviska Shenault in the second round of the NFL Draft in 2018 and 2020, respectively. While the pair has shown success in spurts, quarterbacks Gardner Minshew, Nick Foles and Blake Bortles have played at or below replacement level for most of the receivers' careers.
With that said, Chark and Shenault still found ways to contribute offensively in 2020. Chark only played in 13 games last season, but he still turned 92 targets into 53 catches, 706 yards, and five scores for the Jaguars. Chark played 75.9% of his snaps on the boundary and functioned as the team's primary deep threat. Boasting 4.34 wheels at 6-foot-4, 198 pounds, Chark received an average depth of target (aDOT) of 14.6 yards. Chark has now strung together 1,008 yards and 706 yards in his last two seasons, making him the favorite to lead Jacksonville in targets again in 2021.
While Chark led the team in receiving last year, Shenault's assimilation into the offense went well by rookie standards. The 6-foot-1, 227-pound receiver secured 58 of 79 targets for 600 yards and five scores in 14 games. However, Shenault did not play a full-time role in the offense immediately. He first eclipsed 70% of the team's snaps in Week 6 and he didn't reach 90% until Week 12. From an efficiency perspective, Shenault's 11 forced missed tackles and seven contested catches led his rookie class.
The last projected starter from this group is former Detroit Lion, Marvin Jones. Jones functioned as the model of consistency throughout his time in Detroit. As described by Justin Edwards, Jones had three seasons with 100+ targets and the other two shortened due to injury in his time with Detroit. After battling an ankle injury and bone bruise in his knee the last two years, Jones returned to form in 2020 with 76 catches, 962 yards, and nine touchdowns with Detroit.
Jacksonville WR Usage

| Player | Targets | Receptions | Yards | TD | Target Share | Air Yards Share |
| --- | --- | --- | --- | --- | --- | --- |
| D.J. Chark | 94 | 53 | 706 | 5 | 20.0% | 34.0% |
| Laviska Shenault | 79 | 58 | 600 | 5 | 15.0% | 11.0% |
| Marvin Jones | 116 | 76 | 978 | 9 | 21.0% | 30.0% |
While this sets up to be a productive receiving corps, Meyer's heavy-handed approach still leaves questions. Meyer reportedly wanted to draft Kadarius Toney, but the New York Giants sniped him with the previous pick. Settling for Etienne, Meyer reportedly views the former Clemson back as this team's Percy Harvin. Potentially affecting the targets of the receivers and particularly Shenault, this receiving corps still holds uncertainty.

Offensive Fit in Jacksonville
As mentioned above, with various offensive additions and departures, Jacksonville's wide receiver room will look a bit different in 2021. Second-leading receiver Keelan Cole and fourth-leading receiver Chris Conley left during free agency. The Jaguars also lost tight end Tyler Eifert, who finished fifth in receiving. However, the addition of Jones and Shenault's potential second-year leap should help fill this void.
Interestingly, Cole functioned as the team's primary slot receiver last season. He played in the slot on 68.7% of his snaps, recording 34 catches for 384 yards from that alignment. Conley also played 27.6% of his snaps in the slot, finishing with the second-most receiving yards on the team from that alignment (187). Interestingly, Chark and Shenault only entered the slot situationally last year. With Jones playing 67.9% of his snaps outside as well last year with Detroit, the Jaguars are left without a clear slot weapon.
While the team likely rotates receivers to some degree, one potential option could be moving Shenault to the slot full time. Shenault caught 19 of 25 targets for 182 yards from the slot last year. He averaged 1.72 yards per route run from the slot, which bested his 1.55 mark from all alignments. Both Jones and Chark finished with 1.10 and 1.12 yards per route from the slot last year (PFF), making Shenault the logical choice. Shenault also has a background at different positions. At Colorado, Shenault dabbled in the slot, and even lined up at tight end and running back on occasion.
One other wrinkle to the new look Jaguar's offense was the hiring of former Lions offensive coordinator Darrell Bevell. From a schematic standpoint, the Lions used three wide receivers on 69% of the plays under Bevell last year. This ranked inside the top 12 in the NFL. They also attacked the deep ball with at least 19% of throws going beyond 20-yards in 2019 and 2020. While the Lions struggled when Matthew Stafford played through injury, they actually produced a formidable passing attack with a healthy Stafford and Kenny Golladay. However, the Jaguars possess multiple theoretical upgrades over the Lions. On top of the Lawrence and Etienne additions, the Jaguars return all five starting offensive linemen.
From a redraft perspective, this remains one of the more difficult fantasy situations to unravel. All three players come off the board outside the top 70 picks with only Jones outside the top 100. Entering his second year, Shenault may possess the most upside of the group. However, Chark already has a 1,000-yard season under his belt. His 20% target share also easily bested Shenault's 15%. Jones remains a high floor/low ceiling asset, but his late ADP warrants consideration once Chark and Shenault come off the board. With so much uncertainty surrounding Jacksonville and palatable ADPs across the board, taking a shot on one of these players makes sense in redraft leagues.
From a dynasty perspective, Shenault looked like the clear option to target at first. Still just 23 years old at the start of the 2021 season, Shenault's 600-yard season bodes well for his future success. However, the Meyer regime did not draft Shenault and has no long-term ties to the second-year player. They also continue to pump up Etienne as a Percy Harvin clone, potentially depressing his targets. Similar to Shenault, Chark will only be 25 years old come the season. However, Chark will be a free agent at the end of 2021 with the expiration of his rookie deal, giving Shenault the edge in dynasty. Conversely, Jones already sits at age 31 with a mere two-year contract. Dynasty expert George Kritikos mirrors these sentiments with Shenault, Chark, and Jones listed as his WR25, WR39, and WR72 in dynasty respectively.
Bottom Line
While Jacksonville doesn't have the big-name weapons, the Jaguars absolutely have upside in their new-look offense. On Underdog Fantasy, Chark, Shenault, and Jones currently come off the board at picks 70.2, 89.0, and 120.8. Similar to redraft leagues, all three Jaguars look underpriced given the uncertainty. While many drafters will shy away from this uncertainty due to potential downside, the chance to outperform ADP also exists. Chark and Shenault remain the most likely to finish as WR2's, but Jones remains the model of consistency.