Marvin Jones Boosts the Jags, but May Bust in Fantasy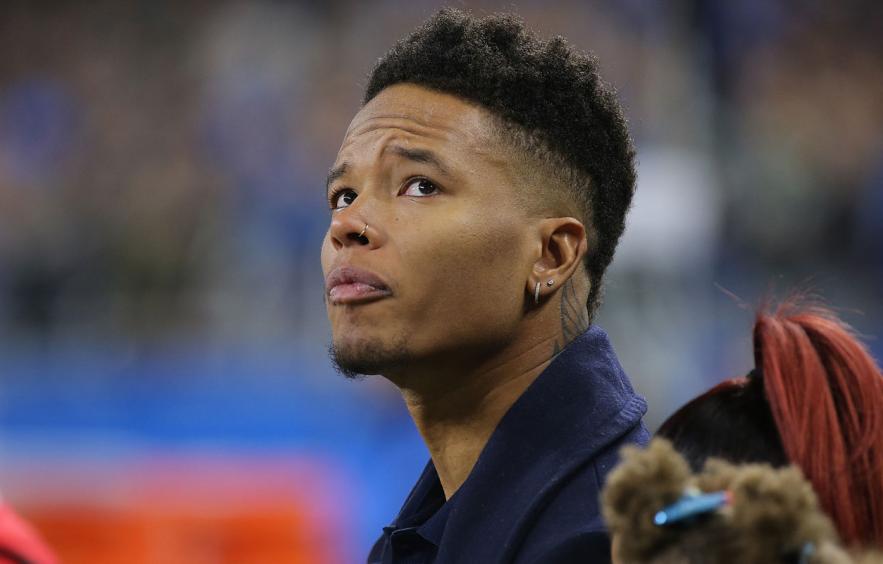 Leon Halip/Getty Images
After splitting his first eight seasons in the NFL between Cincinnati and Detroit, 31-year-old Marvin Jones signed a comfortable two-year, $14.5 million deal to move down to Florida and (presumably) help groom Jacksonville's upcoming overall number one pick. Let's comb through Jones' recent fantasy history and see what type of contributions we can expect from him as a Jaguar.
What's Going On: The Detroit Mix
Marvin Jones's five-year stint as a Detroit Lion was nothing if not consistent. In three of his seasons, he eclipsed the 100-target mark, and in the other two injury-shortened seasons (right knee bone bruise) he averaged seven targets a game, which would have put him on track for other 100-target seasons.
The 2020 season was no different than years past, as Jones sneakily finished as the overall WR16 in Half-PPR scoring and the WR23 in points per game (11.9), thanks in large part to his second-straight season with nine touchdowns. Jones has long been a target in the red zone, going back to his days with the Bengals; receiving double-digit targets from within the 20-yard line in every season since 2015, including his nine-game season in 2018.
The Lions' neutral pass rates over the last two years have been right in the middle of the pack (16th in 2020, 18th in 2019) so where Marvin Jones and/or former Lion Kenny Golladay (whichever one was healthy for an extended period of time) really received a fantasy boost was in the team's propensity to throw the ball deep. After a 2018 season that saw Detroit's passing attack attempt a deep ball on only 12.5% of its passes (30th), they got much more aggressive over the last two years, finishing second in 2019 (21%) and 10th in 2020 (19.1%).
The reason I'm focusing on only the last two years' numbers is because of Detroit's offensive coordinator over the last two seasons; Darrell Bevell, now the offensive coordinator of the Jacksonville Jaguars.
Once a Cat, Always a Cat
Considering Marvin Jones had the option of heading to a contender that needed wide receiver help, it is somewhat telling that he chose with absolute certainty that he would be playing 2021 with a rookie quarterback. He enjoys being in Darrell Bevell's offense and wanted to make sure he would continue his career with him. Though it's like comparing apples to cranberries, it is worth taking a look at where Jones would have fit in with the Jaguars receiving group last season.
*Yards Per Route Run
Collin Johnson (he of 6'6", 225-pound frame and lack of speed) and the rest of the team's ancillary options (Phillip Dorsett, Terry Godwin) will be shoved down the depth chart in favor of a three-wide set of Jones and D.J. Chark on the outside and Laviska Shenault playing out of the slot. Of course, the veteran Jones has plenty of experience out of the slot and Chark has been used there intermittently, so the offense has many different looks at their disposal.
The usage should be there as the second or third option on most passing plays, and the deep ball will still be an option with Trevor Lawrence's arm, but we may be ignoring the elephant in the room; after suffering through knee and ankle injuries that landed him on the injured reserve on two separate occasions, Jones has simply lost a step at 31-years old.
Marvin Jones

YAC w/Detroit

| Year | Yards After Catch/Rec | Yards After Contact/Rec |
| --- | --- | --- |
| 2016 | 4.61 | 2.96 |
| 2017 | 3.44 | 1.9 |
| 2018 | 3.02 | 1.4 |
| 2019 | 1.95 | 1.17 |
| 2020 | 2.72 | 1.75 |
Once a premiere YAC specialist, Jones can no longer be counted on to consistently make guys miss. Though a stat like this is not nearly as important to a wide receiver as it is for a running back, it's not as if veterans are forced to run timed three-cone drills throughout their career (thankfully), so a stat like this can measure quickness over a career.
With young, fleet-of-foot options like Chark, Shenault, running back James Robinson, and any other offensive weapons that Jacksonville looks for in the draft, it is unlikely that the veteran Jones will be called on for bubble screens, jet sweeps, and the like, which further limits his fantasy upside. If anything, he will likely be used to help stretch the field to open up the intermediary for Chark and Shenault to roam more freely and explode down the field.
In all likelihood, the Marvin Jones signing was a home run from a real football perspective, but shouldn't give us a ton of hope for his fantasy relevance moving forward. On the other hand, I think it provides a boost to the rest of the wide receiver room, especially since there isn't a consistent tight end producer on the team. Jones will take eyes off of D.J. Chark who has been on the precipice of something great for the entirety of his young career, and —maybe most important of all— it gives Trevor Lawrance a veteran, reliable option in his first NFL season.
The Bottom Line
Marvin Jones has a large mountain to climb if he is going to get anywhere near another 100-target season, which lowers his floor into the WR5 range.
Despite the perceived influx of competition, the veteran signing is actually positive news for D.J. Chark, who will have a little more breathing room when it comes to defensive coverage.
Stacking Trevor Lawrence with Jones could be a reasonable desperation stack in best-ball formats, as Jones has been—and should continue to be— a red-zone chess piece for Darrell Bevell.