'Ship Chasing: The Master Plan for the FFPC Main Event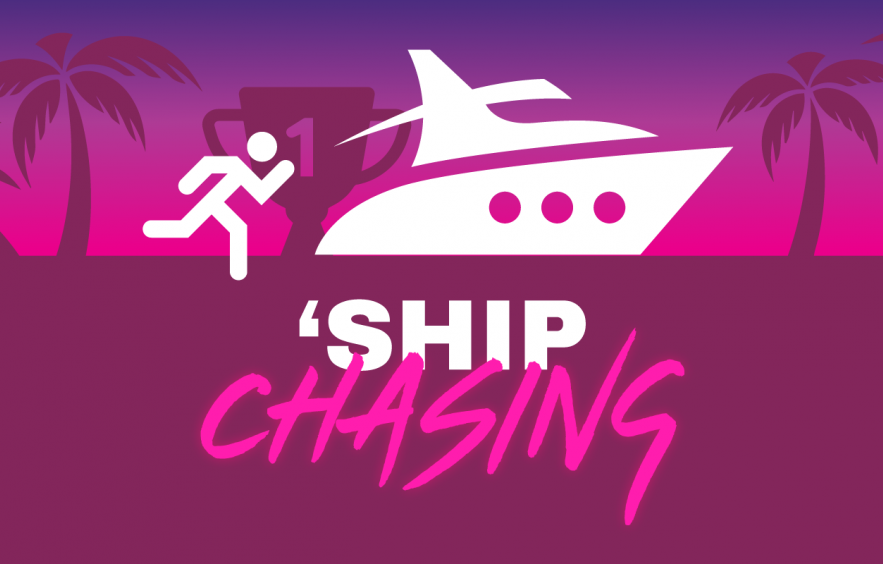 We draft our FFPC Main Event team on Saturday, September 7th, which means it's time to put together our master plan for the draft. Up to this point, we've written about our previous drafts in this contest, as well as how we specifically plan to attack tight ends, quarterbacks, and running backs.
The First Round is a Volatile Situation
Before the preseason started, predicting the top half of FFPC draft boards was a fairly easy exercise—the top five running backs followed by Travis Kelce and DeAndre Hopkins. Back then, we felt pretty confident that we would be taking our preferred wide receiver available at 1.07. Since then, however, preseason overreactions and various news reports have shuffled up the first round to the point that we might have more options available to us than initially expected. For instance, David Johnson has been routinely slipping to 1.07, while James Conner and Nick Chubb have entered the first round conversation (often going as high as 1.05 and 1.06). All of this movement has been occurring without any certainty on the Ezekiel Elliott situation, which appears close to being resolved and would entrench him as a top-5 pick, as well. As much as we love Zero RB, this format is more conducive to drafting a bellcow back up top followed by a blitz of wide receivers. We don't have concerns about Johnson, who played 82% of the snaps with Kyler Murray in the preseason. He's most likely our pick at 1.07 if he's there on Saturday.
Thursday Night Curveballs
One interesting wrinkle to drafting your Main Event team live in Vegas is that the Thursday night opening game will have already occurred before your draft. If you draft a player who played on Thursday night, you get the advantage of having their points in the bank for your Week 1 lineup, plus the additional information that comes with seeing them on the field. This dynamic often results in interesting ADP movements, like in the instance of Kareem Hunt's Thursday night explosion vs. the Patriots two years ago that vaulted him from the third round to the 1.01 in many drafts. We will be rooting heavily for big performances from players like Davante Adams, David Montgomery, and Aaron Jones in hopes that they find their way into the first round and push down more of our targets to us at 1.07 and 2.06.
Wide Receivers
Being strong at WR is the key to our overall strategy. However, it's possible we don't take a WR through two rounds, as a RB/TE start is very much on the table. In that scenario, we would be looking at five wide receivers in Rounds 2-7 (and maybe even 6, if there's a faller in the 8th). Our most aggressive WR start would be four to start, a quick pit stop for a RB in Round 5, and then two more in Rounds 6 and 7. In any event, we want at least five receivers through seven rounds.
We've settled on this approach because there is a glut of WR value in Rounds 3-7 that is rarely matched by the value at other positions and it completely dries up after Round 7 in most drafts. It's critical that we load up on receivers in these early rounds, even if we also come away with an early RB and/or TE.
Running Backs
Our running back strategy for this draft is pretty cut and dry. If a bellcow back falls to us at 1.07, we will scoop them up and probably not draft another running back until Round 7 or 8 at the earliest. If not, we will most likely start the draft with four to five pass catchers before looking to grab our first running back. In the latter build, Miles Sanders becomes an interesting target in the fifth. In the first build, we are most likely waiting until Round 8, at which point we will start hammering our preferred Zero RB targets, that we discussed in depth here. While targets like Matt Breida and Justice Hill continue to rocket up boards, other targets—Darrell Henderson, Ronald Jones, and Darwin Thompson —are slipping to extremely palatable price points.
Tight Ends
Similar to our game plan for running backs, our approach to tight ends will be elite or punt. We've had our eyes on George Kittle in the second since receiving our draft slot back in July and he continues to be available there in the most recent FFPC drafts. One thing that could potentially push us off Kittle is if a stud wide receiver we prefer, like Odell Beckham Jr. or JuJu Smith-Schuster, happens to fall. While unlikely, the combination of running back mania coupled with some Thursday night ADP shifts could result in a surprising wide receiver falling into our lap. In the event that we don't get a top tight end, we will be looking to punt the position and grab a couple of targets later in the draft (Darren Waller, Gerald Everett, etc.).
Quarterbacks
Our QB strategy since Week 2 of the preseason has been named Kyler Murray, but he does appear to be creeping up in drafts. Where he was once our target in the 12th round, we're now aiming for him in the 11th. And as we discussed in our latest episode of 'Ship Chasing, we may need to consider him in the 10th, depending on how the QB value is falling. Outside of Murray, Lamar Jackson has been a target. But he tends to go in lockstep with Murray and is unlikely to fall the full round to us if Murray goes earlier than expected. Jared Goff could be a consolation prize in the 12th or 13th. A total punt at QB remains an option, although we prefer to prioritize a high upside guy.
Kickers & Defenses
One advantage of literally broadcasting your waiver wire moves each week for public consumption is that it keeps you active on the wire. Knowing you'll be actively attacking defensive matchups allows you to focus on teams with good starts to the seasn. You can do this yourself by using 4for4's Hot Spots. We like Cleveland, New England and Kansas City quite a bit to start the season.
---
Thanks for reading and following along with our draft prep this offseason. Be sure to follow us on Twitter (Peter & Pat) for updates after our draft on Saturday. We will also be doing some live periscopes from Las Vegas on the 4for4 twitter and releasing multiple episodes of 'Ship Chasing from Vegas. Let's get that 'ship.