'Ship Chasing: The Zero RB Targets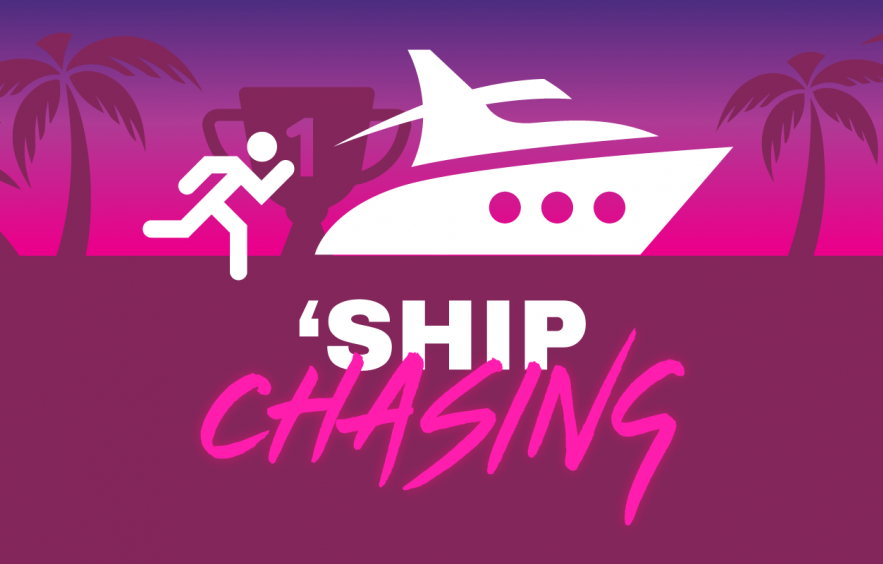 So far in these articles, Pat and I have discussed the FFPC Main Event Format and our history in the contest, how we plan to approach tight ends, and how we plan to attack quarterbacks. It's a given that we are going to load up on wide receivers early and often, so that leaves us with running backs left to discuss.
As you can probably tell from all of our anti running back propaganda on the 'Ship Chasing podcast, we love Zero RB, especially in a high stakes contest like the FFPC Main Event with a top-heavy prize. Zero RB allows us to build a loaded roster at WR and TE with the potential to have it supercharged in season by the random chaos and fragility inherent with the running back position.
If you need any further convincing of this, just compare the current ADPs of Duke Johnson, Darwin Thompson, Tony Pollard, and Matt Breida from what they were just a month ago. Running back volatility is real and when we place smart bets, we have the chance to enjoy outsized returns.
Now that Main Event drafts are underway, we can start looking at draft boards as a realistic gauge for where some of our favorite Zero RB targets are being taken. The FFPC doesn't aggregate Main Event ADP data, so for this exercise, we are going to use the draft board from John Paulsen's recent draft as a proxy for ADP.
A few notes: Paulsen's draft took place before the Lamar Miller injury. Duke Johnson went at the beginning of the 8th but will assuredly go higher now, pushing him outside of our Zero RB target window and into a range where we prefer to take wide receivers. Similar story for Tony Pollard, who also went in the 8th round. Those price stags still offer some upside, but there are simply other bets we'd rather make in that range.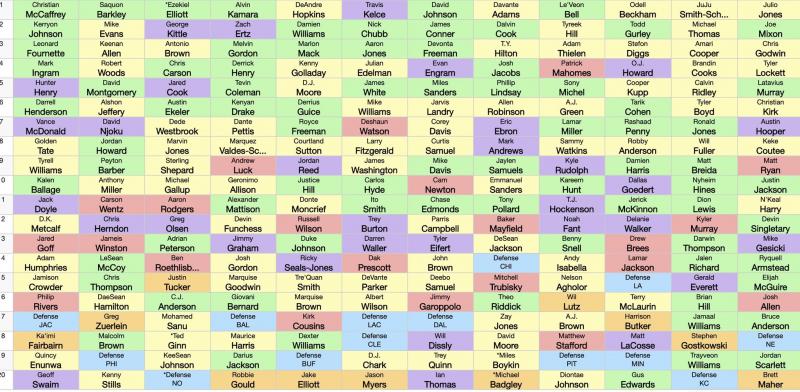 Round 6:
Miles Sanders
Miles Sanders went at 6.01 in Paulsen's draft. Considering he's generally been going in the fifth, this is solid value. Sanders is a great pick for a team who starts their draft with five pass catchers. He's also one of Paulsen's running back targets and "checked in with the second-highest chance of success in Kevin Zatloukal's new running back model."
Round 7:
Darrell Henderson
Earlier in the offseason, Henderson was going much earlier than this, but unflattering reports out of Rams camp have pushed him all the way down to the end of the seventh. When paired with the uncertainty of Gurley's health and the potency of the Rams offense, Henderson is the exact type of high upside Zero RB candidate with league-winning upside that we want to target. Greg Smith recently targeted him in the 8th round of this expert mock draft.
Round 8: Kallen Ballage,
Royce Freeman

, and

Rashaad Penny

This looks like the Zero RB sweet spot. If you don't pull the trigger on a premium candidate like Sanders or Henderson, this is the range where it makes sense to stop drafting pass catchers and pivot over to these running backs with big-time upside in murky backfields. While the public is drafting Kenyan Drake, Phillip Lindsay, and Chris Carson several rounds earlier than these guys, there is reason not to be as confident and drafting these guys is the way to make that bet.
Round 9:
Matt Breida
Despite inching up after the McKinnon injury, Breida is still one of the best running back targets in Main Event drafts at this price. With no McKinnon early on, Breida should get a ton of work in both the run and pass game. Tevin Coleman did outsnap Breida 24 to 14 in the 49ers Week 3 preseason game, but this still feels like it will be much more of a 1a/1b situation than a true handcuff. Paulsen lists Breida as one of his running back targets in his 2019 Master Plan article.
Round 10:
Justice Hill
Hill has had a stellar preseason, leading the league in evaded tackles. The Ravens didn't play him in the second half of their third preseason game, indicating they have big plans for him this year. He'll most likely start with just passing down work, but it is going to be tough to keep him off the field if he continues to showcase that playmaking ability. He's one of the 39 players that Paulsen wants to draft everywhere.
Round 11:
Alexander Mattison
Mattison's price has risen as throughout the preseason, but he offers standalone value and is an elite handcuff in the Vikings new Kubiak offense.
Round 12:
Ronald Jones
Pat loves Ronald Jones more than anything else in the world. He is falling in drafts because of beat reports, but Pat remains undeterred and will assuredly lobby for us to take him earlier than this.
new ep of 'SHIP CHASING is up. we are firing a bullet at the @PlayFFWC + @PatKerrane truly loses his mind over ronald jones; brags about listening 'to more bucs podcasts than anyone': https://t.co/rpNYrWKiw2 pic.twitter.com/edOgoSPihV

— Peter Zeroverzet RB (@peteroverzet) August 23, 2019
We will definitely take him earlier than this. -Pat
Round 13 & 14:
Jalen Richard

and

Nyheim Hines

Just like wide receiver really starts to dry up around Round 8, all of the best Zero RB candidates are off the board around Round 14, after which the available running backs are mainly pure handcuff plays. Richard and Hines both offer a nice floor with their pass-catching role and room for more in the event of poor game scripts (even more likely now for the Colts without Luck) or the event of an injury to Marlon Mack or Josh Jacobs.
Round 15:
Chase Edmonds
If the Cardinals run as many plays as their offensive philosophy suggests they might, then Edmonds could have standalone value from simply spelling David Johnson in his every-down role. In the event of a Johnson injury, Edmonds would become an every-week starter.
---
We recently talked with Paulsen about his Main Event draft. Listen here: