'Ship Chasing: Tackling The FFPC Main Event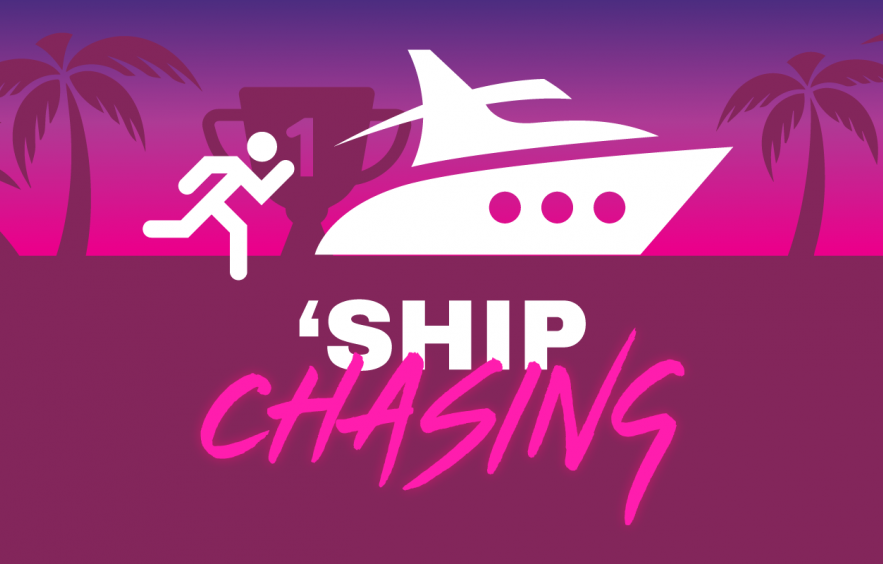 2019 will mark the fourth time that Pat Kerrane and I have drafted a team in FFPC's Main Event Contest. This year, the massive contest with an $1,850 buy-in and max of 2,400 entries will award the grand champion a $500,000 cash prize with another $11,700 up for grabs in each individual 12-man league.
Pat and I will be chronicling our experience playing in the Main Event—everything from draft prep to waiver wire decisions—on our new 4for4 sponsored podcast 'Ship Chasing so be sure to subscribe to that for weekly updates on #TeamShipChasing.
The Schedule
Here are the three main parts of the FFPC Main Event season:
Part 1: Regular season Weeks 1–11
Part 2: League Playoffs Weeks 12–13
Part 3 : Championship Round and Consolation Round Weeks 14–16
The Roster & Scoring Settings
Starting roster: 1 QB, 2 RB, 2 WR, 1 TE, 1 K, 1 D/ST and 2 Flex (RB/WR/TE)
Scoring settings: The one main unique scoring setting from typical leagues is the 1.5 PPR for TEs (1 PPR for RBs and WRs).
The FFPC's Dual Flex gives us a bunch of different options for how to attack our starting line-up:
2RB, 4WR, 1TE
2RB, 3WR, 2TE
2RB, 2WR, 3TE
3RB, 2WR, 2TE
3RB, 3WR, 1TE
4RB, 2WR, 1TE
Now the hard truth is that Pat and I haven't had much success in this contest. In fact, we've performed pretty poorly every year, save for a face-saving third-place finish in last year's contest. This year will be different, though. Fourth time's a charm and all, right?
Before we get into 2019 strategy, let's take a quick look at how our drafts panned out in the previous years to see if we can glean any important lessons to apply to this year's draft.
2018 Results (Third-Place Finish)
Draft Slot: 1
Draft Start: RB-TE-WR-WR-WR
Positional Distribution: RB x 8, WR x 6, TE x 2, QB x 2, K x 1, D x 1
Last year we were blessed with the number one overall pick and happily disavowed our Zero RB ways to draft Todd Gurley. We followed it up with two more dynamite picks at the 2/3 turn with Travis Kelce and Stefon Diggs and also fortunately drafted and stashed Nick Chubb in the 10th round. These four players essentially carried our team all year and if it weren't for the Rams and Chiefs byes in our first week of playoffs, we could have done even better.
2017 Results (Missed Playoffs)
Draft Slot: 8
Draft Start: WR-WR-TE-RB-WR
Positional Distribution: WR x 8, RB x 6, TE x 3, QB x 1, K x 1, D x 1
2017 was our disaster year. We lost our first-round pick, Odell Beckham, to a season-ending injury in Week 5. Our third-round tight end pick, Jordan Reed, flopped. And most embarrassingly, we wasted a league-winning year from Alvin Kamara, who we snagged in the 13th round.
2016 Results (Barely Missed Playoffs)
Draft Slot: 6
Draft Start: WR-WR-WR-TE-WR
Positional Distribution: WR x 8, RB x 5, TE x 3, QB x 2, K x 1, D x 1
Somewhat surprisingly, 2016 is the only year we've gone true Zero RB, as we waited until the sixth round to draft our first running back, Arian Foster. Foster then played four games that season and promptly retired. We did manage to claw our way back into the playoff picture thanks to some hustling on the waiver wire, but it ended up being too little, too late.
So what does 2019 have in store of us? This year we draft from the seven slot, a somewhat disappointing draw considering how much easier it is to build a modified Zero RB team with a bellcow up top. But we aren't discouraged. We've learned a lot playing in this format the past three years and are finally ready to put it all together and chase this 'ship.
Listen to Pete and Pat draft a true Zero RB team in the Footballguys Players Championship on a recent episode of 'Ship Chasing:
Over the next few weeks, we will be releasing a series of articles looking at how we plan to attack our 2019 Main Event Draft. Here are some is what to expect over the next few weeks. and a lot of the things Pat and I are currently discussing:
Drafting from the seven slot - The seven hole gives us two feasible chances at one of the stud tight ends in the first two rounds. Should we take the plunge?
The QB Debate - We've traditionally gone Late Round QB in this format, but is there merit to reaching for a quarterback with more upside this year?
Zero RB - We love Zero RB, probably too a fault. We'll discuss if we think it's viable in this format this year, our favorite targets, and how it could affect the rest of our roster construction.
Main Event Master Plan - Before we draft our team live in Las Vegas on September 7, we'll lay out our overall draft strategy from each position.
Alright, it's time to get that 'ship.