'Ship Chasing: Drafting From the 7 Hole & FFPC Tight End Strategy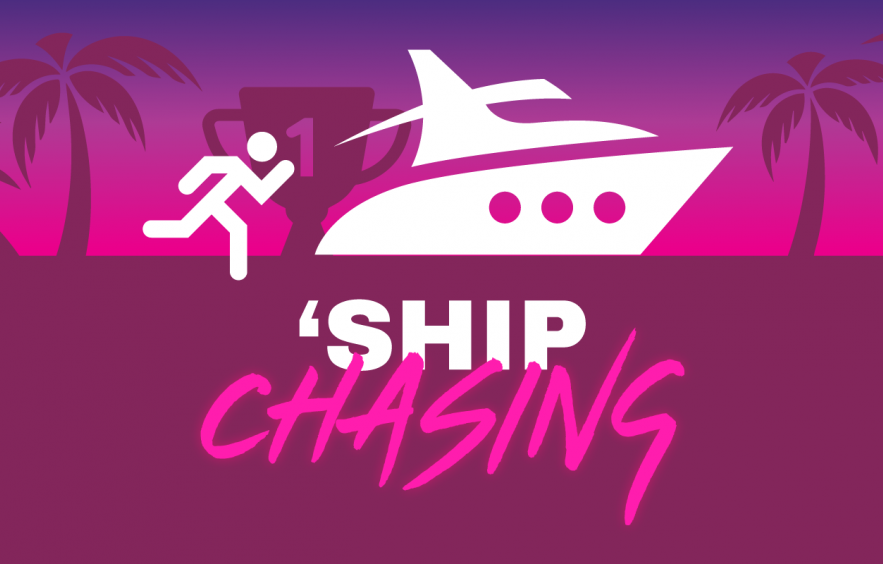 In our first article, we looked back on some of our previous draft starts in the FFPC Main Event, but now it is time to look forward to our 2019 draft, where we will be drafting from the 7-hole.
Even though the Main Event drafts don't kick off until August 23 (beginning with online drafts and finishing with the live drafts in Las Vegas over opening weekend), we can get a pretty good idea of what options will be available to us in the first few rounds by looking at current FFPC ADP data for both their best-ball contests and the Footballguys Players Championship, which has a near-identical format and structure to the Main Event.
We have been hawking draft boards for the past few weeks (as well as participating in other FFPC drafts of our own) and discussing a few possible ways our draft could start. Here's what we are currently envisioning for the first three rounds:
Round 1, Pick 7
The first half of the first round has been fairly solidified for the past few months. While some FFPC drafts will deviate, most see the five stud running backs go off the board first (Saquon Barkley, Christian McCaffery, Alvin Kamara, Ezekiel Elliott, and David Johnson), followed by Travis Kelce at six and DeAndre Hopkins at seven.
We would happily scoop up one of the running backs if they fall, but that appears doubtful, especially if Elliott's holdout wraps up soon. Even if it is less than a 50% chance, it is still a possibility that the owner picking at 1.06 could pass on Kelce and take either Hopkins or a running back. This is where it gets really interesting. If Kelce does go off the board at 1.06, we will have no problem grabbing Hopkins, but Kelce versus a wide receiver like Michael Thomas, Julio Jones, or JuJu Smith-Schuster is certainly worth a debate. Confounding things further is the high likelihood that we will have a crack at a tight end (George Kittle or Zach Ertz) in the second round as well. Speaking of which…
Round 2, Pick 6
Both of us really like the idea of getting a top tight end in this draft and both the 1.07 and 2.06 picks present us with great opportunities to do so, as Kelce's ADP is currently 1.06 and Kittle and Ertz have ADPs of 2.08 and 2.09, respectively. The advantage to having an elite tight end in normal PPR scoring is big enough alone, much less in a tight end premium format like the FFPC Main Event where they get an extra half-point per reception. It seems very unlikely that we will emerge from the first two rounds without a tight end—the question is just how exactly we do it. One case for grabbing Kelce in Round 1 if he is there is that it gives us more options in the second round—we could scoop a falling WR (Smith-Schuster's ADP is currently 2.06, exactly where we will be picking) or even double up on tight ends and take both Kelce and Kittle. We'd effectively treat one of them as our tight end and flex the other as a rocked-up "WR1".
Round 3, Pick 7
At this point you might be wondering, "Umm, hey guys that's good and all, but what about the running backs?" As of now, it is tough to envision a running back finding his way on our roster in the first three rounds. It could potentially happen in Round 1 if a guy like David Johnson happened to fall and we could potentially have a discussion in Round 3 if a guy like Kerryon Johnson were to fall (though his ADP continues to creep up after the release of Theo Riddick). Beyond that, there are no running backs we love in Round 2 and we love the wide receivers in Round 3 (T.Y. Hilton, Stefon Diggs, Amari Cooper, etc.), so running backs are most likely going to have to wait.
It would appear then that our most likely start from the 7-hole is WR-TE-WR, TE-WR-WR, or perhaps a funky TE-TE-WR.
- Pete Overzet
TE Strategy
I'm actually a little less confident than Pete is that we'll end up with a TE in the first two rounds, partly because I'm doubtful that Kelce will fall to us at 1.07, and partly because I expect WRs like Will Fuller and Curtis Samuel (who were both available in the 7th and 8th of our recent FBG Player's Championship draft) to be pushed up as WR injuries thin out the position. As it stands right now, we'd love to start with Hopkins and Kittle, and then scoop WR values through round 8, but that may be harder to do on draft day (we draft the day before the first NFL Sunday)
So what's the backup plan? O.J. Howard or Evan Engram? A TE with high projected volume like Vance McDonald? A buzzy breakout candidate like Mark Andrews? For right now, the answer is none of the above. As crazy as it might seem, our backup plan to an elite TE is to punt the position entirely.
The reason to punt is that in TE-premium leagues, TE operates somewhat similarly to RB. At the very top of the position, you have players who will outscore elite WRs. Last year Kelce and Ertz both outscored DeAndre Hopkins and George Kittle outscored all but seven WRs. These TEs not only lock up an advantage over your opponents' TE starter, but more importantly, they simply score the most points.
However, as we see with non-elite RBs, the scoring advantage over similarly valued WRs dries up outside of the elite options. The next two TEs in 2019 ADP, O.J. Howard and Evan Engram, posted between 13-14 points per game in 2018-- low-end WR2 scoring. Yet they are priced alongside players like Brandin Cooks and Robert Woods that easily outscored them last season.
Even as breakout candidates (and here I also include Hunter Henry), these TEs are overpriced, with all three going ahead of premium WR breakout candidates such as D.J. Moore and Calvin Ridley, and in the same range as Chris Godwin and Tyler Lockett.
The simple fact of the matter is that very few TEs are difference makers, even in TE-premium. And while there may be another George Kittle level breakout in 2019, you can quickly go broke chasing TE breakouts on unproven players in the middle rounds.
Additionally, Pete and I have learned over the last few seasons that we can rely on the waiver wire to fill the TE position fairly reliably. This means that not only can we save our mid-round picks for WRs likely to outscore the TE options in that range, we can also take big swings at TE at the end of the draft and simply reassess during the season if our target(s) doesn't pan out.
Here are some of the guys we're looking at later on:
This article was written by Pat Kerrane.