A Look Back at Running Backs in 2018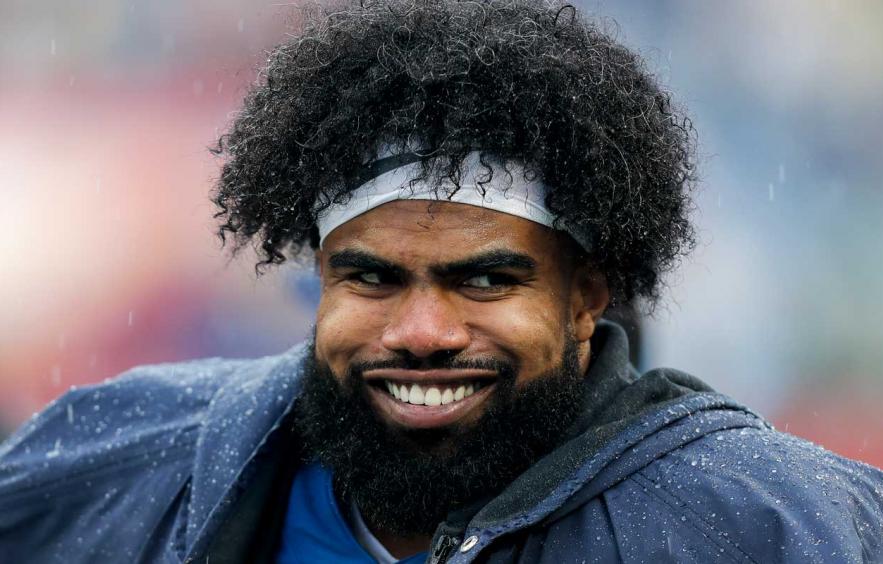 Don Juan Moore/Getty Images
Heading into the 2018 season, the number of RBs drafted in the first round was up significantly from years past. From 2015–2017, six backs per year were being snatched off draft boards in round one, while that number jumped to nine during last year's draft season.
Here's a table with those top players and where they finished the season, as the bulk of this article will focus on sleepers and values, and how we fared in our assessment of those not found in that elevated tier.
Before I begin my dive into what worked and what didn't, it will probably help to show the ADP of the top 40 RBs taken in last year's drafts, so that we can get a visual idea of how it all went down. Many productive guys outperformed their ADP due to a myriad of reasons including injury to starters, increased workload, etc. and won't be shown here, but I had to cut off this table somewhere.
2018 RB Favorites
4for4's own TJ Hernandez, John Paulson, Chris Allen and myself all tackled the RB position heading into the 2018 draft season and came up with some players we thought were due to break out for various reasons, including new teams, year-to-year data, or attrition plays—RBs who are poised for starter-caliber numbers if there's an injury further up the depth chart.
Fresh Start
Four RBs (Tarik Cohen, Kenyan Drake, Rex Burkhead and Dion Lewis) were highlighted as having solid potential due to a change in team or backfield configuration. We're looking at a 50% accuracy in this category, as two of the four players outperformed their initial draft season ADP.
Cohen came into the 2018 season John Fox-less and with Matt Nagy at the helm. Both his ceiling and floor had the potential to be elevated, as we knew his pass-catching ability would lead to an increased role in the Bears' offense. The 23-year old was Chicago's third-highest in targets on the season, just five behind the leader, Allen Robinson, and was second only to Mitch Trubisky in both total PPR fantasy points and PPR points per contest. Cohen finished 2018 an impressive 25 spots above his RB36 ADP, ending as RB11 in total PPR points.
Drake was finally to be the lead back in Miami guaranteeing his success in 2018, or so we all thought. Despite the surprising longevity of Frank Gore, and ending the season as RB29 in total touches and RB105 in touch rate (TCH/Snap), the third-year rusher still managed to produce in the meager Dolphin offense. Thanks in part to his pass catching - 53 receptions on the year, Drake's final numbers as RB14 in PPR points was four spots higher than his RB18 ADP.
While Lewis did underperform last year, it was not by much. He was being drafted in the late fifth round, as a back on a new team with Derrick Henry also in the mix. Henry was coming off a 2017 season where he only averaged 8.4 PPR points per game, while Lewis posted 12.3 in New England. It was unclear how the usage would shake out, but as we discovered, Henry is pretty good at running the football. He was first in the Titans offense in PPR points, and ended as RB16 in that same category. Despite Henry's coming out party, Lewis did hold his own, averaging 10.0 PPR points per game and falling just two spots from his RB26 ADP to RB28 in overall fantasy points.
We'll never know what could have been for Sexy Rexy in 2018, as he went down with a neck injury in Week 3, placing him on IR for most of the year. He did return in Week 13, but only averaged 7.0 PPR points per contest for the rest of the regular season, checking in as RB43 in PPR points in that time frame. The Patriots backfield is always a tough one to count on for fantasy purposes, and Burkhead was not the guy to own in 2018. It was James White who destroyed his ADP, going from RB42, leaving boards in the ninth round, to a top 10 finish as RB6 with 276.6 PPR points. Rookie Sony Michel ended right where he was being drafted, but was sidelined for three games due to knee issues.
Positive Touchdown Regression
TJ Hernandez highlighted a few RBs who he thought were due for a surge based on Red Zone Expected Value (Red Zone EV). This is a metric designed to quantify how many points a player should score from red zone touchdowns based on the starting field position of every red zone opportunity.
LeSean McCoy was arguably the best offensive player on the Bills' roster heading into last season and we had high hopes for him to still produce despite the shoddy offensive line and question mark under center. Sadly, Shady disappeared in 2018 and dropped from eight combined touchdowns from the year prior, to a disappointing three.
The way the season started for CJ Anderson, it appeared there was no way an uptick in red zone production was in the cards for him in 2018. It turns out, he was just wearing the wrong uniform. On paper, his three total scores in 2018 were not better than the four he posted in 2017, but he only played 11 games last year compared to a full 16 the year prior. All three of his touchdowns came as a Ram and we can only assume that number would have been larger if he had spent more time on LA's roster in that offense.
Change of Pace / Backups
There were four players (Matt Breida, Austin Ekeler, Gio Bernard and Doug Martin) recognized as sleepers based on their ADP, who serve mainly as change of pace guys or backups. In 2018, three of our four ended the season significantly higher than their initial draft spots, with one ending exactly where he was drafted.
Breida was being selected in the 11th round, as RB48. That was of course with Jerick McKinnon still healthy and the starter. McKinnon tore his ACL in early September, leaving the backfield to Breida and Alfred Morris. The 24-year-old had his own share of injury issues but still managed to suit up for 14 games, rushing 153 times for 814 yards, adding another 27 receptions for 261 yards. He ended the season as RB26, posting 162.5 total PPR points.
Another player who overproduced last season thanks to injury was Ekeler. He bested his positional ADP by 34 spots, going from a 14th-rounder as RB59, to RB25 with 168.8 PPR points at the end of 2018. Melvin Gordon was sidelined for four contests, opening the door for Ekeler to showcase his dual-threat ability in the backfield.
Martin surprised most last season by playing all 16 games for Oakland and doing a decent job along the way. His 172 rushes for 723 yards was the highest for Martin since 2015, also adding another 18 catches for 116 yards to that total. Most expected more from Marshawn Lynch, who only saw the field for the first six games of the season. Underestimated based on his injury-filled past in Tampa Bay, Martin was the 57th RB drafted in 2018, but landed as RB41 with 119.9 PPR points.
It seems like every year we're waiting for Bernard to make a move up the RB ladder but it was not in the cards, as Joe Mixon remained mostly healthy and only missed two games in 2018. Sadly, it was Bernard's worst season on record, as the six-year back only posted a combined 429 yards with three touchdowns. His effort landed him as RB52 in the end, which is exactly where he was being drafted in the late-12th round.
2018 Overvalued RBs
In Allen's overvalued article, he singled out Kareem Hunt, Christian McCaffrey and LeSean McCoy as players most likely to fall short of expectations this season at the RB position.
McCaffrey was a player Allen definitely missed the mark on. His sophomore year ended with him as RB1 in total PPR points (385.5) and second only to Todd Gurley in PPR points per game (24.1). McCaffrey's ADP was in the mid-second round, as the 10th rusher off the board. Allen thought his workload would diminish with Anderson in the fold and Greg Olsen back from a foot injury. That was not the case, as McCaffrey led the team in both touches and targets with a combined 450, up from just 310 in 2017.
Hunt was a first-rounder in 2018 and the ninth RB being drafted. Primary running backs under Andy Reid have always flourished, snagging over 50% of the team's rushing attempts throughout most of his career, but heading into 2018 there was a concern for the Chiefs' game scripts. According to Allen's research, when Kansas City was losing, Hunt's carries shrunk from 21.9 attempts per game to 12.3 in 2017. With a defense that was ranked in the lower half of the NFL, it was tough to trust that Hunt would get the workload of a first round back. Of course, no one saw his off-field situation coming, and Hunt did not see the field after Week 11. He still managed to finish the season as RB12 in total PPR points and could have possibly even outperformed his ADP had he not been such a violent idiot.
As discussed above, McCoy suffered last season in Buffalo and went from RB8 in 2017 to RB39 at the end of the 2018 season. He destroyed owners who invested a late-second to early-third round pick on him, finishing with just 127.2 PPR points in the 14 contests he played in. Guys drafted around him who slayed his PPR output included Travis Kelce (294.6), Amari Cooper (215.4), Kenyan Drake (206.2) and Adam Thielen (305.3).
Key Takeaways
RBs do matter. I know it's trendy to proclaim that they don't, but when it comes to fantasy points, the top tier shows up. Of the nine RBs drafted in the first round in 2018, four ended the season within the top 12 overall, and Bell, of course, sat out all season. McCaffrey jumped from the second round and ended up second among all fantasy players in PPR points, making that five RBs total out of 12 overall spots.
When it comes to RBs later in the draft, seeking out change of pace guys in good offenses is a solid way to approach roster construction. We saw a plethora of players jump up in rankings last season who are available in those double-digit rounds, so if you are wary of taking several elite backs from the start, there is value to be had elsewhere.