O-Line Rankings and Matchups to Exploit: Week 5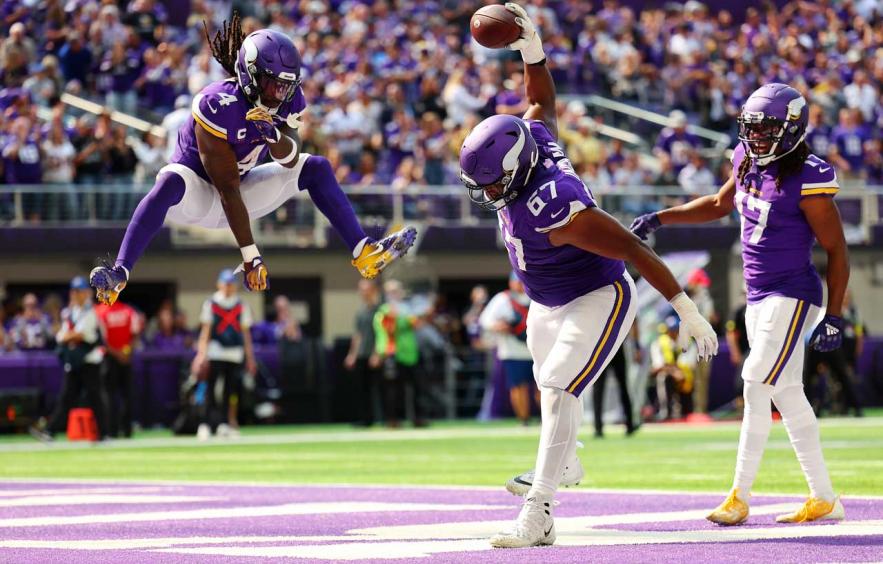 Adam Bettcher/Getty Images
Evaluating offensive line play regarding its effect on fantasy football output has been a stone unturned throughout our game within a game. Here at 4for4, we're dedicated to looking at fantasy pieces from all angles, and that includes the positive and negative impact an offensive line has on that team's fantasy assets.
Below I'm going to be digging into specific weekly matchups between offensive lines and the opposing defense's aFPA —one of the many useful tools available to us here at 4for4. Many sites publish raw fantasy points allowed by position, but 4for4 goes a step further and adjusts those numbers for a defense's relative year-to-date schedule strength. These numbers will continue to strengthen through more data points as the season progresses and when compared to a team's advantages within the trenches will expose fantasy pieces we may not have otherwise considered.
---
Editor's Note: Check out the complete set of Week 5 rankings here.
---
Let's begin by diving into the passing game to see what o-line/defense match-ups we can exploit.
Favorable Quarterback Matchups
Lions

@

Patriots

The Lions' offense has been unbelievable up to this point in the season, sporting the number one offense in terms of points scored and yardage accumulated, all on the back of a stellar offensive line that has remained stout despite dealing with injuries. This week they'll face off against a Patriots team that ranks 20th and 28th in aFPA allowed to the quarterback and tight end positions, respectively. A typically formidable defense in the past, New England has forced pressure at the 16th-highest rate in 2022, while the Lions have allowed pressure at the seventh-lowest rate, setting up Jared Goff to operate from a clean pocket for Week 5.

Goff has been amongst the league's best passers while operating from a clean pocket this season, ranking seventh in adjusted yards per attempt (8.8), second in touchdown% (7.8%), and seventh in interception% (0.9%), according to Sports Info Solutions numbers. He makes for a great 2QB start, while de facto WR1 Josh Reynolds and T.J. Hockenson should be plugged into lineups with confidence.
Packers

vs.

Giants

Though the matchup sets up perfectly for the Packers passing attack, we'll have to be choosy here with how we want to attack this game. As Sam Hoppen's breakdown of weekly insights mentioned, Green Bay is far less pass-happy this year than last, sporting a -5% pass rate over expectation as opposed to last year's 4.3% PROE. Luckily, the Giants are operating at the 3rd-highest neutral-script rate and will hopefully push the Packers to knock out a few more plays than we've been used to over the first four weeks of the season.

After operating on a snap count in his first game back in Week 3, left tackle David Bakhtiari looked much like his old self in Week 4, allowing only one pressure in his first full game since Week 16 of 2020. With him and do-it-all teammate Elgton Jenkins seemingly back to full health, the Packers are comfortably one of the top-three units in the league, which should keep Aaron Rodgers upright and happy.

So much of Rodgers' targets have gone to the running backs this season, as he currently ranks fifth in pass rate to the position, but there should still be meat on the bone for Allen Lazard, Romeo Doubs, and tight end Robert Tonyan, to varying degrees. If you have him, you're starting Tonyan, and both Lazard and Doubs make for great Flex options, with either a good bet to sniff double-digit targets.
Buccaneers

vs.

Falcons

Though the team has been rotating much of the interior of the offensive line through the early parts of the season, Tampa Bay has still managed to ride through the first four weeks of the season ranked first in pressure% allowed, as Tom Brady has operated from a clean pocket on 82.1% of his dropbacks. For comparison's sake, Daniel Jones of the New York Giants has been running for his life, dealing with pressure at a 49.6% rate, the league's highest. Brady is still among the NFL's most dangerous passers while operating from a clean pocket, racking up 954 of his passing yards when not pressured, a mark that trails only Josh Allen.

Things should continue smoothly in Week 5, as the Falcons currently rank 30th in pressure%, with interior lineman Grady Jarrett working as the only player on the defense with double-digit pressures through four games. Historically, Mike Evans has been the biggest beneficiary of Brady operating out of a clean pocket, as he averaged a 12.5 average depth of target and 862 of his 1,035 yards from that scenario in 2021, and has 2.8 yards per route run when Brady isn't pressured in 2022. Evans and Chris Godwin are both must-starts this week, with the former setting up to possibly cash in a top-three performance.

Favorable Defensive Matchups
Bills

vs.

Steelers

Kenny Pickett is finally at the helm, and though we can rejoice in what has now become an interesting situation, the rookie will likely have a difficult time in his first full start. The Bills have the league's second-highest pressure rate (56.6%) despite blitzing at the league's lowest rate (8%). Contrarily, they institute a 4-man rush at the league's highest clip (89%), allowing their top-tier defensive line, including Gregory Rousseau and resurgent a Von Miller, to make their hay one-on-one.

The Steelers currently rank third in pressure rate allowed, while Mitchell Trubisky took "only" eight sacks in his 3.5 games as the team's quarterback. Although Pickett stayed clean in his half of football, I would expect that and the team's third-lowest pressure% to flip on its head this Sunday.
49ers

@

Panthers

The Panthers' offensive line unit has made some strides as a whole, but Baker Mayfield has been doing them no favors; ranking 29th in on-target%, 31st in catchable pass% and taking sacks at the sixth-highest rate despite facing pressure less than 19 other quarterbacks. Nonetheless, Carolina ranks 28th in adjusted sack rate (9.3%) and will try to keep Mayfield upright and throwing ducks against a 49ers defensive line that leads the league in sack% and has racked up a hefty 3.8 per game.

There's not a single Carolina Panther outside of Christian McCaffrey that I would feel comfortable plugging into my fantasy lineups for Week 5.
Favorable Running Back Matchups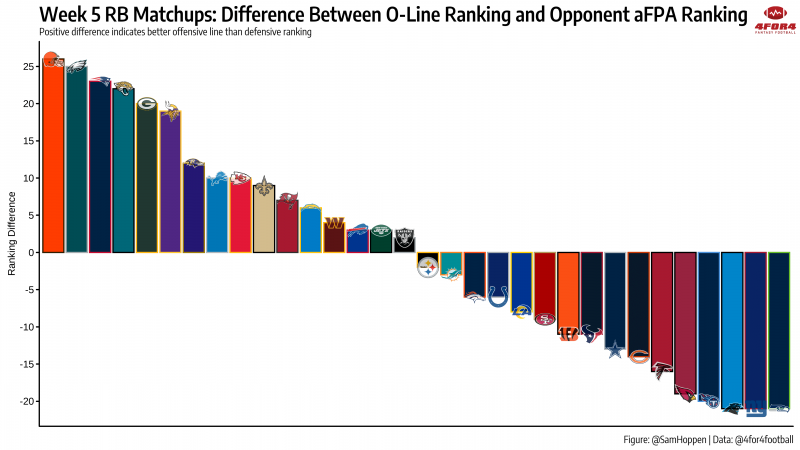 Vikings

vs.

Bears

Despite some early struggles from rookie second-round guard Ed Ingram, the Vikings are quietly becoming one of the better offensive line units in the NFL. They currently rank ninth in adjusted line yards (4.71), and Dalvin Cook has accrued 101 of his rushing yards before contact, the eighth-highest mark amongst running backs. On the opposite side of the ball, the Bears rank 30th in yards per carry and 32nd in rushing yards allowed, even though they played Week 1 inside of a monsoon. Cook is in a great position to steal back the touchdown(s) that Justin Jefferson and Alexander Mattison took from him last week.
Jaguars

vs.

Texans

Another unit that has been a pleasant surprise; the Jacksonville Jaguars, have James Robinson and Travis Etienne ranked in the top half of the league in terms of yards before contact/attempt, while helping the sixth-ranked scoring offense accumulate points with a consistency that would have seemed impossible at this juncture last year. On the other hand, the Texans have allowed the third-highest yardage total to opposing offenses, with 688 of those yards coming on the ground, buoyed by not one, but two 150+ yard rushing performances.

One would assume that Etienne's history with Trevor Lawrence would get home on the field for more than 50% of snaps, but it's clear that this is still Robinson's ground game to lose, and this matchup puts the former UDFA right in the RB1/2 cusp for Week 5
Running Backs with Bad Matchups
As opposed to breaking down every bad match-up through the rest of the slate, here are some running backs I'm looking to avoid because of their poor offensive line and/or the strong defensive fronts they will be facing: